Data highlights disparities driving rent debt crisis
The threat of homelessness due to rent debt is one of the most consequential impacts of the COVID-19 pandemic.
In California alone, the numbers reveal the alarming scope of the rent debt crisis:
880,000 renter households were behind on rent at the end of March 2021
Renters face an estimated $3.9 billion in rent debt, approximately $4,4000 per household
83 percent of renters who are behind have experienced job and income losses during the pandemic
Rent debt can trigger the beginning of an even deeper downward spiral for individuals and families who, in order to avoid eviction, are often left with no options but to severely cut back on necessities, withdraw from savings, tap into available credit, borrow money from friends or relatives, take on high-interest loans, or fall further in arrears.
Even with recent CARES Act stimulus payments and extended unemployment insurance, many people find themselves unable to keep up.
Unequal impacts
Rent debt is not new. The inability to pay rent is tied to many economic factors, including low wages, loss of employment or underemployment, rent increases that exceed an individual's available resources, and more.
But today, rent debt is an even greater crisis than it was before the pandemic.
For people of color—already disproportionately affected by COVID-19—economic hardship and housing insecurity appear in far greater frequency and severity than for the rest of the population. In fact, 77 percent of renters in California who are past due are people of color, and 77 percent earn less than $50,000 a year. In contrast, only 6 percent of households with incomes $75,000 or more are behind on rent.
While rent debt can lead to homelessness, eviction also has far-reaching ramifications. As quoted in the Los Angeles Times, Emily Benfer, chair of the American Bar Association's COVID-19 Task Force Committee on eviction notes "An eviction is not a single event in a person's life. It actually changes the trajectory of a life, because it has such catastrophic implications for fiscal and mental health."
In order to prevent both eviction and the tragedy of becoming homeless, it's essential that renters' financial situations are stabilized. But without strong, compassionate public policy, it's nearly impossible to protect people with rent debt from eviction.
"Without urgent action—in the form of sufficient debt relief and continued eviction protections," remarks Sarah Treuhaft, vice president of research at PolicyLink, "many COVID-impacted families—disproportionately people of color—will will be left behind in the recovery, and the racial wealth gap will increase at the very moment we are trying to catalyze an equitable recovery."
Solutions informed by data
PolicyLink, a Tableau Foundation partner, is dedicated to advancing racial and economic equity in our society through advocacy, research, communication, and public policy. The organization has been using data to gain deeper insight into the extent of rent debt, and assess its disproportionate impacts on people of color. This data-driven approach can ultimately help frame policy solutions to address the crisis and support community organizing and advocacy.
The National Equity Atlas, a collaboration between PolicyLink and the University of Southern California Equity Research Institute, has partnered with the Right to the City Alliance national housing justice network to develop an interactive dashboard providing a broad overview of rent debt in America. The dashboard features trend metrics on percentage of renters who are in arrears, estimated debt averages, and demographic details including the percentage of renters who are people of color, low income, and whether renters are experiencing unemployment or have lost employment income. There are also metrics that indicate the share of renter households both rent burdened and economically insecure, pre-pandemic.
The dashboard is filterable by metropolitan region, state, and county: currently, there are data for 15 major US cities, and 45 states and corresponding counties. Because timeliness is essential for developing useful analyses, the dashboard is refreshed every two weeks, making it possible for users to see trends as they develop.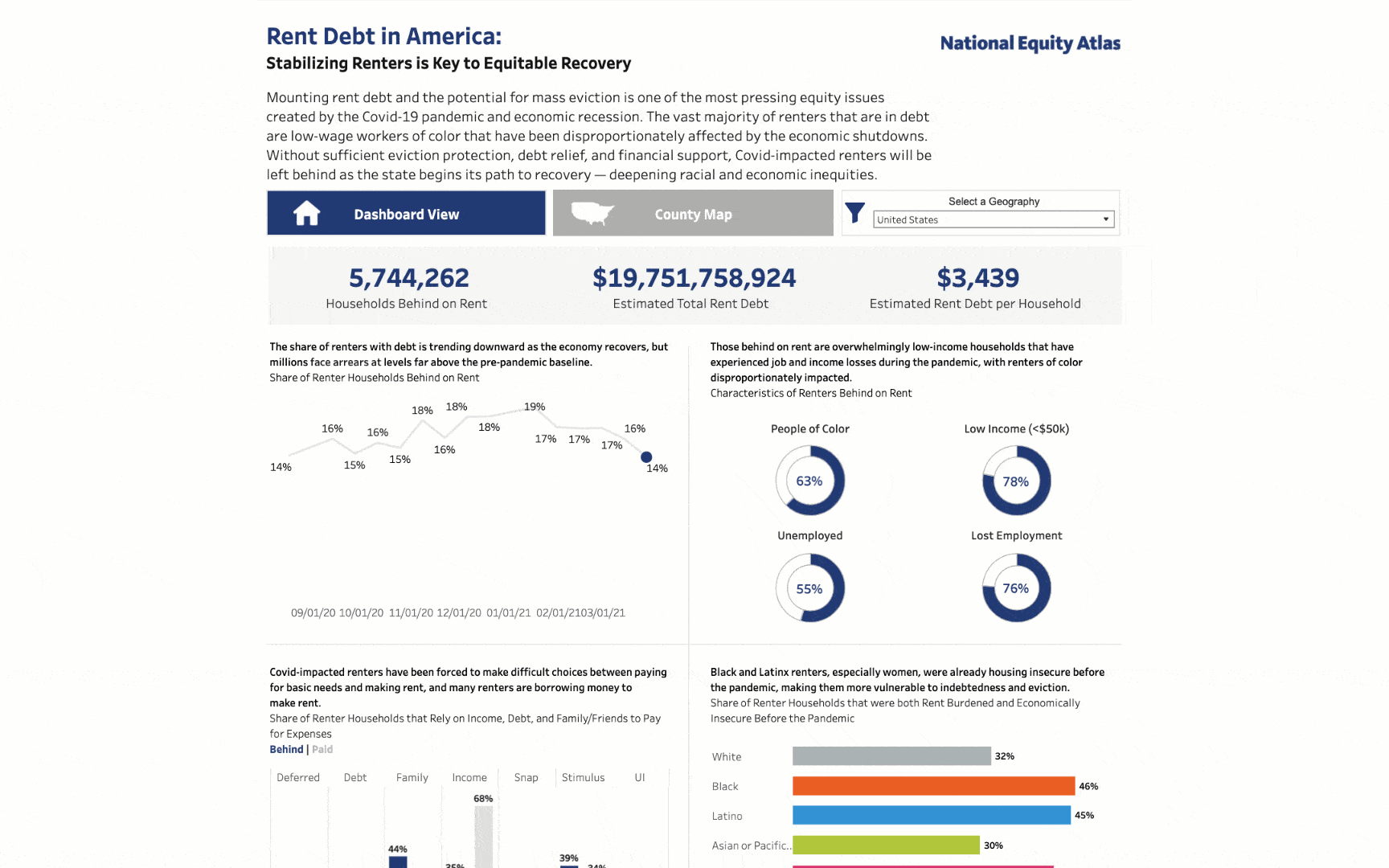 Rent Debt in America
Understanding the width and breadth of the rent debt crisis, and the unequal impacts experienced by people of color, are critical learnings that will lay the foundation for a stronger recovery and a more equitable future. For policymakers who are focused on serving the needs of their communities, engaging with relevant data and finding actionable insights are imperative for building truly meaningful solutions that protect the most vulnerable.
To learn more about how data relates to equity issues, please visit the Tableau Racial Equity Data Hub.