Tableau for Students
Iron Viz: Student Edition
Data tells a story. Which student will visualize it best?
The 2023 Iron Viz: Student Edition Winners are in!
Congratulations to Karolina, Conor, and Jenny, our 2023 Iron Viz: Student Edition finalists! For this year's competition, we asked them to highlight the global impact of education on a given region's demographics. As winners of the competition, they receive Tableau merch, a Tableau certification package to add to their resume, and the opportunity to showcase their vizzes at Tableau Conference 2023.
Check out their incredible vizzes on the announcement blog or watch them talk through their viz-making process below. Stay tuned to be informed and join us for the next Iron Viz: Student Edition!
'21 Student Iron Viz winners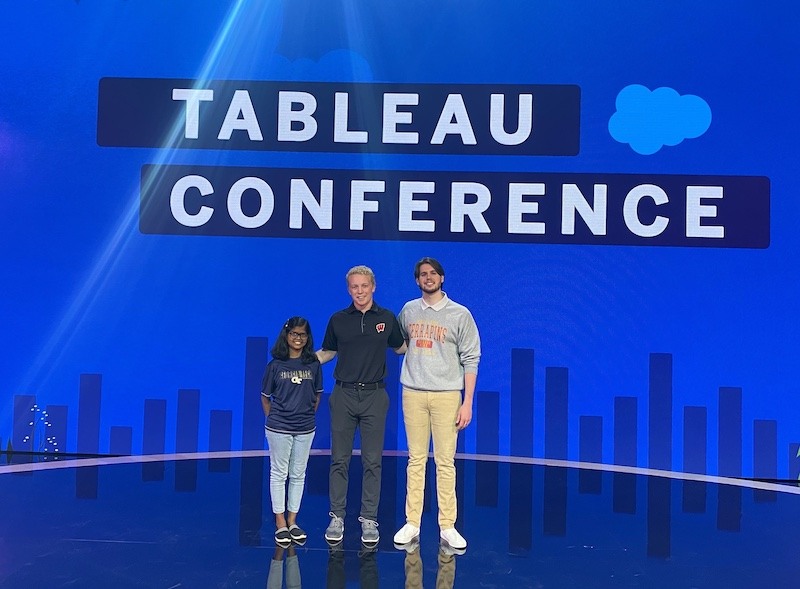 Iron Viz: Student Edition FAQ
How is Iron Viz: Student Edition different from Iron Viz?
Iron Viz: Student Edition is exclusively for students! Iron Viz: Student Edition is for 18+ students that are looking to develop their viz skills, but aren't quite ready to compete at the Iron Viz level. This virtual program is a great starting point into the world of Viz competitions. Students will also have the opportunity to connect with Iron Viz winners and meet members of the Tableau Community.
How will the vizzes be judged?
The judging criteria will be based on 100 points:
Creativity (25 points) - Does the viz present insights in an interesting way? 
Beauty/Design (25 points) - Is the visualization beautiful, relevant, and effective?
Analytical Depth (25 points) - Was the data used in a way to explore?
Best Practices (25 points) - Rate the visualization in overall best practices
What is the theme and submission deadline?
We will announce the data set when the submission window opens on December 19th. 
How many entries can one person make?
Only one entry per round is allowed and work must be original. You can make edits to your submission up until the deadline. If you submit multiple entries, only the most recent entry will be considered.
How will the winner be chosen?
A panel of judges comprised of data viz experts, previous Iron Viz finalists, and guest judges will evaluate all submissions based on the following criteria:
Design

Storytelling

Analysis

Data best practices
The winners will be announced on the Tableau Public blog on or around February 6, 2023.
Tableau merch
Tableau Certification Voucher 
Opportunity to attend Tableau Conference and show off your wining viz at the Iron Viz competition
Bragging rights! 
Given that it was the world championship and that I was competing with students from all over the world, I never expected to win. Receiving the email saying that I had won was an amazing moment.
No purchase necessary. Void where prohibited. Contest runs from 12/19/22 at 12:01 a.m. PT to 1/18/23 at 11:59 p.m. PT. Open to legal residents of Argentina, Australia, Austria, Belgium, Canada (excl. Quebec), China, Czech Republic, Denmark, Estonia, Finland, France, Germany, Greece, Hong Kong, Hungary, India, Ireland, Japan, Luxembourg, Netherlands, New Zealand, Norway, Poland, Romania, Singapore, South Africa, South Korea, Spain, Sweden, Switzerland, United Kingdom, and the United States (incl. D.C.). Must be 18+ (20+ in Japan). See Official Rules.