Where will the next great data viz come from?
What is Iron Viz?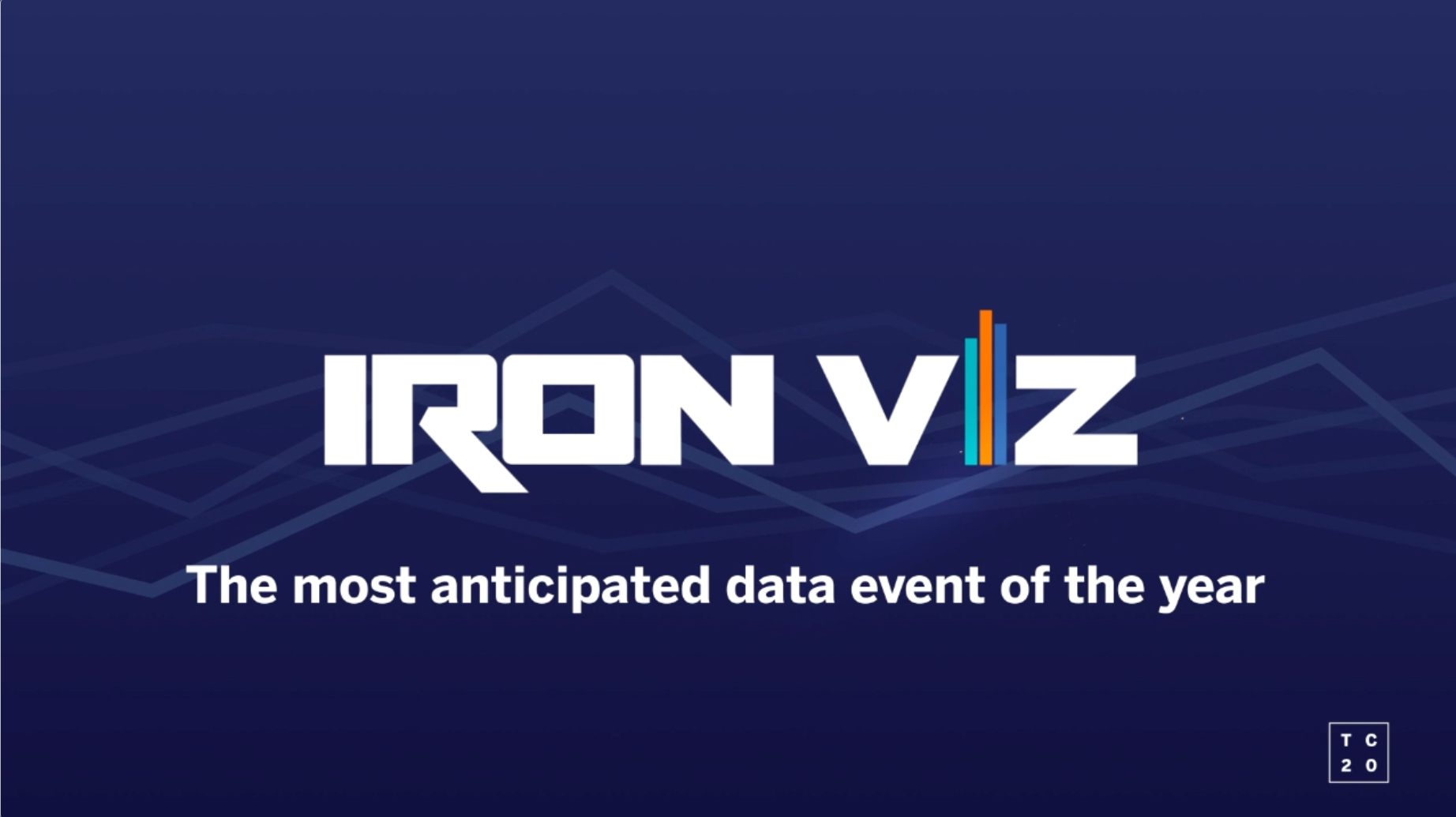 Iron Viz—the world's largest virtual data visualization competition—ignites and showcases the power of the Tableau Community, giving you the opportunity to interact with data rockstars worldwide. Three finalists will advance to the 2021 Iron Viz Championship this November.
Watch
The 2021 Iron Viz Qualifier is CLOSED

Thank you for your interest and participation in the 2021 Iron Viz global qualifier contest. We received some amazing submissions around Data + Joy.
Please check back in late July as we will have details on our User Group event announcing our top ten and the three finalists that have been selected to compete in the finals at Tableau Conference 2021.
User Group Event: Iron Viz Qualifier Announcement
Hear who made up our top 10 and which three will advance to the Iron Viz Finals in November. Register now
Perhaps it was the fact that this was a formal competition or that I spent more time than previous visualizations, but something about this contest allowed me to really up my game. So, while none of them won, I learned so much in creating them, taking a big leap forward in my development, so it was well worth it.
Watch the 2020 Iron Viz
While we wait for the 2021 Iron Viz to take place, relive all of the excitement from the world's largest data visualization contest from 2020. The "environment" category produced some incredible data visualizations from our talented community members. 
Watch Iron Viz 2020
Iron Viz 2021
Date
Name
Announcements
Prizes
 

June 2nd, 2021 - July 2nd, 2021

Iron Viz Qualifier*

Free registration for Tableau Conference 2021

 

November, 2021

Iron Viz Championship

1st place: $10,000 cash prize and $5,000 donation to a nonprofit of choice
2nd place: $5,000 cash prize and $2,000 donation to a nonprofit of choice
3rd place: $2,000 cash prize and $1,000 donation to a nonprofit of choice

 
Official Iron Viz Qualifier Rules
2020 Champion
Tableau Conference
2019 Champions
Tableau Conference
Tableau Conference Europe
Qualifier Contest Resources
Content Type
Name
 

BLOG POST

7 resources to kickstart your Iron Viz entry

Read Now

BLOG POST

Create a compelling Iron Viz entry in ten steps

Read Now

VIDEO

If Data Could Talk with Iron Viz Champion, Christian Felix

Watch Now

BLOG POST

How to find the best sources for free, public data sets

Read Now

ON-DEMAND WEBINAR

How to create a winning viz

Watch Now

KNOWLEDGE BASE

How to save vizzes on Tableau Public

Read Now

VIDEO

Storytelling with data

Watch Now
Qualifier Contest FAQ
What is the theme and what is the submission deadline?
| Contest | Theme | Announcement Date | Submission Deadline |
| --- | --- | --- | --- |
| Iron Viz Qualifier | Viz what you love | June 2, 2021 | July 2, 2021 |
What are the terms of participating?
How many entries may one person make?
One entry per person. If you need to make changes to your viz after submitting, please make those changes prior to the submission deadline.
This qualifier contest allows for any data. Please ensure the data set(s) you choose are related to the theme. Please be considerate of others, and do not use a data set that might be found overly offensive. We would also like you to consider image rights when including visuals in your visualization.
Am I required to make my data set(s) or viz downloadable?
If possible provide a link to your source(s) in the footnote or description of your viz and allow 'Download' for the viz you submit. This allows others to learn from your work, just as you can learn from others. Making vizzes downloadable can be done by signing in to Tableau Public, click on the viz you created, and checking the box "Allow workbook and its data to be downloaded by others", then click save.
Who can I contact if I am having problems with Tableau Public?
You may contact Tableau Public at public@tableau.com, please include Viz Contest in the subject line. Note that submissions can only be made via the submission form.
How will the winner be chosen?
A panel of judges comprised of Tableau ambassadors, previous Iron Viz finalists, data viz experts, and guest judges will evaluate all submissions based on the following criteria:
Design
Storytelling
Analysis
Analysis will be the tiebreaker in case two vizzes have the same overall score. Should the Analysis score also be tied, the panel of judges will make a final decision.
Will I receive my scores?
We will publish the scores for the top 10 vizzes on the Tableau Public blog. Scores for the Top 100 entrants can be provided upon request after the contest is over.
Can I receive feedback on my work?
Yes, all entrants will receive their scores after the contest is over. The 'top 10' are eligible to receive additional feedback directly from the judges.
Why isn't my country included in the list of eligible countries for participation?
Some countries are not listed because of peculiar requirements to run a sweepstakes like Iron Viz.
Why are the scores I received in my feedback email higher than the scores of the top 10?
All submissions are scored by a panel of judges. The average of these scores is what you see in your feedback email. From those scores, the 'top 10' submissions are identified and provided to a panel of industry expert judges. The scores from this panel are what you see in the results blog posts.