Now available in Tableau 2021.3—Data management updates, Slack notifications, personal space, and more
New in Tableau 2021.3: Data management updates, notifications in Slack, Personal Space for Tableau Server and Online, custom sample workbooks, new connectors, and more.
The newest release of Tableau is here! Tableau 2021.3 includes the latest capabilities to bring efficiency to your workflows and organization at scale. Upgrade now to take advantage of these new innovations and bring the full power of the Tableau Platform across your business.
Let's look at some of the exciting features in the Tableau 2021.3 release:
Get Tableau notifications directly in Slack for data-driven alerts, @mentions in comments, and sharing activity to stay on top of your data, from anywhere.
Better prep and manage your data with new improvements to Data Management, including linked tasks and generate rows for Tableau Prep, and data quality warnings (DQWs) in subscription emails and inherited descriptions in web authoring for Tableau Catalog.
Safely explore data and save content on your Tableau Server or Online site before it's ready to be shared with others with Personal Space.
Enable your Desktop users with curated, custom sample workbooks in Tableau Desktop.
Now we'll take a deeper look at some of the biggest new features in this release.
Put data at the center of every conversation with Tableau notifications in Slack
Tableau for Slack is here! Our new product integrations bring the power of Tableau and Slack together to put analytics right into the flow of business—broadening the reach of analytics across your entire organization to help everyone make data-driven decisions faster. With the Tableau 2021.3 release, we're bringing important notifications to you directly via Slack.
Data-driven alerts: Get notified directly in Slack when a specific data threshold you've set is triggered. Say you want to know when your teams meet 90% of your quarterly sales quota—when that happens, you and your teammates can be notified directly in Slack so everyone can rally around closing those final deals to hit your goals.
@mention comments: Get notified directly in Slack when you're @mentioned in a comment within a Tableau dashboard. From there, you can jump into the dashboard, or reach out to the commenter directly in Slack. Keeping collaboration in your workflow has never been easier.
Shared content: Instead of sending emails with links to dashboards or key insights, you can now share directly via Slack and collaborate easily on analytics—with just one click.
Build trust in your data with our latest improvements to Tableau Prep and Tableau Catalog
In Tableau 2021.3, we're excited to bring you new data management capabilities to make working with data more efficient. With these improvements, you and your teams can move faster—with the confidence that the right data is being used for analysis.
Tableau Prep
Linked tasks with Tableau Prep Conductor: Say goodbye to manually monitoring and scheduling a series of flows on Tableau Server. With linked tasks, you can now easily automate multiple flow jobs to ensure they happen in sequence after the previous task completes successfully.
Generate rows with Tableau Prep: Fill in gaps in your data by generating missing rows based on dates, date times, or integers. This ensures downstream processes have full and complete datasets to work on, and build more accurate visualizations.
Tableau Catalog
Data quality warnings (DQW) in subscription emails: Get notified about potential issues with data through data quality warnings directly in email subscriptions. Simply click on the link in the email to go directly to the dashboard impacted by the warning, and see additional details right away within the Data Details panel.
Inherited descriptions in web authoring: With Tableau Catalog, you can now see inherited descriptions right within your web authoring flow for fuller context of your data. If a description for a field or column exists upstream from that field or column in a data source or workbook, you'll be able to see information about where the description is inherited from.
Explore data and save draft workbooks in your very own Personal Space
We know you and your teams love interacting, using, and exploring data—yet, you've never had a great place to save those explorations. But, that's all about to change. We're very excited to announce the launch of Personal Space, a new, private location on Tableau Server and Online where users can save or stage content before it's ready to be shared with others.
With Personal Space, users can feel comfortable saving content at their own pace and at whatever stage of analysis they may be at, whether it be an ad-hoc exploration or staging a draft dashboard for a presentation. A dedicated space for draft content means a cleaner site for everyone else, making it easier for users to find official content without having to dig through all of the "noise."
And admins, this means you no longer need to tackle the cumbersome task of creating private projects for every individual to achieve this on your site. And no need to worry about users surpassing your site storage quota—you can set a storage limit for each user, or disable Personal Space from your site completely. Personal Space is available to any user with an Explorer or Creator license.
Create a custom start page experience with sample workbooks in Tableau Desktop
If you're a long-time Tableau fan, you may love the Superstore, Regional, and World Indicators sample workbooks as much as we do. But today we are delighted to bring a fresh experience to the Tableau Desktop start page. Starting in 2021.3 you can now customize the set of workbooks you want to display in the samples area of the Desktop start page to match the specific needs of your business. Your users will be able to instantly see and access content that's relevant to them, as soon as they open the product.
You can use custom samples for a variety of solutions. Get new users up and running in Tableau with sample data sets or pre-populated workbooks, distribute corporate data sources, create a workbook to highlight a specific part of the business, even use the space to bring teams together for fun viz challenges or contests—the options are endless! And don't worry, if you no longer want to use a custom set, you can easily switch back to displaying the default sample workbooks anytime.
To get started, learn more about how to configure custom samples.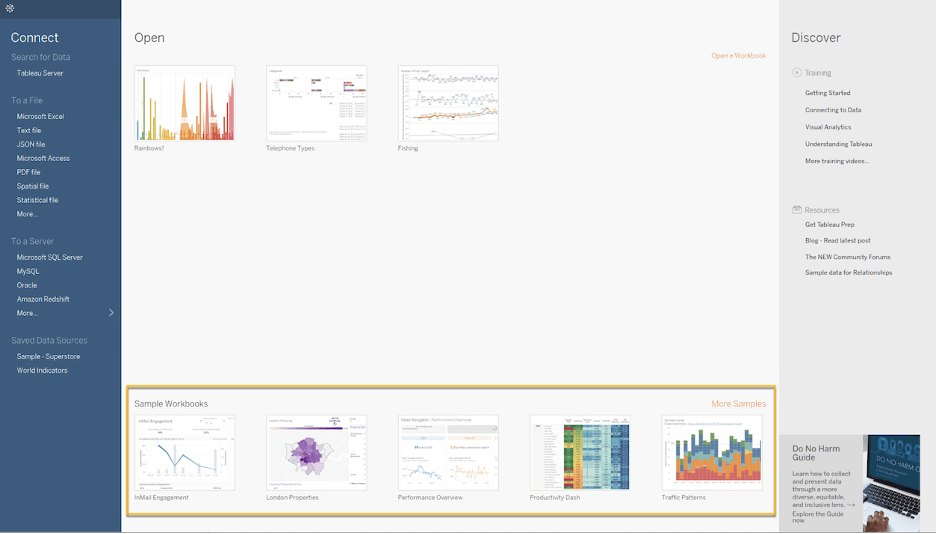 Increase trust with new governance capabilities around centralized security
And finally, now in preview and coming later this year—we're introducing new security features that increase flexibility and segmentation by allowing administrators to centrally configure which users and groups have access to which slices of data. With centralized row-level security (CRLS), Tableau admins can define and manage row-level security among data tables and have it consistently applied across all connected Tableau flows, data sources, and workbooks that depend on that data.
We're also introducing a new content type: virtual connections. Create and share access to many different tables through a governed database connection, embed service account credentials, and extract data from data tables centrally to reuse within Tableau Server and Tableau Online.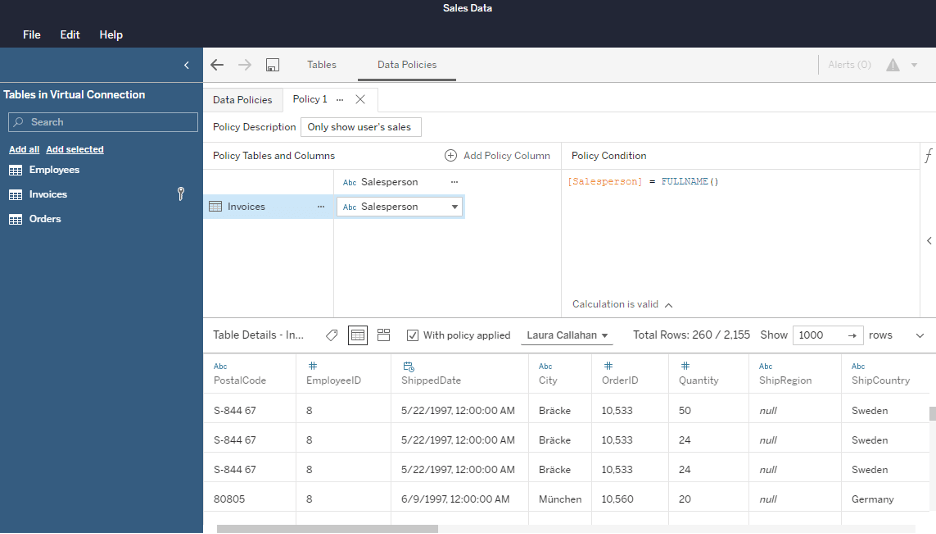 A salesperson can use a virtual connection with embedded credentials to securely connect to invoice data. The row-level security policy in place ensures the salesperson only sees the data related to their customers.
This is just the beginning of our reimagining the Tableau platform for the enterprise. In case you missed it, check out our enterprise announcement to learn more about exciting updates and new capabilities to help ensure trusted data for everyone, including new enterprise subscription plans.
Thank you, Tableau Community!
You are at the heart of everything we do and the Tableau 2021.3 release is no different. We can't do this without you, so thank you for your continued feedback and inspiration.
Check out the Ideas forum to see all of the features that have been incorporated as a result of your brilliant ideas, and get the newest version of Tableau today.
Subscribe to our blog
Get the latest Tableau updates in your inbox.