A New Day for Data—Product Innovations from Tableau Conference 2023
Discover upcoming product innovations featured in the opening keynote of Tableau Conference.
At Tableau Conference 2023, we announced new product innovations that help us continue our mission by using generative AI to simplify analytics, and reimagining data experiences for everyone. In addition, Tableau shared how new developer capabilities bring analytics everywhere and how the Salesforce Data Cloud helps harmonize data with seamless analysis in Tableau. And of course, Tableau continues to showcase solutions for the core community, delivering on new ways to transform analytics.
A new day for data
Despite being 20 years old, we are just getting started. Millions of people still need insights and their jobs can be improved with data. They need a meaningful, contextual, and personal way to take in data and support innovative thinking.
We need to engage consumers with meaningful experiences that close the insight-to-action loop and help them drive business outcomes with data. We need to enable developers to take data and put it everywhere and anywhere people need data to make decisions. We need to empower IT professionals to connect to any data to create a single source of truth so that everyone can trust their data.
And of course, we need to continue to make Tableau easy and powerful for our core community of analysts. We need to help people get to answers faster and make everyone more successful than ever. 
The Tableau mission is more relevant than ever and will drive the future of our product innovations. We will continue to make data easy and accessible to more people, enabling curiosity and creativity to flourish. Below, we round up highlights of some of the biggest product moments from TC23.
Generative AI gives more people access to data and insights
Generative artificial intelligence (AI) has the power to transform the way we live and work in profound ways. With the ability to generate text, images, code, and beyond, generative AI has organizations asking how they can leverage the emerging technology for business needs.
A recent survey of more than 500 senior IT leaders found that a majority believe generative AI is a 'game changer,' with 84% saying it will help them better serve their customers.
We're bringing the power of generative AI to the next generation of Tableau with Tableau AI. Tableau AI will enhance and integrate with every part of Tableau. Tableau AI works in partnership with the Tableau analytics engine to deliver experiences that will help organizations become smarter and make decisions faster.
Think of experiences like conversational interfaces where analysis feels more like Q&A. Anticipating questions people might ask, or suggesting questions they might not have thought of otherwise. Or communicating large collections of insights in easy-to-understand summaries.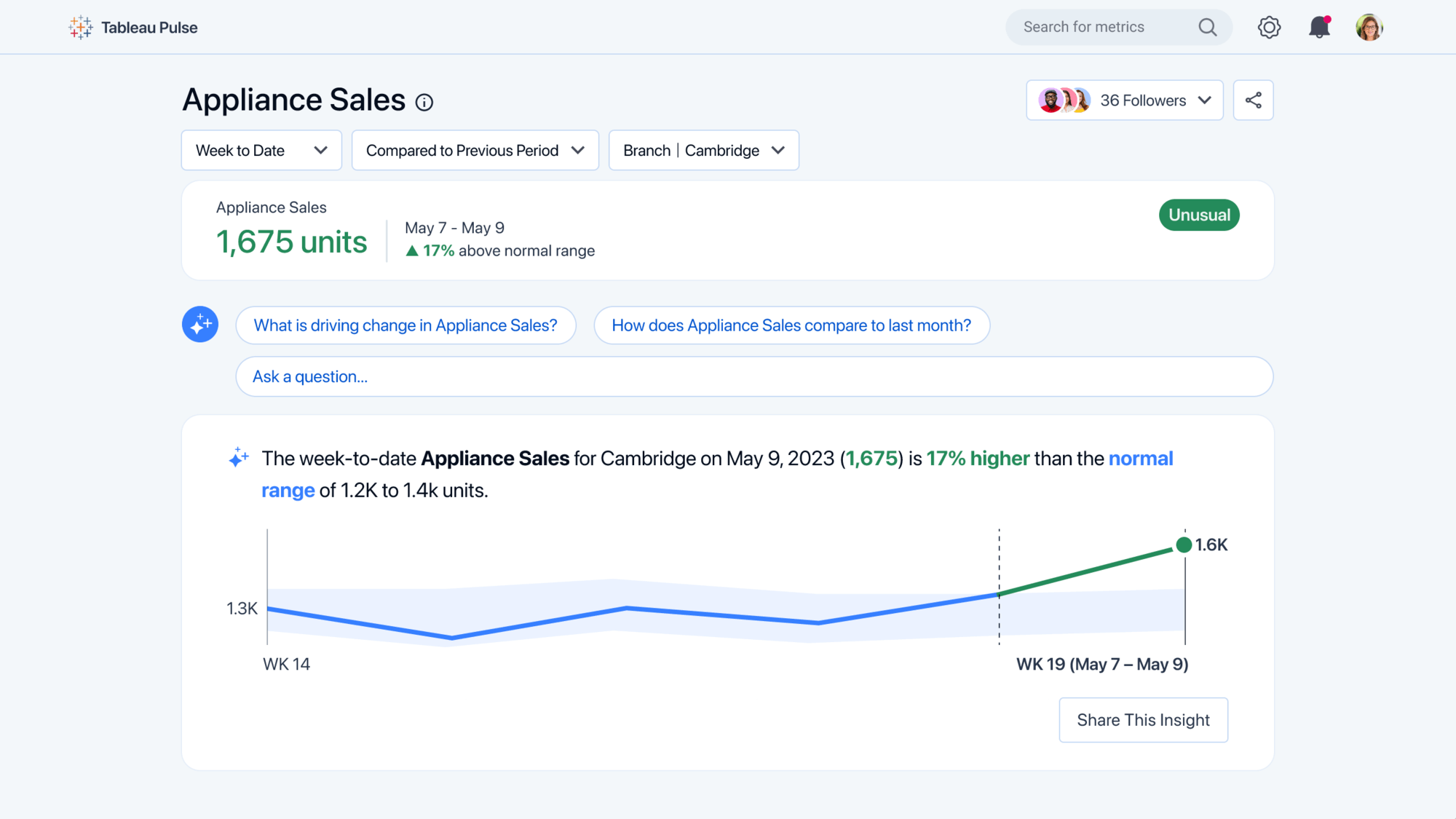 Tableau AI will also feature Tableau Pulse, a reimagined data experience for consumers that will help make data accessible to everyone in your organization, regardless of their familiarity with data. With Pulse, analytical insights go from the language of the few to the many: Consumers will be able to receive personalized metrics that are easy to understand and act on. The product will automatically generate insights in plain-language format, enable on-demand exploration, and accelerate data model and dashboard creation, so that organizations can deliver analytics at scale.
Tableau AI and Pulse usher in a new era where people don't need to search or ask for the data they need. The data they need will come to them. Data for everyone, anywhere becomes a reality.
VizQL Data Services transform how you use data with composable analytics
Data is finally being treated as an asset across most organizations. This means there is an increasing need to understand how data is used and facilitate its use to execute business strategies. Embedded analytics have gone a long way to help organizations get to market faster without having to build and manage the resources and expenses of building from the ground up.
Instead, you can build value in Tableau and embed that experience into any application where your business operates. We've made the development of these experiences even easier by introducing the Embedding API and Connected Apps to make sure you are taking the best of Tableau interactive and security with you where you need. The new Ephemeral Users capability centralizes user identity and access management, so you don't have to maintain users in two different systems.
But the next big milestone is here to give you greater independence and control over how you combine analytics tools and processes. VizQL Data Services is our leap into composable analytics, an approach that lets you build your own data solutions, stacking and integrating data sources and tools to achieve your data-related goals.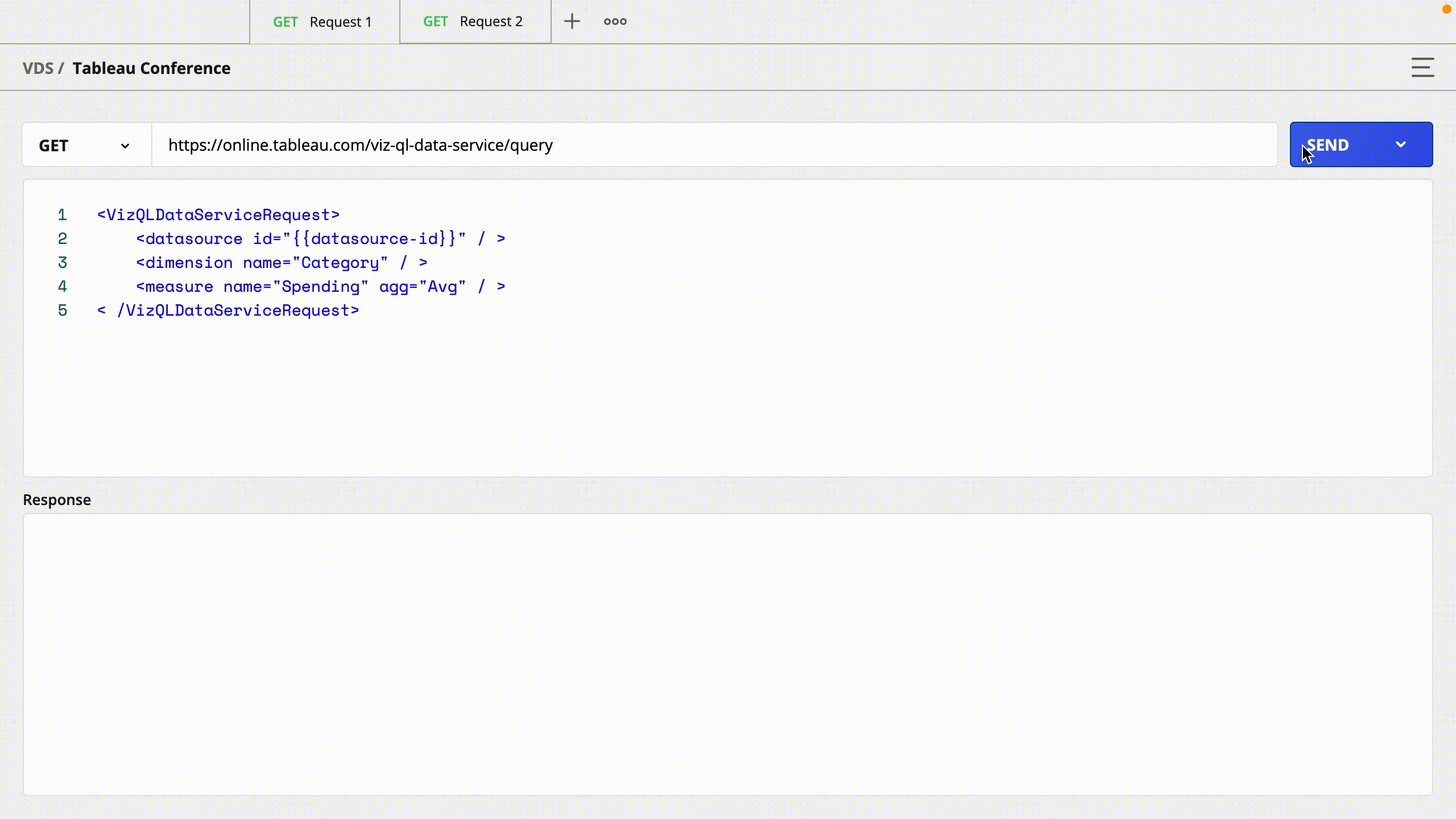 VizQL Data Services–a layer that sits on top of your published services and existing dashboards–lets you take advantage of the time and expertise data analysts and stewards have spent curating data sources for your organization. Now, you can take those data models and apply them programmatically across other applications outside of Tableau.
The possibilities are endless. The simple programming interface allows developers to build new data products without needing the help of a data expert. So whether you need to integrate insights from Tableau into an automated business workflow or create a chatbot that interacts with your analytics in Tableau, VizQL Data Services can get you there.
Data Cloud for Tableau gives a trusted, harmonized view of all your data
For organizations to realize the full value of their data, they need to treat all data as an asset. Tableau is and will always be for all data. No matter the type of data, where it's stored, or how you get to it, you can use Tableau to find the value in it. This year, Tableau released new and improved connection options available for critical data sources like Amazon Redshift, DataBricks, Google BigQuery, Microsoft Azure, SAP, Snowflake, and Starburst. And we will soon introduce a new connection to Amazon S3 for even greater flexibility.
But managing data at scale can be challenging–especially as digital transformations are creating more data in more places than ever. That's why we created Salesforce Data Cloud to give customers a quick and easy way to harmonize data into a single source of truth. Data Cloud can connect to hundreds of data sources, clean it, model it, combine it, and make it available to be used anywhere, whether it's used in Tableau, Salesforce, or through APIs. Data Cloud uses Tableau Hyper technology to slice and dice massive volumes of data in seconds to provide a trusted view of any data. 
And you don't have to move all your data into Data Cloud to use it. Data Cloud supports zero-copy data sharing, which means you can 'virtualize' Data Cloud data in other databases like Snowflake or Google BigQuery, so that it's instantly available.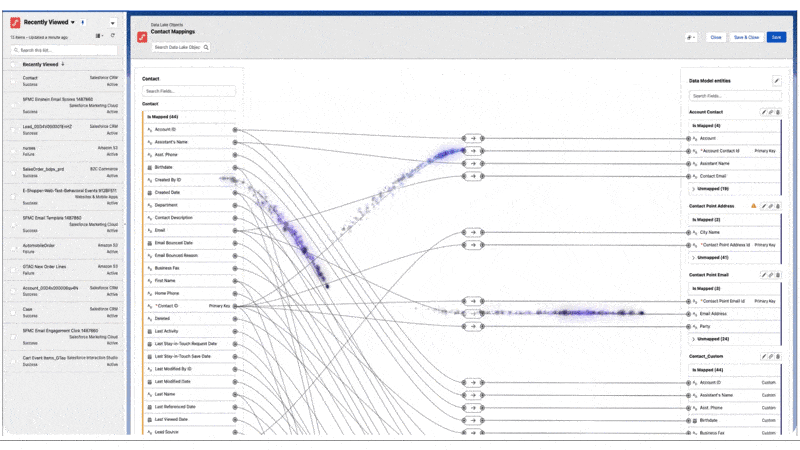 The power in connecting all of this data is the ability to harmonize and unify it with a data model that is managed in software that has powerful resolution rules. Schema changes are done in software without having to change the underlying physical data model.
For your most important data such as your customer data or your account data, we provide a full-featured resolution engine so that you align your organization on a single view of your customers–no matter how the underlying data systems describe the customer.
To save you even more time, we've added Instant Analytics. Once you've modeled all of your data centrally, with just one click, you're able access this data in Tableau immediately. It is as simple as downloading a Tableau Data Source Connection directly from Data Cloud, connecting to modeled data in Tableau, and you are ready for analysis. Powered by Hyper, you're able to query millions of records–live and fast, all in Tableau! 
Data Cloud for Tableau continues to make data trusted, analytics easy, and insights powerful.
Devs on Stage show how modern analytics are turning raw data to powerful insights faster
Let's get nerdy with it. When we began our journey, Tableau was known for transforming data into visuals. Analysts learned how to create views, dashboards, and stories using basic chart types. 
As we transition into the new era, data is pushing the art of possibility and speed–and our analysts need to be empowered to do the same. Devs on Stage showcased what is to come for Tableau and we are excited to see the creative new ways the Tableau Community will use the upcoming capabilities. These include:
New viz types, Sankey and Radial: Visualize your data in new ways with new visualizations available in the marks card. No more complex calculations and workarounds. 
Native address geocoding: Turn an address into a geocoded point to visualize on a map without requiring coding or advanced transformations. 
Image Roles become more flexible: Now supports new image file types, expansions to the size limit, and links no longer require extensions.
Shared Dimensions in Tableau Desktop and Web: The Tableau data model will support shared dimensions enabling multi-fact analysis. 
Enhancements to discover Tableau Public content faster: Automated notifications will be added to the From Your Network feed helping you stay up to date and provide more context about why you're being shown a viz. Sorting and filtering will also become available.
Generative AI to simplify Tableau Prep and Tableau Desktop: Tableau AI will automatically create calculations, surface insights automatically, and suggest questions to ask of your data.
Of course, the showstopper was the showcase of Tableau Gestures, live interactive vizzes composed over webcam video. Gestures reimagines what virtual data storytelling can be and we want your feedback as we continue to explore innovative ways to help people see and understand data.
Continuing to push forward and lead the market takes incredible dedication to data–not only from us at Tableau, but from the Tableau Community. We want to say a huge thank you to our customers, partners, and the Tableau Community for 20 years of inspiration. Looking forward to seeing what we accomplish together in this new era.
Missed it live? Check out the TC23 opening keynote or dive into other sessions on demand by registering on Salesforce+. 
Want to learn more about Tableau AI? Read more about how Tableau AI uses generative AI to change the future of data.
Subscribe to our blog
Get the latest Tableau updates in your inbox.