Community Solutions, a Tableau partner, receives $100M grant from MacArthur Foundation
In recognition of their Built for Zero initiative to end homelessness, Tableau partner Community Solutions granted $100M from MacArthur Foundation.
On behalf of everyone at Tableau, I want to offer heartfelt congratulations to Community Solutions on winning the prestigious MacArthur Foundation's 100&Change competition. The $100 million grant from MacArthur will enable Community Solutions to deepen and scale its transformative Built for Zero initiative across the country to build a nationwide movement that demonstrates homelessness is solvable.
Imagine that in the next five years, homelessness in communities across America will be on its way to becoming a thing of the past. If someone loses a job and faces eviction because they can't pay rent, it will become possible to seek assistance and stay in place. If someone also loses their home, they can be rehoused in thirty days or less. Across the entire country, when homelessness occurs, it will hopefully be rare and brief.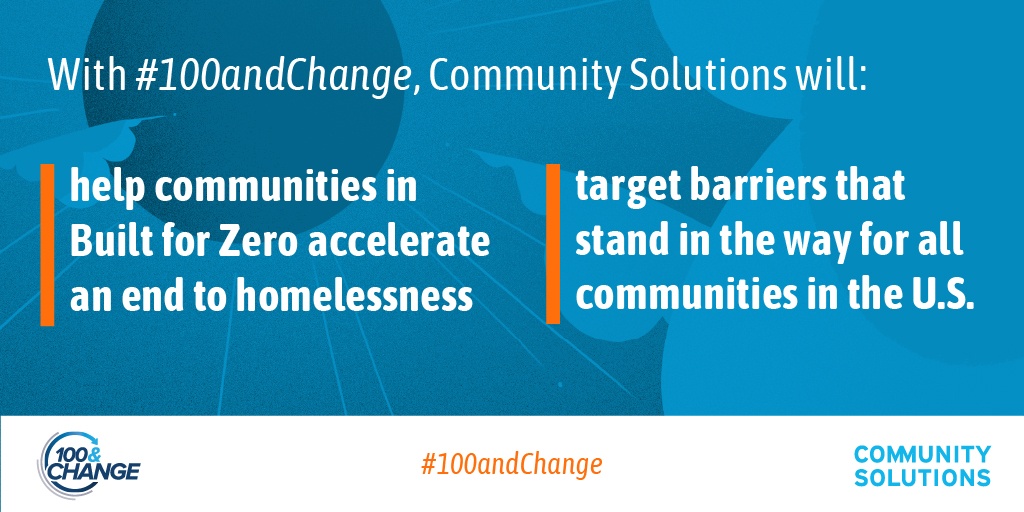 Few communities have the systems in place to support these changes, but our partner, Community Solutions, developed a replicable way to help any community achieve the reality of zero homelessness.
Built for Zero is Community Solutions' data-driven, proven response to the persistent crisis of homelessness in the United States. Including 84 cities and counties and counting, Built for Zero communities unite key agencies and nonprofits to collectively work on the homeless response in a city—from shelters and food banks to health clinics using a shared measurement system containing real-time information on local homelessness. This insight into and coordination around data enables agencies to quickly and effectively support people experiencing homelessness, or at the risk of becoming homeless. Through Built for Zero, 14 communities have already ended chronic or veteran homelessness, and 46 other communities are on the same path.
Learn more about Community Solutions' innovative Built for Zero model.
With the support of 100&Change, Community Solutions can invest even more deeply in communities that are committed to measurably reducing or ending homelessness. At the same time, they can help build a critical mass of evidence and momentum that valuable solutions are in reach. Especially after this past year, with the COVID-19 pandemic precipitating an economic crisis that threatens housing stability for millions, investing in these solutions that help people stay in their homes is critical. Plus, with homelessness disproportionately affecting communities of color, Community Solutions is committed to addressing this crisis with a focus on racial equity and economic justice.
Watch Community Solutions present on Built for Zero at the Tableau Foundation Virtual Summit.
Having worked closely with Community Solutions, and seen firsthand the power of their Built for Zero approach to transform peoples' lives and entire communities, we could not be more excited about the acceleration and recognition of their work.
Learn more about the partnership between Community Solutions and Tableau Foundation.
Subscribe to our blog
At Tableau, we find exciting news about data, analytics, and visualizations every day. Sharing that news through our blog is a key part of our mission to help people see and understand their data. From tips on using Tableau more effectively to learning how everyday people are dealing with data challenges, the Tableau blog is a place for data lovers.