Best of Tableau Web: August 2021
I imagine you're familiar with this line of questioning: "How satisfied are you with XYZ?" and "How likely are you to recommend XYZ to others?" or "How much do you agree or disagree with the following statements?"
Here these questions are rhetorical, but you've likely all seen and responded to similar survey questions as you've traversed the web. Maybe you've even worked with the resulting datasets from those surveys. If so, you may have also ended up scratching your head because although it feels like survey data should be easy to use, it's harder to work with than first meets the eye.
With that unexpected difficulty in mind, it's been a pleasure to see a flurry of survey-data posts this month to help you on the way. The Workout Wednesday team surveyed the user community, and created a particularly meta Workout Wednesday challenge based on the data. Rosario Gauna and Donna Coles both wrote tutorials on the heels of the challenge, detailing how they approached the main requirements: donut charts, bar charts, divergent bar charts, and heatmaps. I always enjoy posts from these two authors, and these were no different. Rosario and Donna provided detailed tutorials on the real-world data storytelling challenges we face as analysts.
Rosario Gauna's take on the week 32 #WOW21 challenge.
They're not the only ones digging into the survey data. Zen Master Steve Wexler has been blogging about survey data longer than most people have been using Tableau. (The first post I could find on his blog about the topic is from 2013!). He's still creating new content as the field evolves along with his own perspective. Steve's latest post details new techniques for using Likert-scales to effectively visualize survey data—and why he no longer recommends the "classic" divergent stacked bar approach.
Tableau Zen Master Steve Wexler once used a "classic" divergent stacked bar approach. Now, he recommends concentrated values diverging from the center (shown here)—and shares a dashboard you can copy into your own workbook to customize.

Aside from survey data, I also wanted to highlight Adam Mico's excellent post describing his process behind a visualization he built exploring his own mortality, from research and data collection to fine tuning the chart and dashboard. Process descriptions like this are extremely informative as we develop our own skills. I always learn something new when seeing "inside the mind" of expert practitioners like Adam.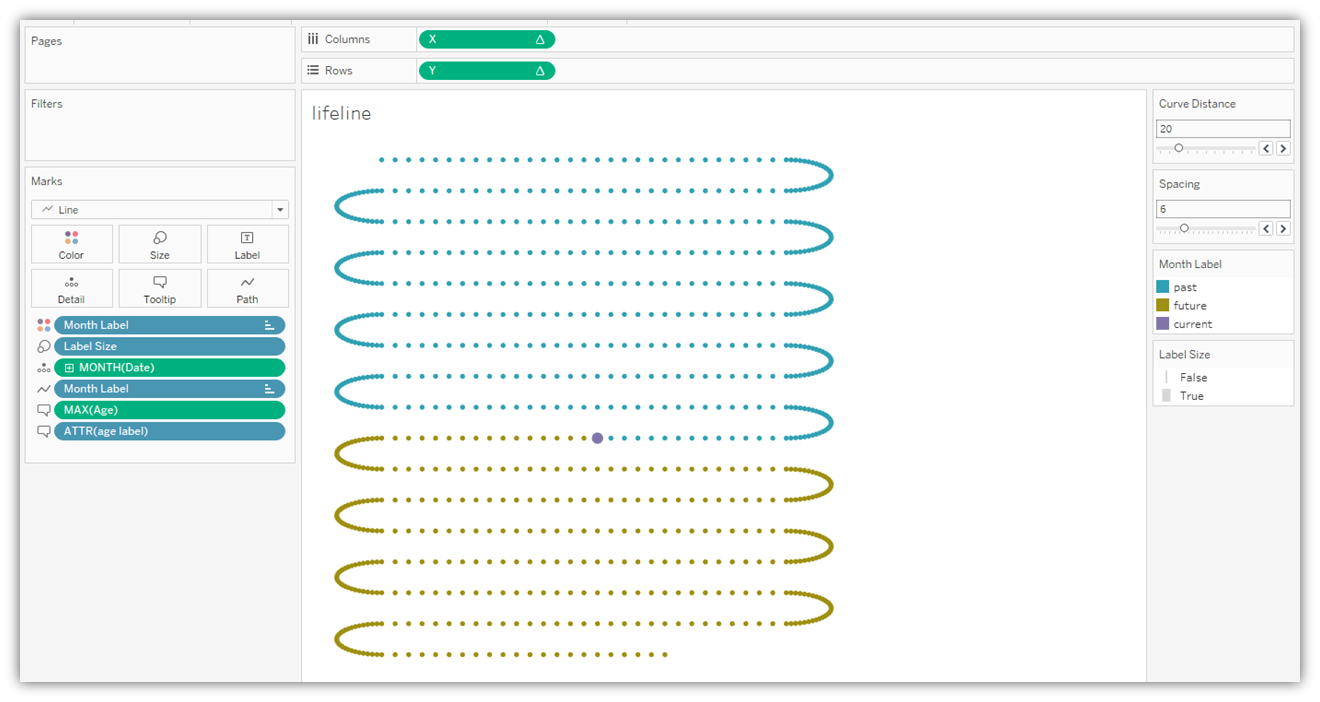 Inspired by a post showing how to visualize the rest of your life, Adam Mico vizzed his own mortality with a path chart, working from Toan Hoang's guidance on creating path charts in Tableau.

Finally, there have been some great posts on the nitty gritty of analytics, such as how joining multiple datasets together can do so much more than simply combine different tables. Spencer Bauke explains how you can use joins to aid forecasting models framed in the common industry use case of forecasting product inventory. Ken Flerlage lists three more creative uses of joins. TL;DR: Try using joins for getting data from a prior row or partition, running totals, and cross joins.
Calculations
Tips and Tricks
Formatting, Design, Storytelling
Inspiration
Prep
Server
Set and Parameter Actions
With that, enjoy Best of the Tableau Web with tips, tricks, inspiration and more produced by the Tableau community. For updates throughout the month, follow me on Twitter and LinkedIn, and check out the list of blogs I follow for Best of the Tableau Web. If you don't see yours on the list, I invite you to add it here.