Using data to enact lasting, systemic police and justice reforms
Learn how Washington State is tackling systemic police and justice reforms—and how a data-driven approach is identifying opportunities and successes.
Seattle has been home to Tableau for the past 17 years. From our earliest start-up days to joining the Salesforce family, we have always been committed to our community and improving the state of the world.
Last year, the murder of George Floyd in Minneapolis set into motion a long overdue public reckoning on race, policing, and equity across the country. While many legislatures, including Washington State's, were out of session or focusing their efforts to address the COVID-19 pandemic, Salesforce and Tableau recognized a responsibility to take action.
In this spirit, Salesforce created the Racial Equality & Justice Task Force to drive systemic change in our workplace and community across four Ps: people, purchasing, philanthropy, and policy. We focused on launching impactful, data-driven, and lasting initiatives. In parallel, the Tableau Foundation launched the Racial Justice Data Initiative to build the data capacity of national, regional, and community-based organizations working to fight anti-Black racism in the United States.
Washington State takes on police reform
When Washington State legislators returned to Olympia this January, they didn't waste any time addressing some of our state's toughest challenges. Over the course of four months, the legislature passed a $59 billion budget and adopted a wide range of priorities, including police reform bills.
The bills that passed share a common foundation. They tackle the need for better information and better usage of available data. They recognize that clear, digestible data helps communicate expectations to law enforcement; build trust in the community; and contribute to measurable, long-term change. For example, SB 5259 aims to improve data collection while three bills—SB 5051, HB 1089, and HB 1267—all work to improve accountability.
An analytical approach to advocacy
Guided by the nonpartisan policy principles created by our task force, we took an analytical approach to putting our advocacy plan into motion. Using our Salesforce and Tableau platforms, we analyzed the proposed bills to compare the provisions against our principles. We identified the bills that aligned with our priorities and advocated for their passage. Seven of those proposals ultimately become law—contributing to a more just and trustworthy system.
We supported bills that addressed systemic change, and we also supported legislation with a good chance of being voted into law. But we also measured our impact. Not only did we track our activities and progression of the bills in our CRM, we used the power of Tableau to digest and understand success.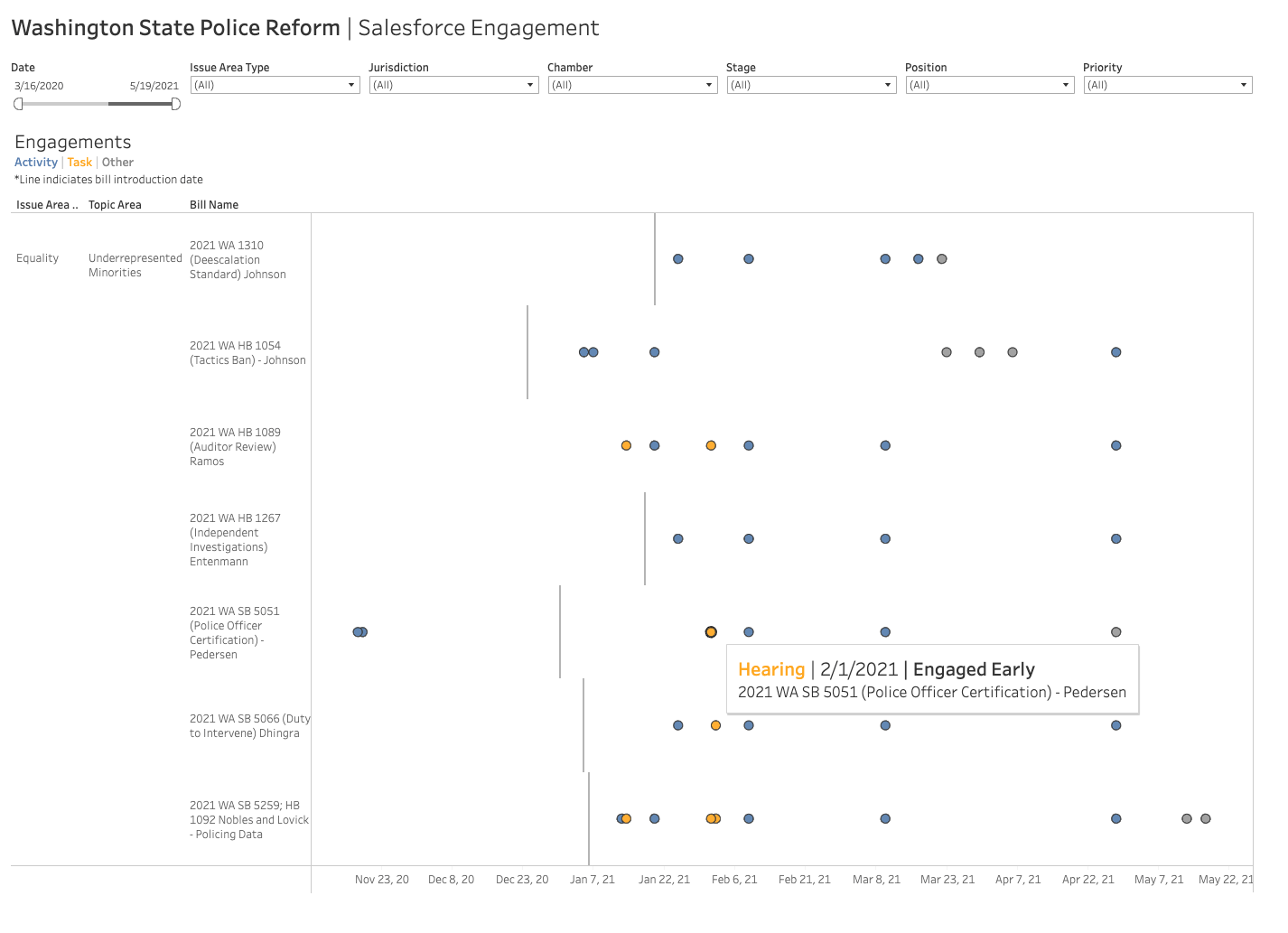 Tableau visualization of longitudinal actions the Salesforce Government Affairs team has taken on each Washington State police reform bill.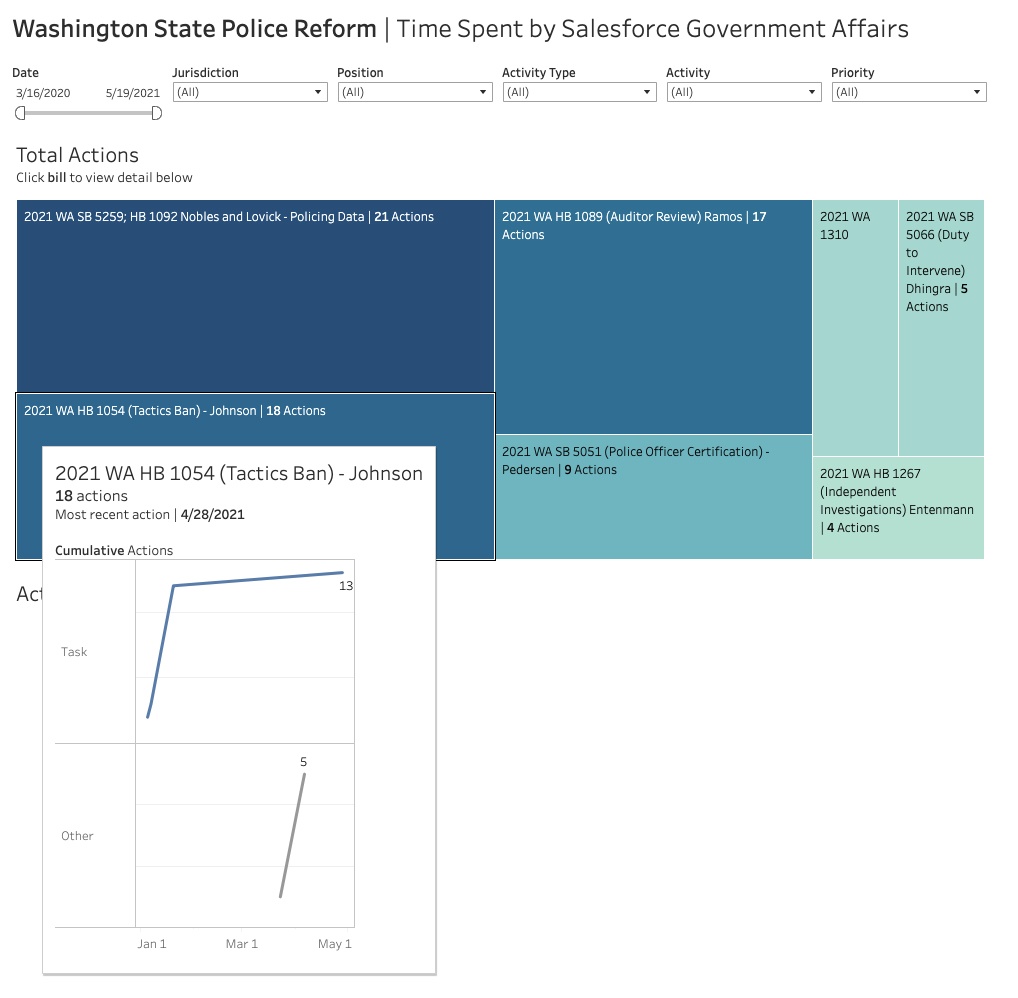 Of the many police reform bills on the Washington State legislative agenda, the Salesforce Government Affairs team spent the most time on policing data bills.
Alongside those, we were pleased to support bills to reform police tactics (HB 1054) and establish standards for conduct (SB 5066 and HB 1310).
Police reform is just the start
Building an equitable society will require a holistic approach to systemic change. The Legislature also addressed issues essential to equity, such as voting rights, environmental justice, and economic empowerment. We proudly supported these initiatives aimed at systemic change:
Environmental justice: SB 5141 mandates specific state agencies, such as Ecology, Health, Natural Resources, Commerce, Agriculture, and Transportation, to consider environmental justice impacts when taking agency action. It also requires development of an environmental-health disparities map to identify areas for review. We believe this bill's visualization requirements promote accountability and transparency.
Expanded access to technology education: The path to a tech career doesn't—and shouldn't need to—look the same for everyone. SB 5401 allows community colleges to award computer science degrees, opening up the field to more people, including lower-income and underrepresented minority students.
Restoring voting eligibility: As someone who was formerly incarcerated, Representative Tarra Simmons knows firsthand how the system doesn't always work for everyone—and how precious the right to vote is. Simmons introduced HB 1078—a bill nearly a decade in the making—to restore voting rights for formerly incarcerated people.
Legislature has adjourned but the work continues
The Washington State Legislature may be finished for the year, but our work does not. We will continue to advocate at the local and federal levels of government for meaningful police reform, criminal justice reform, the protection of voting rights, and a more equitable future. And, we will continue to provide important data to researchers and partners through the Tableau Foundation and the Racial Equity Data Hub. Together, we can truly be a platform for change.
Subscribe to our blog
At Tableau, we find exciting news about data, analytics, and visualizations every day. Sharing that news through our blog is a key part of our mission to help people see and understand their data. From tips on using Tableau more effectively to learning how everyday people are dealing with data challenges, the Tableau blog is a place for data lovers.