Master your data storytelling and grow your confidence with Iron Quest
Have you participated in a community-led data project? Dive into one Tableau Public author's recent experience— and learn why they think you should get involved.
Don't be afraid to try something new! Each month, Tableau Social Media Ambassador Sarah Bartlett challenges the community with Iron Quest. Sarah created Iron Quest to help others become comfortable with skills needed for Iron Viz, from sourcing and prepping a data set to visualizing it in Tableau. And like Iron Viz, each Iron Quest challenge has its own theme. Sarah hopes that Iron Quest participants gain the confidence to enter Iron Viz— and more importantly, to learn something new!
The most recent Iron Quest theme is "Sea Creatures." Tableau Public author Kate Schaub decided to look at Curaçao sea turtles, and her visualization was chosen as Viz of the Day:
Click to view the full interactive viz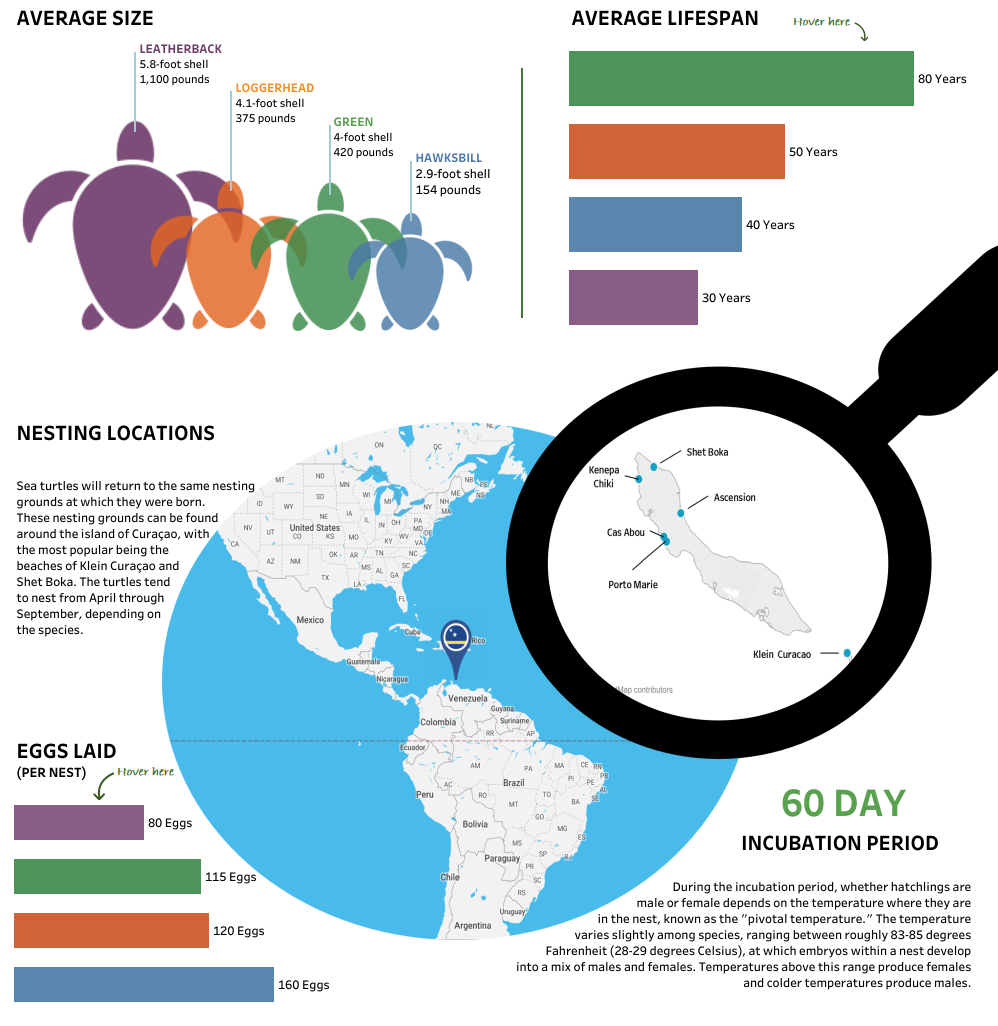 Kate is the Business Intelligence Technical Lead for the State of Montana's Department of Administration. She's responsible for overseeing the use of data analytics and the design and creation of dashboards, whether it's for executive use, to be included in custom applications, or for public consumption. When she's not participating in various community-led data projects, Kate is an avid tennis player (she still plays competitively) and photographer. She also has a passion for traveling around the world.
We asked Kate about her involvement in Iron Quest! Read on to find out why she thinks you should give it a shot.

Learn about Kate's Iron Quest journey
How long have you been using Tableau Public?
I've only been using Tableau Public since the Fall of 2018. I created my profile on the way home from Tableau Conference, after attending sessions like Mike Cisneros's "How and why to get started making public data visualizations," and Andy Kriebel's talk during Fanalytics. Their talks sparked my interest in seeing what I could learn when I wasn't limited by my role's requirements and responsibilities. I initially got started with Makeover Monday, and have since participated in other community-led projects such as Iron Quest and the #FeedbackLoop (started by Josh Smith).
What has been your all-time favorite Iron Quest theme? Why does it stand out?
The current theme really stood out because I love to snorkel and explore the water—in fact, I traveled to Curaçao last fall and had the most unforgettable experience snorkeling with sea turtles. Since then, I've been wanting to incorporate the pictures I took into a viz that raises awareness about the threats to the sea turtle population. Until recently, I just hadn't had the right opportunity. When round two of the #FeedbackLoop started, I shared my first two iterations of this viz just to see how it might come together—once the Iron Quest theme announcement came, I knew I had to use it there, too!
A big thanks to @data_jackalope @maf2k @LearnVizWithMe @theneilrichards @VizAllDay and @MarkBradbourne for feedback thus far! Can't wait to see where the next round of feedback takes this, both from #IronQuest and the #FeedbackLoop crew!

— Kate Schaub (@schaubkatelyn) May 21, 2019
What was your biggest obstacle with this Iron Quest theme, and how did you overcome it?
It was challenging to create something that sparked curiosity, brought to life the real threats sea turtles face, and had a simple enough design to help people could understand my story without relying on interactivity. Feedback was vital to striking this balance, and it really helped me bring this viz to life!
What advice would you give to those getting started with Iron Quest?
Don't be afraid to participate, even if you're just getting started with Tableau! Compared to other community projects, #IronQuest really leaves the entire process in your hands rather than providing the data or a solution. It's a great way to increase your knowledge in all aspects of data analysis including finding data, completing the analysis, and designing a viz that best fits your analysis and the story you want to tell. The best part? You get constructive feedback in a completely "safe" environment where everyone is truly there to help you learn and grow.
What is the best music to listen to while vizzing?
If I really need to focus, I usually listen to Lindsey Stirling. If I just want to jam while working, it's definitely 80's/90's Hip Hop & Rap. And if I need a combination of the two, I go for Girl Talk.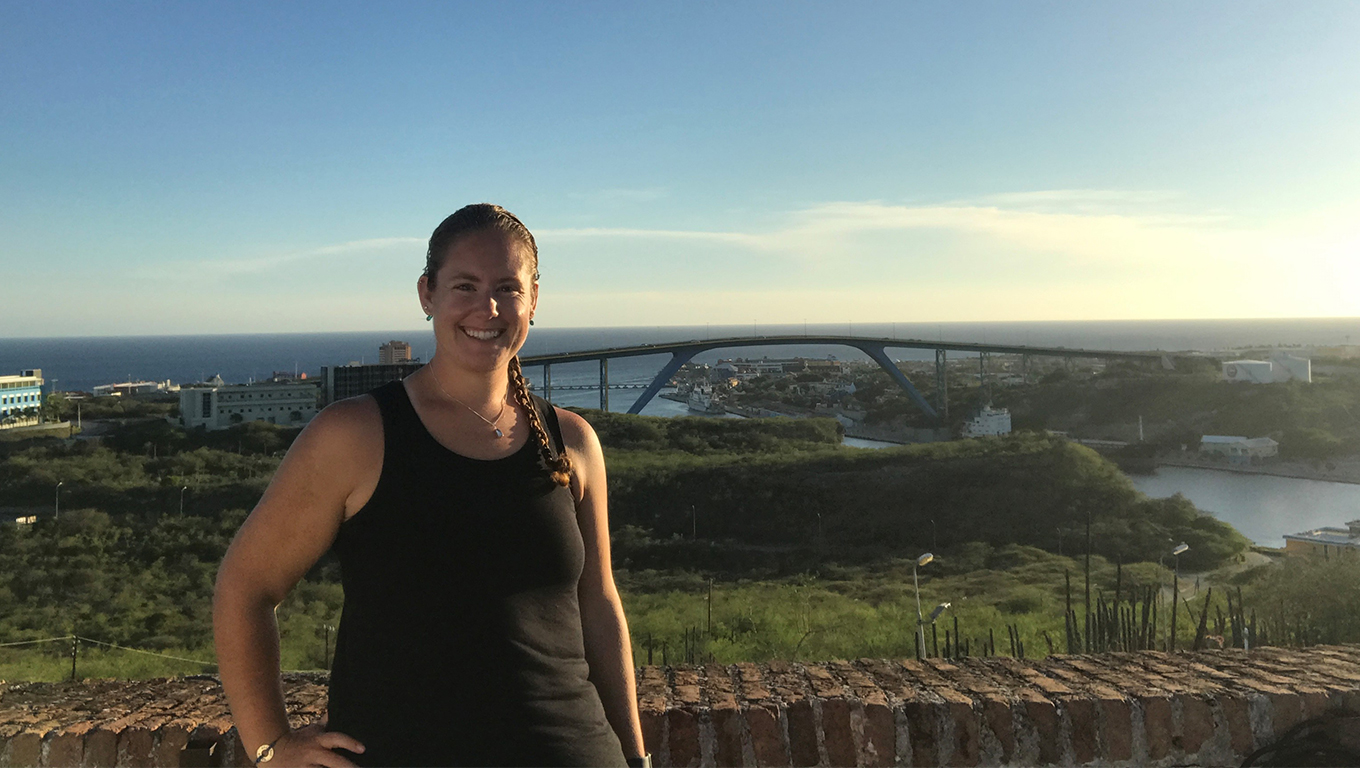 Kate in downtown Willemstad, Curaçao and the Queen Emma Bridge.
Follow Kate on Tableau Public to see the rest of her impressive work and get inspired! And don't forget to favorite her Viz of the Day! Want to give Iron Quest a shot? Publish your "Sea Creatures" viz to Tableau Public, then fill out the submission tracker by Sunday, June 9th to receive feedback.
Subscribe to our blog
Get the latest Tableau updates in your inbox.