How Bo McCready leveraged Tableau Public and leaned on the #DataFam to further his career
This year, Tableau Public is celebrating its 10th anniversary. Since the platform was founded in 2010, millions of people have used Tableau Public to develop their data visualization skills, find inspiration, and connect with like-minded data enthusiasts from around the world. While we're thrilled to be celebrating this milestone, we also want to acknowledge the accomplishments of those in the Tableau Community, like Bo McCready, who recently accepted an offer for a data visualization job at Apple.
Click to view the full thread.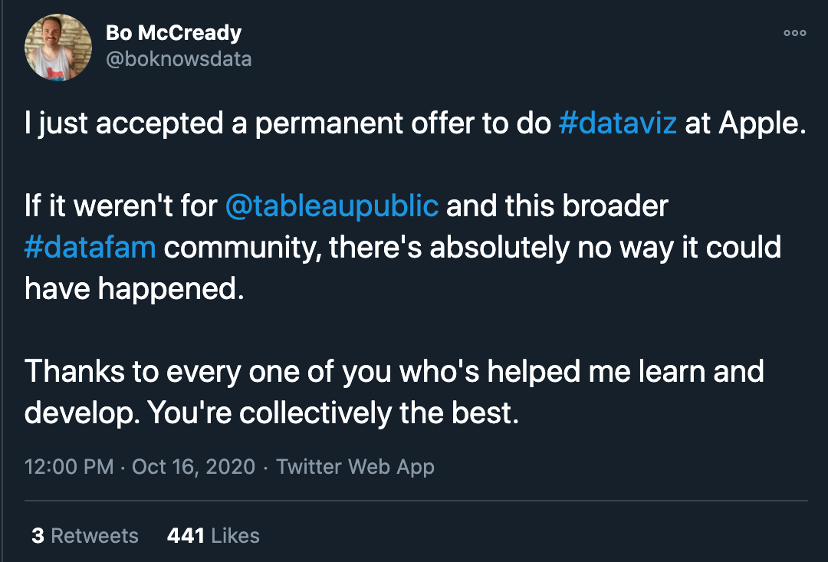 Bo earned his Ph.D. in Educational Leadership and Policy Analysis from the University of Wisconsin and spent the first 10 years of his career working in public education before transitioning to the private sector. He currently lives in Austin, TX with his wife Brittany and two daughters, Maisie (5) and Willow (2). When he's not making graphs for work or fun, he loves sports, live music, and horror films. Read on to learn about Bo's data visualization journey in his own words.
How long have you been using Tableau?
I started using Tableau in 2012. My boss with the Madison Metropolitan School District heard about Tableau from the Milwaukee Police Department and suggested we get a Tableau Desktop license. I started using Tableau to generate graphs for my department's reports. We soon began publishing district data on Tableau Public to increase transparency and reach our community in new ways. We also used packaged workbooks along with Tableau Reader, allowing our executive team to easily consume important data. Tableau became an integral part of how we supported data analysis and strategic planning for thousands of employees on behalf of tens of thousands of students.
What role has Tableau Public played in your professional development?
Tableau Public has been a source of motivation and inspiration since I began using the platform in late 2018. If it weren't for Tableau Public, I never would've realized where my passion lies within analytics. Tableau Public has also led to professional opportunities that wouldn't have been available to me otherwise. Even though I have a Ph.D., it's in a field that doesn't "match" most analytics job postings. Tableau Public offers all of us a chance to show what we can do through our actual work, rather than just a list of credentials and experiences.
What was it like when your "Most Common Birthdays in the United States" viz was featured in the New York Post?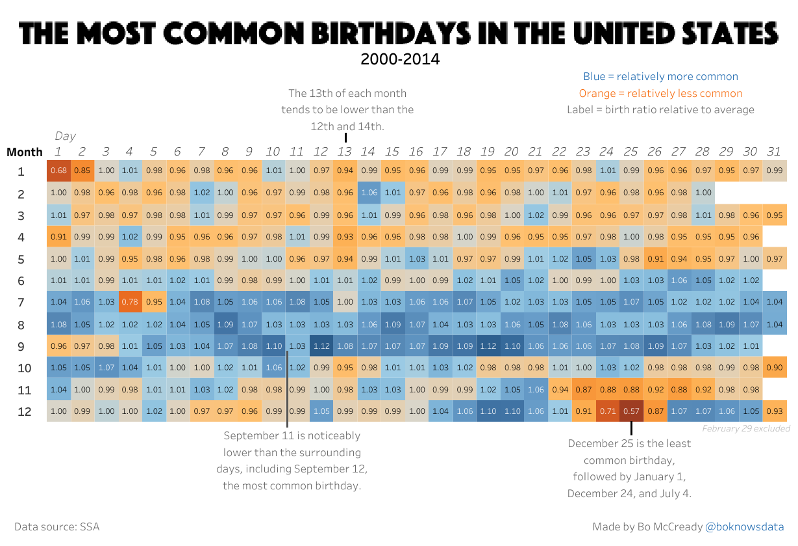 Bo McCready's Tableau Public viz as seen in the New York Post.
The way this project took off speaks to the way that anyone can use Tableau to get people excited about data. Both this article and my feature in Forbes last year came about because I published my vizzes on Reddit. After each viz made it to the FrontPage, they caught the eye of journalists. I've had other vizzes show up in articles online as well, sometimes without me even knowing. These projects tend to take on a life of their own once they reach a broader audience! I've been fortunate that multiple of my projects resonated with people outside the Tableau Community. Just a few weeks ago, I hit the surreal milestone of a million views on Tableau Public. Early in my career, I was happy if I wrote something that 20 people read—now my work has been seen by millions, which has been bizarre but lots of fun.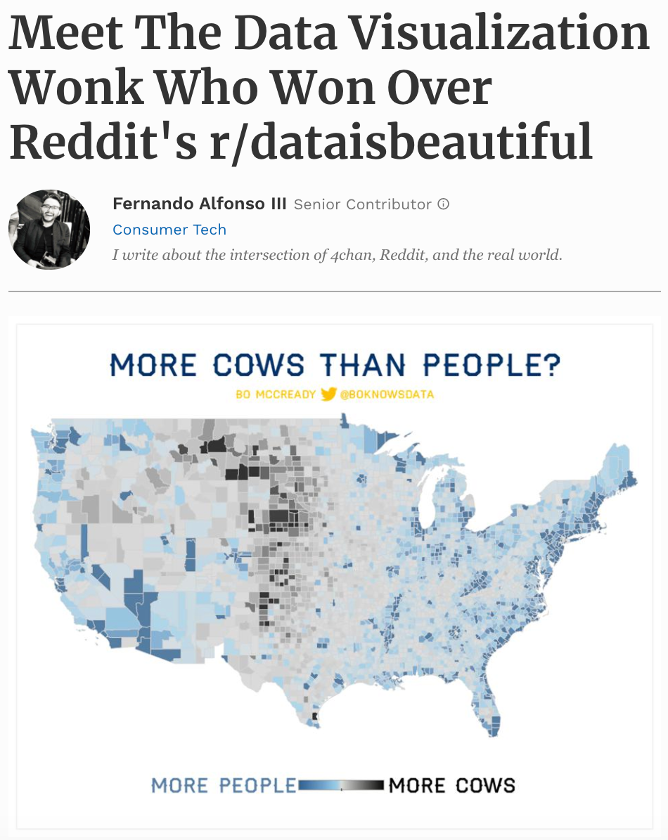 Bo's visualization featured in a Forbes article.
Do you have a favorite viz or author on Tableau Public?
I'm extremely self-critical and I often see others' vizzes and think "nothing I make is nearly as good as that!" I just love scrolling through the VOTD gallery for inspiration and seeing the wide variety of voices, designs, and ideas. I consider Tristan Guillevin's winning Iron Viz dashboard to be the one that made me say "I want to do this too."
What role has the #DataFam had on your Tableau journey?
Although I've been using Tableau for a while, I didn't start connecting with the broader community until 2018. Through the Madison TUG, Pat McCormick provided me with the opportunity to participate in a tip battle at TC18 that featured an absolutely stacked lineup (plus me, a noticeable outlier). Zen Masters Ann Jackson and Luke Stanke were part of that event and even though they were Tableau "celebrities" they treated me like I belonged right away. I came back from that conference and started using Tableau Public for creative projects, and the people I met both in person and virtually became not only my peers but my friends.
The #DataFam community is incredibly supportive and open to newcomers, and I'd love to see that openness continue. As long as you come with kindness, it's easy to quickly connect with others. So many voices are relatively new, and that's really cool. In contrast to what I experienced in academia, it's not about your experience, your degrees, or your titles—it's about who you are and what you create.
I also want to note that a lot of us struggle regularly with imposter syndrome. I often feel like my vizzes aren't good enough, but knowing that others who are miles more talented than me have experienced the same struggles and creative blocks definitely helps.
We are celebrating 10 Years of Tableau Public. What is your favorite feature of Tableau Public?
My favorite feature is the ability to download and deconstruct others' vizzes! I can't tell you how much I've learned from downloading someone else's workbook to see exactly how a crazy chart was built.
If members of the #DataFam visit Austin TX, what do you recommend they do?
Grab a beer at one of our awesome local breweries, like my neighborhood spot, Austin Beerworks, or Austin Eastciders. Tacos and barbecue are a must—go for the Migas tacos at Veracruz All Natural and get brisket from La Barbecue or Stiles Switch. Walk around South Congress and check out the famous bats at dusk—just because it's touristy doesn't mean it's bad!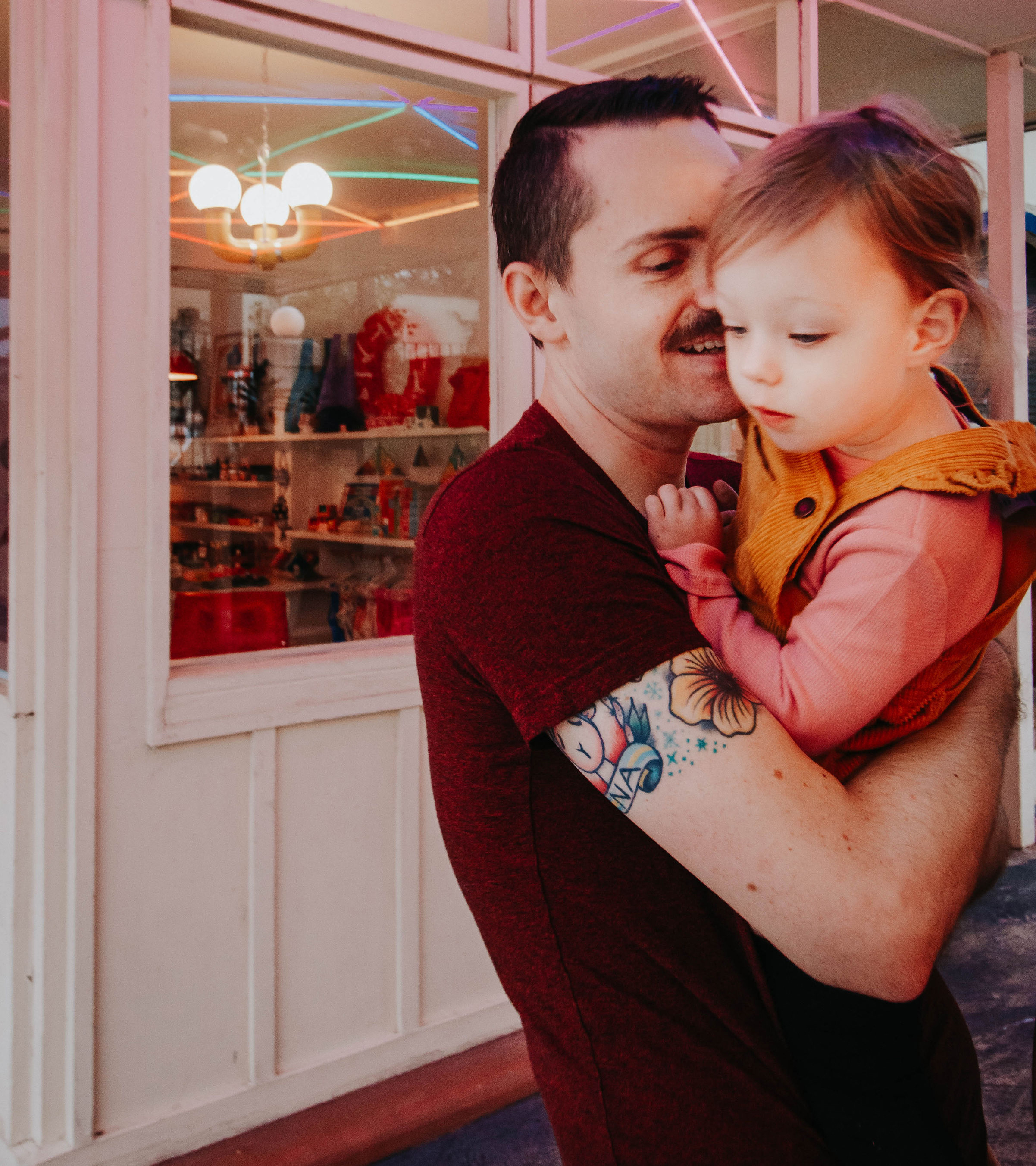 Bo pictured with his youngest daughter, Willow.
Congratulations, Bo—we can't wait to see what's in store for you next. Want to stay up-to-date with Bo's latest work? Be sure to follow him on Tableau Public.
Subscribe to our blog
Get the latest Tableau updates in your inbox.