Embedding API Tutorial (AngularJS) - Part 2
Part 2: Using Connected Apps for Embedded Single Sign On (SSO) to Tableau Server/Cloud
Goal
This is part 2 of a 3 part series, on how to use Tableau's Embedding API with AngularJS. Part 2 will build off the web app created in Part 1, and add an authentication layer. This means the end user will get prompted to login, and we can use those credentials to authenticate them to Tableau Server. Once we've validated them as a Tableau user, we can use Connected Apps to seamlessly render the dashboard using the user's context. This means we'll need to build a backend to this web app, in order to separate code that runs client side (browser) and server side (NodeJS). We'll also add some routing to this application, using the native AngularJS routing module.
Background and Requirements
In order to complete this tutorial, you will need the following:
Either Tableau Server (version 2021.4+) or Tableau Cloud

If you don't have a Tableau Server to develop against, you can always join the Tableau Developer Program, which gives you access to a free Tableau Cloud instance for use in development

Admin rights to your Tableau Server/Cloud environment
Install Angular CLI on your workstation
Either complete part 1 of this tutorial series, or download the source code from part 1 and use that as your starting point
Test SSO using Connected Apps
At this point, we should have a working Angular app, that includes the following pages:
/login - Login page, where users can authenticate via Tableau. All page loads default to here, if the user doesn't have a valid session
/home - Shows a list of cards, that represent dashboards hosted by Tableau. There is some basic info about the dashboard on each card, and they are also clickable to view an emdedded dashboard
/dashboard/:id - Displays a specific Tableau dashboard embedded into the web app. This includes single sign on using connected apps, so that the user doesn't get prompted for a login by Tableau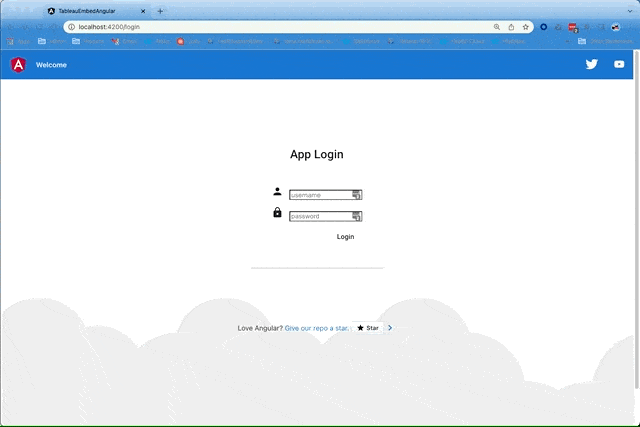 Troubleshooting
Single Sign On
If you are getting some weird error messages from Tableau when using connected apps, check out the troubleshooting section on Tableau's documentation for more details on what the error codes mean.
No such file or directory error

If you see an error message in the logs that looks like this: [dev-express] Error: ENOENT: 
no such file or directory, stat '/<some>/<local>/<path>/tableau-angularjs-sample/tableau-embed-angular/dist/tableau-
embed-angular/index.html

It means you have your wildcard route handler defined BEFORE your actual routes. Express goes in order of definition, so you need to have the below code block as the last defined route (after all your other routes like jwt.js, dashboards.js, etc)
Last updated: August 18, 2023