Global consulting and software firm Prometeia improves customer experience with Tableau embedded analytics
---
Prometeia is a leading provider of cutting-edge advisory services, tech solutions and research insights with more than 500 clients in all economic segments
In the last years, more than 10 innovative projects have been created using Tableau
Partner Visualitics increases adoption within the business
This story was produced by our partner, Visualitics. The original version in Italian can be found here.
Prometeia is one of the leading European consulting firms in Risk and Wealth Management solutions and services for institutional investors. With offices in Bologna, Milan, Rome and five international branches (London, Istanbul, Zurich, Moscow, Cairo), it boasts over 1000 professionals active worldwide.
In 2016, the company adopted Tableau with the main purpose of developing a portal dedicated to numerous customers.
"We needed to create a virtual place where they could interact with the territorial and sectoral forecast analyses that we made available to them, in various economic and financial sectors" says Marco Brandolini, Principal of the Wealth & Asset Management area and head of the Business Intelligence and Customer Analytics. "Thus, thanks to the use of Tableau, the Prometeia Mio portal was born: a platform that the customer can access to view the data of their interest, compose customized dashboards and automatically and autonomously download the necessary information; and thus, starting from that successful experience, various projects were born aimed at creating data warehouses and reporting / BI systems in the environments of some of the main players in the Banking and Real Estate world. In recent years, the use of Tableau is also accelerating the creation of embedded analytics for SaaS applications such as ESG/Physical Risk analysis."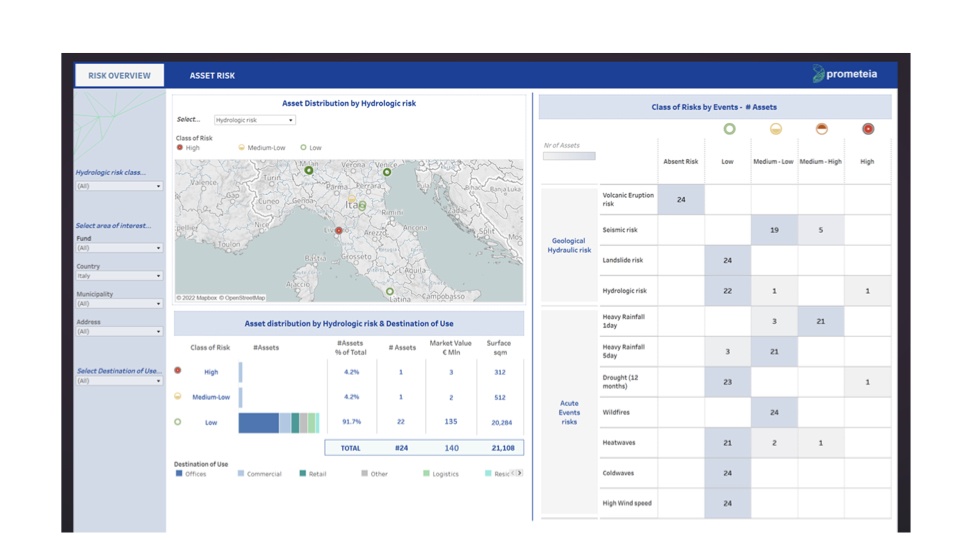 Given its great versatility, in some projects the company was specifically asked to use Tableau due to its integration with cloud systems and programming languages such as R and Python.
Increasing speed of access to key insights
To date, in the group of analysts and experts in Data&Analytics in the Wealth & Asset Management area of Prometeia, more than 30 people have introduced Tableau as a working tool. "It was essential for us to find a method of analysis that included, as the last step of the process, a captivating way of presenting the results achieved." Brandolini explains that thanks to data visualization he has solved the problem.
"At times, we had difficulty in making the final result of our analyses appreciated in its entirety, which ran the risk of getting lost behind the narrative of mechanisms that are not always easily understood. We have found in Tableau a flexible, powerful and versatile tool that has allowed us to give further value to our calculations also as regards "historical" and mature services that we make available to our customers, such as territorial financial analyses and forecasts; so the customer can really touch, in an immediate and above all interactive way, the results of our analysis algorithms, which are usually very complex, favoring the 'dialogue' between back-end and front-end."
Tableau has also provided an enormous contribution in the internal development processes: in fact, with the use of Tableau, on the one hand, the realization times have been reduced by 20%, especially in the prototyping phases of the most innovative solutions and on the other hand it has allowed to professionals less accustomed to programming to actively contribute to their design and development.
Prometeia worked with Tableau partner, Visualitics, to implement Tableau.
"In the process of disseminating skills on Tableau, Visualitics he played the fundamental role of accelerator and facilitator: if before our modus operandi included numerous solo tests on the tool, with their support the training has become very specific on numerous projects and aspects" , Brandolini points out, who made use of both Basic and Advanced courses, and various on-the-job training within his own group: "Surely the help of a specialized partner facilitated the learning curve of the tool and made it possible to fully exploit its enormous potential. "
We have found in Tableau a flexible, powerful and versatile tool that has allowed us to give further value to our calculations.