Accelerators for Tableau Online
Go from data to insights to action faster than ever before
Tableau Accelerators are designed to help you hit the ground running with actionable data in minutes. In just a few clicks, you'll be able to connect to common enterprise applications and create beautiful, data-rich dashboards seamlessly.
Accelerators for Salesforce
Harness the data from your digital transformation
Hit the ground running by pulling your Salesforce data into pre-built Tableau visualizations to make better-informed decisions faster than ever. With Salesforce Accelerators for the Sales Cloud, Salesforce CDP, Revenue Cloud, Marketing Cloud, Service Cloud, and Nonprofit Cloud, you have the power to analyze your data across the business in a snap. Select an Accelerator and log in to Salesforce directly from Tableau Online to begin unlocking data insights in minutes.
Accelerators for LinkedIn Sales Navigator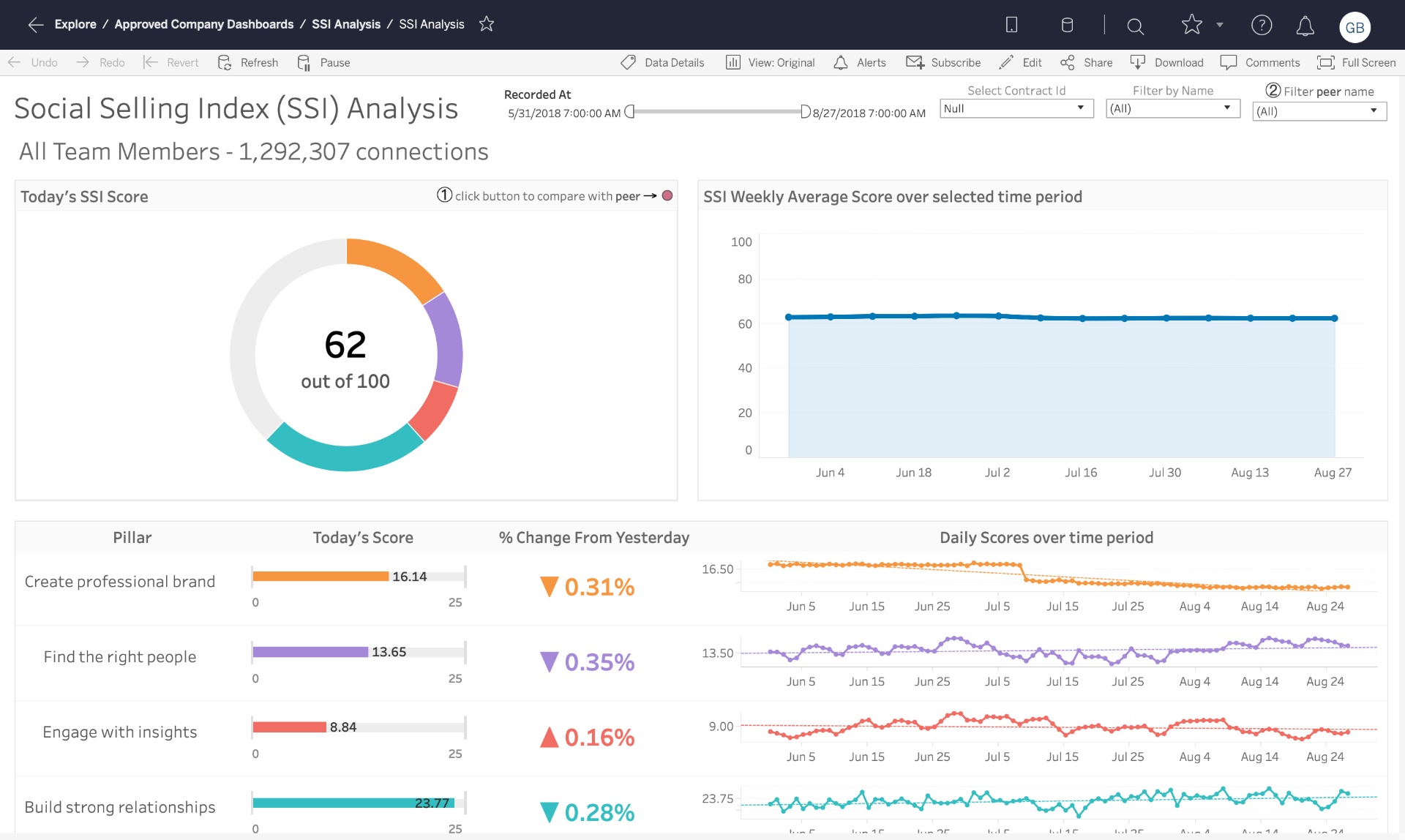 Make your sales strategy data-driven
Quickly access your LinkedIn Sales Navigator usage data in Tableau Online. Uncover powerful insights to drive your team's productivity and sales effectiveness.
Use Tableau Desktop? Download these Accelerators and many more from the Tableau Exchange
Accelerators for Oracle Eloqua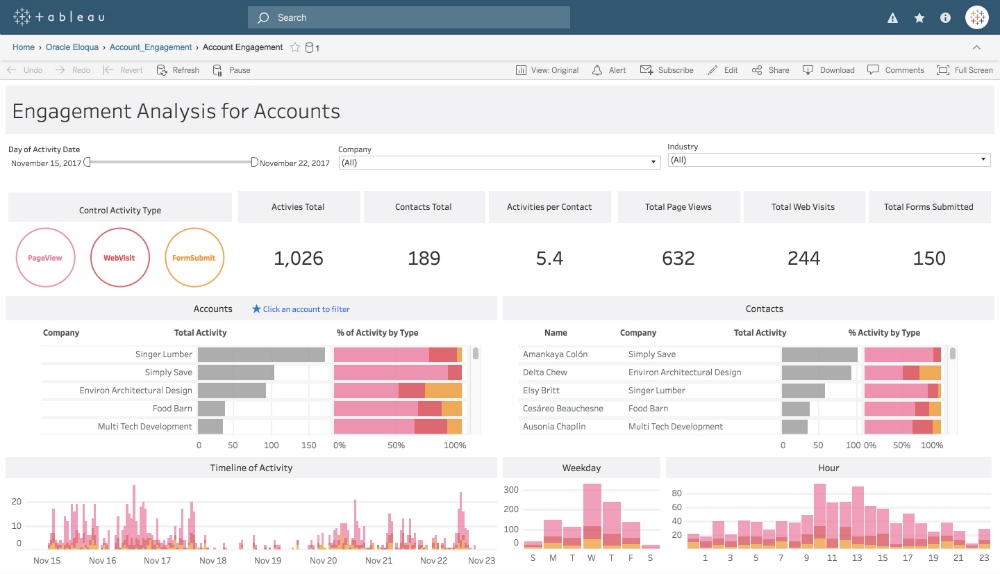 Your email marketing data just evolved
You've got a lot of data in your marketing automation platform. Every time someone opens one of your emails, clicks through to your site or fills out a form tied to a campaign, data is flowing into your system. It can be overwhelming if you don't have the right tools to analyze it.
Go from 10,000 feet to deep into the details of any campaign. Understand how a single customer or how a whole industry is consuming your content. No need to fear the data you have. Accelerators for Eloqua will take you from data to insight to action in moments.
Accelerators for Marketo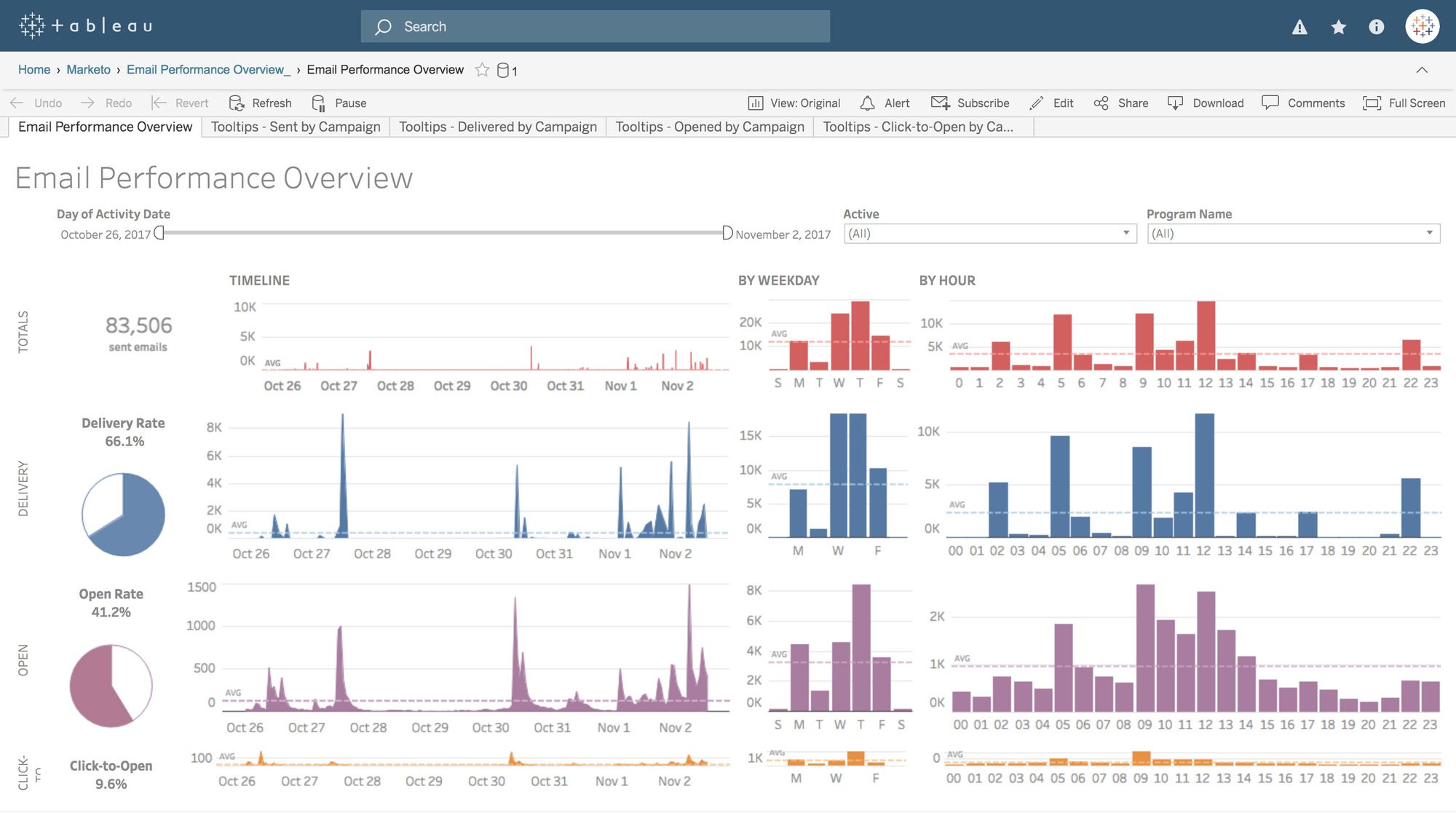 Your Marketo data never looked so good
Create beautiful and insightful marketing dashboards with just a few clicks. See and understand your data around campaign performance, customer activity and website engagement. Pull together your marketing automation data into visualizations that help you see what tactics are winning over converts and what messages are getting lost in the mix.
But don't stop there. Accelerators are just the beginning of your data exploration. Edit and customize to ask additional questions of the vast trove of data collected by Marketo.
Accelerators for ServiceNow
See all facets of your IT org
No matter the industry, technology and IT are at the heart of most companies. IT is not only vital to the smooth operations of the business today, but also the future success of the company.
With ServiceNow Accelerators, you'll be able to seamlessly pull all of your ServiceNow IT Service Management data into Tableau, complete with pre-built dashboards ready for action. If you need a high-level vantage point of the health of the entire department or a granular view of specific incidents, a dashboard is ready and available with your data.
Without Tableau, we would be stuck analyzing enormous amounts of data in spreadsheets. Instead, we create dashboards that provide clear actionable insights, and that drive the business forward.
Learn more about Tableau
See How Departments Like Yours Use Tableau
Try Tableau Online for free
Dashboard Accelerators are part of Tableau Online. Try them out for yourself by starting a trial of Tableau Online and connecting to data.