As one of the world's most influential Information Technology analysts, Gartner produces a large volume of research. In February 2012, Gartner released their seminal "Magic Quadrant Report for Business Intelligence Platforms" and wrote an in-depth analysis of Tableau. The link at the right will take you to a complimentary copy of the report. The listing is alphabetical with a summary of findings at the end. Read below for our analysis.
Gartner Key Findings Include Positioning Tableau as "Challenger"
In the 2012 Gartner Magic Quadrant report, Garner positioned Tableau as a "Challenger" which is based on "Ability to Execute" and "Completeness of Vision." We're thrilled with our position especially in terms of the metric "Ability to Execute." We think that ability to execute is a critical factor in how much benefit an organization can gain from its BI application. Other key findings from the
Gartner Magic Quadrant
report include:
"In 2011, business users continued to exert significant influence over BI decisions, often choosing data discovery products in addition to/as alternatives to traditional BI tools. An avalanche of new use cases, content types and interaction models expands the scope for tomorrow's BI platforms"
"Differences between Business Users and IT in how they drive product preferences: The crux of the conflict remains the same as last year: business users demand easy to use, flexible products that put analytic power into their own hands, against IT's desire to maintain standards and create a supportable BI environment with predictable performance and quality data."
These are findings that we're seeing directly among our customers and prospects. The people who have to make decisions with data want BI software that is easier to use - even fun, is faster in producing results, can adhere to IT standards and yet doesn't require heavy IT intervention.
A Short Video Review of the Gartner Magic Quadrant Report
2012 Gartner Magic Quadrant >>
Figure 1. Gartner Magic Quadrant 2012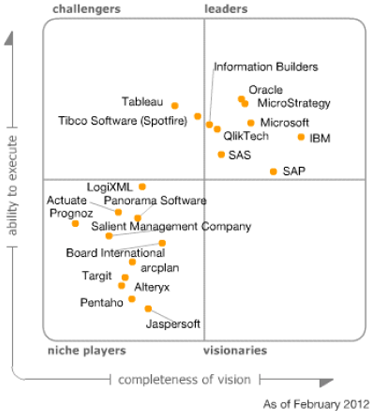 Source: Gartner "
Magic Quadrant for Business Intelligence Platforms
" by John Hagerty, Rita L. Sallam, James Richardson. February 6, 2012.