Shopitize delivers real-time retail intelligence with Tableau
---
If you scroll through the photographs on a Shopitize customer's smartphone, you're as likely to see pictures of recent grocery till receipts as you are images of family, kittens and holidays. Shopitize unlocks the power of the humble shopping receipt, allowing UK consumers to get cashback on their regular shopping directly to their bank account once they have taken a photo of the receipt.
It works like this: you download the app and browse through the offers. When you have decided what to buy, you scan the product barcode using the Shopitize app to ensure the product is on offer. Then you upload your receipt to the Shopitize app. Cash rewards are then sent directly to your bank account.
For leading brand partners like Kellogg's, Danone, United Biscuits, and Innocent, Shopitize provides a direct route to retailer-agnostic mobile marketing promotions targeted at UK shoppers. Shopitize's real-time view of consumers' entire shopping basket is the secret ingredient these organizations need to optimize campaigns in real-time and increase marketing return on investment. They also use this actionable, analytical insights to help shape the future strategy of their brands.
Making sense of a mass of retail data
The challenge for Shopitize has been to make sense of this large-scale and complex retail data, which includes data on user demographics (collected during the registration process), in-store transactions, and retail outlets.
"We previously relied on a mixed bag of spreadsheets, data aggregation, and visualisation tools to integrate and present the retail reports with brand owners," says Graham Halling, Commercial Director. "It sometimes took days to crunch through the data and create an analytical profile of a brand that we could present to one of our brand partners—and by that time the data was getting ancient. If the brand partner wanted to see a different slice of the data, we had to go back and start again."
Roger Pubill, Campaign Performance Manager, was equally frustrated by this labored approach to business intelligence. "To create a report, we used to extract all the data from our back-end server," he says. "For someone with limited IT experience it was a nightmare. There would be dozens of spread sheets lying on the table, and we raced around trying to make sense of the data for a report needed the next day."
The visualisation of the data was key: the retail intelligence contained in the reports presented to brand partners had to be clear, concise, and immediately understandable. Dr. Alexey Andriyanenko, Co-Founder and Managing Director of Shopitize explains, "If I turned up at a client with a 150 page report, packed with spreadsheets and dull graphs showing shopping trends over time, I'm not sure they'd even offer me a coffee. Being able to give them the results in a format they can cascade around the business, without me having to come in each time and explain it all over again, would be a powerful differentiator for Shopitize."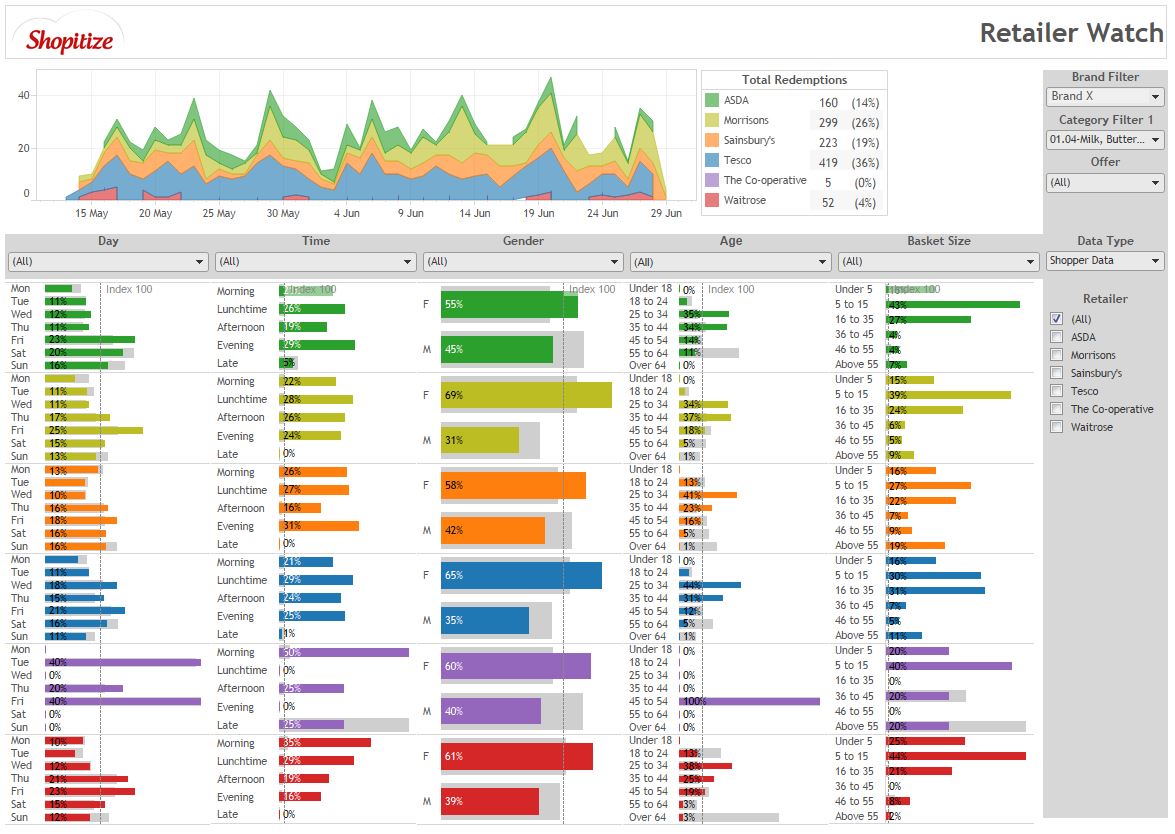 The development of innovative new Shopitize services was also arrested by the manual approach to analytics. According to Halling, "We saw an opportunity to offer brand partners controlled market-testing of their fast-moving consumer goods (FMCG) products to the audience of active smartphone shoppers, and to deliver immediately actionable findings. For example, how different shopper segments perceive brand owners' products and what promotional channels are most effective in driving behaviour-change in these segments. Analysis like this would have required an army of developers—and taken months to develop."
Visualising a 360 degree view of consumers' shopping baskets
Shopitize is using Tableau Desktop and Tableau Server to create visual, actionable intelligence on two key parameters: sentiment data (what consumers think about products and the shopping experience) and the actual purchase transaction data across UK supermarkets. Tableau visualises a simple, 360 degree, and real-time view of UK consumers' brand-specific shopping basket. Brand owners can then extend this analytics to deliver retailer-agnostic mobile marketing and promotions to UK shoppers, either through the Shopitize platform or through third-party channels.
Tableau is at the heart of new Shopitize service innovations too, like the Retail Reconnaissance consumer insight solution. The interactive visualisations are used to create detailed reports on consumer buying habits across the five major UK supermarkets—all based on the original shopping receipts. The intelligence about what customers are buying, when and alongside which other products is all wrapped up in a visual, easy to understand format, and is used by brand owners to improve key areas such as marketing spend and stock levels.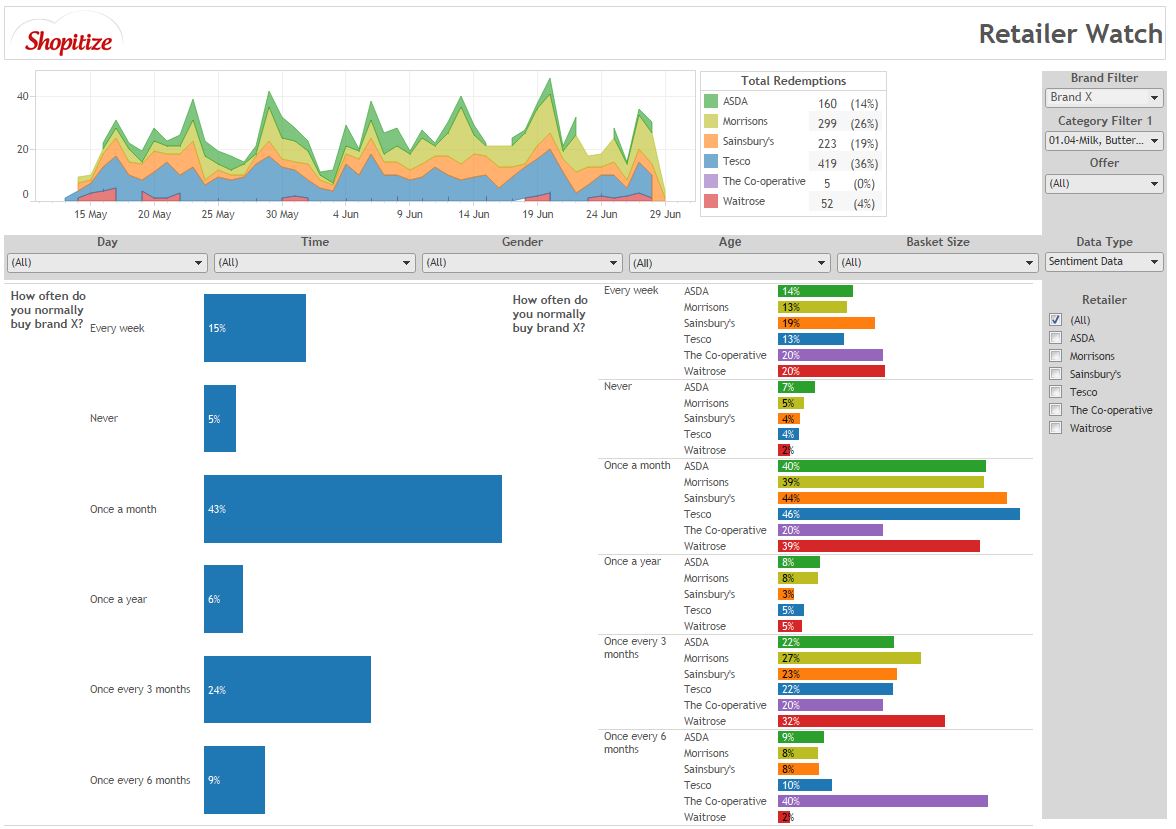 For example, Shopitize was recently tasked by a client to explore the different way males and females buy fruit in a supermarket. The visual analysis showed a large percentage of men buying fruit at the beginning of the week for their own consumption. Women were more pragmatic—buying throughout the week, in greater single purchases, and often for the entire family.
"When we showed those two spikes to the brand owner, they said, 'now it makes sense; now we understand'. Using Tableau to visualize the data makes the answer immediate and obvious," says Andriyanenko.
I can now put together a compelling, visual presentation on a brand's performance in just a few clicks using Tableau. And the way we present the business intelligence astounds everyone who sees it.
Reducing report development time from days to minutes
Reports that previously took days using spreadsheets are now available in minutes. "My background is in advertising; I'm not an IT guy," says Pubill. "However, I can now put together a compelling, visual presentation on a brand's performance in just a few clicks using Tableau. And the way we present the business intelligence astounds everyone who sees it."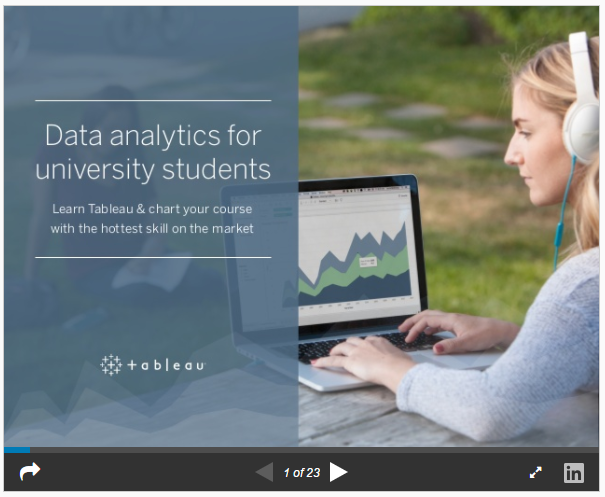 Since going live last year, Tableau has won the admiration of the entire Shopitize team—especially for its ease of use. According to Halling, "When new staff join the company, it only takes them a day or two to become familiar with the tool and begin developing dashboards and reports."
He concludes, "Tableau has become an integral part of our real-time actionable insights offering, which provides brands with a direct mobile channel to consumers. Tableau helps us learn about their behaviour, and we provide consumers with targeted personalised offers based on these real-time learnings."