How to Get Started with the Tableau Community
Learn how to uplevel your data journey and connect with Tableau users passionate about data visualization, analytics, and data storytelling.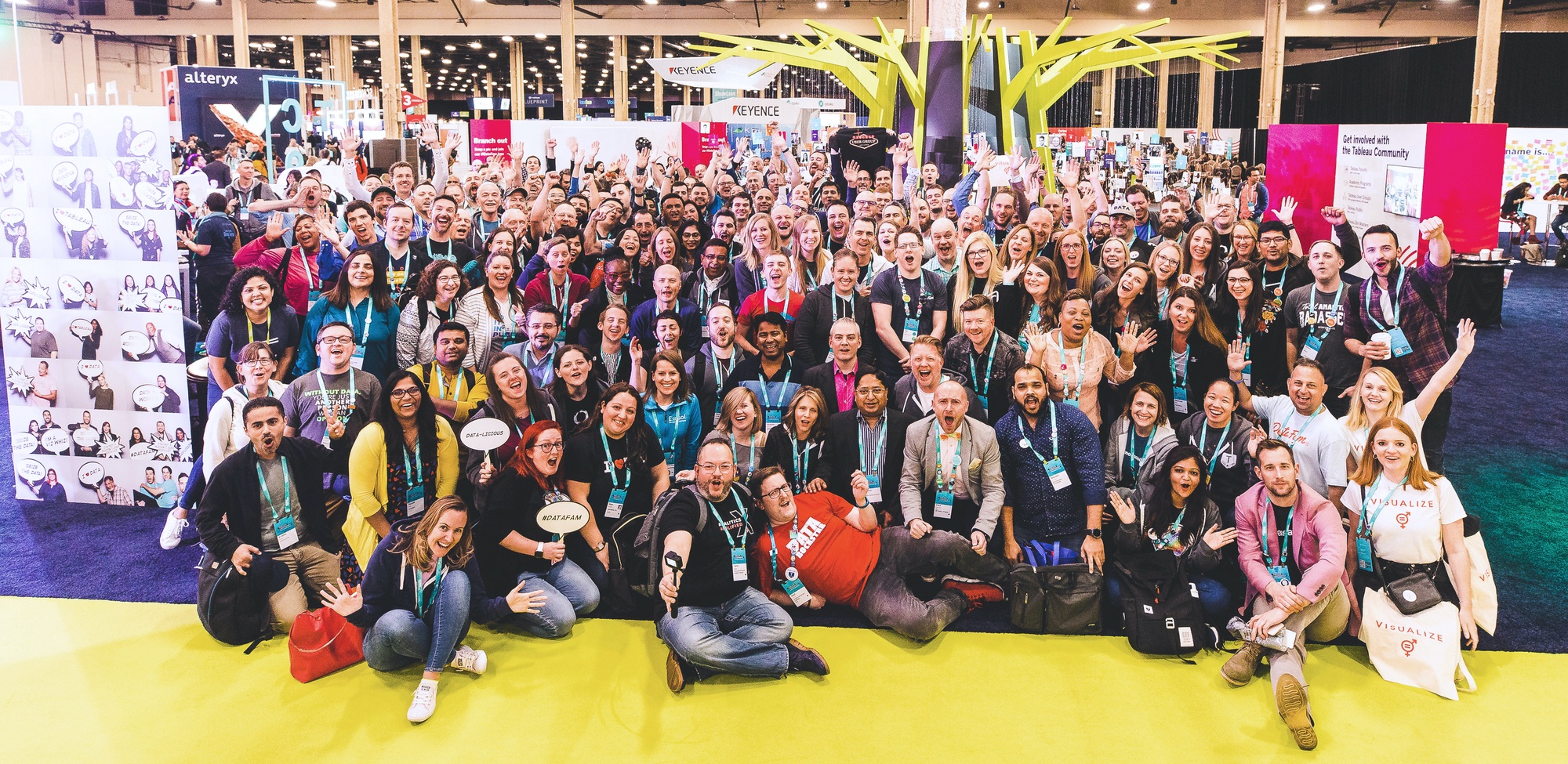 While there is no single way to accelerate your data skills, all roads lead through the Tableau Community. Within the Community, you'll find a collection of resources and activities designed to further your data journey and connect you with like-minded people. 
The Tableau Community is one of the most genuine places where people are always willing to help you through support, feedback, and mentorship! I've helped others, been inspired, and met so many amazing individuals!
The Tableau Community (often referred to as the DataFam) consists of Tableau users who are passionate about data visualization, analytics, and storytelling. You celebrate:
Learning from peers: You accelerate analytics and Tableau learning for newbies and experienced users alike. From content to meetups, events and everything in between, people can learn from their peers in the way they want to interact.
Getting questions answered: You bring together data people from all over the world to answer any questions people have. Whether you're working through a challenge or looking for new ways of doing things, the community is always there.
Inspiring people with the art of the possible: You take inspiration from the brightest data community to bring your data skills to the next level. 
Here are five ways you can get started in the Tableau Community today.
1. Find your data people
For the users and analysts: Connect with other data rockstars in person or online by joining a Tableau User Group. Not only can you find inspiration from your peers and advance your skills, you'll also have a passionate community in your corner along the way. Find a user group in your industry or local area here.
For the data leaders: Join a community dedicated to bringing like-minded data leaders together to connect, learn, and help each other progress on the journey to building data-driven organizations. The Data Leadership Collaborative applies the power of community to the challenges many organizations face as they establish their data cultures.
For the developers: The Tableau Developer Program provides the training, skill building and networking for all levels of DataDevs, from new developers to more seasoned programmers. When you join our developer program, you get your own personal development sandbox, which enables you to test APIs and other developer tools in a safe environment. Be part of the DataDev community and actively shape future Tableau solutions.
For the students and teachers: Tableau Academic Programs support learning and teaching data skills in the classroom with free software, eLearning, curriculum and resources for teachers and students. You can download your free Tableau for Students license or free Tableau for Teaching license today.
For the knowledge seekers: Head to the Tableau Forums to get your Tableau questions answered, collaborate with others and a space to help you get the most out of Tableau. 
2. Participate in a community project based on your skills and interests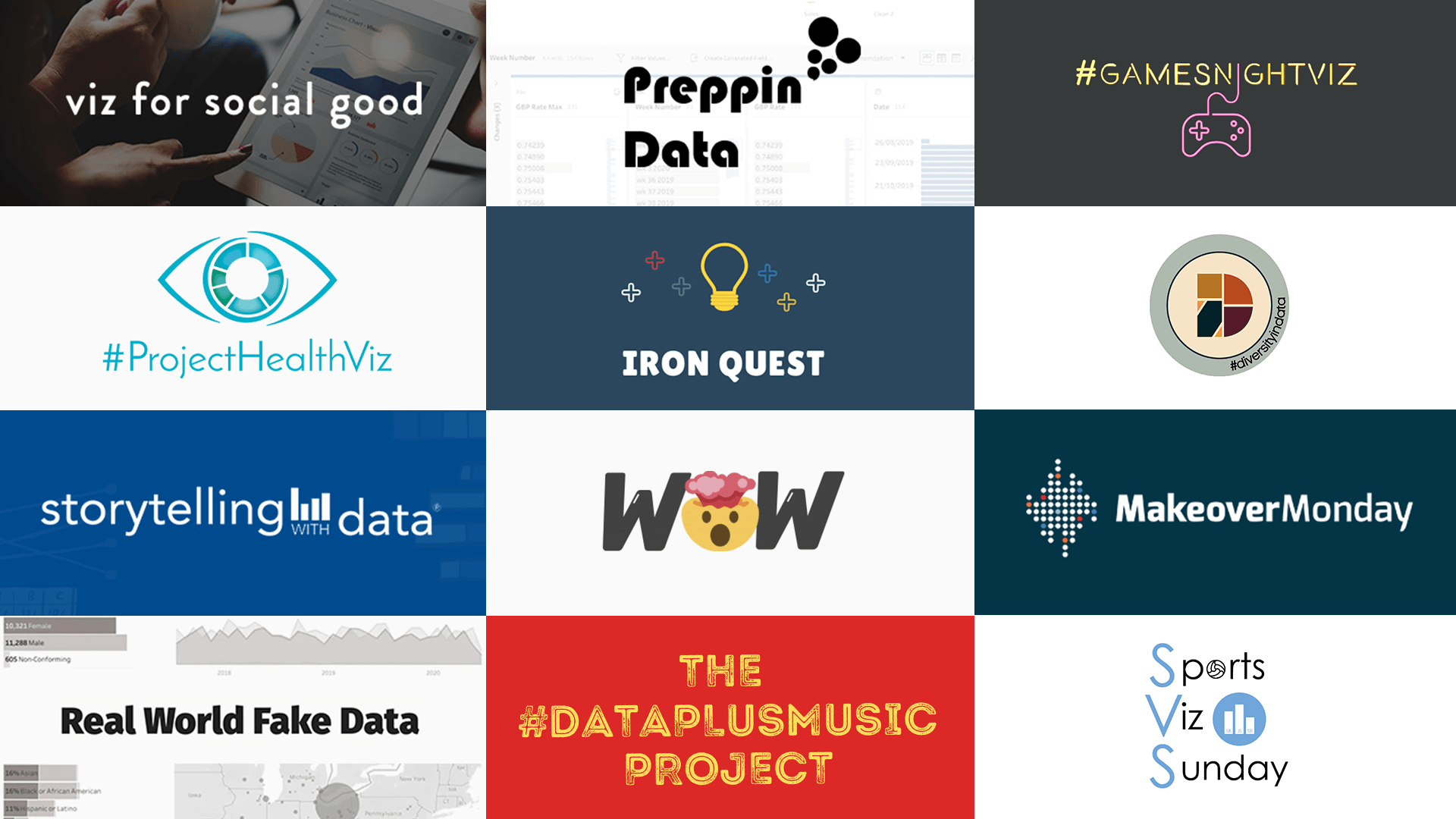 Twelve of the many Tableau Community projects.
Members of the Tableau Community create and lead projects that give you the opportunity to learn, practice, and apply your data skills across a variety of topics, products, and causes. Below, we've listed some of the skill-based projects designed by the community, for the community. View the full list of community projects you can participate in to build your data skills. Don't forget to engage and share your work with the community on Twitter using #DataFam and the relevant community project hashtag.
3. Get inspired on Tableau Public
Tableau Public is a free platform to explore, create and publicly share data visualizations online about everyday topics like sports, music, and health—making data social, relatable, and accessible. Plus, it makes for a great online portfolio of your work.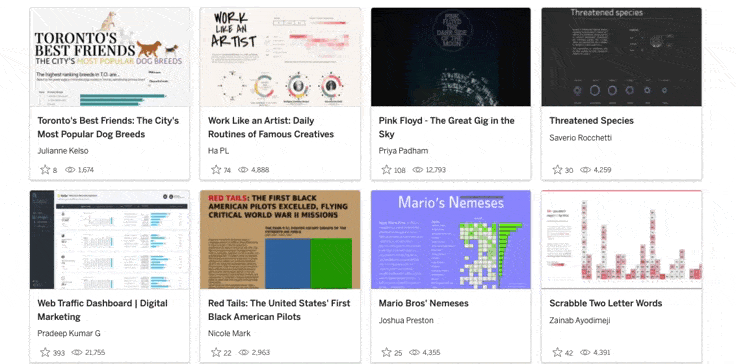 A collection of Viz of the Day's.
Ready for a challenge? Take the next step:
4. Connect with a Community leader—ready to partner with you on your journey
The Tableau Community showcases bold thinking, problem-crunching, idea-inspiring people like you. Every year, members of the Tableau Community have the opportunity to recognize community leaders who embody the best of the community. You contribute in different ways, from sharing your knowledge with others, creating first-class vizzes, championing equality within the community, to nurturing powerful connections. Your impact has been undeniable and united around the common language of moving the Tableau Community forward. Connect and experience their passion, commitment, and expertise—wherever you are in the world.
Tableau Visionaries raise the bar of what's possible. You are masters, teachers, and collaborators, who inspire the Tableau solutions of tomorrow.
Tableau Ambassadors embody the spirit of the community and create opportunities for connection, growth, and inspiration.
The Community Equity Task Force is an action-oriented group of diverse voices focused on the Tableau Community's fight for equality, inclusion, and equity. 
5. Get social with the #DataFam
The Tableau Community is highly active and vibrant across social media, especially on Twitter (@Tableau and @TableauPublic). Consider following our community leaders (click on their photo to access their social handles) and challenge yourself to get involved in conversations, ask for feedback, and share your work all using #DataFam.
Connect with the Tableau Community across our other social media platforms: 
LinkedIn
Instagram
Facebook
Get Tableau inspiration straight to your inbox: Sign up to receive the latest community news, upcoming events and other opportunities to keep you inspired and connected with the global community.
Subscribe to our blog
Get the latest Tableau updates in your inbox.