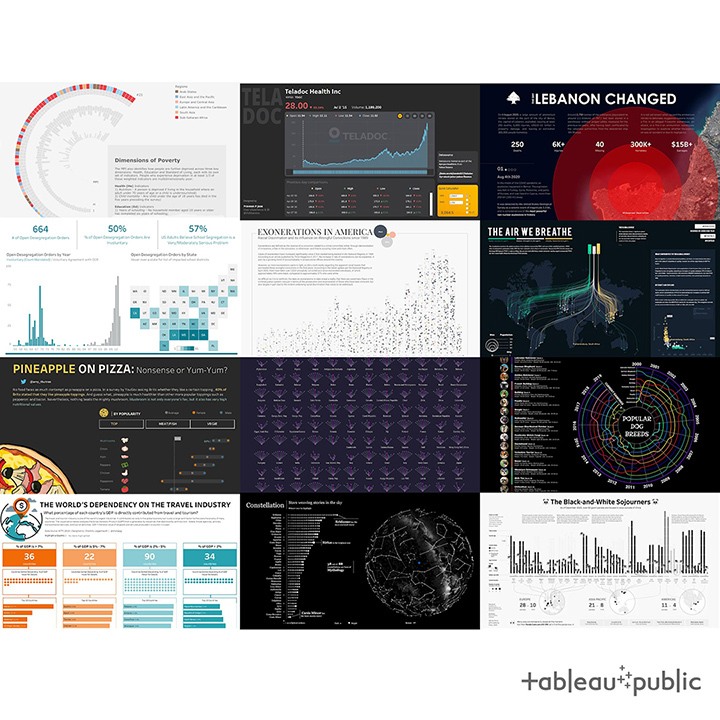 Find inspiration and improve your data skills with Tableau Public
Tableau Public isn't only a free platform for visualising public data, it's also where the Tableau Community can find limitless inspiration and learn from one another. But don't just take our word for it. Hear from Tableau Zen Master and Tableau Ambassador Chantilly Jaggernauth on how Tableau Public has impacted her life both personally and professionally.
Watch now
View the latest and greatest from Tableau Public
Check out these community members for inspiring visualistions
Following Tableau Public authors helps you discover new topics, visualisation ideas and community activities. Get started with our featured authors, a group of hand-picked data rockstars.
Alice McKnight
Alice McKnight was introduced to Tableau a few years ago, but became an active user last April when she created her first visualisations while working on an evaluation project. This inspired her to dive deeper into data analytics and the benefits of creating engaging stories with data. She posted her first viz to Tableau Public last January as part of her commitment to increasing her skills. She actively participates in different Tableau Community initiatives, including:
#MakeoverMonday
,
#DiversityinData
and
#RealWorldFakeData
. The community has provided inspiration, feedback, learning opportunities and perspectives on data across professions and backgrounds. Alice hopes to document her growth on Tableau Public and leverage visual analytics skills in her work as a public health professional. Connect with Alice via
Twitter

Opens in a new window.
and
LinkedIn

Opens in a new window.
.
Alicia Gámez Belmonte
Alicia started using Tableau for her final master's internship in March 2020. Shortly after, she created a Tableau Public account to meet and learn from others. She is a data analyst and Tableau is one of the main tools she depends on in her work. In November 2020, she opened a Twitter account to connect and share with the
#DataFam
community. Alicia enjoys creating visualisations on different topics that allow her to learn new things and challenge herself – hence her assiduous participation in
#MakeoverMonday
. Connect with Alicia on
Twitter

Opens in a new window.
or
LinkedIn

Opens in a new window.
.
Alisha Dhillon
Alisha started using Tableau Public a year ago when she applied to Information Lab's Data School. When creating her first vizzes on the ethnic disproportionality in the criminal justice system and hate crime, she realised how much she enjoys working with Tableau, as it allows her to make something that's incredibly difficult to convey come to life and be understood by all. She is now a trainee consulting analyst at the Information Lab where she enjoys helping others make sense of their data. Outside of work, she participates in community initiatives such as
#MakeoverMonday
,
#IronQuest
and
#Viz2Educate
and creates visualisations on topics that inspire her. Alisha loves getting to know others within the community, so connect with her on
Twitter
and
LinkedIn
.
Anastasiia Komissarova
Anastasiia discovered Tableau last year while working as a market analyst for an NGO. She quickly fell in love with data visualisation as a perfect combination of art and science that can serve human good, too. According to her, "data visualisation enables us to 'rediscover' the world and see in action the power and beauty of mathematics". Anastasiia has become an active member of the
#DataFam
community in 2021, regularly participating in the
#MakeoverMonday
challenge. Her favourite parts about Tableau Public include the ability to see exceptional visualisations and meet fascinating people from around the world. Topics of interest to her include gender equality, international conflicts and climate change. Connect with Anastasiia via
Twitter
,
LinkedIn
or
Instagram
.
Dinushki De Livera
Dinushki is a business analyst at Unifund and an adjunct professor at the University of Cincinnati. She was introduced to Tableau through a data visualisation class taught by Zen Master Hall of Famer
Jeffery Shaffer
and has since used it for more than three years. As a way to connect data professionals everywhere, especially women, Dinushki co-founded
Her Data
with friend and colleague
Jennifer Dawes
. She is also a Tableau User Group leader for the Cincinnati Tableau User Group and loves being involved with the
#DataFam
community. Her favourite part about using Tableau Public is the ability to learn and be inspired by others while returning the favour by sharing her knowledge and skills. Everyone grows in the process.
Duygu Unaldi
Duygu is a customer insight analyst at Ticketmaster and uses Tableau in her role. As a trained engineer, she also loves art, graphic design and photography. Data visualisation is interesting to her because it combines her engineering aptitude for data analysis and creativity. In 2020, she discovered Tableau Public and now regularly creates colourful vizzes. She became a member of the
#DataFam
via Twitter and is an active
#MakeoverMonday
participant. She believes that being a part of the community speeds up her learning process. Connect with Duygu on
Twitter
or
LinkedIn
.
Frances Okolo
Frances is a Tableau Desktop Certified Specialist and doctoral researcher in information management at Loughborough University. With a background in computer science and big data in business, Frances has experience in private- and public-sector analytics. She discovered Tableau in 2016 and is an active member of the
#DataFam
, participating in the
#MakeoverMonday
and
#WorkoutWednesday
challenges. She is passionate about creating visualisations focused on public health and economics in Africa, and she volunteers on
#VizforSocialGood
projects. Tableau Public provides limitless inspiration from other data enthusiasts, and a space to develop visualisation skills and share her work, contributing to the Tableau community in return. She is taking the Certified Associate exam in a few weeks! Say hello on Twitter!
Joti Gautam
Joti is a technology analyst at Infosys. She was introduced to Tableau Public in October 2020; after that, there was no going back. She actively participates in community-led projects like
#MakeoverMonday
and
#DiversityinData
, which have helped improve her visualisation and analytical skills to a great extent. Joti focuses on a combination of visual metaphor and compelling data narrative to create intuitive visualisations that can create an instant human connection. She credits the source of her inspiration and learning to the
#DataFam
community – a very supportive and positive environment. Get in touch with Joti on
Twitter
and
LinkedIn
!
Krishma Shah
Krishma is a product manager and data journalist at ADP DataCloud where she develops compelling data dashboards. She discovered Tableau in 2018 from a professor while completing her graduate studies at Stevens Institute of Technology, and has become an active member of the #DataFam. As artistic as she is, Krishma loves Tableau Public because it gives her creative freedom while performing data analytics to convey insights. The biggest motivators throughout her journey have been the Tableau Public Gallery, #VOTD, the Tableau Public Blog and the Tableau Ambassadors. She currently participates in
#MakeoverMonday
,
#Viz5
#Viz2Educate
, and plans to contribute to #WorkoutWednesday and #IronViz challenges. Feel free to connect with Krishma any time and follow her regular posts on LinkedIn and Twitter
Lilla Rasztik
Lilla works as a senior data analyst at EPAM. She joined in 2021, looking for an opportunity to build a data viz portfolio. Tableau Public provided her a platform where she could share her endeavours through storytelling and design, and helped her engage with a great, like-minded community. She enjoys creating vizzes related to life sciences and user behaviour, but also leisure-related topics such as plants, travel and yoga. She finds embedding an important feature since it allows her to integrate work with the curiousanalyst.io blog she just launched. Get in touch with Lilla on
Twitter
or
LinkedIn
.
Lisa Rapp
Lisa is a business intelligence consultant at INFOMOTION, and loves working with customers to gain insights from their data. She is very passionate about data literacy and has developed training courses and programmes to help companies become more data-driven. She started using Tableau about 1.5 years ago after finishing her PhD in physics, and fell in love with the tool and the community surrounding it. She became more involved in the Tableau Community last year and made an effort to complete all
#MakeoverMonday
challenges. The amazing support of the
#DataFam
helped her be more creative, apply new techniques and improve her data viz skills. She hopes to further enhance her data storytelling, design and UX skills by joining more community projects such as
#IronQuest
or
#ProjectHealthViz
. Get in touch with Lisa on
Twitter
,
LinkedIn
or her
All Caps Data blog
.
Madalina Andrei
Madalina is a business intelligence analyst at UiPath, in Bucharest, where she develops modern business dashboards for C-level executives. She started her journey in early 2020 when she discovered how powerful and limitless Tableau is. She immediately integrated into the #DataFam community and remained active by creating visualisations for
#MakeoverMonday
and
#IronQuest
. Inspired by the incredible community, she helped Sergiu Rotaru create a small Romanian tribe that encourages people to create visualisations using Romanian data and raise awareness. Madalina credits her growth to inspiration from the community. Get in touch with her on
Twitter
and
LinkedIn
!
Rika Fujiwara
Rika is a data analyst working for a loyalty-point company in Japan that specialises in marketing. When she first discovered Tableau in 2019, she was immediately fascinated by its potential to be both practical and artistic. Since then, she's enjoyed data visualisation with Tableau for business and pleasure. She's been active with Tableau Public since 2020, focusing on
#MakeoverMonday
and
#Viz5
. Her favourite part of Tableau Public is being able to present her work and learn from others. She started out as a viewer, but learned from the brilliant work of other Tableau Public community members and is now passionate about becoming a better creator. The topics she focuses on are gender equality and education. Connect with Rika on
Twitter
!
Featured Tableau Public vzzes
See the latest from Tableau Public
Get involved to make the most of Tableau Public