5 Ways to Grow Business Value through Analytics
Here's how to create immediate value and engagement for priority use cases along with stories of companies that have had success using these methods.
Editor's note: This article originally appeared in Forbes.
Many organizations are challenged with scaling analytics to reach every employee and/or realizing the full value of their analytics investments. Also, the exponential amount of data they're generating creates additional complexity to helping employees use data in their roles.
Organizations are investing trillions to become more data-driven, but only 8% successfully scale analytics to get value from their data, according to McKinsey.
Harnessing data effectively will create many opportunities for your business to solve problems and thrive. To use and analyze data successfully, employees need access to the right data for their job, plus the technology and resources that support finding and understanding relevant insights. With these critical elements in place, people are better equipped to address compelling data and analytics use cases—and therefore build value for their customers and stakeholders—with visualizations, reports, or dashboards that help solve specific business challenges and answer immediate questions.
If you start small and create immediate value with data and analytics use cases, more people and teams will be encouraged to apply and further develop assets to suit their own needs. The result is a workforce that values, practices, and promotes data use—which defines a Data Culture—to generate positive outcomes including greater data exploration and curiosity, improved collaboration and ability to break down silos, higher expectations for data-related activities, the perception of trust and accountability as equally important, and a commitment to realizing value from data.
On average, 73.5% of respondents in data-leading companies across all geographies said that their decision making was always data-driven, compared with just 5.7% in data-aware organizations.
When businesses build or enhance a Data Culture through technology investments, they support data skills and develop infrastructure to enable wide-scale decision making with data, improving behaviors and beliefs across the organization. Read this Forbes article about data-driven decision making to learn more about integrating data into many business workflows.
Why having all hands on data matters
Everyone in an organization should be using data to drive decision making. When you share victories and patterns of success with your employees, you will help expand and deepen engagement across your business. Intuitive, self-service analytics empower business users—people who aren't trained analysts—to use data in a way that is relevant to their work. This means more people can use data to inform and drive decisions, helping scale analytics and data-driven decision making across the business.
For the 4th consecutive year, over 90% of executives—91.9% in 2022—point to culture as the greatest impediment to [becoming data driven]. Only 8.1% cite technology limitations as the primary impediment.
How to immediately deliver value with analytics
Here are five ways you can create immediate value and engagement for priority use cases—ultimately supporting the long-term viability of your company—along with stories of companies that have had success using these methods.
To jumpstart analysis in minutes—regardless of skill level—visit the Tableau Exchange to get Dashboard Extensions, Connectors, and Accelerators that help you quickly create use cases and visualizations for a variety of industries, departments, and applications.
1. Enable self-service analytics. By doing so, your employees have the tools and power to solve their own questions and discover insights faster. They can collaborate to ensure customized metrics and dimensions have been agreed upon and support their team's goals.
DTDC, a distribution and logistics business based in India, used Tableau to plot data onto a map to better understand the problem of delivery delays. They sliced the information by location, product, and different service parameters. Using this data helped the business reach its goal of returning to pre-COVID profitability within just nine months.
In addition, DTDC provided detailed visibility for more teams into deliveries, which were previously monitored by the operations team alone. By making them available for all senior managers, more people were able to track and make tactical and strategic decisions in order to support a better service performance.
Now, senior management can look at trends daily and derive actionable insights to help teams find new sources of revenue, while also providing exceptional customer service to existing customers.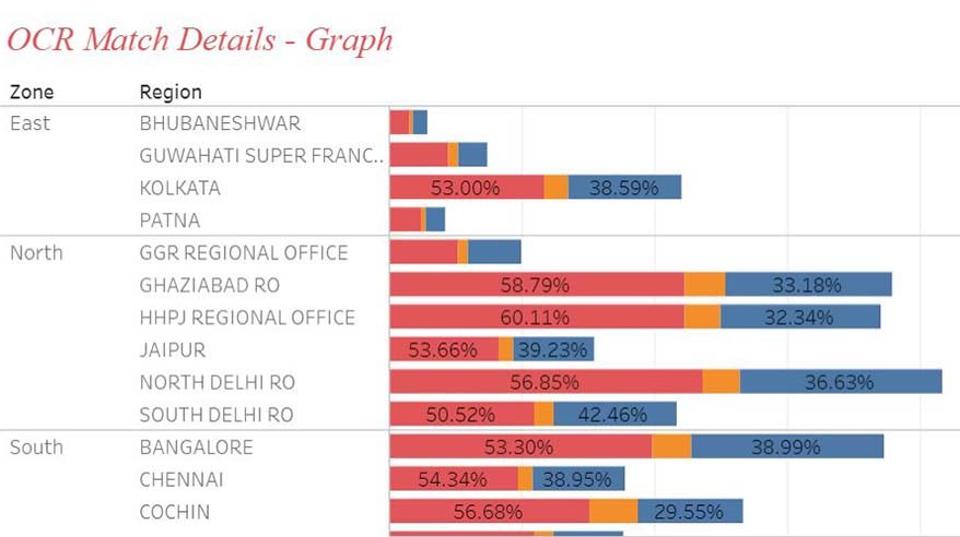 DTDC's optical character recognition (OCR) match dashboard helps staff better track deliveries and offer improved service by understanding sender and recipient information by region.
2. Provide specific goals and their related KPIs to help teams measure success. Well-articulated goals empower teams to create purpose-built data assets quickly, like interactive visualizations, to monitor key business processes and address key decision points relevant to their line of business.
Emami, a leading personal care and healthcare business in India, created tailored visualizations to track financial and operational metrics. For example, the business can see all purchase orders at a glance and drill down to investigate those which have been open too long. The team at Emami also used Tableau to build a brand performance heatmap, a purpose-built data asset that helps users understand which of its brands generate the most growth. This helps the company make data-driven recommendations to retailers.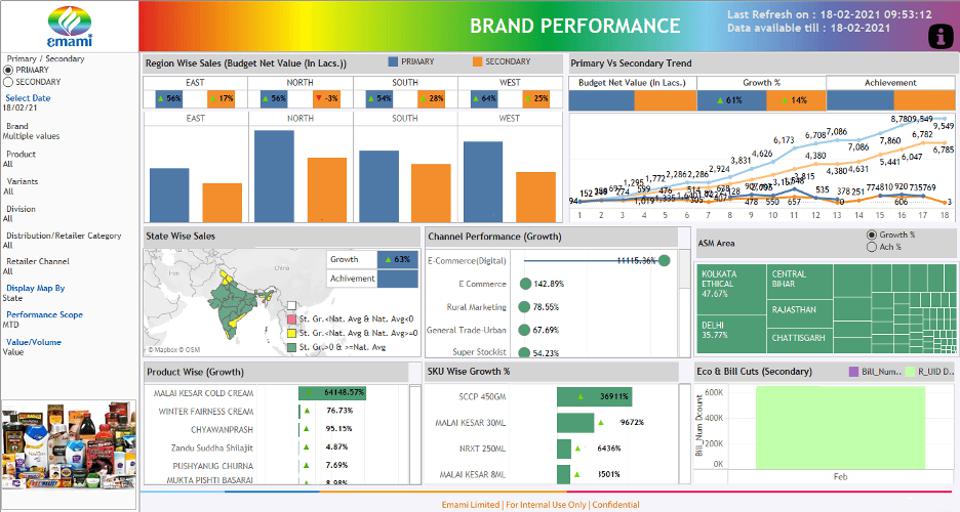 3. Democratize advanced analysis with intuitive AI. Predictive analytics can help your employees drive better decisions now and for the future. Lowering the barrier of entry to use data science capabilities will allow more employees to solve complex analytics questions.
E.ON, an energy group headquartered in Germany, uses Tableau to monitor the status of its sensors on combined heat and power systems. Its grid system monitors tens of thousands of network components within one single map. These insights underpin the company's predictive maintenance strategy, ensuring they operate at optimal performance.
E.ON's AI team also used Tableau to develop an easy-to-monitor algorithm that maps the value of the sensors to a single "health index." "Operators no longer sit in a control room staring at 20 screens; they can monitor everything in a unified, live visual environment. Colleagues outside of the power plant can also monitor the turbines by picking up their iPad and examining the health index," said Alexander Schaaf, a visual analytics engineer.
4. Support development of data literacy or confidence when working with data by investing in your workforce with internal training sessions, third-party programs, and more. Since data literacy is quickly becoming a required skill for all employees—not only data scientists and analysts—it's important to grow your organization's analytics maturity and prioritize the ability to explore, understand, and communicate with data for all employees. (Discover useful, tested guidance to help close the data skills gap in this Forbes article: A Successful Path To Data Literacy And Analytics Maturity For All.)
To grow data literacy in their workforce and upskill employees, Zeotap, a data company that helps companies understand their customers and predict their behaviors, took advantage of the 90 days of free Tableau training and continues to run regular, internal sessions. The Analytics team works to discover analytics best practices and get daily inspiration from Viz of the Day.
By expanding their Tableau deployment to include sales, executives, sales enablement, and marketing teams, more people are able to tap into deeper sales and revenue insights, becoming more familiar and confident when working with data. Even Zeotap's executives can better understand which products and segments contribute the most revenue and make more informed decisions about cross-selling and upselling strategies.
5. Identify subject matter experts in each department who can provide quick feedback and ensure that data and analytics teams have the business context they need to develop effective data assets so everyone can use them and build further analysis.
JPMorgan Chase (JPMC) uses data to make important strategic decisions. Its marketing operations team analyzes the customer journey, which influences design decisions for the website, promotional materials, and products like the Chase mobile application. Meanwhile, its finance and branch managers analyze data to support a stronger customer banking experience.
But those aren't the only JPMC employees who have become empowered with domain expertise. Traders, operations analysts, sales, and risk and compliance team members have also benefited from Tableau's API capabilities, which support a seamless analytics experience with existing business applications.
To make data more accessible, IT removed barriers for business groups, enabling self-service at enterprise scale. In 2017, eight individuals trained 1,200 new developers and analysts on the platform, sparking interest among employees that has led to nearly 30,000 current users.
By allowing analysts across business teams to question their data with Tableau, JPMC also reduced manual reporting time from months to weeks, saving thousands of hours and creating better enterprise-wide decision making with elevated transparency.
Understanding analytics roles and responsibilities with Tableau Blueprint
Learn about the roles that employees on a cross-functional project team—IT/BI professionals, Tableau administrators, data stewards, and content creators—can play in your company's quest to more effectively use data. Cross-functional project teams should focus on establishing and maintaining the analytics practice, managing your organization's data in compliance with business and/or regulatory requirements, planning and deploying a BI platform, and more. Find out about the value specific roles can deliver with Tableau Blueprint.
The Way Forward
Organizations around the globe are leveraging these five priorities to increase organizational engagement and promote a Data Culture. Once teams have a data-first mindset to make decisions, businesses can easily drive value for all their stakeholders. The key thing is to start small and claim key wins to inspire employees to be part of the move and solve compelling use cases with their own data and insights.
Here are some resources to explore to help your business take the next step.
For a detailed guide on how your organization can achieve more with a data-first mindset, view the Data Culture Playbook.
Start a free trial of Tableau today.
1. IDC White Paper, sponsored by Tableau, How Data Culture Fuels Business Value in Data-Driven Organizations, Doc. ##US47605621, May 2021.
Subscribe to our blog
Get the latest Tableau updates in your inbox.