6 ways to offer a superior experience with embedded analytics
Embedded analytics can add value to your applications, portals, and services. Whether you're a software provider adding analytics to your amazing products, or an organization offering data to your partners or customers, you can offer your customers a superior experience with flexible, interactive, and modern analytics.
By Tri Tu
Senior Director, Solution Engineering, Embedded Analytics

We live in an increasingly data-driven world. With data everywhere in our lives, the expectation and the need to access meaningful information when making business decisions has only grown—and your applications are no exception.
Monetizing your data or embedding analytics into your core products are great ways to facilitate and provide data and insights when and where your customers need it. Whether you're a software provider adding analytics to your amazing products, or an organization offering data to your partners or customers, you can add value by integrating rich analytical capabilities into your applications, portals, and services.
An effective embedded analytics integration offers much more than just pretty report snapshots—it provides a seamless way to access trusted data right within your business applications. Here are a few things to consider if you're looking to offer a superior experience with embedded analytics.
1. Empower customers with self-service analytics
Ease of use and interactivity are key to providing the self-service that customers expect from modern business intelligence. Today's solutions also enable analytics use cases with previously challenging sources and quantities of data, including IoT and geospatial data. Robust modern platforms natively connect to and surface data that matters for decision-making, and AI-driven features like predictive analytics and natural language querying can help to provide a more complex and meaningful analysis through simple, intuitive user interfaces.
"As we transition away from traditional print reports to an information and analytics provider, we want customers to be able to dig deeper into data wherever necessary," said Manca Vitorino, Data Operations Director at ICIS, the world's largest petrochemical market information provider. Manca's team increased value to customers with fast, accurate BI through embedded, interactive visualizations that give customers a different way to digest and explore their data.
2. Provide a seamless look, feel, and flow
The most tightly integrated embedded solutions don't just maintain consistent branding, but thoughtfully keep users in their workflow. Think beyond color schemes and further customize your embedded analytics solution with custom modifications like sliders and buttons that tie the visual analytic exploration nicely into your application or site functions. You can white-label embedded analytics or integrate them directly to bring data to life right in your application—and in context.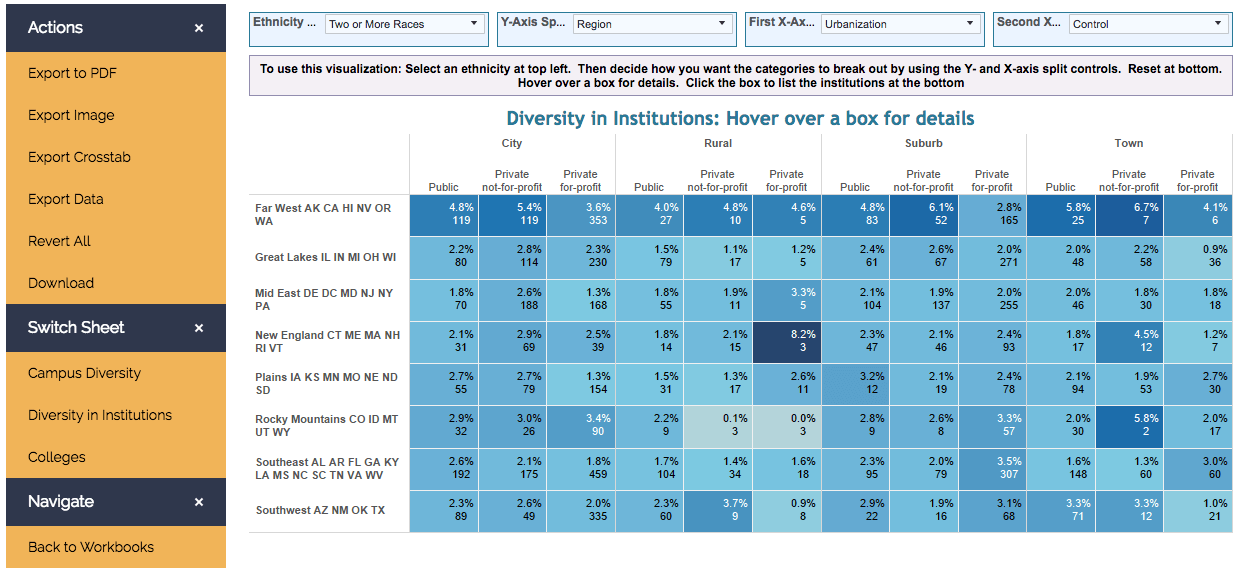 A higher education consultant can embed Tableau analytics to explore diversity within university recruiting data, using a left-hand navigation that's consistent with the rest of the web-based experience.
Create a seamless experience with APIs that enable single sign-on and interactivity with other systems. Empower your customers to view and interact with data anytime, anywhere—including from mobile devices and other hardware. Read the full story: ARC delivers advanced analytics, detailed performance intelligence, and competitive benchmarking to major airlines.
3. Scale flexibly and securely
To minimize deployment roadblocks, be sure your embedded solution will align to your data strategy and jive with your current technology investments—whether you're deployed on-premises or in the cloud, running on Windows or Linux. It's not only important to get up and running easily, but to be able to scale your embedded analytics solution as needed to maintain healthy performance for your users. Your analytics may be mission-critical to your customers, so you want to ensure the data they need is always available. You can also control which users can see which slices of data, so you maintain access and security as you scale.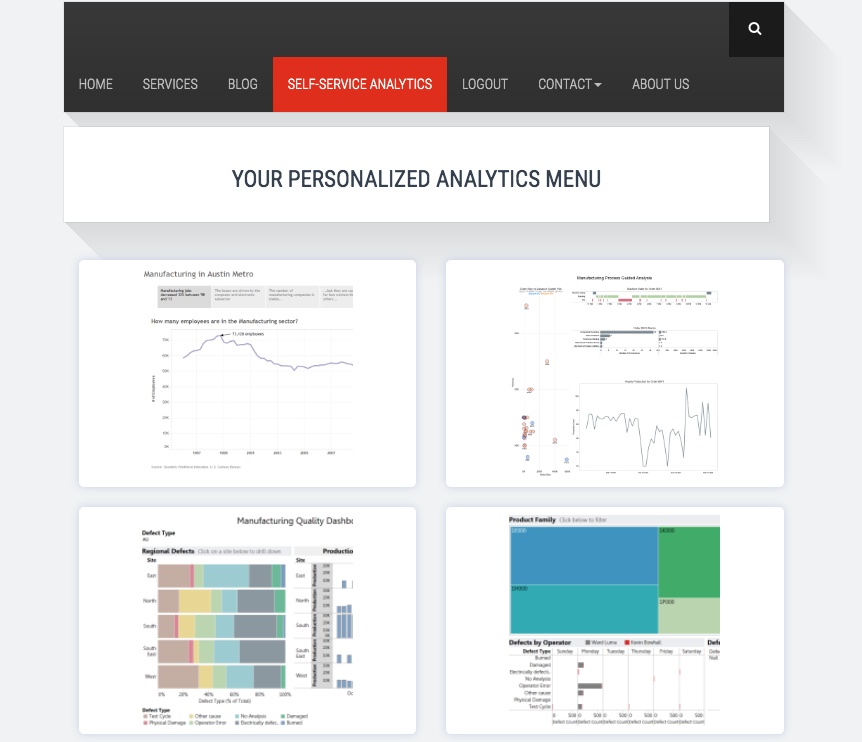 With row-level security in Tableau, a manufacturing organization can dynamically restrict the data that is displayed when a user is logged in to their custom portal—without having to create multiple, customized dashboards to meet security needs.
4. Design your BI with the end user in mind
You can lessen the learning curve for your customers with an intuitive analytics solution that helps them ask questions of their data quickly. And the more you understand how they use that data, the better you can design their analytics to work for them.
To reduce cycles of iteration, many developers work directly with their customers to get feedback during the design process. This could mean conducting social research and interviews, developing decision-mapping, and even inviting end users to wireframing and whiteboarding sessions. Bringing end users into the design process early can help you better understand their goals, decision-making, and how to jointly develop analytics that help them to take action efficiently and effectively from within their existing workflows.
5. Get to market fast—and stay innovative
During the pandemic, CallMiner created new embedded dashboards with pro bono call center activity and sentiment analysis to help their agents better succeed in a new, work-from-home setting. This data allowed them to measure and adjust their brand experience for empathy, ownership, and other emotional attributes of customer engagement, ultimately improving caller interactions during an uncertain time.
Getting to market faster means offering greater speed to insight for your customers, partners, and employees—before your competitors can. But deploying a great analytics solution quickly today doesn't guarantee its value tomorrow. To keep up with evolving customer needs, you'll need to ensure you can continuously innovate and make valuable improvements to your analytics solution quickly. This means dedicated research and ongoing resource investments to keep the analytics component as valuable to your customers as your core product.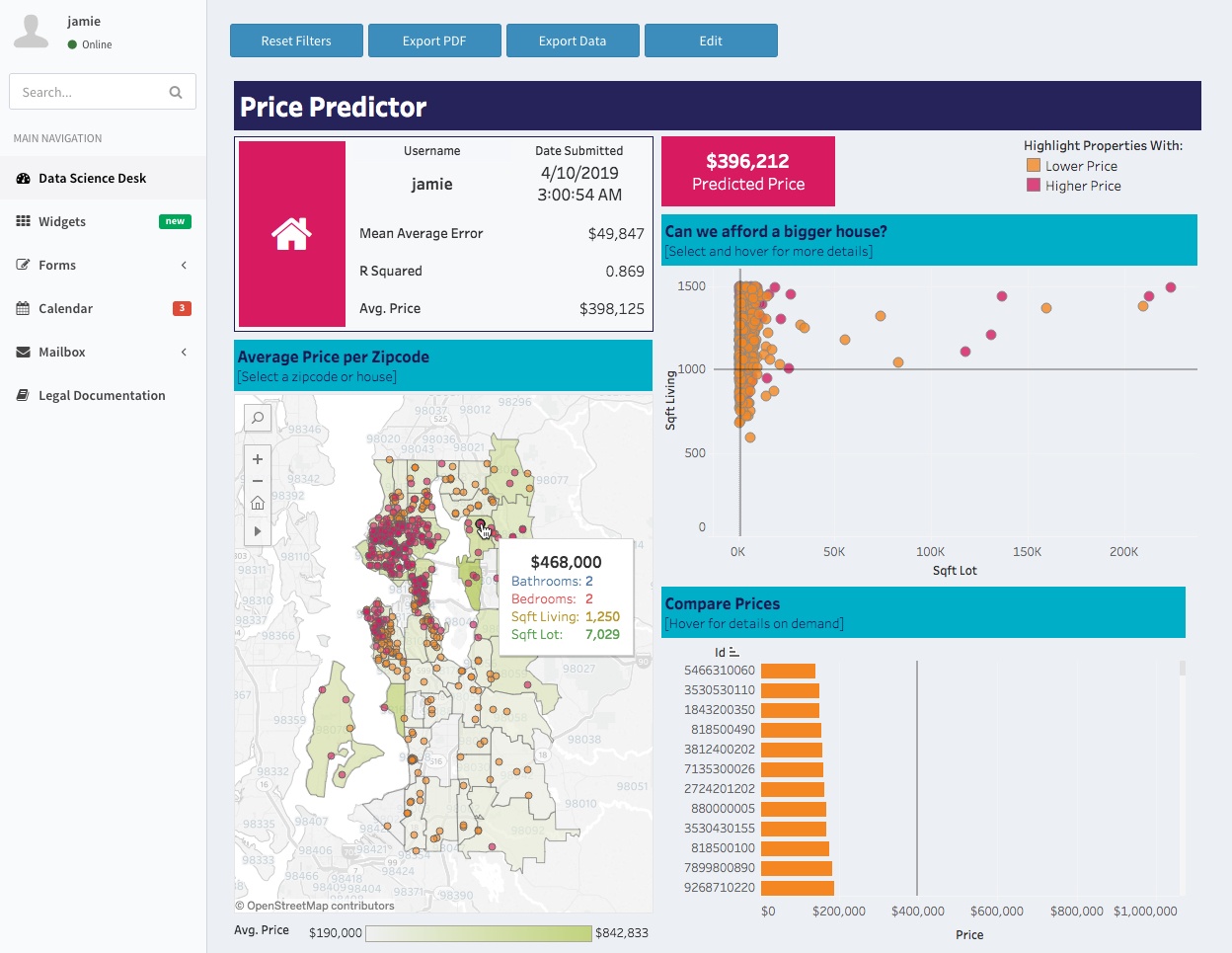 Advanced, predictive analytics can help users forecast housing costs based on market trends, using Tableau embedded analytics within a real estate application.
6. Partner with an industry leader
The big question is often "build or buy?" Should you choose to integrate a widely-used, leading analytics solution, you'll be able to offer your customers best-in-class analytics and constant innovation driven by trusted expertise and global user feedback—keeping your teams focused on your core business. You'll not only benefit from less time required to develop and launch, but your customers may already be familiar with some features and functionality.
Offer your customers the best analytics experience
Thinking of embedding analytics into your product or service? Learn more about Tableau Embedded Analytics—sign up for a live demo of our embedded analytics integration, read up on important considerations for building vs. buying business intelligence, learn about data monetization opportunities, and more.
Subscribe to our blog
在您的收件箱中获取最新的 Tableau 更新。