Tableau data literacy curriculum for the Canvas learning management system
Discover how Tableau's foundational data literacy curriculum is easier than ever to include in academic courses.
I'm proud to announce that our ready-made Data Literacy One curriculum is now available in Canvas learning management system (LMS) format. This latest Tableau Academic program release enables instructors to quickly get up and running to teach data literacy skills to the next generation of decision makers.
With this release, we set out to address two truths. One: Instructors spend valuable time building courses in learning management systems—time they could be spending with students. And two: We need all hands on deck to bridge the data literacy gap.
When classrooms shifted online overnight at the start of the pandemic, instructors everywhere quickly learned what remote and hybrid instructors already knew: Creating and managing online courses is tedious work. Instructors can spend hours uploading documents, copy-pasting test questions and answers, and organizing modules in their LMS. And designing net-new courses is an even bigger lift.
Plus, academic institutions have an opportunity to address the growing data literacy gap. In a Tableau-commissioned study by Forrester Consulting, recruiters ranked data literacy as the skill in highest demand for entry-level candidates. Yet the skills needed in the workplace aren't being taught in enough classrooms: Less than half of academic institutions have data literacy skills initiatives.
Tableau Academic programs were created to give students worldwide the tools and knowledge to explore, understand, and communicate with data. That work continues with the release of Data Literacy One for the world's fastest-growing learning management system. In addition to the Canvas LMS, the new course format is also compatible with other learning management systems such as Blackboard.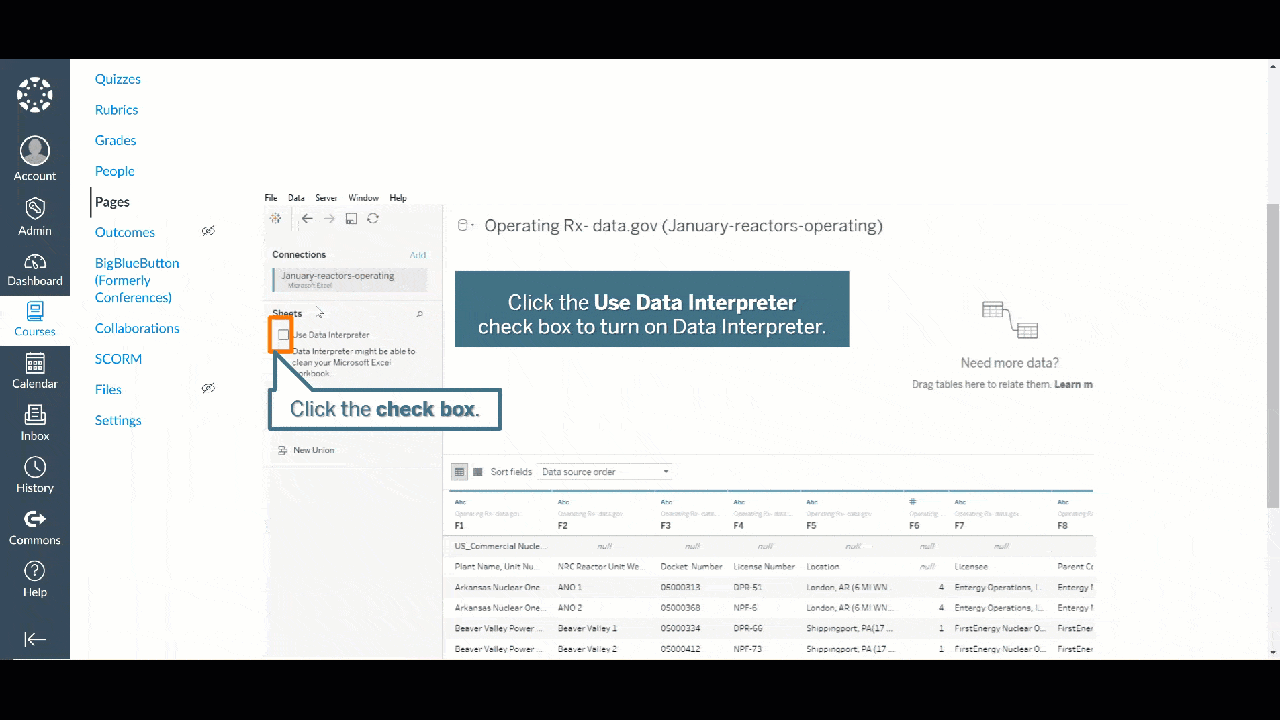 Interactive guided demos in the Canvas course help students learn Tableau.
A brief history of the Tableau Curriculum Program and resources
Tableau Academic programs help instructors teach data literacy by providing free software and learning resources for students and teachers. The team has a track record of creating robust courses, including desktop and visualization and data journalism.
Before joining Tableau, I taught statistics and data visualization courses at the University of Washington Bothell. I experienced the challenge of teaching the subject matter to build data skills—and the tedium of converting courses to online in an LMS. I wanted to help my fellow educators teach data literacy, so I created two foundational data courses—Data Literacy One and Two—to teach fundamental data skills and help students explore, understand, and communicate with data.
The data literacy courses offer students a strong foundation of data skills. But they don't solve the problem of instructors spending valuable time and energy behind the scenes in an LMS. That's why we're repackaging the data literacy offerings for Canvas.
Data Literacy One goes to Canvas
The Data Literacy One export package for Canvas includes foundational data skills across 10 ready-made course modules with interactive instruction. The course modules cover the fundamentals of data skills: data collection and structure, field and variable types, statistical thinking, correlation and regression, and visualizing data. Each module comes complete with lectures, readings, assignments, quizzes and tests, and interactive guided activities, as well as prescriptive instructor notes.
The curriculum can serve as a foundational data-skills course for undergraduate and graduate students or as a prerequisite for higher-level statistics, research methods, or data visualization and analytics courses. Tableau-licensed instructors can use the Canvas course content with students at secondary and post-secondary academic institutions.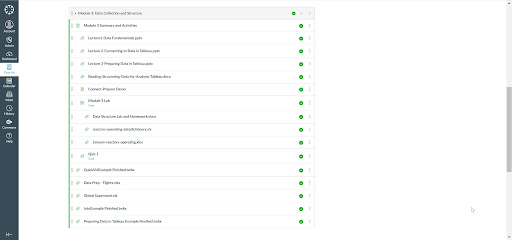 Everything instructors need to teach and assess students comes preloaded in the Cavas course offerings, from lectures and instructor notes to auto-graded tests and quizzes.
How to access the Canvas course curricula
The materials are available as a Canvas course export package, so instructors can quickly and easily access the course material with just a few clicks. Here's how:
Once approved, join our Tableau for Teaching user group to find our curriculum request form and current information on our resources
Import the zip file into your LMS to populate the course shell into your Canvas course. Includes: 10 instructional modules with lectures, homework assignments, tests and quizzes, discussion boards, and interactive demos
Tableau Academic Programs provides free Tableau licenses and learning resources for students and instructors. Instructors at accredited institutions can request a free Tableau for Teaching license for instructional use or noncommercial academic research.
For corporate trainers, start with our free program, Data Literacy for All, which offers more than five hours of foundational data-skills content based on the Data Literacy One curriculum. You can also check our eLearning and instructor-led training.
I'm so proud of the work we're doing to teach students and empower instructors. And we're not done yet. Stay tuned for more data literacy course offerings in Canvas.
Special thanks to Corrina Wycoff and the content developers on the Tableau Educational Services team for creating the interactive activities within the Canvas course demos.
Subscribe to our blog
在收件匣中收到最新的 Tableau 消息。