Inside the Release: Tableau 2022.2 for IT
Learn what's in Tableau 2022.2 for IT, including Advanced Management, enhancements to virtual connections and Tableau Bridge, user provisioning with Azure AD, and more.
The Tableau 2022.2 release includes features that provide improved analytics security and manageability for IT and administrators. Let's take a closer look at what's included.
Manage your Virtual Connections with more flexibility and control 
Striking a balance between data security and availability is difficult, especially when data is locked behind credentials you can't share out. When this is the case, manually refreshing data sources can be quite burdensome.
That's where virtual connections come in. Virtual connections provide a shareable and secure access point to your data with embedded credentials. And with data policies, you can centrally manage row-level security to ensure people only see the data they're supposed to. To test your data policies, select "With policy applied" and preview the data as a user. You can then confirm which values are shown and filtered out with in/out policy preview.
To learn more, read Test Row-Level Security with Preview as User in Tableau Help.
Say you end up making a change to your virtual connection that you want to roll back. Or maybe you want to audit the changes in your virtual connections' history. Virtual connections now support historical revision for these use cases. To access previous revisions, click the actions menu (. . .), then Revision History.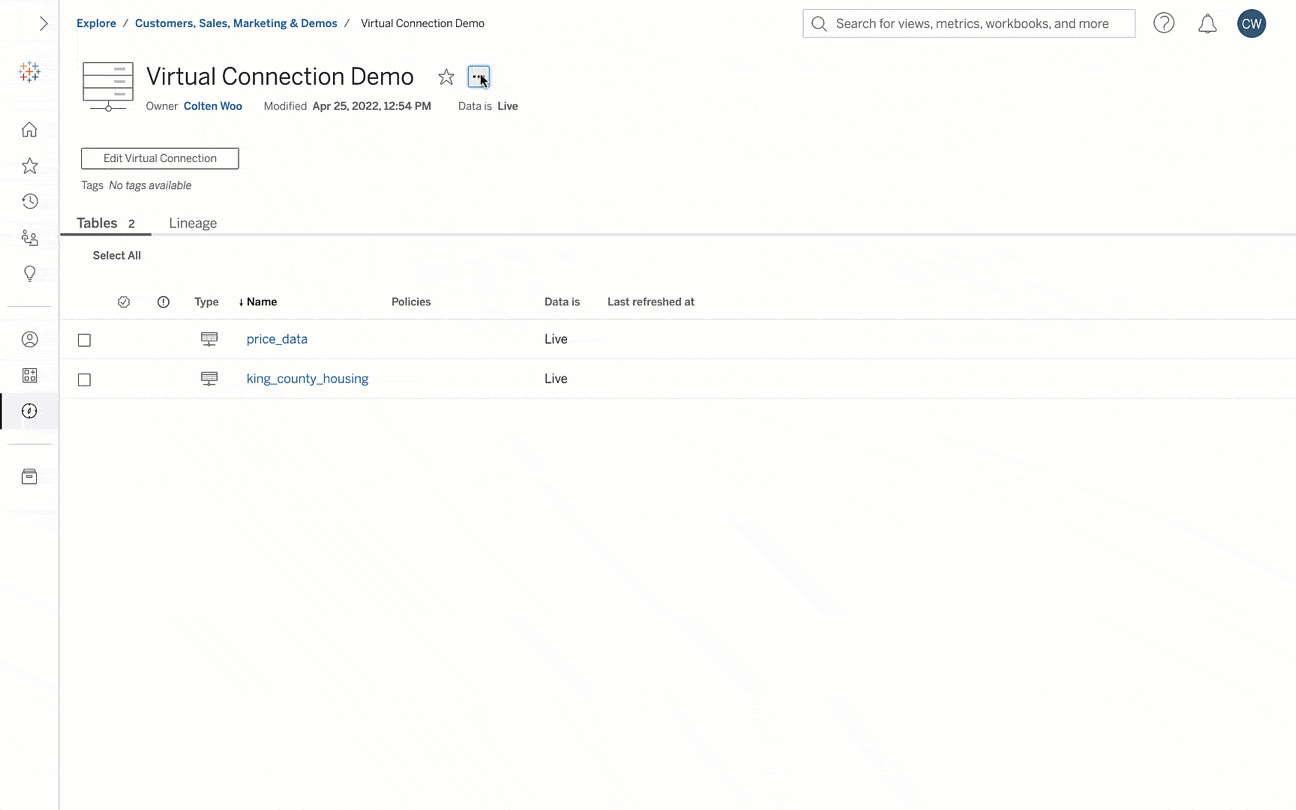 Streamline authentication with Tableau Bridge
Housing your data on-premises behind your firewall keeps your data secure, but it can also make accessing this data challenging. Luckily, data security and accessibility don't need to be at odds.
Tableau Bridge communicates with your Tableau Cloud site from behind your firewall to keep your published data sources fresh. Your data remains protected, even in transit, through encrypted TLS connections.
You can also now use open authentication for both live data access and extract refreshes when using Tableau Bridge. Securely access Snowflake, Google BigQuery, Google Drive, Salesforce (Sales Cloud), and Microsoft OneDrive. Provide access to more of your data and maximize your organization's technology investments.
To learn more, read Connectivity with Bridge in Tableau Help.
Boost content performance with efficiency
Your end users want performant dashboards, while you need to efficiently manage your resources.
View Acceleration boosts load times so your end users don't have to wait to get insights. Tableau already checks to ensure dashboards are suitable for View Acceleration. And now, with auto suspension, there's an extra layer of review.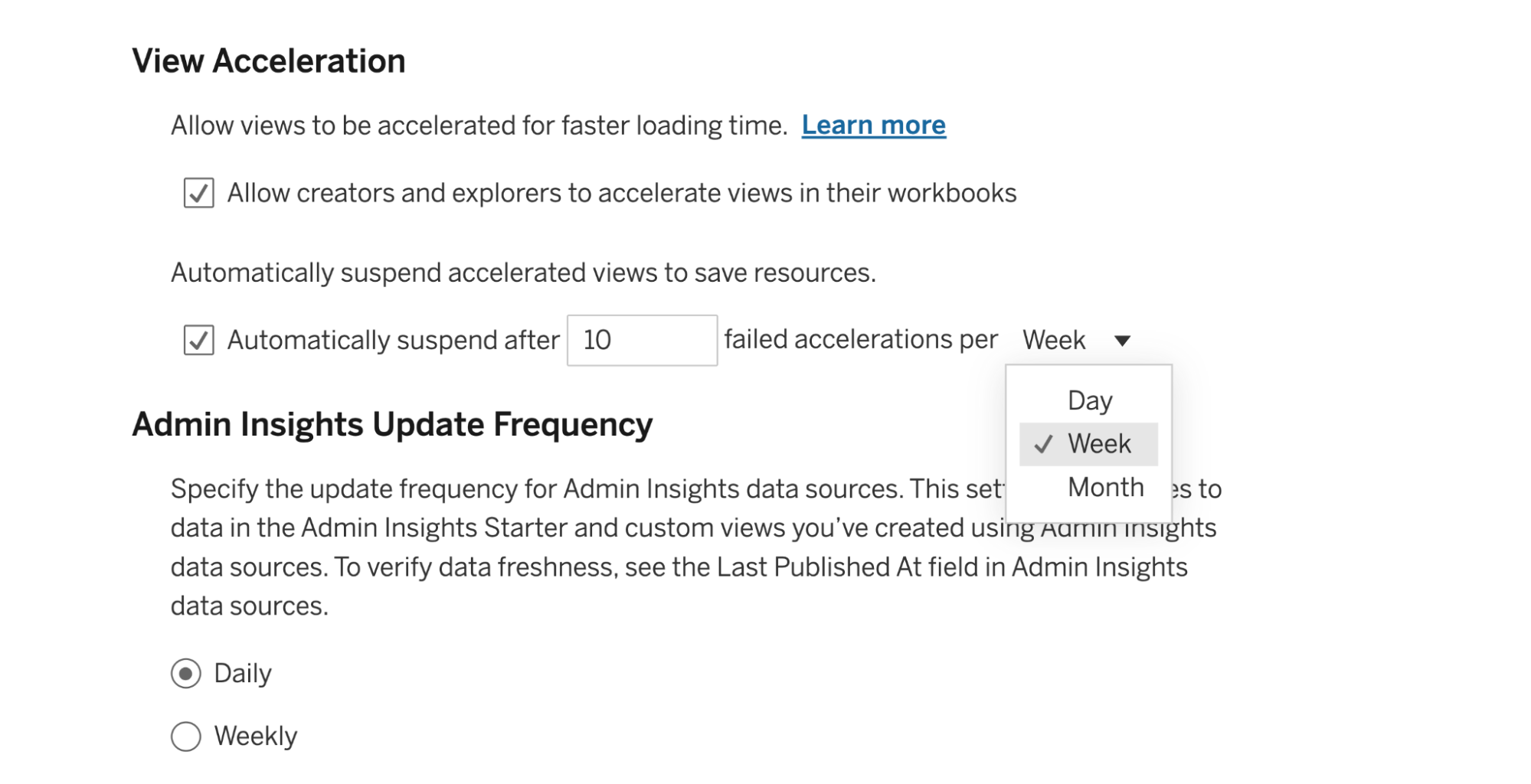 Automatically suspend View Acceleration for dashboards that have job failures. While automatic, you can also configure auto suspension to fit the needs of your site.
To learn more, read View Acceleration in Tableau Help.
Workbook Optimizer offers another way to speed up content. There are now even more best practices in Workbook Optimizer, providing actionable ways to improve workbook performance. Save time and resources, all while delivering great analytics experiences.
Track Ask Data lenses in Tableau Catalog
Once you publish a data source, you need to be able to see how it's used throughout your Tableau environment. Tableau Catalog helps you understand how your data assets are connected.
Ask Data lenses are now integrated with Tableau Catalog and appear in lineage graphs. This provides visibility into upstream and downstream relationships.
Understand the impact changes have to your data environment with lineage graphs. Ask Data Lenses in Tableau Catalog gives you a more complete picture of your environment, so you know where and how data is used.
To learn more, read About Tableau Catalog in Tableau Help.
Simplify user management with Azure Active Directory for Tableau Cloud
Your organization has probably gone through personnel changes in the past few months. But that doesn't mean you should have more work. Imagine if you could automatically onboard and offboard users from your Tableau Cloud site.
Well, now that's a reality. In Tableau Cloud, you can now configure automatic user and group management through Azure Active Directory. You can quickly provision and deprovision users at scale to keep up with the ever-changing needs of your organization.
Additionally, if users are members of multiple groups with varying role assignment in Azure, they will receive the most permissive site role in Tableau Cloud. You can also now use bearer authentication as your authentication method to improve security.
To learn more, read Configure SCIM with Azure Active Directory in Tableau Help.
Enhance manageability, security, and scalability with Tableau Advanced Management
As analytics usage spreads to serve more users and use cases, you need additional governance, security, and capacity to oversee and govern your Tableau environment. Tableau Advanced Management, available for Tableau Server and now Tableau Cloud, makes it easy to quickly manage, secure, and scale mission-critical analytics, saving administrators time.
Easily manage Content migration at scale
Content lives everywhere. In fact, you might manage multiple Tableau Cloud sites or Tableau environments. For this, you need an easy way to copy or migrate content.
Simplify content management and define repeatable workflows using the Content Migration Tool. Automate migration plans using an intuitive user interface rather than code.
With the Content Migration Tool now available for Tableau Cloud, there are even more use cases. For example, you can use it to share content with external collaborators and customers. You can also perform a variety of maintenance tasks like tagging stale content, or backing up content.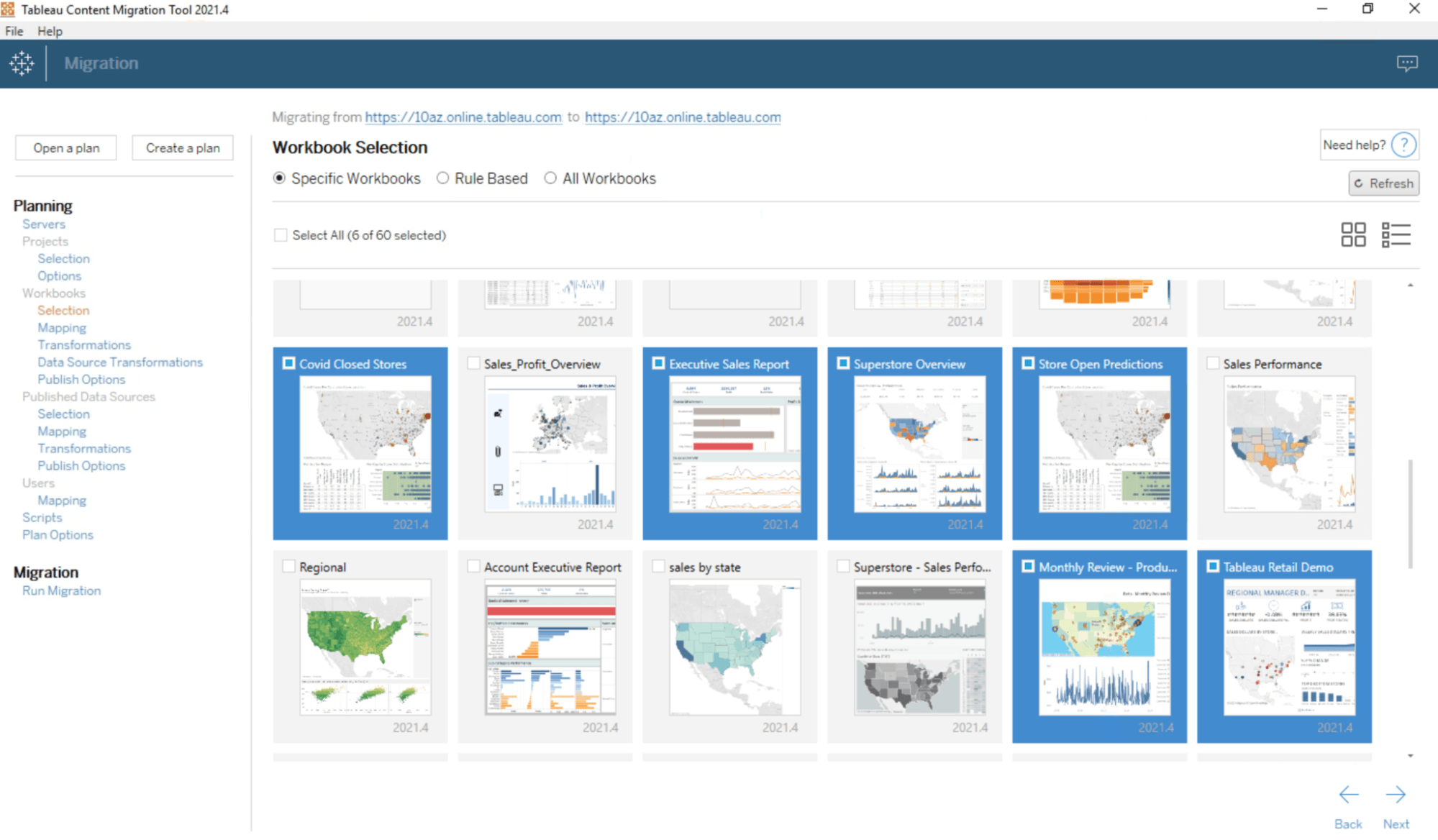 Explore the endless possibilities. But if you need more inspiration, see our use cases Help guide. And to learn more, also read About Tableau Content Migration Tool in Tableau Help.
Increase security with customer-managed encryption keys
Data security is paramount, especially in highly regulated industries. And your business applications need to evolve with growing security demands.
Keep your data secure at rest and in transit with customer-managed encryption keys. These add a second layer of encryption on top of Tableau keys.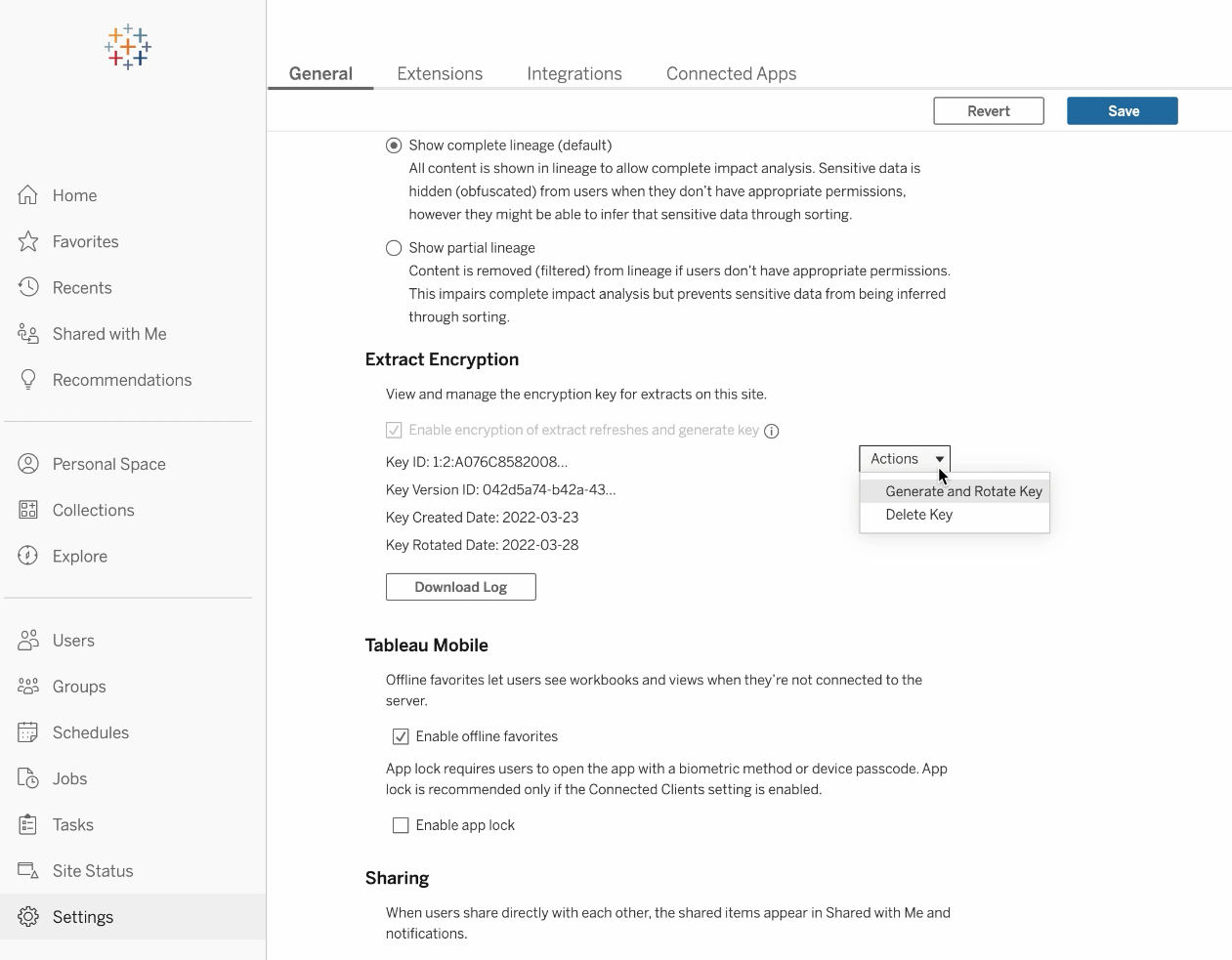 Also, best-in-class offerings from Salesforce back your encryption keys. Each key is unique to your site and stored in Salesforce's KMS Service. You can also create, rotate, audit, and delete keys with Salesforce Shield Broker. Execute a defense-in-depth strategy and protect all your data.
To learn more, read Customer-Managed Encryption Keys in Tableau Help.
See and understand your Tableau site with Activity Log
You can't blindly scale across your organization. Understanding how people use your Tableau Cloud site helps you scale across your organization.
Get a more complete picture of your Tableau environment with operational insights from Activity Log. Activity Log provides detailed and structured event data. Batched events get delivered as a JSON file sent to an Amazon S3 bucket.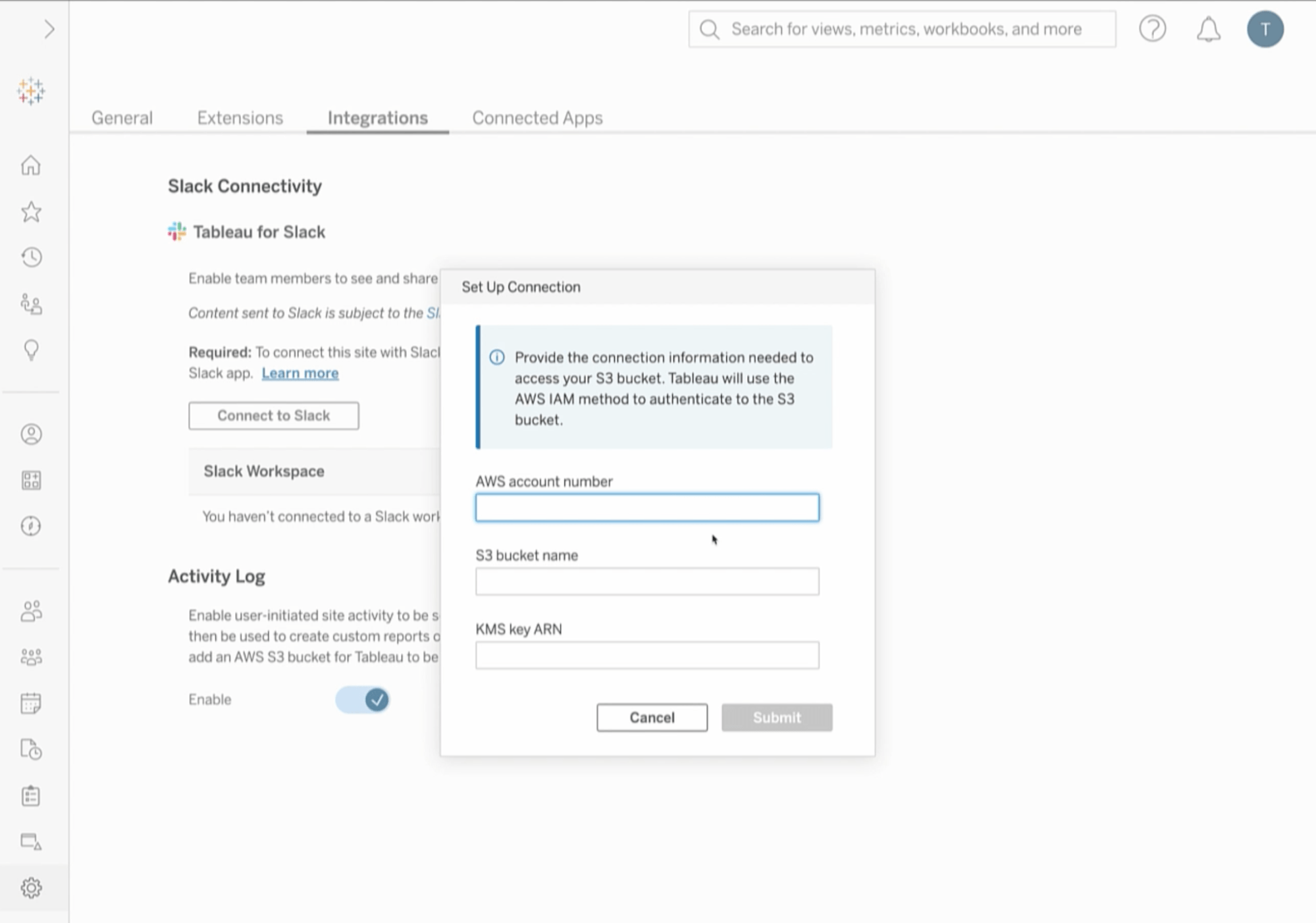 Plus, meet all your compliance requirements and enforce a rigorous book of controls with permission auditing.
To learn more, read Activity Log in Tableau Help.
Dive deeper into your site with Admin Insights
Optimize performance, drive adoption, and manage content at scale with Admin Insights. Connect to the Job Performance data source to see events and runtime information for background jobs. This Tableau Cloud project supplements Activity Log, deepening insights about your site.
You can also identify trends over longer periods of time. Admin Insights now retains data for 365 days with Advanced Management. Track your site's data with curated data sources and a pre-built workbook.
To learn more, read Use Admin Insights to Create Custom Views in Tableau Help.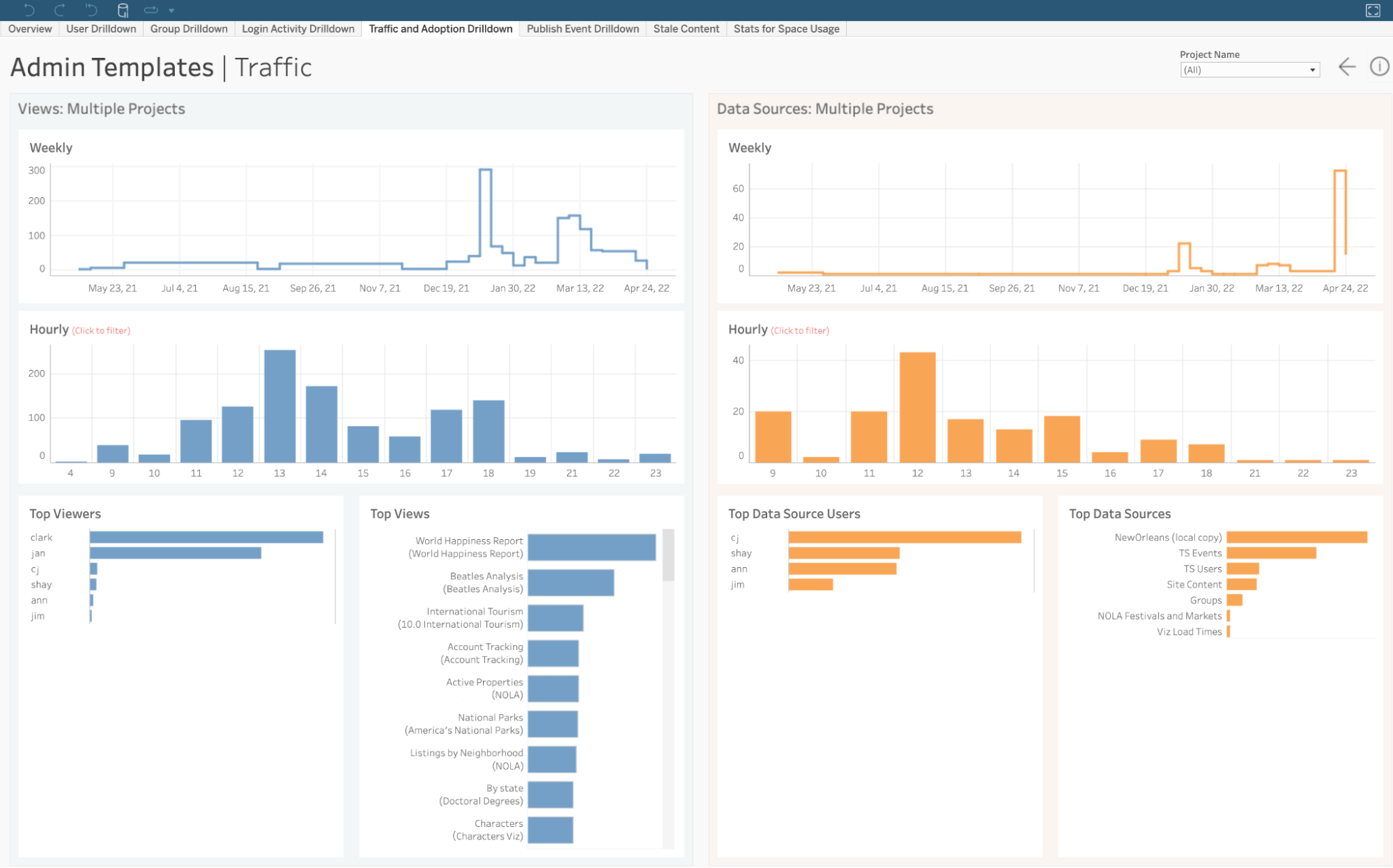 Get additional resources about Advanced Management
Want more?
Subscribe to our blog
在收件匣中收到最新的 Tableau 消息。