Intro to the Salesforce Developer Universe
For Tableau Developers looking to learn more about the developer resources for Salesforce, Slack, MuleSoft and Heroku.
As a Tableau Visionary and DataDev Ambassador, I was excited to have participated in my first Salesforce conference: TrailblazerDX'23. The conference took place in San Francisco on March 7-8, 2023, and is designed for developers working with the ecosystem of Salesforce products, including Tableau, Slack, and MuleSoft. During these 2 days, I participated in many insightful sessions and hands-on workshops and left San Francisco wanting to learn more. I know my way around Tableau developer tools and available learning resources, but when it comes to a wider family of Salesforce products, I'm a total newbie.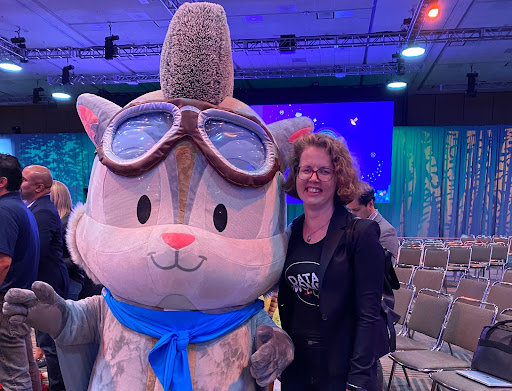 Anya at TDX posing with Salesforce Character Flo.
If you are in the same boat, then welcome to my guide to developer resources for Salesforce, Slack, and MuleSoft. In this blog, I will provide you with an overview of the developer tools available for each platform and the resources you need to get started.
Salesforce Developer Tools
Salesforce is a customer relationship management platform that offers a number of APIs that you can use to automate interaction with the platform, as well as a wide range of developer tools to help you create custom applications and integrations. You can browse the complete list of technologies on the Developer Centres page, where they are grouped by function or by industry.
Here are some of the most popular Salesforce developer tools:
Once you get familiar with the basics, I would recommend exploring the code samples and SDKs repository to find inspiration for your next project and learn best practices.
Slack Developer Tools
Slack is a popular team collaboration platform that offers a wide range of developer tools to help you build custom integrations and bots to automate standard workflows.
The introductory guide to the Slack platform is a good starting point. Here you can learn about the best practices, understand how to design and implement custom Slack apps, and automate manual processes related to a workspace administration. Once you understand the basics, you can start building with the following Slack developer tools:
Slack APIs and SDKs: These tools are used to build custom integrations and bots for the Slack platform. They provide a wide range of functionality, including sending messages, creating channels, and managing users.
Bolt: Bolt is a JavaScript framework used to build custom Slack apps and bots. It includes features like event handling, message processing, and user authentication.
Block Kit Builder: You can see how your Slack app will look like even before you build it with the Block Kit. This framework provides you with a simple drag-and-drop interface to design and perfect your app, as well as a collection of app templates if starting from scratch sounds too intimidating.
Still don't know how you can leverage these tools to take your Slack workspace to the next level? Explore the Slack App Directory to get some ideas or enable existing apps.
MuleSoft Developer Tools
MuleSoft is an integration platform that offers a wide range of developer tools to help you create custom integrations and APIs. There is a dedicated page with self-paced short courses of different levels that you can start with. Or you can follow one of the MuleSoft learning paths that are tailored to a specific role.
If you are completely new to APIs and would like to first understand how and why they might benefit your organization, enrol in MuleSoft's API University to learn the basics of designing and using APIs.
Here are some of the most popular MuleSoft developer tools:
MuleSoft API Designer: This is a web-based development environment used to design and document RESTful APIs on the MuleSoft platform. It includes features like visual modeling, documentation generation, and versioning.
Anypoint Studio: Anypoint Studio is a graphical development environment used to build custom integrations and APIs on the MuleSoft platform. It includes features like drag-and-drop design, API management, and data mapping.
Heroku
Heroku is a cloud platform that enables developers to deploy, manage, and scale applications. It supports many popular languages and frameworks, including Ruby, Python, Java, and Node.js, and can be integrated with other Salesforce products. To start your journey with Heroku, you can use the Getting Started with Heroku guide on the Heroku Dev Center. This guide walks you through the process of setting up a Heroku account, installing the Heroku CLI, and deploying your first application. Additionally, the Heroku Dev Center provides a wide range of documentation on topics such as deploying applications, scaling, and managing add-ons, as well as links to other learning resources.
Bonus section: Tableau Developer Tools
If you are also interested in learning about tools to automate and extend Tableau, this section is for you. The first place to start learning about the various APIs and extensions available is the Tableau Developer Platform. Here you can find the documentation, learning resources, and walk-through projects, as well as the link to claim your personal developer sandbox on Tableau Cloud. Another benefit of joining the portal is access to the Slack community and developer previews for new Tableau APIs when they become available. 
Here are some of the most popular Tableau developer tools to get you started:
Trailhead modules
When you want to learn about Salesforce, there is no better way than to start with some Trailhead modules. I have selected several that should give you a good intro to developer tools mentioned above:
Join a community
Becoming a part of a community can be a great way to enhance your learning and benefit from the experience of seasoned developers. Join one of the developer communities below:
You can also subscribe to the Salesforce Developers YouTube channel to see what other community members are working on.
Subscribe to our blog
在收件匣中收到最新的 Tableau 消息。