Data Culture with Seattle Seahawks, VMWare, and Jaguar Land Rover
Data Culture is foundational to building a data-driven organization, but what does that look like? Leaders from the Seahawks, VMWare, and Jaguar Land Rover share examples.
Editor's note: This article originally appeared in Forbes.
Data Culture is foundational to building a data-driven organization, but what, exactly, does a successful Data Culture look like? At Tableau Conference, leaders from the Seattle Seahawks, VMWare, and Jaguar Land Rover (JLR) shared examples of successful Data Cultures in action.
These conversations demonstrated how leaders can cultivate a culture where data is central to decision making, uniting everyone across the business with shared behavior and goals. They also emphasized something I've observed in my own career: how important it is for leaders to throw their full support behind data initiatives to deliver analytics at scale. Their stories offer a behind-the-scenes view of what it looks like to lead with data.
Replace "data" with "knowledge"
A key component of building a data-driven organization involves reframing how we think about data entirely.
"Data Culture is really knowledge culture," said Frank Ludwig, Chief Transformation Officer at JLR, during the Tableau Conference keynote. The automobile brand is reimagining the future of modern luxury by expanding the use of data across the enterprise, in every function. Ludwig helps his teams reframe their perception of analytics by replacing the word data with knowledge.
Data Culture is really knowledge culture.
And knowledge is power. Once people see the ability to "connect data and pieces of knowledge that previously the human brain couldn't integrate," they understand the power of data, said Ludwig. It fuels the desire for more knowledge by putting data and self-serve analytics tools in the hands of everyone, without requiring a major IT project. JLR recently tripled its Tableau users with more than 1,300 people, from every function within the organization, actively creating content.
Demonstrate the importance of data
Showing the value of data is critical to forming and maintaining a thriving Data Culture.
Clive Benford, Data Office Director at JLR, stressed this during the conference keynote. "[The] value of data is the existential: it's the existence of your business. If you don't become a data-driven business, I don't think you'll be here in 20 years time. The long-term value is existence."
Another winning organization, the Seattle Seahawks, also sees the immense value of data. The team's business organization relies on data to deliver the best possible experience for fans. For the Seahawks, winning off the field drills down to a simple question: What do we want to measure and manage? The answer: Everything.
Their core philosophy—"what isn't measured, isn't managed"—only works when the whole organization is bought in, said Amy Sprangers, Seahawks' Chief Revenue Officer, in a conversation with Tableau President and CEO Mark Nelson for the conference keynote.
To build a culture of identifying opportunities with data, Sprangers starts every meeting with the main revenue dashboard, reviewing performance and highlighting successes. And she's not alone—everyone from the president to the CFO have incorporated data into their daily routines.
Their president loves to pull up dashboards on his phone, Sprangers said. "He'll walk by people's desks and say, 'Hey, I saw you hit 98 percent. Great job, tell me about that!'"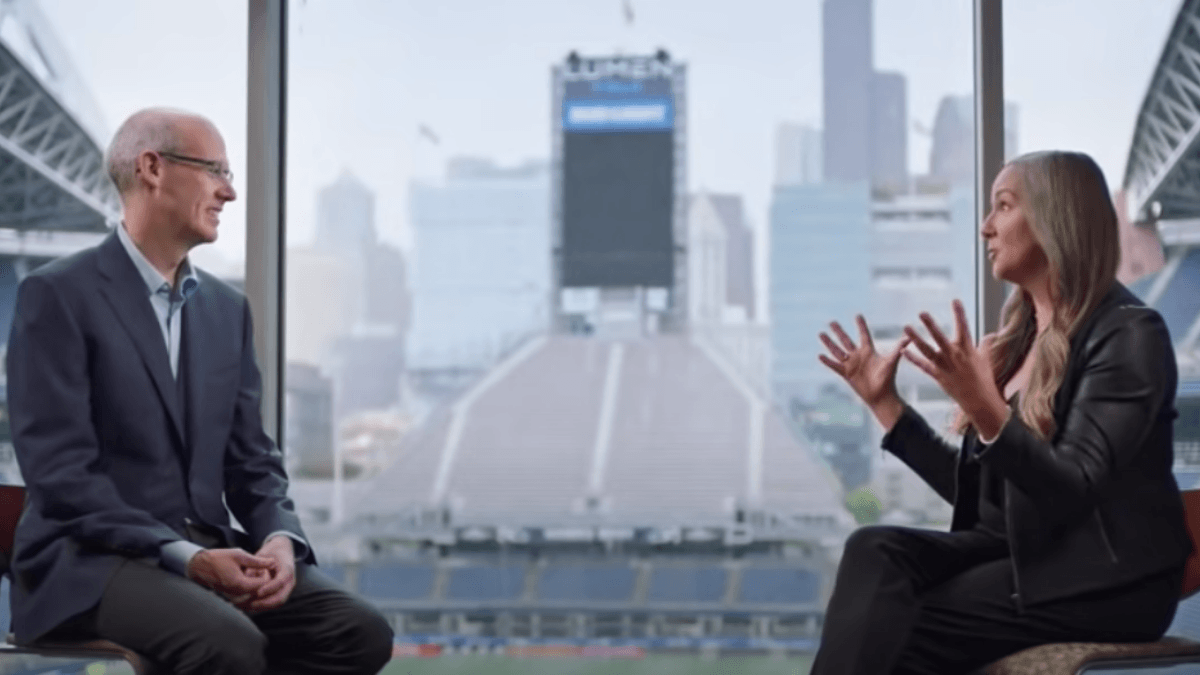 Tableau President and CEO, Mark Nelson (left), and Seattle Seahawks Chief Revenue Officer, Amy Sprangers (right), discuss how the football team is leading with data.
And just because it's important, doesn't mean data has to be dull. JLR's Clive Benford energizes his team by looking beyond the data itself to focus on what data can do. "It's exciting. And data isn't traditionally exciting," he said. "If you want to do a major change program, like creating a Data Culture, you need something that excites the workforce."
Enlist executive sponsorship
Like any successful business initiative, it's important to get buy-in and sponsorship from leadership. In the quest for executive support, JLR's Clive Benford recommended starting with people who show willingness to sponsor change.
"As a change leader, I work with where the change is easiest," said Benford. He highlights success stories from areas of the business with successful data returns to generate buy-in, one senior leader at a time. Benford encourages others to, "work with those who are keen to do this, make their successes very clear and evident, and then make it easy for other people to follow in their footsteps."
In my candid conversation with VMWare Head of Analytics and Insights, Seema Singhal, she provided prescriptive advice for nurturing sponsorship from the top. To support VMWare's quest to scale self-service analytics to leaders across the enterprise, Singhal demonstrates the power and potential of data by:
Focusing on business value: Singhal's team categorized their work against business priorities to identify untapped opportunities. It also changed how stakeholders look at the role of data and analytics, building their reputation as a strategic partner to the business.
Connecting dots across the organization: She armed analytics leaders with standardized descriptions of core analytics projects to use in conversations with stakeholders. As a result, they provided teams with solutions they "didn't even know they needed," and analytics products were used in more meaningful, cross-functional ways, solidifying their role as trusted advisors.
Elevating the discussion: We're "not in the business of creating fun facts," said Singhal. Instead of using data to prove a point or "validate a number they already know," they ground all analytics conversations in how data will be used to strategically move the dial, and focus on the flow of engagement and the actions that will prompt organizational changes and drive transformation.
Prioritize engagement and data-driven decision making
When measuring the success of data initiatives, most organizations track adoption, but that alone doesn't tell the complete story. In our conversation on Data Culture, VMWare's Seema Singhal urged leaders to look beyond adoption to measure whether people engage with data and use it to make decisions. Singhal's recommended strategies for driving analytics adoption and engagement include:
Clearly communicate expectations and hold teams accountable: Singhal shared the example of a senior executive who expected his sales team to regularly log into a data-powered prospecting tool and use insights to meet sales targets for a new product. To hold them accountable, he personally called every single person who hadn't logged in. Once the expectation was set and using data became the norm, VMWare observed that 80 to 90% of the product's leads come from the data-driven tool.
Embed analytics tools into the flow of work: Rather than disrupting the flow of work by requiring people to switch between tools, VMWare embedded analytics tools within existing business products. As a result, adoption increased—with everyone from the EVP to sales reps—and more importantly, the standardized metrics elevated the conversation from what's in the numbers to what insights the numbers reveal.
Ensure data tools and dashboards answer key business questions: Singhal sees firsthand that when leaders invest time and set the tone for their teams, it has a significant impact. One team, for example, incorporated Tableau dashboards into its quarterly business review so each leader could speak to key questions, use the same data to analyze the business, and frame conversations with near real-time insights.
Keep a balanced view: Singhal intentionally divides her time and focus across four pillars—setting strategy, empowering and skilling teams, delivering with business partners, and aligning with stakeholders—to successfully keep up with the rapid pace and changing needs of the business.
Enable informed, agile decision making
Prioritizing data-driven decision making pays off. It enables organizations to quickly pivot while relying on more than gut instinct alone. When Amy Sprangers of the Seahawks thinks about the agile decision making afforded by data, she points to fan feedback.
"We heard from our fans consistently [that] some couldn't hear our audio," Sprangers told Tableau's Mark Nelson. At first, however, the team couldn't pinpoint the source of the issues, but as soon as they used heat maps in Tableau and filtered the survey data by ticket location of responders, the four corners of the field lit up. The rich visual data allowed them to make an educated decision on where to invest to improve the fan experience.
Data reveals the truth, not just on the field and in the locker room, but on the 'Hawk's business side of the house, too. It paints reality, not a picture, said Sprangers, by answering critical questions: Where were we? How can we innovate and improve? What changes truly made a difference? Those answers, "enable us to take actionable insights against data to help us be better," said Sprangers.
Celebrate your wins
"Our Data Culture lives and breathes in celebration," said Sprangers, during a discussion on how to combine people, processes, technology, and strategy to build a thriving Data Culture.
Tracking and managing data with consistency and transparency allows the Seahawks to celebrate successes and helps generate buy-in. "Every single person across the company can succinctly state what it is they're all driving toward," Sprangers shared. "I know a deal closes and I love to celebrate that success, but it's not real to me until it hits that dashboard. Then I can share it out, shout it out … in real time."
Our Data Culture lives and breathes in celebration.
Sprangers is most proud of the level of communication her team provided during the pandemic—over 30,000 touchpoints—thanks to the dashboards and tools in place to measure success and their shared data language for collaboration. Despite not having a "single fan in the seats" during the 2020 season, "our fans ranked us in the top one, two, and three for feeling satisfied, communicated with, and valued," said Sprangers.
Jaguar Land Rover is reimagining the future of modern luxury by expanding the use of data across the enterprise with Tableau.
JLR also saw tangible returns from its data initiatives. "We've got a great KPI. We have a 96-fold return on investment," said Clive Benford. "Keep at it," he advised. "Data Culture is more of a journey than a destination, and that's not a cliché. Remember to look back […] at how much you've changed in the last six months, in the last year. Count your successes […] but always look to improve."
Benford's advice applies to leaders and organizations at all stages of their data journeys. After using Tableau and leading with data for more than 13 years, I'm still learning and growing. Together, my teams and I strive to improve how we tell the data stories that empower us to make better decisions with data, and it's always grounded in Data Culture.
Data Culture, on demand
Tune into these Data Culture conversations—and more—from Tableau Conference, in their entirety:
Subscribe to our blog
在收件匣中收到最新的 Tableau 消息。