Building Data Culture is a 3-act play
Learn from Kevin O'Callaghan, Office of the CDO's Chief of Staff at VMware, on how to get data a seat at the table.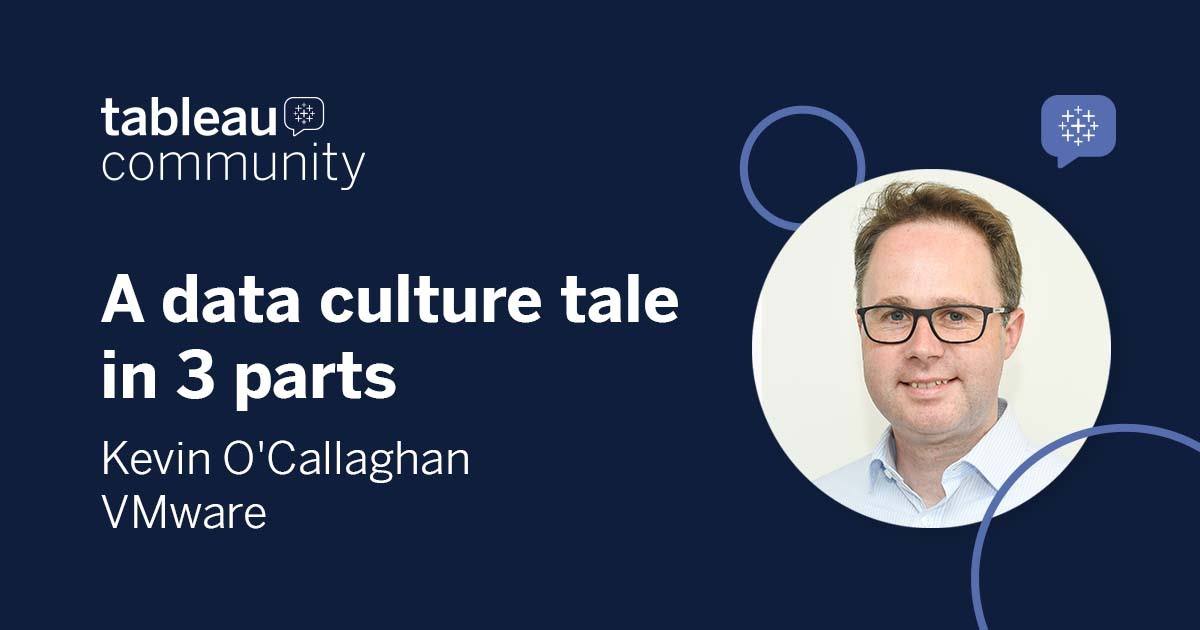 Leadership buy-in and executive sponsorship can be one of the hardest challenges when it comes to enabling company-wide adoption of analytics—a cycle of required behavior that starts and ends with proven success.
Speaking with Kevin O'Callaghan, Director in VMware's Office of the CDO, who has played a significant role in proving that success doesn't mean the journey has come easily. According to Kevin, the data culture story can be presented as a story of 3 acts and an encore.
Act 1: The Setup
Typical to many organizations, act 1 of analytics begins with a legacy business intelligence process. This often features a team of analysts mining data using excel or a legacy BI tool, producing reports across sales, marketing, and financials. The problem often was by the time these reports were issued, their information was out of date, given the lengthy but essential process to get data cleaned, combined, and confirmed in the hands of very few to action decisions. Kevin explains, "in those days, we were always acting at a point of time, and small issues such as a formula error to bigger ones such as incomplete data or a database offline were always a risk. At peak times, we found our systems crashing and users unavailable to make any decision, it couldn't continue."
Act 2: The Confrontation
With many departments having many different views of business performance, new tools and processes were required to enable the enterprise. "We wanted to centralize the tools and data, but get it into the hands of those analysts producing those reports". We also had to start to better prioritize what the business really needed. What were the questions truly being asked? With the arrival of enterprise-wide analytics software, VMware's analytics & IT teams started to expand capabilities with the requirement of real-time analytics to help drive better business efficiency. The skills required to utilize the data and features were quickly distributed to those that needed them. "We looked for allies for adoption and set up training sessions for people to maximize their use of the applications'. We wanted to strengthen the teams who were there to meet the data demands of the business. Products such as Tableau really showed the possibility to our users. With 'innovation' and 'production' servers, experimentation took off. "We were told 'if you build it, they will come'". says Kevin on the immediate appetite VMware had for this newly found level of insight. "They came. They went crazy for it."
With that level of potential, the teams were able to look at lengthy production processes and where time could be saved through the building of key operational dashboards. "Now we're asking wherein the business we can look at saving time & effort" Kevin added. "Our sense of delivering value as an analytics team was taking shape."
However, keeping up with an organization demanding data & innovative data products meant we had to keep innovating. The team expanded to include machine learning and predictive insights. "For some, they had embraced the changes, others a little less so – and in some cases, local department-driven solutions were never far away. We needed to get to a predictive nature of what these requests will be, what is it our customers or partners need, and know them better. We had to keep finding new ways of improving how we work. Innovation doesn't stop".
Act 3: A Resolution
As the analytics teams now enter their third act of internally evangelizing the power that data continues to bring the organization, sights are set further on optimization, efficiency, and priority. Optimizing this newly created engine can be done by scaling the success of the thriving internal community. A new community now seeks to find insight from data as well as use it as the new benchmark for decision making. For our data community, it's new data, connectivity, self-service, and ways to empower their success further. For our operations teams, it's about better efficiencies, automation, and data at the core of every process and decision point. And for our customers, it's about enabling an exceptional experience from start to finish. Data flows throughout.
Scaling this success requires a new mindset across the organization to empower others to think with a data mindset. "We've got enablement groups who run training power hours to help answer questions. We've got internal user groups that are widely attended to help people gain more insight and become more comfortable asking questions of data." highlights Kevin, who continues to see the appetite for access and accountability grow and scale. For inspiration on how to kickstart your internal community programs, head to the Tableau community forums for ideas on where to begin. "This hasn't been an overnight success. This has been a real hands-on approach to growing a data culture within VMware—we're seeing more silos breaking down, standardization of our key data, and with that more leaders requesting access so they can get answers of data in real-time. Our company leadership recognizes the need for us to do more, to go further, innovate and deliver.
Prioritization comes in the form of fueling that engine with what's necessary. This includes tackling the many databases that analysts look to pull from daily. "In a company like VMware, some data sources are disparate and not centralized. We can't control every data source that people want to use, but we can stand over the quality of that data and guide those to approved & trusted sources, approved by the Chief Data Office" says Kevin. For example, we launched a new 'Marketplace' app – which for the first time will bring our data sets, apps, and models in one place and right into the hands of the company.
Encore
As Kevin mentions, this was not an overnight success by any stretch of the imagination. "My main learning point was that first, we have to be thinking at the level of the business, not at the level of data". We had to step out of our zone and change our mindset before we could look at changing the mindset company-wide. Data-driven can only occur when you are business-driven to start with.
"We recently appointed our first Chief Data Officer which is a wide recognition of the challenges and potential data offers by VMware's leaders. With the CDO, our strategy, processes, and direction are very much in focus, with us continually asking how much value we're providing the company"
Now data has room to fly at VMware and with that space comes creativity in helping enable and empower others across other departments to get to insight faster with a data mindset, approved by and encouraged company-wide. With a new lens on data to help streamline a lot of the business's functions, Kevin looks towards a future where anything is possible if users are given the right tools and resources to be successful.
"Allow innovation" reminds Kevin, "and amazing things can happen."
Kevin and VMware's story is a testament to the importance of creating an inclusive data culture that enables and empowers people to access and answer questions of data. This journey doesn't end but continues to develop and see more success. The pillars of this environment can be found in creating communities to support users to develop their own data literacy, to help each other along the journey of feeling more confident to explore and gain insight.
Discover what Data Culture is and how using technology and culture can help drive business decisions. For information on fostering communities at your organization, visit our Data Communities page for more information.
To learn from other like-minded data leaders like Kevin, explore similar content at the Data Leadership Collaborative—a new community created to connect leaders who are creating data cultures within their organizations.
Kevin O'Callaghan has over 10 years of experience implementing business intelligence/information solutions across a number of industries and in various roles such as analyst, developer, tester, and end-user. An accomplished leader currently working with Business Operations, Strategy, and Analytics, Kevin has gained significant experience helping to drive a culture of data informed decision-making in numerous industries.
Since joining VMware in 2011, Kevin has been an advocate for translating business goals into actionable insights and has been involved in a number of transformative projects.
Subscribe to our blog
在收件匣中收到最新的 Tableau 消息。