What we can learn from open data: COVID-19 in the Netherlands
Learn how Deloitte Netherlands is using open data in a series of dashboards to see and understand trends and broader societal impacts related to COVID-19.
According to the European Data Portal, "without data we can't build information, and without information there is no new knowledge." The coronavirus pandemic has brought even more attention to the criticality of accessible data for essential insights—from public health, economic, equity, and behavioral perspectives, to name just a few areas impacted by COVID-19.
Open data is integral to understanding the impacts of COVID-19. With access to government and institutional data, it's possible to analyze key metrics, measure progress against goals, and create responsive public policies that can deliver profound benefits to society. The GovLab notes the following areas where open data can provide quantifiable value:
Economic growth
Institutional accountability
Public services
Public revenues
Health and the health sector
Energy efficiency
Value of research
Economic value in the geospatial sector
Social justice
Data perspectives in the Netherlands
In the Netherlands, Deloitte is leveraging the power of open data as part of a State of the State initiative that features a dashboard visualizing trends related to COVID-19 and the new normal. The dashboard goes beyond hospitalizations and mortality metrics, showing insights about various aspects of Dutch society and behavior. With a multi-dimensional view into the impacts of COVID-19, it's possible for policymakers and organizations to see and understand the broader story, and lead with data-driven decisions.
"We can already estimate the impact of the coronavirus on many themes, but we also want to quantify it using this dashboard," says State of the State program manager Pouya Zarbanoui.
The dashboard focuses on insights in six fundamental areas: work, mobility, health, food, energy, and security. Most recently, new data points have been added to the security topic, including insights on crime, fraud, cyber security, and nuisance.
To be able to have the conversation on the impact of COVID-19 on these six important themes, it's essential to have trusted data. Many of the data sets used in the dashboards are from Statistics Netherlands, known as CBS, a Dutch government agency that was established in 1899 to address a need for reliable information to understand social issues. The agency has evolved to be the nation's primary resource for reliable open data.
Understanding employment trends
The labor market has been heavily impacted by COVID-19. The dashboard below illustrates how people under the age of 25 have shown a decreasing employment rate in the months April to November – as compared to the year before Covid (2019). This can be due to the fact that workers in flexible, contract, or "gig economy" jobs are exceptionally vulnerable in a volatile and rapidly changing market. "In the coming period we want to map out the consequences of working from home. What are the effects on our work-life balance? On our health? The amount of sick leave? Our productivity? These are all questions that data will be able to answer over time." says Egon Hoppe, Human Capital Partner at Deloitte.
​​
The new work dashboard offers multiple insights on labor trends.
Crime in coronatime
Data show that the type of crime has changed during COVID-19. Especially in cybercrime, there has been a steep increase during April and May 2020, while burglary and robbery declined. This trend would indicate that it's important for citizens, governments, and companies to pay more attention to online safety.
This dashboard also reveals that the number of nuisance reports has increased substantially in the first months of the lockdown in the Netherlands. Nuisance due to noise pollution and public drunkenness slightly decreased. This is highlighted with colored dots below.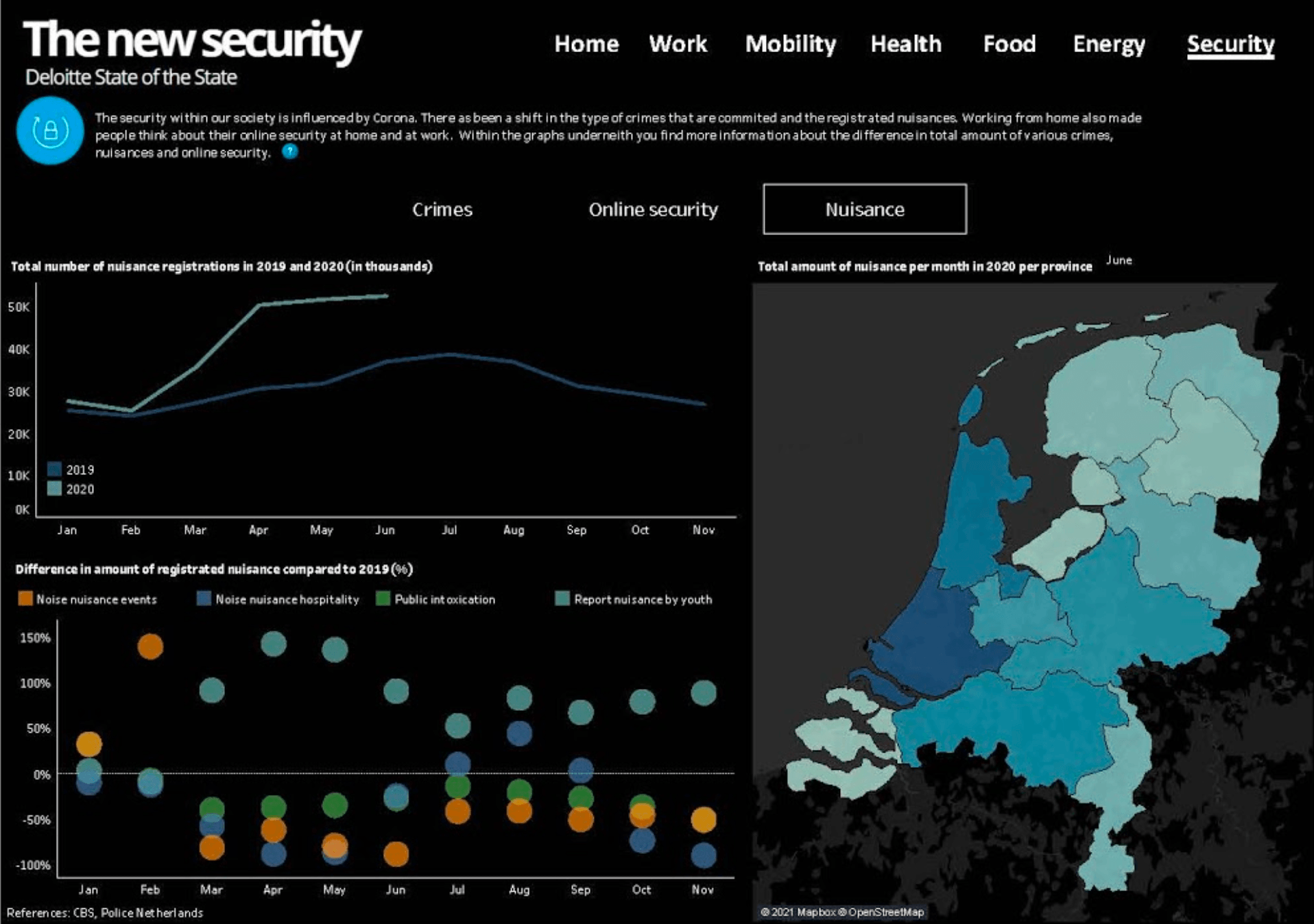 The new security dashboard provides insights about crime trends.
The future of open data
During the 48th session of the United Nations Statistical Commission, Open Data Watch co-founder and 36-year veteran of the World Bank Shaida Badaee observed that "Open data is a tremendous enabler to improve life and democratize societies." The Deloitte State of the State dashboards are powerful examples of how open data can be leveraged by the private sector and for the public good. The pandemic has only accelerated the need for data-driven insights in the form of visualizations and dashboards that can bring clarity to a complex and quickly changing environment. However, without a strong commitment to open data, it's not possible to provide the robust datasets that governments and private enterprise needs for more impactful insights and action.
To learn more about this project, visit the Deloitte website.
Subscribe to our blog
在您的收件箱中获取最新的 Tableau 更新。