Tableau + AWS: Accelerating your digital transformation with Modern Cloud Analytics
Tableau and AWS help customers digitally transform with Modern Cloud Analytics, combining technical resources and expertise with our vast partner networks.
According to IDC research, analytics spending on the cloud is growing eight times faster than other deployment types.* Having a comprehensive technology stack in the cloud can support the data integration, self-service analytics, and use cases that businesses need to digitally transform and achieve analytics at scale. To help customers unlock the power and flexibility of self-service analytics in the cloud, we're continuously investing in our Modern Cloud Analytics initiative, which we announced at Tableau Conference in 2019.
What is Modern Cloud Analytics?
Modern Cloud Analytics (MCA) combines the resources, technical expertise, and data knowledge of Tableau, Amazon Web Services (AWS), and our respective partner networks to help organizations maximize the value of their end-to-end data and analytics investments. From data strategy and migration to optimizing operations, this collaboration helps organizations at any stage of their digital transformation journey to securely deploy and scale cloud analytics. Customers see faster time to value and reduced costs, all with validated migration processes that mitigate risk.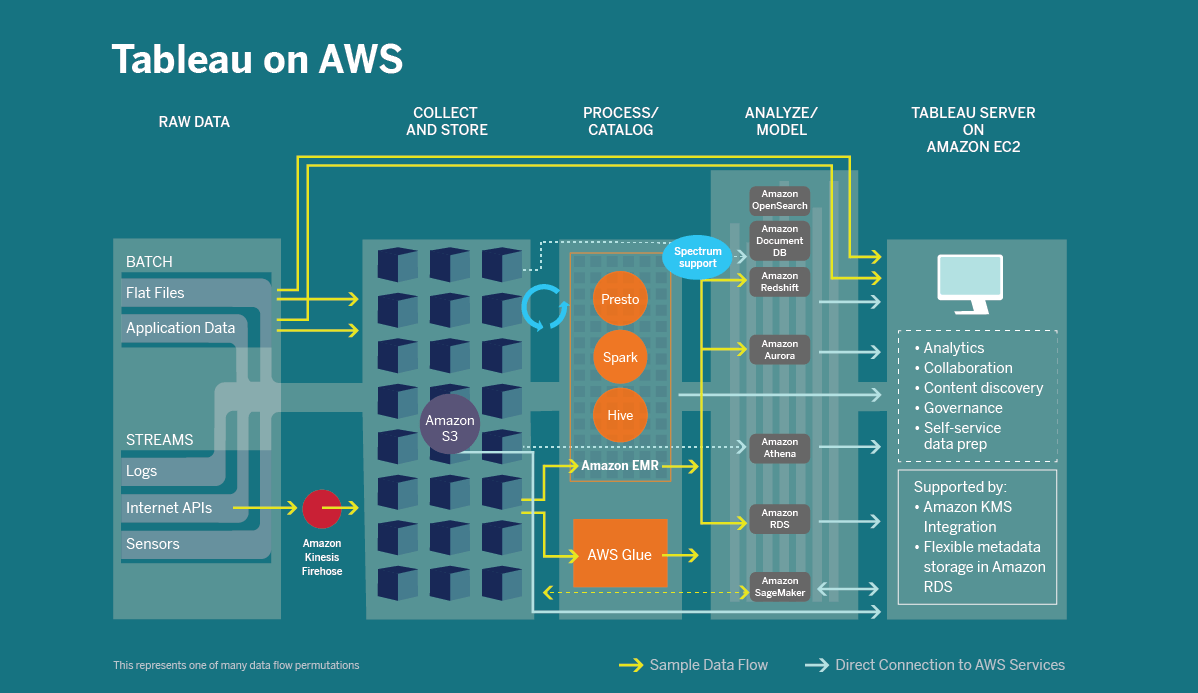 Core product integration and connectivity between Tableau and AWS
Tableau Server and Tableau Cloud run seamlessly on Amazon's cloud infrastructure so organizations with applications on Amazon Web Services have a complete solution offering from Tableau. With market leading integrations, Tableau is the natural choice of platform for analyzing the data stored in Amazon's data sources.
Tableau connects to Amazon Redshift, Amazon RDS, and Amazon EMR—here are the latest updates for re:Invent 2023, all available now:
Amazon S3 Connector: Tableau's new Amazon S3 Connector leverages Tableau's Hyper in-memory data engine technology to read Parquet or CSV files in place, removing the need for Hyper extracts. Reading Parquet and querying Hyper files in place brings new functionality to Tableau's platform, complementing customers' data lake architecture. Tableau's Amazon S3 Connector is available in Tableau Cloud since 23.1 in beta, soon to be GA. The Tableau Server and Desktop extension are available in Tableau Exchange.
Amazon Athena Connector: The Tableau Amazon Athena connector has been updated to include support for third party identity providers (IdP) like Azure AD or Okta. You can now manage secure authentication to Amazon Athena data sources with increased flexibility and security, including multi-factor authentication.
Amazon OpenSearch Connector: The Amazon OpenSearch Service team has created a Tableau Amazon OpenSearch Connector, featured on the  Tableau Exchange. [link to demo]
Amazon DocumentDB Connector:  The Amazon DocumentDB Service team has created a Tableau Amazon Document db Connector, featured on the  Tableau Exchange. [link to demo]
Amazon Neptune Connector:  The Amazon Neptune Service team has created a Tableau Amazon Neptune Connector, featured on the  Tableau Exchange. 
Modern Cloud Analytics Webinar Series
Introducing our Modern Cloud Analytics Webinar series with AWS.  This series provides insight into migrating to the cloud and optimizing your deployment. 
Webinar 1:  AWS + Tableau Cloud: Modern Cloud Analytics 
Watch this session to learn how the cloud offers opportunities to take your focus away from maintaining, backing up, and updating your on-premises BI systems and put more energy into making your data work for real business success.
Watch now to learn:
What you gain by moving to cloud-first analytics
The benefits you gain from the AWS and Tableau partnership
How other customers have successfully migrated to Tableau Cloud powered by AWS
How you can use either our extensive partner network or Tableau Professional Services to successfully migrate to Tableau Cloud
Webinar 2:  Modern Cloud Analytics in Action: Keyrus and Red Ventures
Watch the webinar and Q&A to learn how AWS, Tableau, and Keyrus worked together to help Red Ventures migrate to a powerful cloud BI tool that created new pathways for success and modern data culture.
Watch now to learn:
Why now is the right time to migrate to the cloud
What you gain with Modern Cloud Analytics
Keyrus' specialized approach to migrating from Tableau Server to Tableau Cloud
An open Q&A with Red Ventures about their migration journey and how cloud analytics is transforming their business
Modern Cloud Analytics - Industry White Papers
Check out the latest in Modern Cloud Analytics with our Industry White Papers produced by TechTarget.
Enhancing Public Service Delivery with Modern Cloud Analytics 
AWS and Tableau together offer democratization of data, in a secure and compliant environment, with access privileges in place, so the public sector can do more with less, faster and more efficiently. 
Improving Resilience in Manufacturing with Modern Cloud Analytics
Working together, Tableau and AWS can help manufacturers to overcome challenges
and harness the enormous opportunities presented by modern cloud analytics. 
Enhancing Data Empowerment in Financial Services with Modern Cloud Analytics
Modern cloud analytics delivered by AWS and Tableau enables financial services institutions to explore a range of possibilities through data.
Skip the server administration with Tableau Cloud
Another deployment option that organizations are increasingly choosing is Tableau Cloud, our fully hosted analytics platform built on AWS. "With Tableau Cloud, we're now saving more than $300,000 per year in server and platform administration costs... and our dashboard performance has improved by a factor of 2x," said Raj Seenu, Senior Director of Data Technologies at Splunk.
"We no longer have to designate an IT Ops person or data engineer to manage the platform—those experts can now spend more time on other activities," Raj said. "We get all the benefits of scalability and hands-off administration, and it demonstrates to our customers that we truly are cloud-first." In fact, the organization is anticipating doubling its enterprise analytics adoption by the end of 2021. Read the full story to learn more about Splunk's migration to Tableau Cloud.
How do I get started with Modern Cloud Analytics?
The MCA program focuses on helping customers migrate data and analytics workloads to AWS to realize the benefits of a cloud-based analytics strategy. Getting started is as simple as learning which core product integrations, technical resources, or programs are right for your organization.
Check out re:Invent at home to watch our session presentation, see product demos, learn about the Tableau roadmap for the enterprise, and get additional resources to optimize your Tableau deployment on AWS. 
*Source: IDC InfoBrief, sponsored by Tableau and AWS, Cloud Business Intelligence and Analytics, doc #US46135420TM, April 2020
Note: This post was updated on November 27, 2023.
Subscribe to our blog
在您的收件箱中获取最新的 Tableau 更新。