Meet Delta Sharing: Access more data with secure, open source data sharing
Share data quickly, easily, and securely with Delta Sharing—a new open source solution from Databricks & the Delta Lake community, in partnership with Tableau.
If we've learned anything in the past year, it's how much our progress hinges on the ability to share and collaborate around data.
During the pandemic, we watched as scientists from around the world raced to develop COVID-19 vaccines in record time. A process that typically takes 10 to 15 years took less than a year—due in part to global collaboration and data sharing.
As we transition to the post-COVID-19 era, the "need for speed has never been greater," says McKinsey. The organizations that will thrive in this new economy will facilitate collaboration, empower individuals and teams, and build impactful partnerships. That success requires shifting from the traditional "don't share data unless" mindset to a data-sharing mindset grounded in a solid foundation of technology, data-driven culture, and processes.
We've seen this with our own customers. There's a growing demand for ways to share data beyond the walls of the organization with partners, customers, vendors, and more. Users are frustrated by the constraints to how they can share their data—think: csv files and file-size limits—and once that data is shared, version control and data freshness are tricky to maintain.
Take a group of data scientists who are collaborating, for example. They're in the flow and on the verge of an insight, but need to analyze another data set. So they submit a ticket and … wait. In the two or so weeks it takes them to get that missing data set, time is lost, conditions change, and momentum stalls. Data sharing shouldn't be a barrier to innovation.
Here are some more examples:
Data-driven organizations want to provide clients with access to their own data histories, from an advertising firm sharing campaign results with a client to a financial company enabling customers to identify fraud or other anomalies
Data vendors want ways to package and share data sets, such as weather, location, and behavioral traits, to enrich their clients' own data sets and discover new business insights
Companies in similar fields want to collaborate on open data sets, such as enriched census data or machine learning (ML) training data sets
Introducing secure, open source data sharing
Tableau is joining forces with Databricks and the Delta Lake open source community to announce Delta Sharing and the new open Delta Sharing protocol for secure data sharing.
Delta Sharing will enable organizations to:
Share any existing, live data in a cloud storage or lake house without needing to copy it
Take advantage of the open source and open data formats of Delta Lake to make data accessible to everyone
Provide strong security, governance, and auditing
Scale to handle massive datasets
Work with any data warehouse or data platform that supports Parquet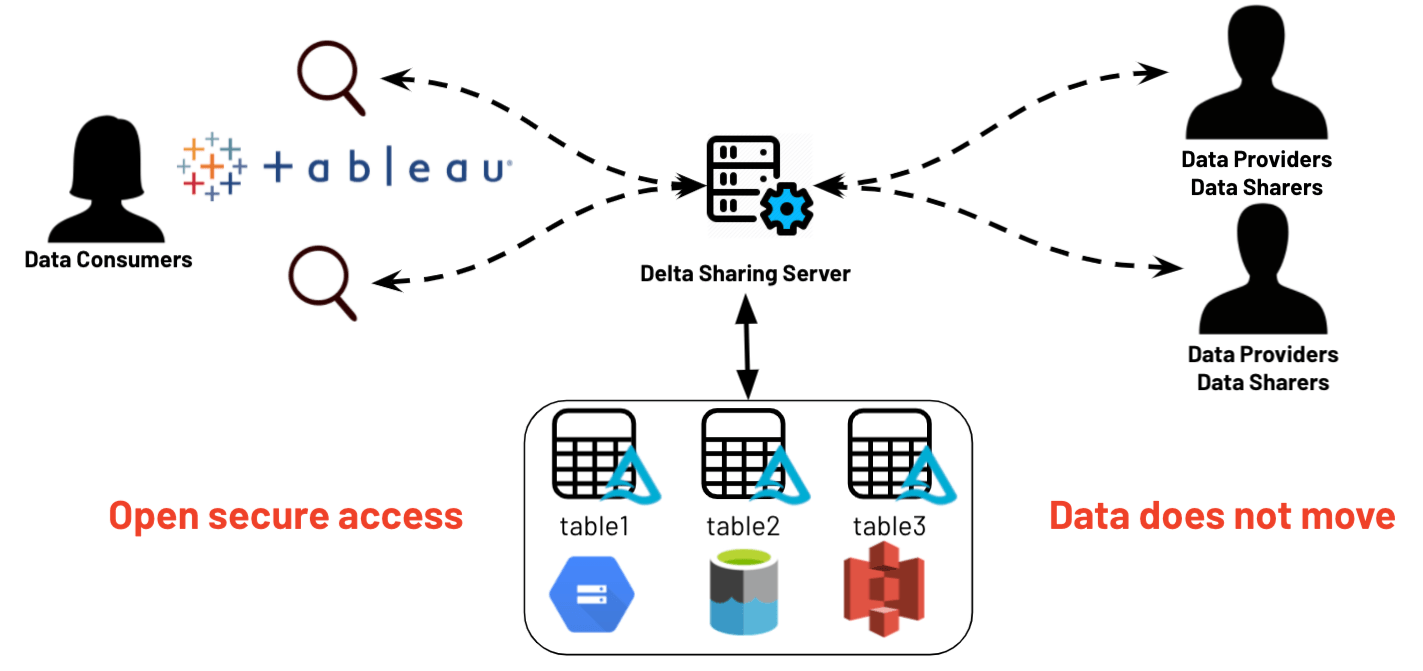 Delta Sharing enables secure data sharing with open, secure access and seamless sharing between data consumers, providers, and sharers.
Simplify data sharing & build a data culture with Tableau
For our Tableau customers, Delta Sharing will simplify and enrich data, while supporting the development of a data culture. Here's how:
Delta Sharing simplifies data access. Tableau users can easily connect and explore data made available by providers via the Tableau Desktop Web Data Connector (WDC)—no need to download data sets.
Delta Sharing enriches data. Mission-critical data can be integrated with data sets from a variety of data providers, including financial data, corporate data, consumer data, geographical data, and more.
Delta Sharing helps establish a data culture. At Tableau, we define Data Culture as the collective behaviors and beliefs of people who value, practice, and encourage the use of data to improve decision-making. As a result, data is woven into the operations, mindset, and identity of an organization.

Consuming Delta shares in Tableau to visualize shared data sets.
We believe that when data is easily accessible and shared, everyone in an organization is equipped with the insights they need to be truly data-driven. Databricks shares our belief in fostering a data culture to fuel innovation. Delta Sharing aligns with that vision of building a data culture that extends to customers, partners, and other collaborators.
Learn more about Delta Sharing + Tableau
Watch the Tableau and Databricks announcement session at the Data + AI Summit, Wednesday, May 26 at 5 p.m. PDT to learn how to access Delta Sharing through the Tableau Desktop Web Data Connector or the Hyper API.
Tableau is collaborating to support this new open source project. For more information on how you can use Delta Sharing with Tableau, visit the Tableau Community Hub, including:
Tableau demo from the Tableau and Databricks session at Data + AI Summit
Reference architecture for the Web Data Connector (WDC), plus sample scripts to get started with the Hyper API
Delta Sharing protocol
Check out this Delta Sharing announcement on the Databricks blog. For Tableau and Databricks integration info and customer case studies, visit www.databricks.com/tableau.
订阅我们的博客
Tableau 的人员每天都在搜寻关于数据、分析和可视化的精彩新闻。 我们的使命是帮助人们查看并理解数据,其中重要的一环就是通过我们的博客分享这些新闻。 从关于如何更高效使用 Tableau 的技巧,到了解人们日常如何处理数据挑战, Tableau 汇集了众多的数据爱好者。