Grow customer retention and revenue with embedded analytics
Embedded analytics puts data and insights where your customers are already working.
In today's digital world, data drives everything across our personal and professional lives—from fitness plans to strategic business decisions. As a result, analytics dashboards and visualizations are beginning to appear everywhere: in consumer apps, business software, news sites, and more. We want quick and seamless access to the personalized insights we need to help guide our choices. Infusing analytics into user experiences is a way we can help our customers make smarter decisions and achieve greater success. And the technology behind these experiences is embedded analytics.
Embedded analytics expedites decision-making by putting data and insights where people are already working. Utilizing embedded analytics avoids performing analysis and action in silos and jumping between multiple applications—slowing down the flow of work—to find the information you need. Future-facing organizations are taking the initiative to develop their own applications with embedded analytics. And in the process, they're improving the customer experience, reducing costs, and driving revenue growth.  
Agility and flexibility are essential to staying competitive. According to a 2021 Constellation Research report, not only does embedded analytics "power business-changing and revenue-generating digital services, but they also help organizations deliver analytical insights that cement customer loyalty and increase the innovator's share of customer spending."1 As the pace of business and consumer demands accelerate, embedded analytics provides you with an opportunity for market leadership and can set your organization apart as an innovator. With Tableau's Embedded Analytics offering, you can seamlessly integrate dashboards, visualizations, and reports into your end users' products, applications, and web portals. Let's look at three companies that have embedded analytics into their offerings resulting in greater functionality, loyal customers, and revenue growth. 
Embedding analytics in product: ICIS
A valuable aspect and use case of embedded analytics is its ability to help you design new business models that monetize the data that you already have, creating additional revenue streams. ICIS provides petrochemical market information enabling its customers to identify and react to opportunities in constantly changing markets. The company created a product called the Live Supply Disruptions Tracker that provides insight into plant shutdowns that could affect the global petrochemicals supply chain. 
Manca Vitorino, head of data operations at ICIS, explained how "the Live Supply Disruption Tracker is a good example of how Tableau has helped us to further enhance our pre-existing data into a new customer offering." Utilizing Tableau's Embedded Analytics' flexible building blocks, ICIS designed a fully interactive, real-time dashboard with the same look and feel as other ICIS offerings. The intuitive dashboard uses color-coding to quickly show planned versus unplanned shutdowns, while multiple filtering options allow viewers to refine results when looking for specific subsector details. The company branding and interactive dashboard create a familiar and seamless experience for ICIS customers.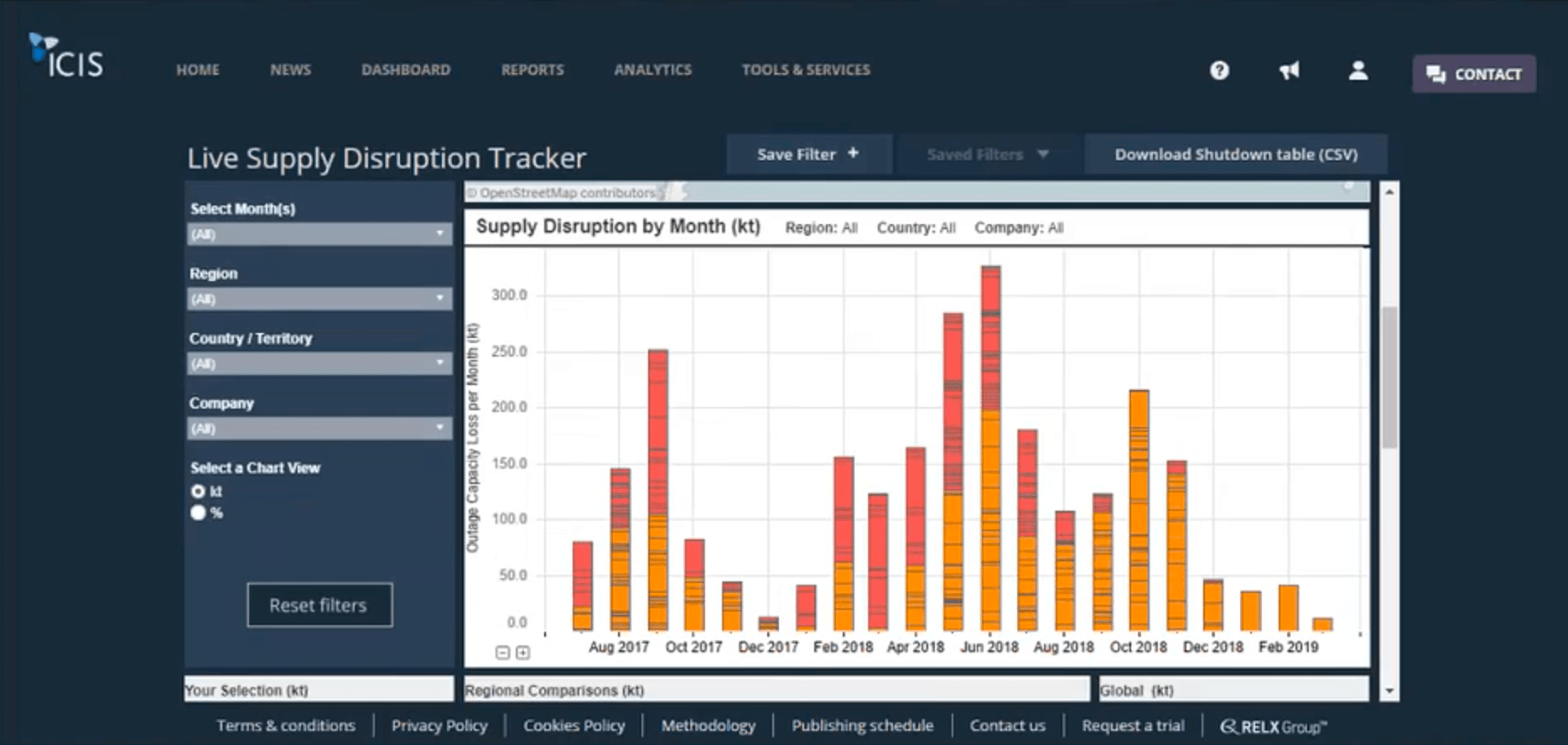 Users can filter the Live Supply Disruption Tracker by month, region, country, and company to view changes in the petrochemical market.
Embedding analytics in web portals: CellRebel
With the right solution, any company can quickly embed analytics into its offering and meet customer demands. CellRebel operates in the B2B space, supporting mobile operators and consultancy service providers with insights to improve mobile subscribers' experience. Through the customized CellRebel portal, customers can tap into data regarding subscriber experience, network performance, and churn. 
CellRebel CEO, Tibor Rathonyi, recognized the data they collect, analyze, and aggregate "is only valuable if customers can interact with it and understand it." He explained, "as a young organization, we didn't have the time or resources to build an embedded solution in-house. Tableau, by contrast, answered all our needs, so we embedded it in our portal." Tableau's integration with CellRebel's infrastructure using single sign-on technology provides a seamless user experience. Enterprise-grade security is native to Embedded Analytics, saving CellRebel from bringing in a third party to manage security. 
Tableau's Embedded Analytics technology empowers customers to directly access the rich, self-service analytics in CellRebel's web portal. Having access to the right data at the right time allows operators using the tool to quickly ask questions about the data, walk away with actionable insights, and share what they've discovered. These customer benefits have helped CellRebel keep its competitive edge. "The visual analytics is helping to make our customers more 'sticky,' more loyal," Rathonyi said. "They are continually finding unexpected insights that drive better business performance."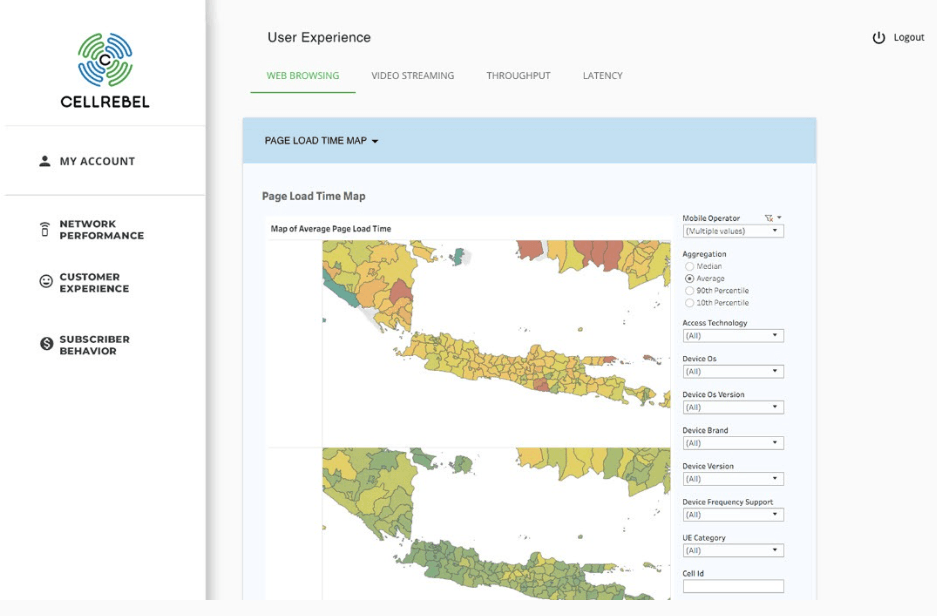 Customers have access to modify a range of variables while conducting analysis in the CellRebel portal.
Embedding analytics in applications: Tivian
One of the greatest advantages of embedding analytics is allowing your customers to have complete autonomy over their data. Tivian offers a suite of solutions that helps organizations capture and act on insights from their employees, customers, and the market. The Software-as-Service (SaaS) company partners with Tableau to find the meaning behind the data. As Rob Austin, business intelligence director at Tivian, explained, "the what is the existing data and what we try to bring to it is the why. Why is this happening? Why are our sales increasing or decreasing? We try to enrich that what data with the why to give a fuller picture."
Focusing primarily on experience data—employee experience and customer experience—Tivian relies on its application, DiscoverXI (formerly known as Enterprise Feedback Suite), to collect, analyze, and share the data from their surveys. After analysis, Tivian can easily share the discovered insights with their customers and their customer's end users with Embedded Analytics. Each of Tivian's customers has the flexibility to customize their reporting view with a drag and drop interface so it fits their needs. The embedded technology can fit into any environment—simple or complex. Customers who need highly customized dashboards appreciate that Tivian does not limit them in regard to design. And smaller customers who don't have that demand can choose from the set of standard dashboards Tivian offers. The analytics integrated within DiscoverXI helps users identify underlying business challenges and their contributing factors, ultimately guiding their decision-making and improving their experience.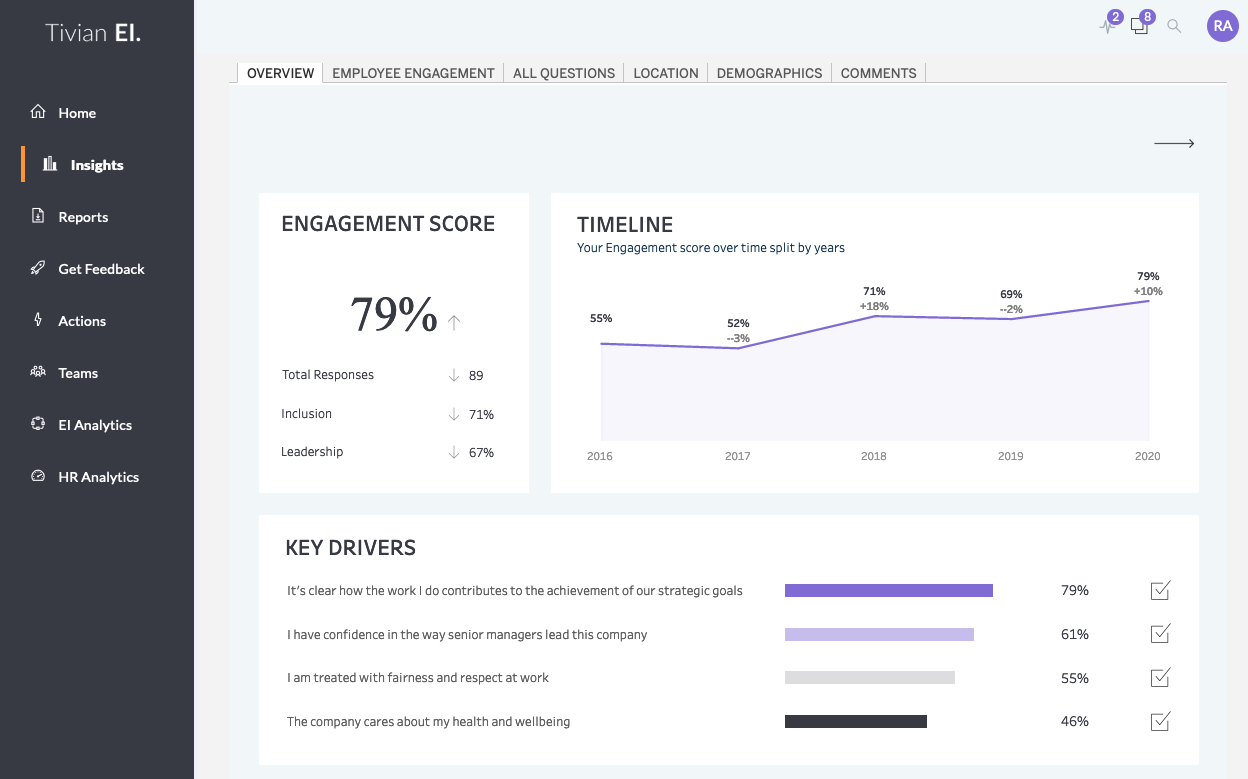 Customers can easily analyze data and review insights directly within the application.
A path to more seamless and personalized experiences 
The best way to keep up with rapidly changing customer demands is to know who your customers are, what's important to them, and where the market is headed. Luckily, this challenge is made easier with data. When you put the right data, in the right place, at the right time, you produce seamless, personalized experiences that enhance customer engagement and increase retention. 
Embedded Analytics empowers you with competitive differentiation, a fast go-to-market plan, an enriched customer experience, and opportunities for additional revenue streams. If you want to learn more about embedded technology, check out our resources on our Embedded Analytics page. 
1 Henschen, Doug. "Why Data-Driven Innovators Choose Embedded Analytics."October 1, 2021. Constellation Research. https://www.constellationr.com/research/why-data-driven-innovators-choo…
Subscribe to our blog
在您的收件箱中获取最新的 Tableau 更新。