Top tips to make the most of Tableau Conference 2021
From DataFam member to Tableau Solutions Engineer, Mark Bradbourne shares top tips for Tableau Conference. Here's what to know before the show.
Like many of you, I've always loved Tableau Conference. Even when I was on the other side—as a customer, passionate Tableau Ambassador, and user group co-leader—it ranked right up there with my favorite holidays. Now with my second anniversary as a Tableau Solutions Engineer behind me, my love for Tableau Conference has only grown.
The planning team pulled off an incredible virtual Tableau Conference-ish in 2020. This year, they're infusing feedback from the DataFam into a virtual event that promises to somehow eclipse last year's experience. (I can hardly wait!) So, whether you're back in the office or still fully remote (or somewhere in between), the question on everyone's mind is how to make the most of Tableau Conference 2021. Here's my take on what to know before the show.
Block your calendar and build your watch list
One of the pieces of feedback I heard most was that it was hard to attend without interruptions because you were technically still at work, whether in the office or remote. Let's change that.
Tell your management and team that you're attending TC21, and block off your calendar.
Turn off notifications and tune in 100%.
Map out your episode line-up by browsing the full episode list. Some of my favorite, can't miss TC mainstays include Iron Viz and Devs on Stage. This year I'm also looking forward to catching some of the best and brightest from the DataFam in the #tableau-community channel in Slack (keep reading for more on this). Just sign into the event platform and add your episode selections to your personalized My TC21 page.
Remember, in-person or virtual, this is professional development time, and there is a lot to learn and a lot of value to be discovered, especially since the conference is free. Heck, invite everyone in your office to attend! There is literally something for everyone. When everyone is invited to the party, it only gets better, which leads me to my next tip …
Set the mood
For me, one of the small, yet important, details of every conference is the music. Most of the time, you don't even realize the soundtrack is playing until you find yourself movin' and groovin' through the Data Village like it's your job. Fun fact: Many of the past soundtracks live as playlists in Spotify. I created a new, very unofficial, soundtrack that perfectly captures the TC mood for me. So put on your favorite conference t-shirt (I'll be wearing the classic Party with your data shirt) and fire up the tunes. Enjoy!
Make it big [screen]
Do you really want to watch Tableau Conference on that tiny screen where you're reading this blog post? No! You want to hook your laptop up to the biggest television screen you have, or, better yet, a projector. I find that making the content bigger for me is a neat trick to make it all feel a little more "real." Just imagine that "on the edge of your seat" feeling watching Iron Viz!
Data with friends
Tableau Conference is better with friends. If you're virtual, set up a video conference call and stream the content with your DataFam. Zoom and Google Meet work great, and Remo.co is a cool platform worth checking out for larger groups.
If you're back in the office, experience the event with your colleagues to really make it a data party—especially for the opening keynote, Iron Viz, and Devs on Stage. Doing so will definitely give you a sense of community when you can react and discuss what you are seeing. Of course, please stay safe and follow COVID-19 protocols in your area.
Connect ... a lot
One of the best things about Tableau Conference is connecting with the DataFam, Tableau's Community. While it might take a little work virtually, it is possible and it's definitely worth it. Here's how:
Check out the conference's dedicated Slack workspace. I, for one, am looking forward to the epic GIF battles that will hopefully occur.
Chat and interact at #tableau-community.
Schedule 1:1 time with a Blueprint coach at #tableau-blueprint.
Suggest new product features at #tableau-product-ideas.
Play trivia at #tableau-training-cert.
And … well, #get-help is pretty self explanatory.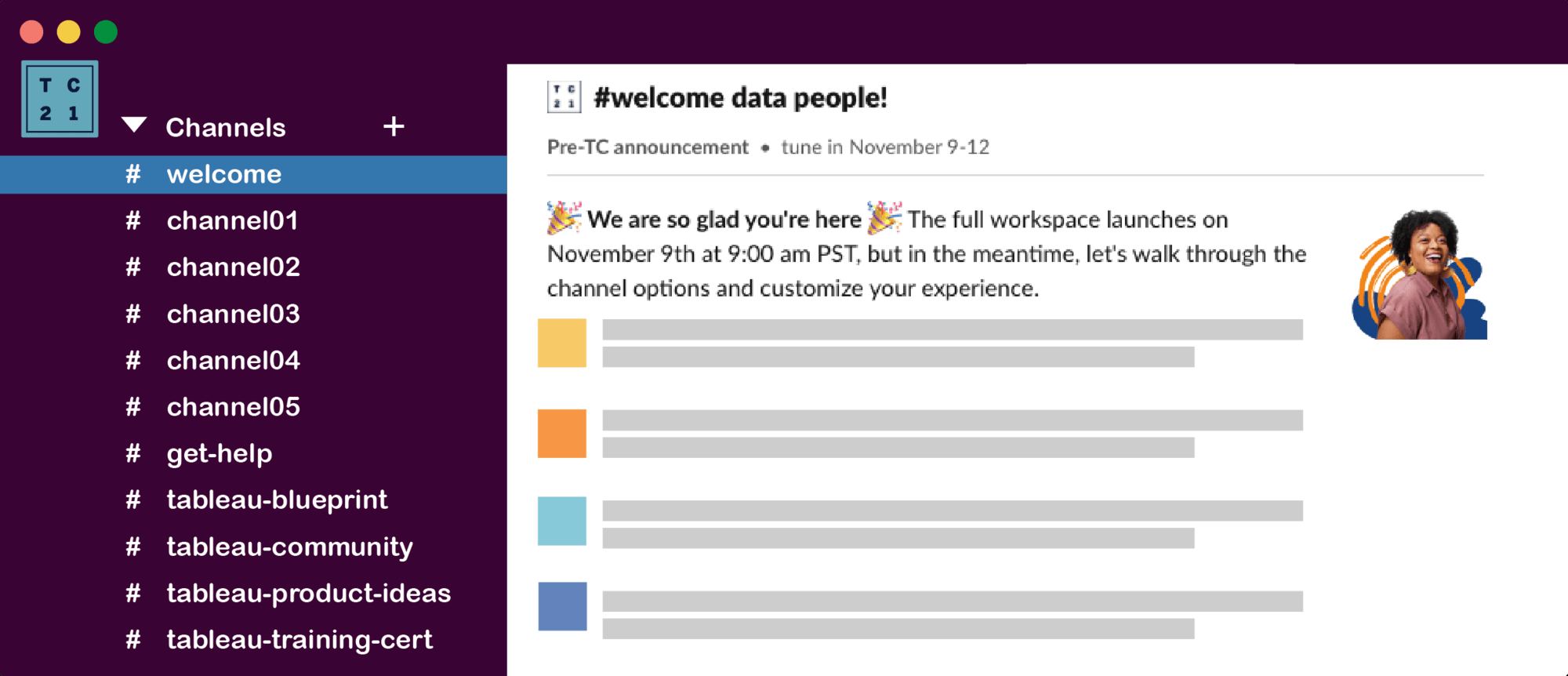 I recommend plugging into Twitter and keeping an eye out for opportunities to connect with people from around the world using #Data21.
If Twitter isn't your thing, see if your local TUG group has anything planned either virtually or in-person.
Sign up for a Braindate. Connect on a small scale with one-on-one or small-group conversations around a myriad of topics.
Get ready to rock with data
Don't forget to participate in everyone's conference favorites, like …
Snap a pic: Grab a photo in the photo booth and share it with the #DataFam.
Sport your passion for data: Grab some swag in the Tableau Gear Store, including this year's conference t-shirt.
Got data pains? Book a Tableau Doctor appointment.
Meet 1:1 with a Tableau Blueprint coach: Walk through your Blueprint Assessment results to discuss how best to build your Data Culture.
Listen to the #DataFam: Check out great episodes like Speed Tipping, Design Tips, Inclusive Design, and a Zen Master panel you won't want to miss.
Rock out: Kick back and enjoy our musical guest.
Stay FOMO-free: Episodes will be on-demand as well.
You don't want to miss the greatest event of the year. Whether you're new to Tableau Conference or a seasoned TC attendee, I look forward to seeing you there, starting November 9, 2021.
Now head on over to the Tableau Conference website to register if you haven't done so already, build your watch list, and get ready for three non-stop days of digging into the data.
Subscribe to our blog
Get the latest Tableau updates in your inbox.