Tableau AI in the flow of work with Slack-First Analytics
Put data—and AI—at the center of every conversation. With Tableau AI capabilities in Slack, we're making data more actionable, accessible, and intelligent.
Data is no longer just a competitive advantage. It is critical to the health—and often the survival—of an organization. Fostering a Data Culture equips every individual in your organization with the insights they need to tackle your most complex business challenges. In this all-digital, work-from-anywhere world, data needs to be more accessible, more collaborative, proactive, and available anywhere. Using data effectively means being able to seamlessly access insights right where you work.
Earlier this year, we introduced Tableau for Slack to put data in the flow of work—and at the center of every conversation. Now, we're putting artificial intelligence (AI) in the flow of work, too. With Tableau's powerful augmented analytics capabilities directly in Slack, your data is more actionable, accessible, and intelligent than ever.
Data, insights, and AI in the flow of work
Integrating Tableau capabilities within Slack empowers your entire organization with easy, seamless access to insights everyone needs for better business decisions directly in their workflow. Together, Tableau and Slack allow your teams to bring data into every conversation and get data-driven insights from anywhere, expanding the reach of analytics across your entire organization.
With Tableau 2021.3, we make it easy to stay on top of your data with data-driven alerts, at-mentions, and sharing activity right where your team is already collaborating—within Slack.
And we're not stopping there: We're bringing the full power of Tableau within Slack. This means that you'll be able to talk to your data and get AI-driven insights in the flow of work. What does that look like?
Talk to your data: Ask questions using natural language to generate visual answers and then share with the team using Ask Data in Slack.
Understand the "why" in your data: Ask "why" questions and get interactive explanations of the value of any data point with Explain Data in Slack.
Get predictions in the flow of work: Business users can run AI predictions on Salesforce reports to explore underlying patterns, identify insights, and surface them in Slack with Einstein Discovery in Slack.
With Slack-First Analytics, everyone across the organization can harness Tableau AI capabilities directly in Slack to make data-driven decisions faster and easier. Sales teams can get suggestions on how to improve likelihood to win, predict the time to close, receive recommendations on top opportunities to focus on, and hit quota each quarter. Service teams can understand which accounts are most at risk for attrition so they can take corrective actions. Marketing teams can predict campaign ROI to focus their energy as efficiently as possible.
Do more with your data with AI-powered predictions from Einstein Discovery in Slack, such as suggestions for how to best improve outcomes and recommendations for the top opportunities to focus on.
With Slack-First Analytics you will be able to:
Predict what's next with AI, right in Slack: Use Einstein Discovery in Slack and make smarter decisions with the help of AI-powered predictions and recommendations to help drive your business forward.
Use natural language to get answers: Talk to your data in natural language and use Ask Data to build vizzes directly within Slack.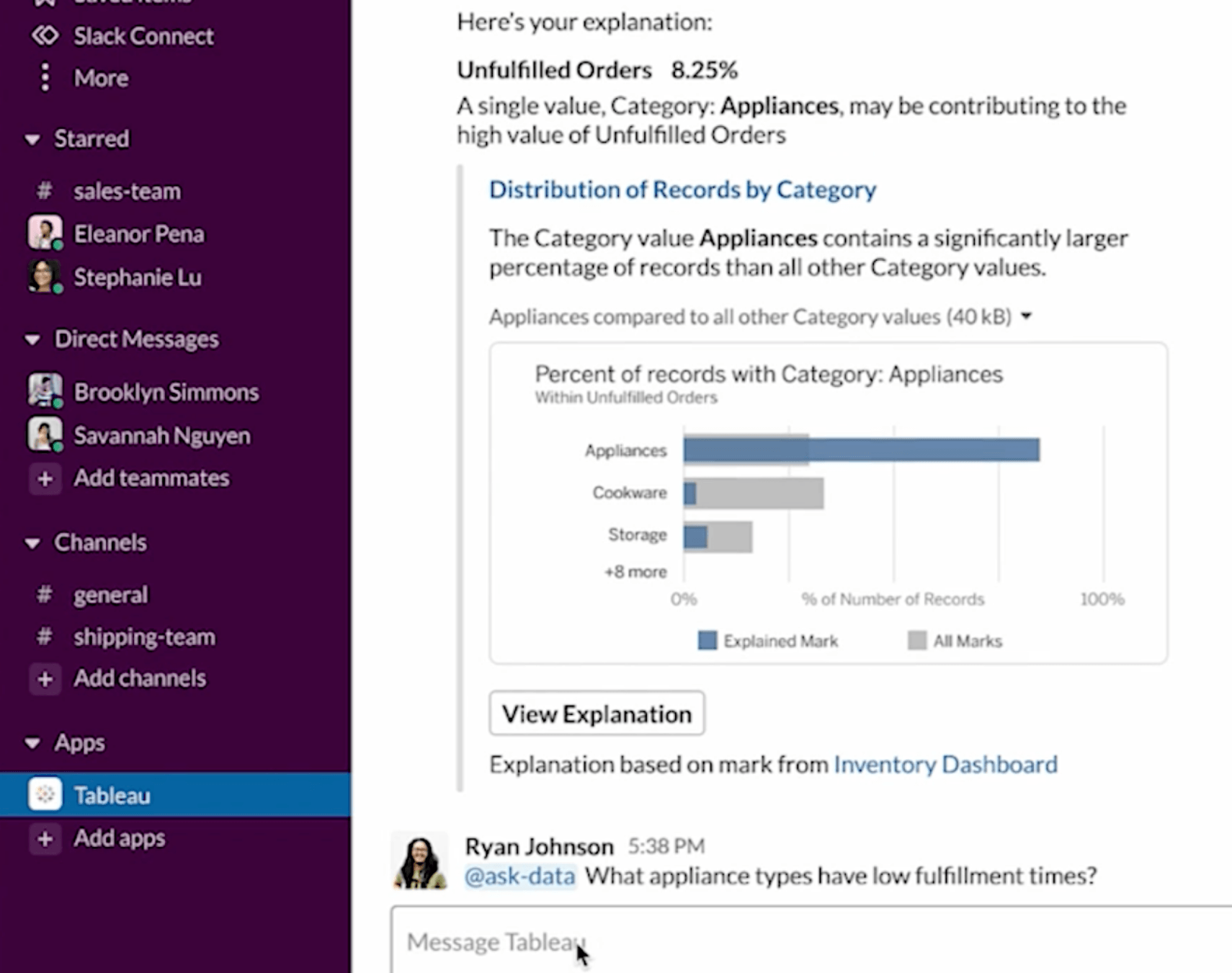 Dial into your data with AI—whether getting the why behind your KPI or using natural language to build visualizations—right within Slack.
Get one-click explanations for the "why" behind your data: Leverage Explain Data directly in Slack so you can see the underlying causes behind any data points you want to explore.
Seamlessly share insights: Share insights from your predictions in Slack so everyone can make smarter decisions.
Take the next best step: Because you get insights right where the work happens in Slack, you can readily take action. Start a discussion with your team, loop in an external partner, or reach out to a customer. Keep workflows seamless from insight to action in Slack.
Dig deeper in Salesforce or Tableau: While you can get high-level insights from data in Slack, if you need more details, you can easily jump into the relevant asset in Salesforce or Tableau to explore more.
With data-driven insights readily available where collaboration happens in Slack, it's now even more seamless to take action at the point of insight, look ahead to what's next, and keep data at the center of every conversation.
Learn more in this Tableau for Slack session from Dreamforce, complete with demos.
Subscribe to our blog
在收件匣中收到最新的 Tableau 消息。