Should I Move My Analytics to Tableau Cloud?
Learn considerations for moving analytics to the cloud, including the greatest benefits of our SaaS solution, Tableau Cloud.
Shifting workloads to software-as-a-service (SaaS) solutions has been an increasing priority for organizations for years. As we build for a world facing new economic challenges and uncertainty, executives have increasingly looked to Tableau Cloud, our SaaS offering, to help them develop their own competitive advantages, easily scale, and maximize efficiency. Flexera's 2022 State of the Cloud reports that 50% of enterprise workloads are in the public cloud, showcasing the tipping point we find ourselves in. More and more organizations are turning to cloud solutions to reduce operational costs and drive their own digital transformation.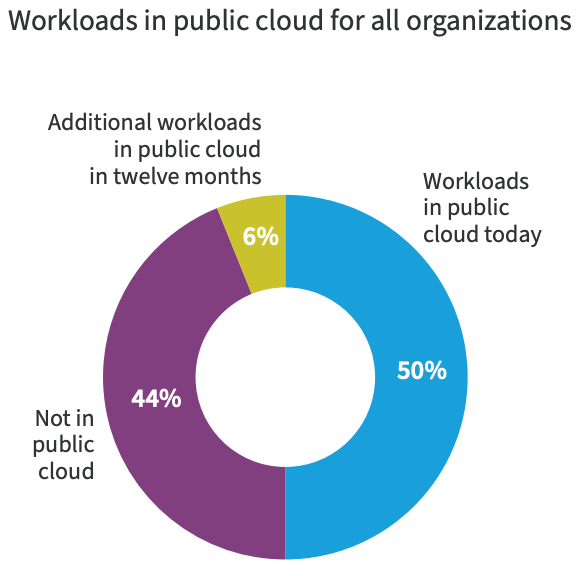 Figure 1: Survey respondents to the Flexera 2022 State of the Cloud Report are running 50 percent of their workloads in public cloud, and they expect to increase that number to 56 percent in the next twelve months.
As organizations reach these opportunistic moments, they have a chance to finally scale analytics organization-wide without the restrictions of relying on self-managed applications. For companies like yours that find themselves faced with the daunting task of digital transformation, Tableau is here to help. Tableau Cloud is uniquely positioned to provide stability and trust throughout your cloud migration. 
Tableau Cloud is data agnostic and allows you to securely provide any data to any user, empowering them to make data-driven decisions. Whether your data is fully on-prem, in a public cloud, private cloud, or a hybrid deployment, Tableau Cloud can provide the enterprise-grade analytics solution your organization needs.
Why use Tableau Cloud?

We believe that everyone—from analysts to end users, executives to experts—should be able to self-serve and harness the power of data to make better decisions faster. The story we continue to hear is that data strategies are rapidly evolving. Executives want to maximize technology ROI. IT is looking for trusted partners who can reduce maintenance costs while making data more accessible in an increasingly mobile world. Analysts want to move faster than ever, from exploration to action with business insights. These are the reasons why we built Tableau Cloud to be trusted, fast, easy, global, and connected to your data, no matter where it's hosted.
Tableau Cloud is trusted, secure, and compliant

Tableau Cloud is a trusted and secure platform offering federated governance, visibility, and control. All data in Tableau Cloud is encrypted at rest using Advanced Encryption Standard (AES) with 256-bit keys. Any data in transit between users and Tableau Cloud is encrypted using HTTPS/TLS.
Holding best-in-class, security certification, Tableau Cloud is fully SOC II and ISO compliant, with the environment regularly put through rigorous testing—both internally and externally. Having Binding Corporate Rules (BCRs) in place means the highest level of contractual privacy protections in the industry for Tableau customers. You can be confident and sleep soundly knowing your data is protected by the latest in security technologies. For more information, please see our security overview.
Backed by Tableau Cloud's service-level agreement (SLA) of 99.9% uptime, you can also trust that your data is accessible leveraging the highly available, redundant architecture made possible in the cloud. (Head to our Trust site to stay informed.) Automated authentication and permissions management is made easy, making data available to those who need it and protecting it from those who don't. You're also able to integrate with your single sign-on (SSO) or identity provider. 
Scale analytics fast 

Tableau Cloud can help customers worldwide prioritize speed and accessibility to realize the value of their data transformation faster than ever before. Anyone can spin up a new analytics environment in a matter of minutes because you don't have to invest in setting up hardware.
We saw within the first three months, almost double the adoption that we expected.
Read more about Red Hat's Tableau Cloud journey here.
Speed and agility do not stop at deployment. As your organization grows, you don't have to worry about optimizing topology or scaling data source usage because Tableau Cloud has the resources you need at the ready to scale and empower users quickly.
Tableau Cloud provides us with unlimited scale for data analysis, with employees able to explore and analyze their data securely from anywhere.
Read more about Jaguar Land Rover's Tableau Cloud journey here.
For organizations with larger user populations, growing data volumes or sensitive data, we've also developed Advanced Management. As you incorporate Tableau into your digital transformation strategy, it will help you: 
Understand your environment
Manage content at scale 
Enhance security
Scale for your enterprise
Easy to maintain, manage content, and integrate with existing tools

Building and maintaining hardware infrastructure can be costly and time intensive. Coupled with hiring and enabling server administrators, the overhead around your analytics deployment can quickly skyrocket. Tableau Cloud has experts who maintain the hardware infrastructure for you—including scaling, upgrades, and regular maintenance—and administrators to manage the back-end environment on your behalf. Learn more about the site administration tasks that you can control and customize.
Centralizing and eliminating administrative tasks was a key driver for our migration. In the case of Tableau Cloud, we no longer have to designate an IT Ops person or data engineer to manage the platform—those experts can now spend more time on other activities.
Read more about Splunk's Tableau Cloud journey here.
Since Tableau Cloud is a shared service, you can count on your analytics always being available. Check out the Technical Resource Planning Matrix viz to see how much of the administrative overhead Tableau Cloud manages for you: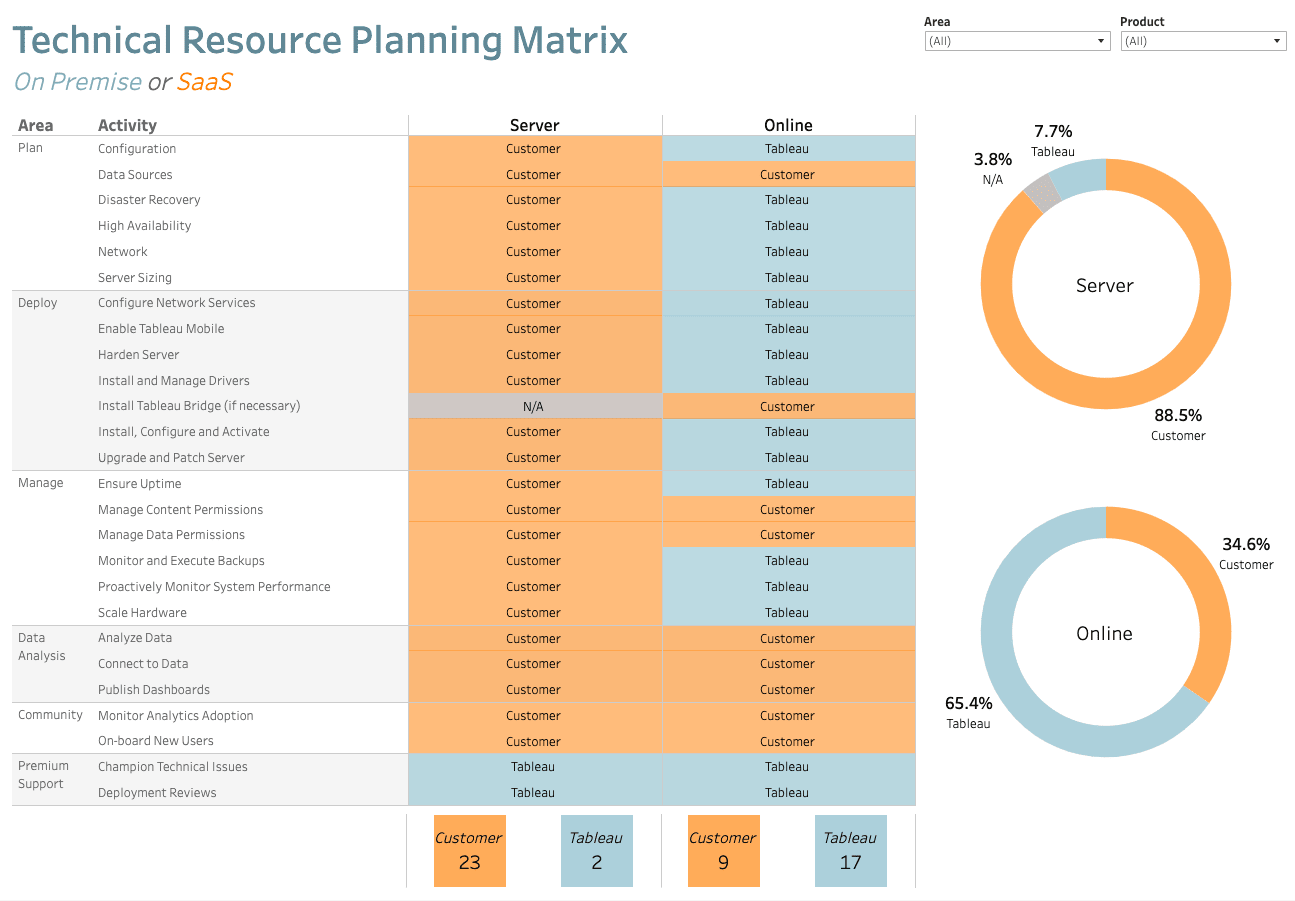 Figure 2: Manage your Tableau resource planning by server or cloud, and filter to see which product manages which area.
Global hosting, support, and local compliance

Backed by the power of Amazon Web Services (AWS), Tableau Cloud delivers global reach with regional scale. Scalability allows customers to globally operate while providing in-region support and meeting local compliance standards. Customers can choose to deploy their site in regions across the globe including US West, US East, Canada, UK, Ireland (Dublin), Japan, and Australia. 
While many variables can determine your system's latency and throughput, the constant is location. When entities—data, applications, or services—are closer to one another, latency is lower and throughput higher. If you are strategically moving your data to the cloud, Tableau Cloud moves you closer to your data.
Connected to your data—wherever it is

Tableau Cloud is the preferred choice for customers who have data in the cloud—from applications like Google Analytics to cloud databases like Snowflake or Amazon Redshift. Tableau Cloud also supports traditional databases like SQL Server, whether deployed on-premises or in a public cloud infrastructure. Tableau Cloud can connect via Tableau Bridge if your data is housed on-premises or in a virtual private cloud. Wherever your data lives, Tableau Cloud will meet you there.
An example of a strategically diversified data strategy is how we leverage Tableau Cloud here at Tableau. We use on-premises SQL Servers and partner with Snowflake, AWS Redshift, Google BigQuery, Azure Synapse, and more. Regardless of where the data lives and each business unit's needs, we can analyze it from Tableau Cloud, significantly increasing your speed to insight.
How do I determine if Tableau Cloud is right for my organization?

When thinking about data transformation to the cloud, the key considerations include your deployment preferences, the trade-offs between SaaS vs. self-managed software, your data strategy, and your compliance requirements.
Deployment preferences

Undecided about Tableau Cloud or Tableau Server? Asking these questions about your organization can help clarify which is best for your business:
What is our current SaaS footprint? Do we leverage other SaaS platforms like Salesforce, ServiceNow, and others? If so, Tableau Cloud is the best fit as you have already started your cloud transformation.
 What is our current cloud data strategy? Are we planning to move some, if not the majority, or all of our data to cloud platforms? While Tableau Bridge does keep on-premises data fresh, most Tableau Cloud customers have considered a more comprehensive cloud data strategy. Check out the complete list of data freshness options for Tableau Cloud.
Cloud benefits and trade-offs

If you're already using other SaaS products, you likely have an understanding of the benefits and tradeoffs with these products. Tableau Cloud is an excellent choice for companies with a cloud-first IT strategy. 
Tableau Cloud owns the responsibility for system uptime, updates, maintenance, scale, and performance. We are committed to a 99.9% or better uptime across the globe, and all of our regions worldwide are staffed 24/7. If launching fast and at scale without managing hardware or infrastructure is important to you, Tableau Cloud is the best fit. 
Tableau Cloud is fully available outside of your network firewall and built for a remote and mobile-friendly world. To support users who rely on mobile devices to access Tableau vizzes outside of the traditional network firewall, Tableau Cloud makes the setup, management, and usage from these devices simple.
Data strategy and compliance

Tableau Cloud is built for hybrid environments, with many customers using a mix of cloud and on-premises data stores. Connecting to cloud data warehouses like Snowflake, Amazon Redshift, and Google BigQuery is seamless through Tableau Cloud. We also provide customers with Tableau Bridge to easily bring on-premises or private cloud data to Tableau Cloud. However, data connectivity has some limitations, specifically with connecting to legacy data sources, like cubes.  
While these may initially seem to be blockers, our teams will work to find a solution that meets your needs. You can learn more about our full list of data connection options in our Keep Data Fresh Help guide.
Depending on your industry, the data your business collects and analyzes might have specific compliance requirements. One example is Health Insurance Portability and Accountability Act (HIPAA), a set of compliance laws regarding handling medical records in the United States. While Tableau Cloud is not currently certified for HIPAA or personal cardholder information (PCI), our Tableau account team has helped healthcare and financial services companies successfully navigate deploying Tableau Cloud where it makes sense. 
Unlike a SaaS offering, Tableau Server offers you full control of your environment because you run and manage the Server inside your own network. Many customers opt for hybrid deployments, mixing the Tableau Cloud with Tableau Server hosting options, depending on their data compliance requirements.
How do I get started with Tableau Cloud?

If Tableau Cloud sounds like the right fit for your organization and you are ready to start today, start a free 14-day trial.
Already a Tableau customer? If you're currently using Tableau Server and are considering migrating to Tableau Cloud, please reach out to your account team to discuss migration options. We are here to help you and your business through your cloud transformation journey. They'll help you validate your cloud strategy and may recommend an experienced partner with a history of migration success in your industry and global region.
Subscribe to our blog
在您的收件箱中获取最新的 Tableau 更新。