This collaborative data platform will support COVID-19 response and recovery worldwide
Cepei, in collaboration with the Tableau Foundation and other partners, have launched the COVID-19 Data & Innovation Centre, a collaborative data platform designed to inform pandemic responses and recovery strategies.
Cepei, in collaboration with the Tableau Foundation and other partners, have launched the COVID-19 Data & Innovation Centre, a collaborative data platform designed to inform pandemic responses and recovery strategies. With a focus on the Global South, the Centre will glean a wide range of pandemic-related data spanning various sectors and peoples and make it universally accessible. Ultimately, the platform aims to help those leading pandemic response and recovery initiatives to work from the same trusted data and to be able to coordinate their strategies.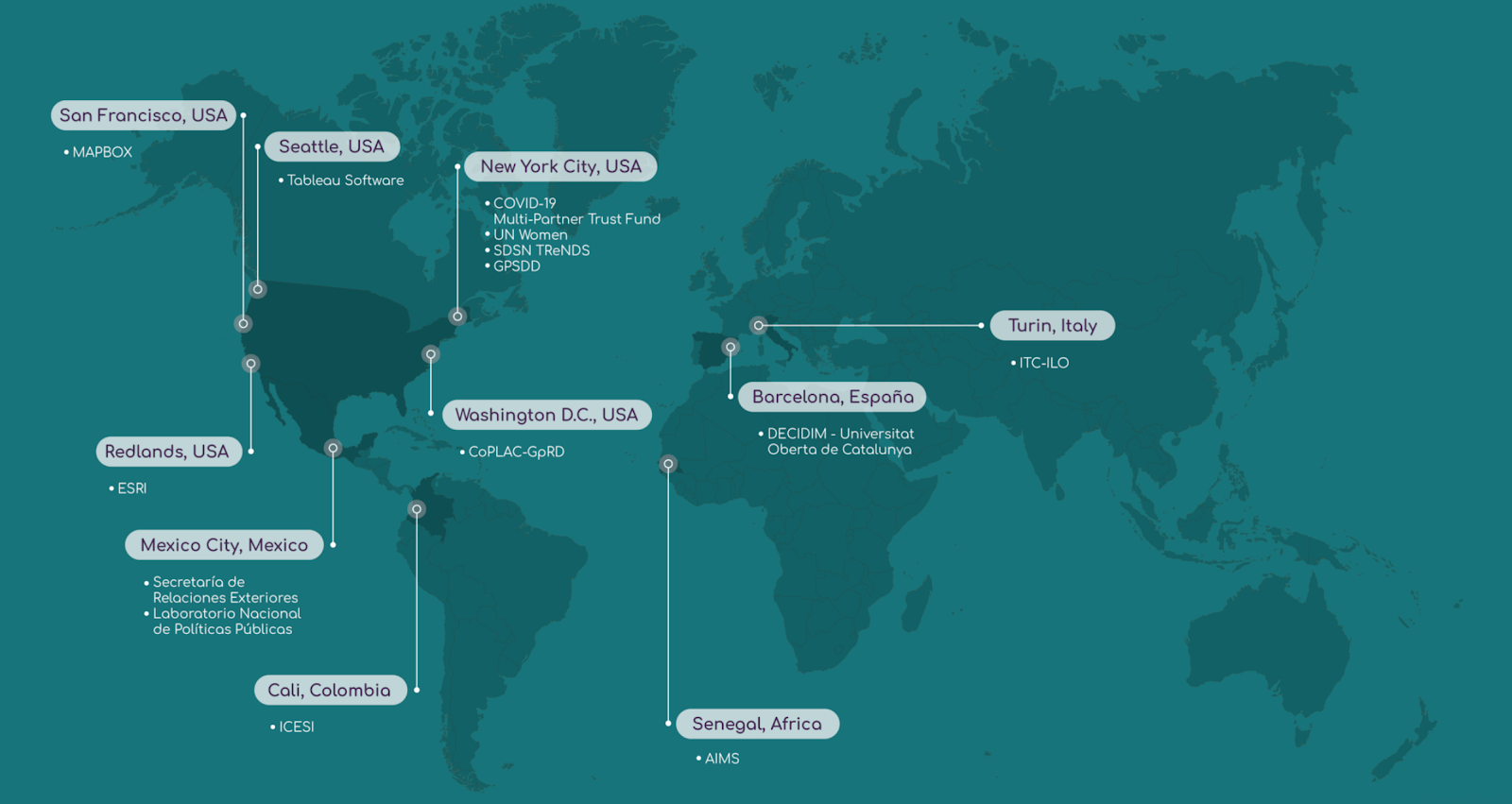 COVID-19 has affected every corner of the world, and its impacts will be felt for years to come. Understanding the health impacts along with the social and economic precarity the virus has wrought all comes down to data. Clear, actionable, comprehensive, and integrated data is needed to guide decision and policy making.
This is what Cepei, a nonprofit think tank based in Bogotá, Colombia, aims to provide with the launch of the COVID-19 Data & Innovation Centre. Developed in partnership with Tableau Foundation, the UN COVID-19 Multi-Partner Trust Fund, and approximately 20 other organizations, the Centre will gather pandemic-related information on a global scale. The Centre's focus on the Global South will help assure that no one is left out of the architecture of response and recovery.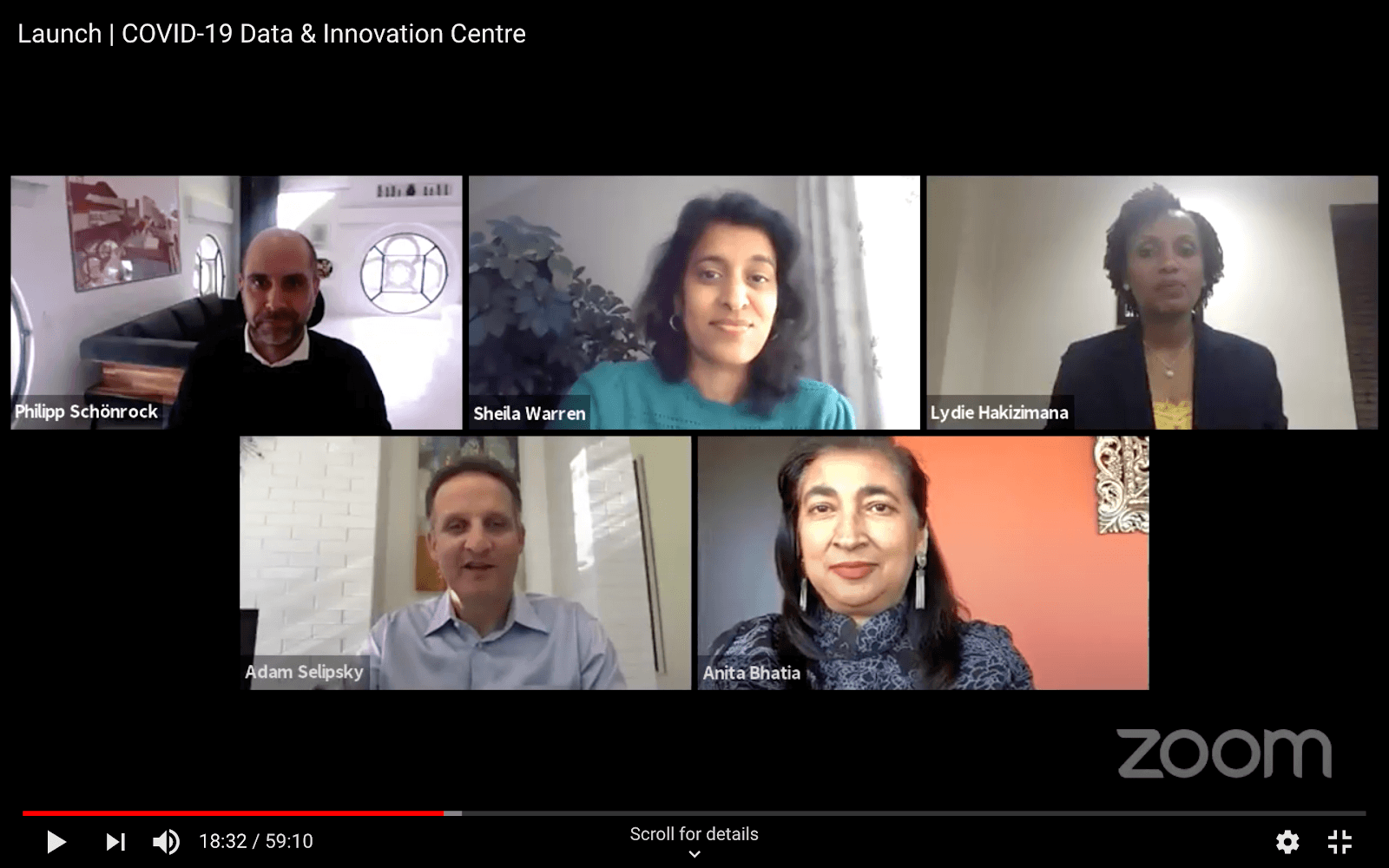 Tableau CEO Adam Selipsky delivers keynote address alongside Cepei Director Philipp Schönrock, Sheila Warren Head of Blockchain, Data, and Digital Assets and Member of the Executive Committee, the World Economic Forum, Lydie Hakizimana, CEO of African Institute of Mathematical Sciences, and Anita Bhatia, Assistant Secretary-General, and Deputy Executive Director at UN Women.
Delivering the keynote address at the Centre's launch, Tableau CEO Adam Selipsky described 2020 as a "data tsunami." "With the pandemic and its ripple effects, leaders and governments across the world have been seeking out robust, reliable information to understand the crisis and guide how they address it," he noted.
The places with the most effective responses, according to Selipsky, have all had something in common: a strong data strategy. For instance, Senegal has roughly seven doctors for every 100,000 people, yet it ranked second in the world—behind only New Zealand—on pandemic response. By using data to manage the response, funding allocation, and resources available in communities, Senegal's Ministry of Health's Emergency Operations Center built the capacity of its healthcare systems, kept the virus under control, and delivered care to those who needed it. In a different example, as New York City copes with another surge, the mayor's office and partner agencies are analyzing their data in Tableau. They are monitoring hospital capacity and routing ambulances to places that have open beds, likely saving many lives. "We've seen it all over with COVID-19—how governments, health systems, companies, and individuals, can make better decisions if they have sound data," Selipsky said.
COVID-19 has brought about a tremendous need not only for data itself, Selipsky said, but for data culture. "Fundamentally, this means organizations are reshaping the way they are organized, and data is moving to the center of the conversation. It's a big concept, and I'd argue it's harder to achieve than the technology," Selipsky noted. But one of the many reasons Selipsky is excited about the Centre is that it makes data broadly accessible and can therefore drive conversations and inform decisions across the board.
For Cepei, creating a data resource that everyone can understand was critically important. "User accessibility has been our main driver," said Philipp Schönrock, Cepei's Director. The Centre's data laboratory pulls from 85 different data pipelines so far, and that data is represented in approximately 40 Tableau dashboards. The intent is to continue working with countries and organizations to pull in as much data as possible from local, national, and global actors. "To bring this data to life, we've used the capabilities of our partners like Tableau and Mapbox to enhance our data and create data visualizations and stories that make it possible to incorporate data into decision-making," Schönrock said.
Cepei's partners, like UN Women, are optimistic about the value of the data coming out of the Centre's platform. Speaking at the launch event, Anita Bhatia, deputy executive director of UN Women, said that they are "looking forward to how we can take the data that comes out of this platform and use it to benefit the women and girls of the world so that recovery from the pandemic can allow us to build back equal." Data on the uneven economic impacts of COVID-19 on women should play a critical role in shaping response strategies," Bhatia added. "I could go blue in the face talking about the economic impact of the pandemic on women, but it's not until I have data—ideally beautifully visualized data—that we can change the hearts and minds of people. When I say that Bureau of Labor Statistics data shows 865,000 women dropped out of the workforce in September—as opposed to 200,000 men—people understand the burden of caretaking on women in a way they don't if I just say that the care burden is really impacting women." The data provided through the Centre is intended to illuminate gaps and narratives like this so policymakers can take action.
With data critical to COVID-19 action and response across the world, Cepei and its partners worked quickly to refine their vision and launch the Centre in a matter of weeks. "This was possible by finding the right partners and having a team that delivers and inspires others," Schönrock said. "We needed financial and technical support, that also allowed us to experiment and adjust," he elaborated. Partners like Tableau Foundation were able to offer that critical, flexible support to Cepei and collaborate with them and other partners to make the Centre's launch possible.
Now that the Centre is launched, Schönrock emphasized that its purpose is to support response and recovery strategies for as long as necessary. "The Centre is not time-bound," he said. "Our Centre exists to drive decision-making so we all can recover better together. This is not an abstract concept—in the end, it's about the lives of our people and our communities, and we welcome your comments and ideas."
To learn more about the COVID-19 Data & Innovation Centre, visit the website.
Subscribe to our blog
在您的收件箱中获取最新的 Tableau 更新。