5 Tableau Community Learnings from Dreamforce 2022
A week full of learning and connections, the Tableau Community showed up—virtually and in person—at Dreamforce 2022.
The Tableau Community showed up—virtually and in person—at the world's largest software conference, Dreamforce 2022. From the incredible Viz Games visualizations and DataFam reunions to all the Tableau sessions, it was a week full of learning and connection. 
We spoke with a few Tableau Community members about their Dreamforce conference experiences, here are their takeaways.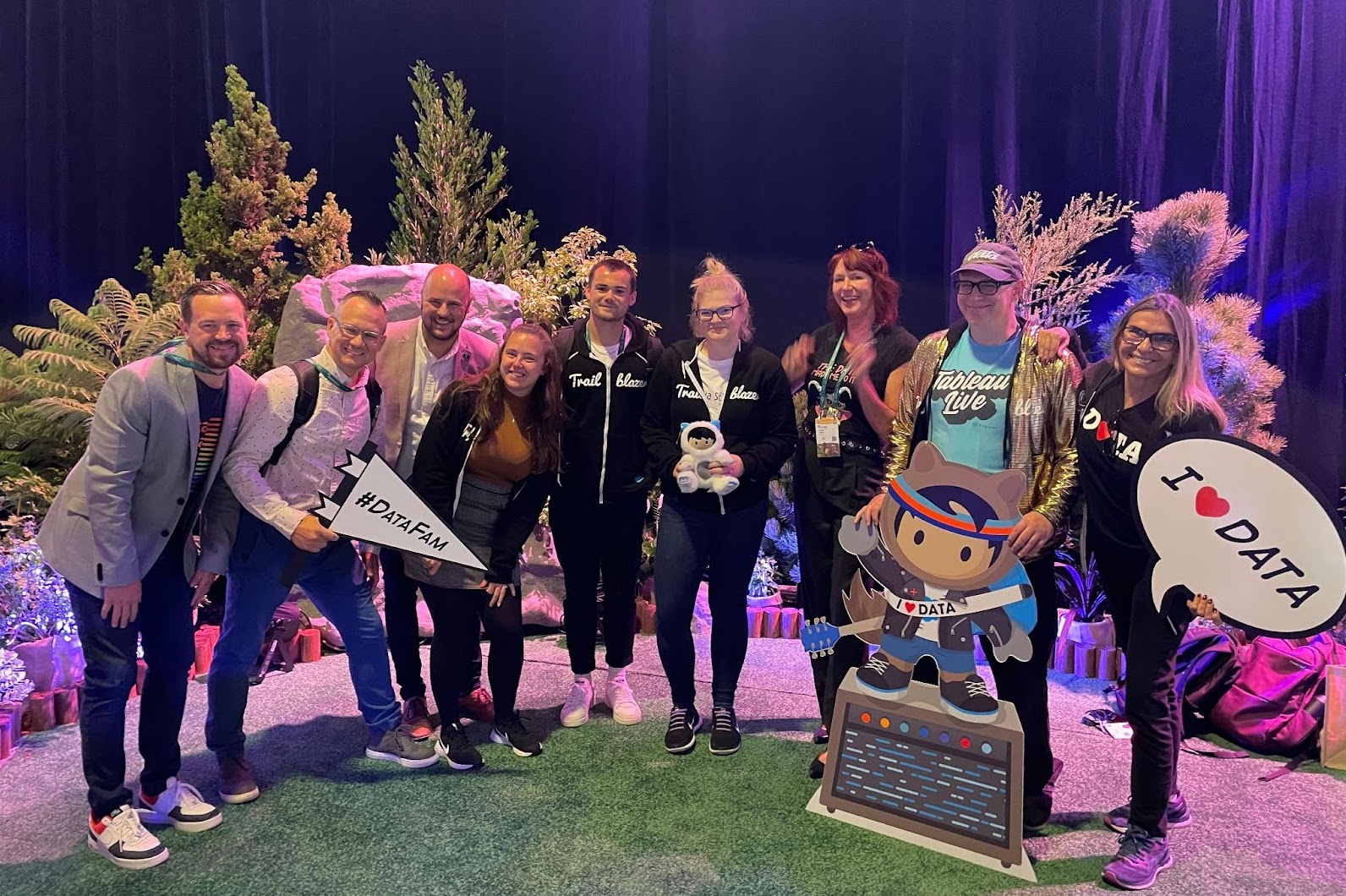 Tableau Community group photo at Dreamforce. Left to right: Andrew Grinaker, Sean Miller, Christopher Scott, Lorna Brown, Jack Parry, Ann Jackson, Anya Hearn, Adam Mico, and Veronica Simoes.
1. We're stronger together as One Community
—Lorna Brown, Tableau Visionary 
At Dreamforce the community spirit was strong—the Trailblazer, Slack, Mulesoft, and Tableau Communities had the opportunity to connect and foster new relationships. I loved being a part of Dreamforce and representing the DataFam. It was a really good community vibe throughout the whole conference. and Salesforce really did try to make all communities feel welcome. 
The message throughout Dreamforce for our collective communities was about One Community—which is all about joining forces. Each of us have our own communities, but we are stronger as one, and ultimately all have the same end goal. It allows us to share stories and work together which ultimately helps us and other communities.
2. The Golden Hoodie is about supporting diversity and doing good 
—Adam Mico, Tableau Visionary and Social Ambassador
Salesforce is working to embrace all of its communities and bring us in as a part of its family. So being the first recognized Golden Hoodie recipient from the DataFam at Dreamforce was the most significant honor and completely unexpected.
Congratulations @AdamMico1 on being the first #datafam member to receive a Golden Hoodie. Well deserved! Thank you for all you do for the community, for Tableau and for Salesforce. You've earned a lifetime of gratitude from all of us. #DF22 #trailblazers @salesforce @tableau pic.twitter.com/Mqz4mc41w5

— Francois Ajenstat (@Ajenstat) September 22, 2022
The Golden Hoodie is about doing well and doing good. Supporting diversity (I am neurodiverse), looking for meaningful ways to give back, and amplifying others have been my longstanding community mission. It has given me more joy than my own accomplishments to see how our community extends throughout the globe and impacts people's lives. The community has changed my life without thinking it was possible, and I want everyone to have that experience.
3. Building data culture and community is universal 
—KT, Tableau Visionary 
KT at her session, "Build and Foster a Community that Drives Culture."
It was a great honor to have the opportunity to share my DataFam experience with the larger Salesforce community. I focused on sharing useful tips for fostering Data Culture that everyone could replicate in their organizations or regions. On my end, it was a great exercise for me to distill my professional experiences into learnings for others. What I was most impressed by was every audience member listened to my session with enthusiasm and many of them took notes. I felt that the theory of building culture and community was universal. 
Here are my top takeaways from my session for fostering a data culture and data community within your organization: 
Foster a community within your org will drive culture
The 3 pillars of fostering community are skill, vision, and connection
Get started and be consistent
4. Know your audience and give relevant context 
—Sean Miller, Tableau Visionary 
Sean Miller next to a digital sign featuring his session, "Understand Data with Tableau."
It was a lot of fun speaking at Dreamforce about Tableau. Since so many of them were brand new to Tableau, this was a great opportunity to show what's possible, what makes analysis fun, and invite the newest members into the DataFam.
What I took away from this experience was that the Salesforce Community is eager and excited to learn more about Tableau when they can use it in their environment and context. One of the things we tried to do in our sessions while introducing Tableau was showing them where they fit. Showing off Salesforce connectors, and accelerators went a long way. As we always, you have got to know your audience!
5. Viz Games and the importance of simplicity
—Emma Heaslet and Blaine Myers, 2022 Viz Games Winners
Emma: We were given less than a month, so Blaine and I cleared our schedules, and got to work! We met virtually and in person throughout the month, and spent the vast majority of our time on data cleaning and crafting a compelling story. 
Blaine: With such an emphasis on time to build, I learned a lot about my own tendencies in Tableau. My go-to designs often required too much time to recreate—so it was fun to try new approaches and refine down to a finished product. Simplicity and consistency were two big themes we kept in mind when designing our viz - and I think this helped us tell a clear and concise story. Going forward, I hope to take a similar approach when delivering business insights or tackling personal projects.
Emma: I learned that practice and confidence in your material are key to performing under pressure. The event helped me conquer my stage fright, and I am excited to present again soon! Because we were only given 20 minutes to build, we were forced to create something simple and easy to digest. For future vizzes, I will keep in mind Chantilly's "Grandma rule," which means - if I showed this to my grandma, would she quickly be able to understand it?
Subscribe to our blog
在您的收件箱中获取最新的 Tableau 更新。