How to Visualize Your Music Data
Step by step instructions to see and understand your music listening data using Tableau.
Music is a daily part of many of our lives and the year is coming to an end. Wouldn't it be cool if you could see what your music said about you this year? You don't have to wait for your music streaming service to provide that for you anymore—you can see and learn from your listening data at any point in the year using Tableau. Whether this is your first Tableau visualization or your 100th, let this be a chance to practice and grow your viz-building skills using your own personal data! It doesn't have to end with this year either—you can even look at your lifetime streaming patterns and see how your music taste has evolved.
If you're hooked and ready to see how many times you've streamed Taylor Swift's Anti-Hero or Rihanna's first release in 6 years, keep reading. We'll teach you how to make a viz with Tableau that provides uniquely personal insights with an easy to understand interface, step-by-step.
Navigating the Tableau Workspace
Before learning any new vocabulary, we should make sure we know what Tableau is first. Tableau is a visual analytics platform that empowers all people and organizations to make the most of their data with an easy-to-navigate interface, no coding skills necessary. We've created a glossary of Tableau vocabulary you may encounter that you can reference as you go throughout this project.
| Term | Definition |
| --- | --- |
| dashboard | A collection of views shown in a single location where you can compare and monitor a variety of data simultaneously. |
| dimension | Qualitative values, such as names, dates, or geographical data. Colored blue. |
| filter | A control on a view that limits the data shown in a view. For example, a filter on Region that only includes the West. |
| mark | A visual representation of one or more rows in a data source. Mark types can be bar, line, square, and so on. |
| measure | Numeric, quantitative values that you can measure. Measures can be aggregated. Colored green. |
| pill | Piece of data. |
| tooltip | Details that appear when you rest the pointer over one or more marks in the view. |
| union | A method for combining data by appending rows of one table onto another table. |
| worksheet | A single view of data. Each worksheet can be connected to a single data source. |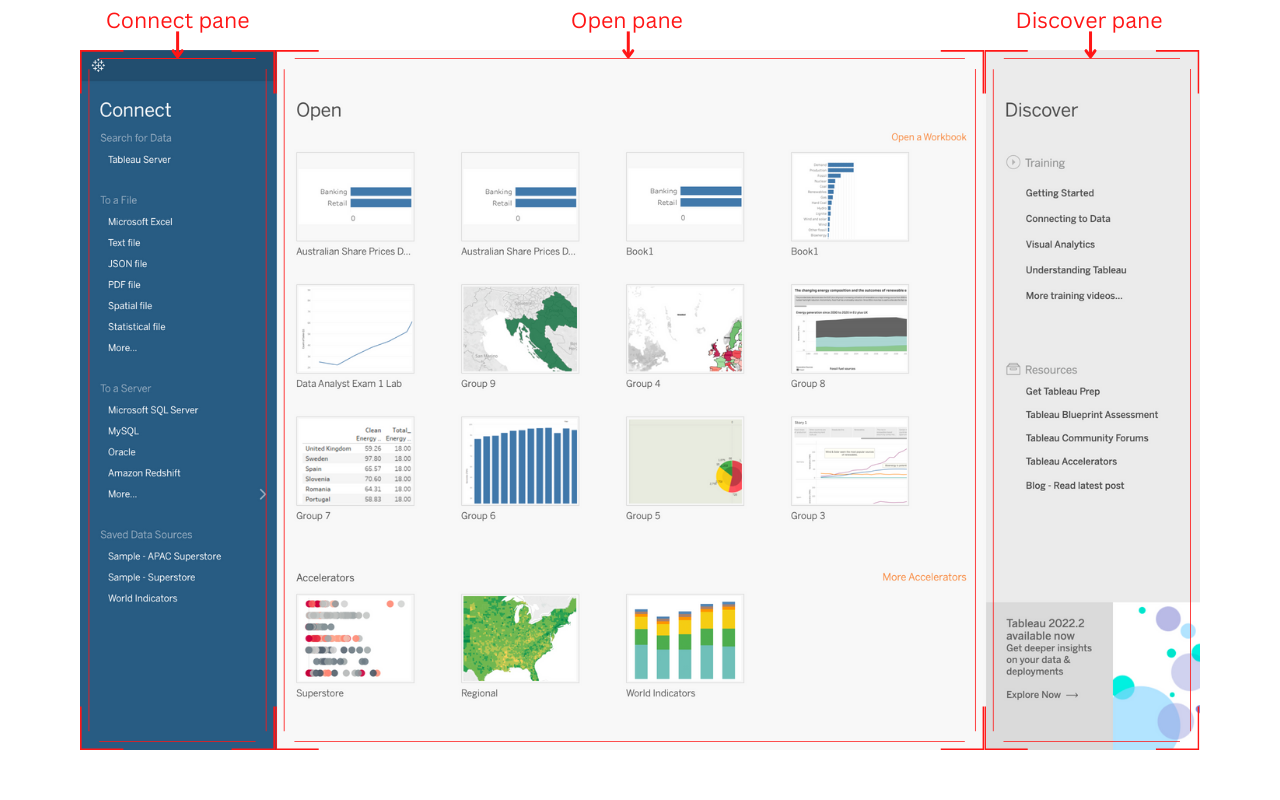 Start Page for Tableau Desktop version 2022.2.1. Image sourced from Tableau Student Ambassador Jason Khu's The Tableau Desktop Workspace Interface Guide.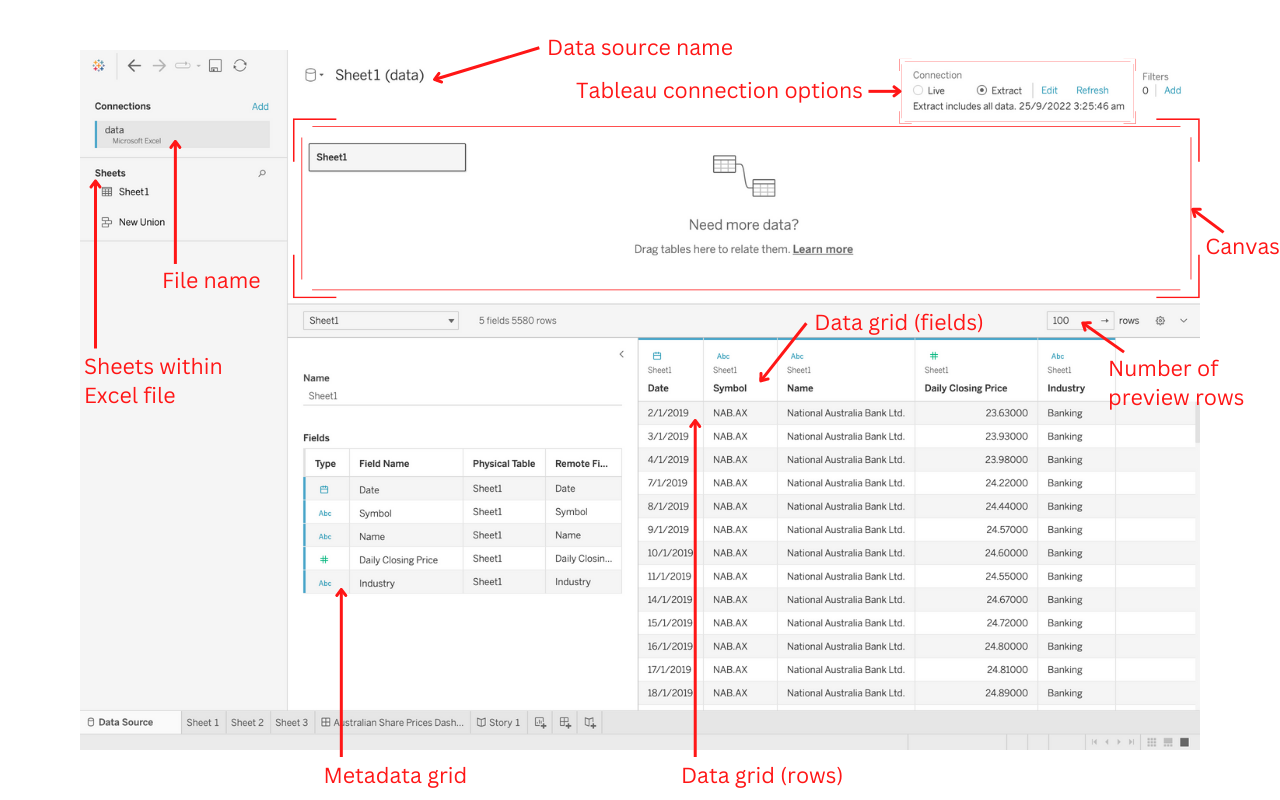 Data Source page for Tableau Desktop version 2022.2.1. Image sourced from Tableau Student Ambassador Jason Khu's The Tableau Desktop Workspace Interface Guide.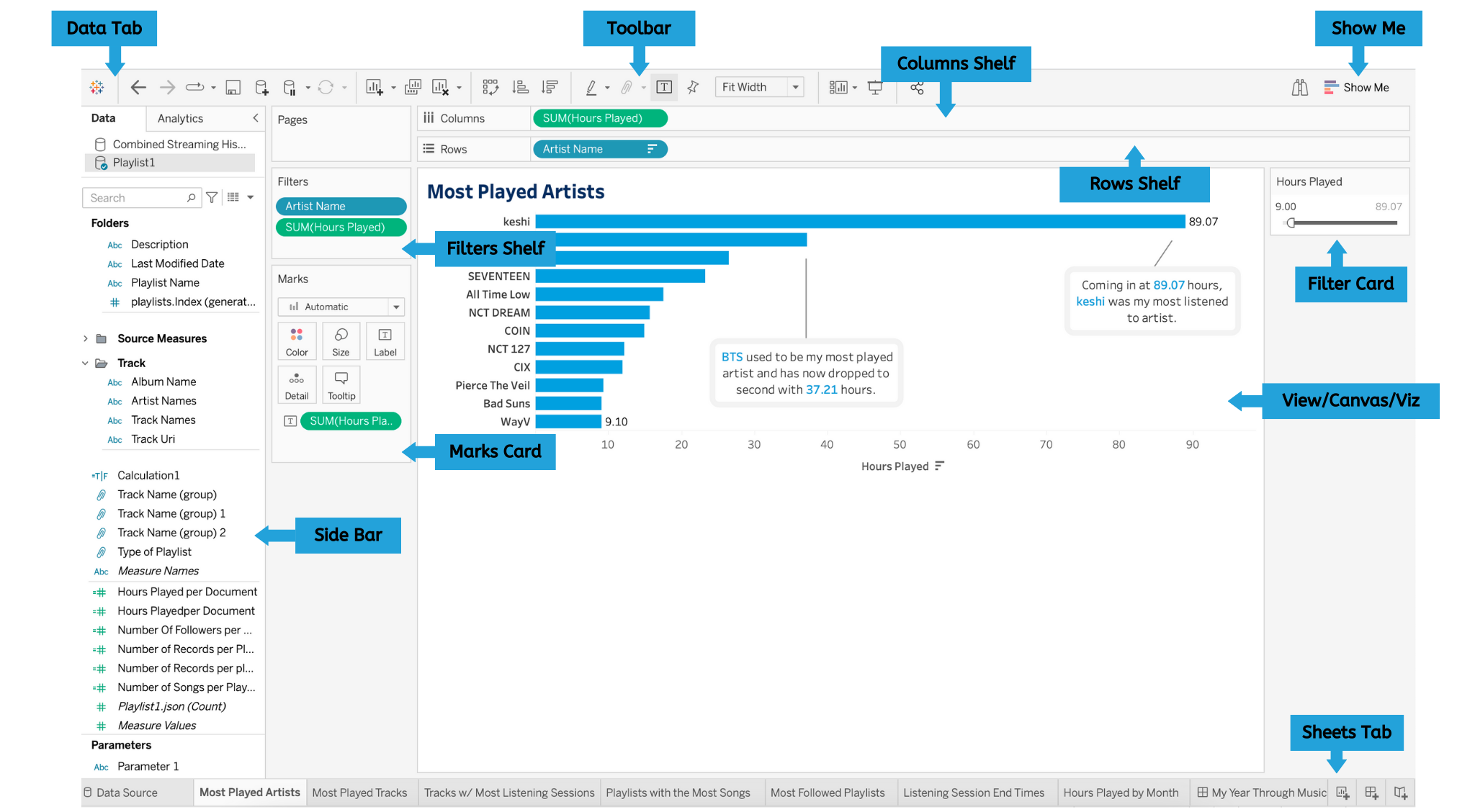 Sheet view from Tableau Desktop 2022.2.3.
Access Tableau
Don't already have Tableau on your machine? Here are a few ways to get access and start creating.
Option 1: Access a Tableau for Students License
If you are a current student at an accredited institution, head on over to the Tableau for Students webpage and click on "Get Tableau for Free." You can fill out your information and, once you're verified, you'll get a product key to activate your Tableau software.
Option 2: Use Tableau Public
If you aren't a current student, you can either use the online version or download Tableau Public onto your machine for free. Tableau Public is a free platform to explore, create, and publicly share data visualizations online. Head to this blog post to learn how to access either Tableau Desktop Public Edition or Web Authoring.
Depending on where you listen to your music and podcasts, how you get your data may differ. Instructions for getting Spotify and Apple Music data are below. If you use neither music application or are having trouble accessing your data, feel free to follow along with this sample data.
Plug Your Worksheets into a Dashboard and Decorate
Now that we've created all of the different worksheets we want in our final dashboard, we can bring everything together! To create a new dashboard, hover over the "Dashboard" setting and click "New Dashboard." You can also click on the button in the sheets tab next to "New Worksheet." Here, you can drag and drop any worksheets you've made from the Dashboard Pane on the left of the program. You can even import images, add text, and reformat through horizontal or vertical sections in your dashboard. 
Feel free to add context to your dashboard by right clicking a specific worksheet, hovering over "annotate," and clicking on "point" or "area". This allows you