Inside the Release: Tableau 2022.3 for IT
Learn what's in Tableau 2022.3 for IT, including dynamic scaling in a container, Activity Log for Tableau Server, virtual connection enhancements, and more.
Tableau 2022.3 has arrived, bringing new capabilities designed to help IT administrators monitor and manage their Tableau environments with greater flexibility and efficiency. 
Optimize for cost and performance with dynamic scaling in a container

Cost and performance are two key metrics to consider as you scale analytics throughout your organization. When you optimize both, you deliver enormous value for your organization.
Tableau helps customers with Advanced Management for Tableau Server take control over the cost/performance tradeoff with dynamic scaling in a container. With this new release, you can scale Backgrounders and their supporting processes on a set schedule. During peak periods, you can add additional resources to improve throughput and as batch job loads decrease, you can remove Backgrounders to save money. 
This can all be done without changing the topology of the cluster or taking downtime to improve throughput and reduce costs. Now, you can run Tableau Server on Linux in the following way: 
Create Docker Container images from Linux installer rpm for:

Tableau Server in a Container image
Backgrounder image
Hyper image
Data Server image
Gateway image

Run Tableau Server inside Kubernetes cluster with the aforementioned images
Auto-scale Backgrounder pods out and in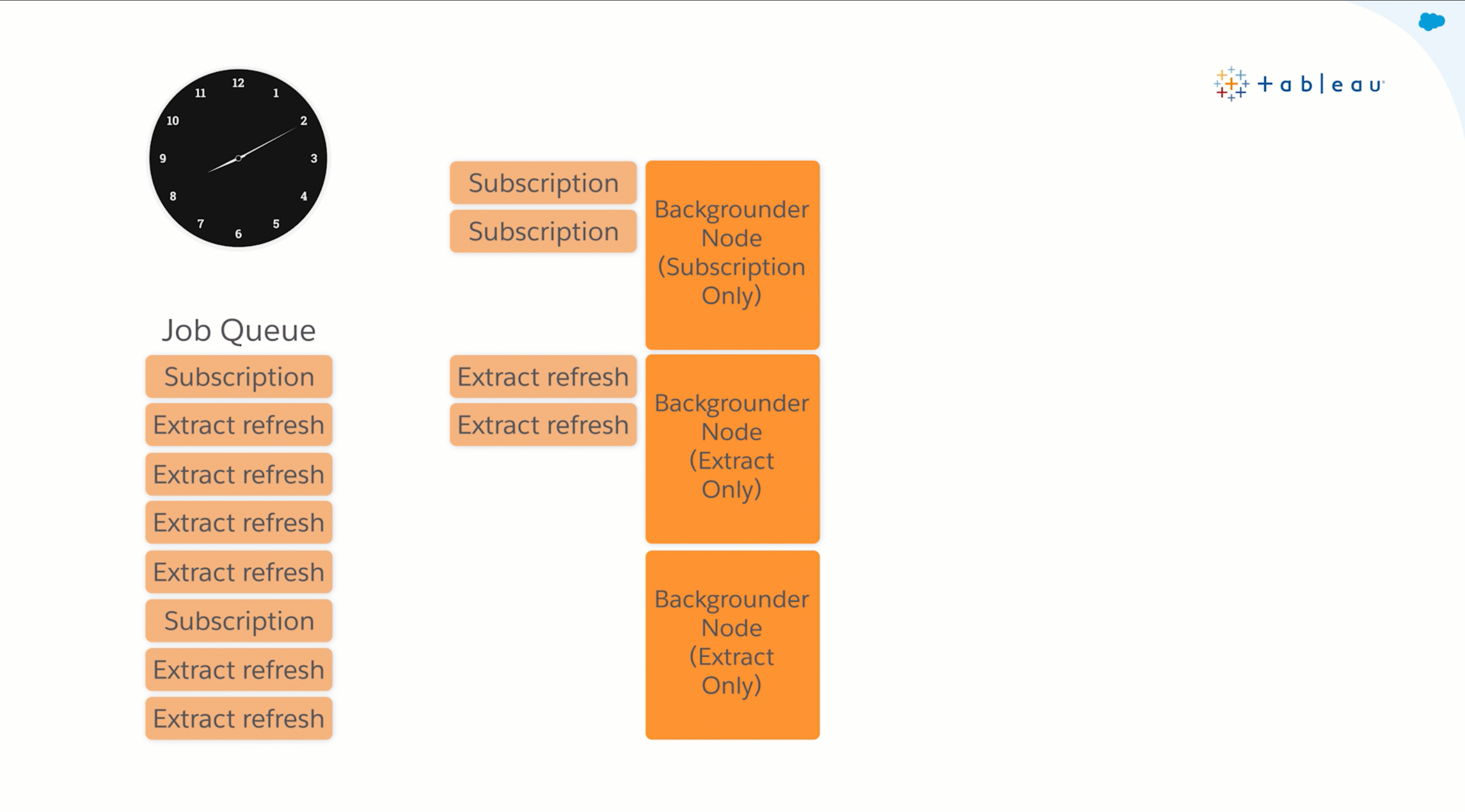 To learn more, read Dynamic scaling in a container in Tableau Help. 
Understand your environment using Activity Log for Tableau Server

As more people in your organization use Tableau, you need to have the visibility and tools to govern and secure your environment. Tableau can help you understand usage to meet–and exceed–data security expectations.
We're bringing Activity Log to Advanced Management for Tableau Server, a feature already available with Advanced Management for Tableau Cloud, Activity Log provides an immutable record of detailed and structured data on user activity. Using this information, you can enforce a comprehensive book of controls, and monitor and audit your Tableau environment. 
Once you have configured Activity Log, you will receive a JSON in your Tableau Server logs folder, which you can forward to enterprise monitoring solutions or retain for post-processing into Tableau.
To learn more, read Activity Log in Tableau Help.
Configure the Resource Monitoring Tool with more flexibility

On top of tracking site activity, you need to be able to monitor the health of your Tableau environment. Using the Resource Monitoring Tool, you can get a comprehensive view of your environment with rich insights into Server usage and physical system usage.
You can now configure SMTP encryption for the Resource Monitoring Tool with more options. Based on your organization's needs, you can require, prefer, or disable encryption. These options are the same as those for Tableau Server to simplify your decision and create consistency in encryption configuration across Tableau Server and the Resource Monitoring Tool.
We're also adding flexibility for how you choose to run PostgreSQL and RabbitMQ services. Before, these services relied on local services, but you can now opt to run them externally in Amazon Web Services to free up local resources and help scale your environment. 
To learn more, read Resource Monitoring Tool Server Configuration in Tableau Help.
Unlock more of your data using virtual connections

Data naturally lives everywhere, resulting in siloed data locked behind credentials. We introduced virtual connections in Tableau 2021.4 to streamline data sharing and management. Now, we're improving virtual connections to give you a more flexible and integrated experience. 
To help you connect to more of your data, virtual connections now support additional cloud file connector types like Box, Dropbox, Google Drive, and Microsoft Azure Data Lake. Virtual Connection extracts can also now be enforced at the site or server level for Tableau Server to keep all of your data secure. With this new capability, organizations with strict security and compliance requirements can reap the benefits of extracts, including shorter load times.
We've also expanded what you can do with data from virtual connections. Features you know and love like subscriptions, alerts, metrics, and thumbnails are now compatible with virtual connections, making it even easier to stay up-to-date with all your data.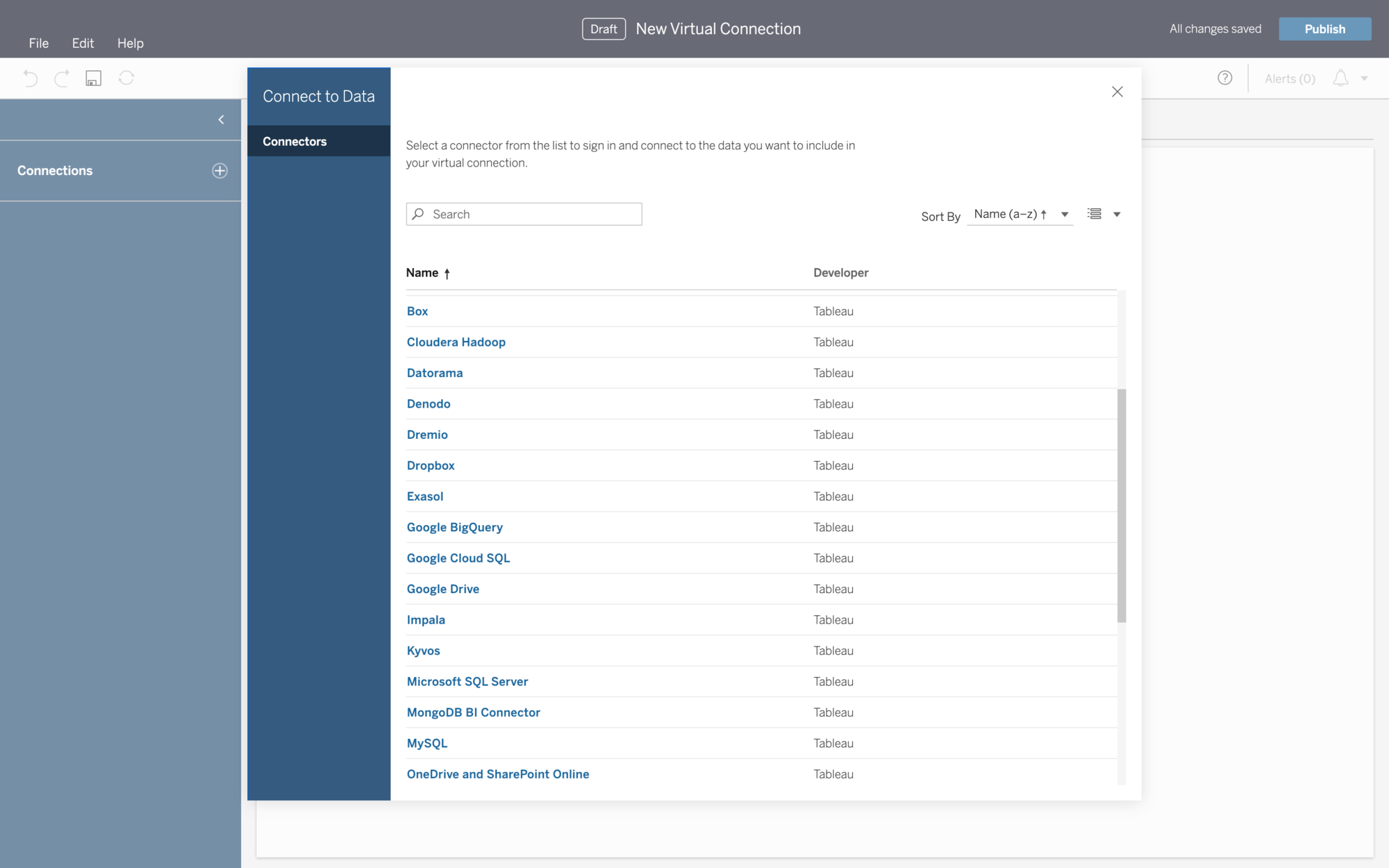 Improve data discoverability with Tableau Catalog

When people want to make decisions based on data, but can't find it or don't have details about its quality, they run the risk of basing their analysis on outdated information–and potentially, making poor decisions. To make your data an asset, you need to make sure everyone has an easy view of–and access to–data that they can trust. 
With Tableau Catalog, you can now bring external assets into projects like any other content type. In doing so, you can improve visibility of databases and tables, and apply permissions at the project level. By simplifying permission, more people can readily access Tableau Catalog capabilities like adding metadata and exploring lineage. 
Tableau Catalog now supports Data Quality Warnings for table columns, giving you more precise control. Column-level Data Quality Warnings are inherited by downstream assets to simplify metadata management, and better enable impact analysis. 
To learn more, read Set a Data Quality Warning in Tableau Help.
Troubleshoot Tableau Prep Conductor errors more efficiently

Creating repeatable and automated processes produces major time savings, but automating a process does not guarantee it will run correctly every time. When issues or errors arise, you need to be able to resolve them quickly. 
To help with this, we're introducing over 400 error codes with unique messages to help you troubleshoot run failures. When a flow fails, you will receive an alert so you can take action immediately and minimize the risk of using stale data. With improved specificity around errors, and a historical view of run history, you can create more reliable flows and ensure fresh data at scale.
Configure feature availability on a site level with ease

As Tableau continues to innovate, you may need to evaluate usage of new features on a site level. Especially in settings with strict governance requirements, you need to be able to quickly turn off certain capabilities before you can evaluate them further.
In Site Settings, you can configure the availability of Data Stories and Collections in your Tableau environment based on your organization's needs. If you turn off these features and turn them back on at a later date, pre-existing Data Stories and Collections will be restored.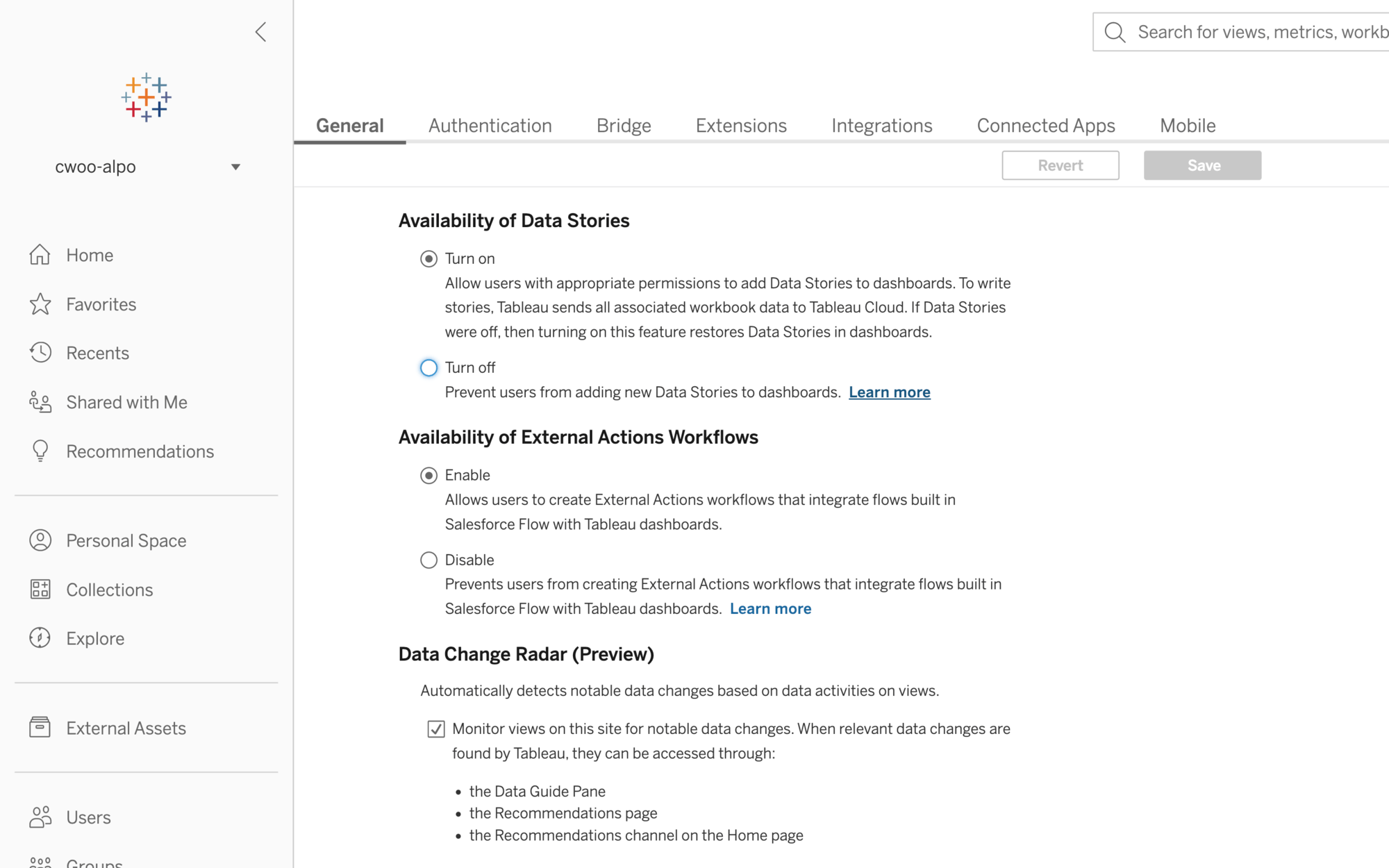 Learn more about how Tableau can help you address today's biggest IT challenges.
Subscribe to our blog
Get the latest Tableau updates in your inbox.