What are Tableau User Groups?
Build your skills, make connections, and find belonging through virtual and in-person Tableau User Group meetups.
Tableau User Groups (TUGs) are inclusive meetup events for Tableau enthusiasts to connect, learn, and discuss all things data. Find inspiration from peers across geographies, industries, roles, affiliations, and other areas of interest while advancing your analytics skills. TUGs take place virtually or in person and are completely community-led. Participation is entirely self-driven based on how many you choose to join and what role you take—so the skills you learn, the people you meet, and the time commitment you make are all up to you. 
The Atlanta TUG meetup celebrating its 10th anniversary. 
The first two Tableau User Groups were formed in 2009 and spearheaded by a few passionate customers looking to learn and share in an informal environment. Today there are more than 150 groups all over the world that cover a wide range of topics, from Tableau best practices and tips and tricks to up-leveling data skills for your next promotion and how data affects our everyday lives.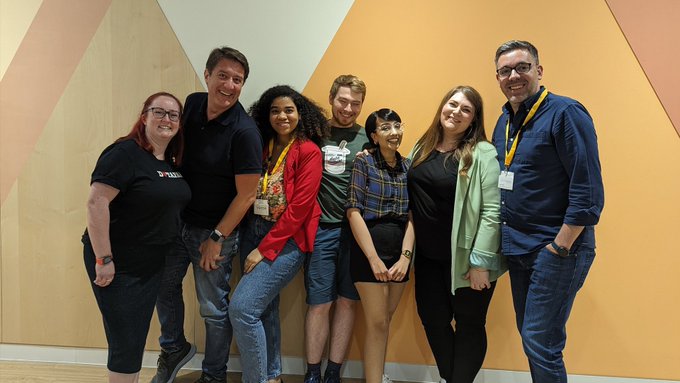 Tableau Community members at a London TUG meetup.
Choose your forum
With virtual, in-person, and hybrid options, you choose the forum that works best for you. While some TUGs have opportunities for local, in-person gatherings, others stick with an online format often recorded for on-demand viewing to better serve a global user base. Can't decide? We have hybrid TUGs, too. No matter which you choose, you'll be welcomed into a community that promotes growth, powerful connection, and is in your corner along the way.
A Japan TUG meetup: the annual event where all DataFam members from all Japan Tableau User Groups come together to celebrate the work they've done over the year.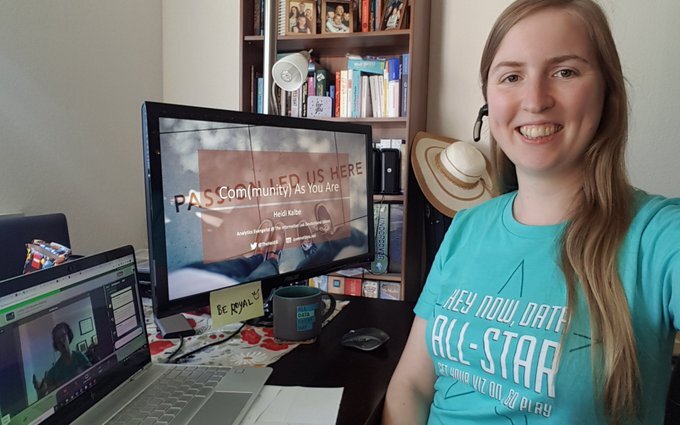 Tableau Ambassador Heidi Kalbe getting ready to present on how to get involved with the Tableau Community.
Types of TUGs
With so many types of TUGs, there is something for everyone. Whether an expert or a newbie, you can join an event to learn more about specific Tableau products and features. Perhaps you want to find other Tableau enthusiasts to connect with on a deeper level because of shared life experiences, values, and allyship—like LGBTQ+ (Data Pride), Veterans Advocacy, and Communi[datos]. Or maybe you prefer to keep it local and meet with people within your same geographic region. You can also find group options focusing on how specific industries and roles find success with data—such as Higher Education and Healthcare. Choose one or many—your path is completely up to you. 
Impact
Tableau User Groups help community members grow in many ways. With meetups, you can broaden your network and potentially take the next step in your data career or just find others who work and are interested in the same things you are. Tableau User Groups have created not only future coworkers but also lifelong data friends. Each user group event allows the DataFam to hone in on their communication and leadership skills. 
Data + Women virtual meetup.
Getting Started
Ready to get started? Our Tableau User Group events are powered by the Bevy platform.
Sign up for a free account. Setting up a profile on the Bevy platform takes only a few minutes and quickly gives you access to all TUGs.
Browse and join TUGs of interest. Get to know the user groups that can help you reach your professional and personal goals. You can filter online, in-person and hybrid events by city or region, and filter by tags like in-language, networking, job opportunities, visualizations, panels, and more. There's also a helpful Calendar View which shows all upcoming events in one place. Choose one or more TUGs that resonate and become a member. The platform also helps you browse different Tableau User Groups by category, industry, product, location, and more.
 Get notified of upcoming meetings. For the groups you're interested in staying up-to-date with, you can subscribe to them by clicking "Join." TUG leaders will send email reminders when new meetings are scheduled. You can also follow the #TableauUserGroup hashtag.
Attend and make connections. Bring a friend, make a friend, grow your data skills, and network together.
The Oklahoma Tableau User Group was invited by the OKC NBA team to host their meetup TUG members took a group photo with their sign on the jumbotron.
Grow together
There's more than one way to participate in a Tableau User Group. You choose what you put in and what you hope to get out. Here are some common roles you can take.
Observer: Hoping to build skills, problem solve, or find inspiration? It's ok to soak it all in. Check out groups that interest you.
Speaker: Have mad data skills or a great success story to share? Complete a speaker submission form for TUG leaders to review.
Leader: Interested in starting your own user group or co-leading one that exists? Fill out an application, and we'll reach out with next steps.
Whether you want to learn tips and tricks, sharpen your skills, amp up your expertise, or propel your career forward, Tableau User Groups are your ticket to strengthening your data superpowers. Meet like-minded people from across the globe as you indulge your curiosity, find new ways to solve problems, and harness your creativity while empowering others to do the same. Join today!
More on your mind?  
Connect with a TUG ambassador that can help provide recommendations, best practices, and mentorship.  
Subscribe to our blog
在收件匣中收到最新的 Tableau 消息。