Your Blueprint for governed analytics at scale
Hear lessons learned from Illumina's journey using Tableau Blueprint to empower the organization with governed analytics.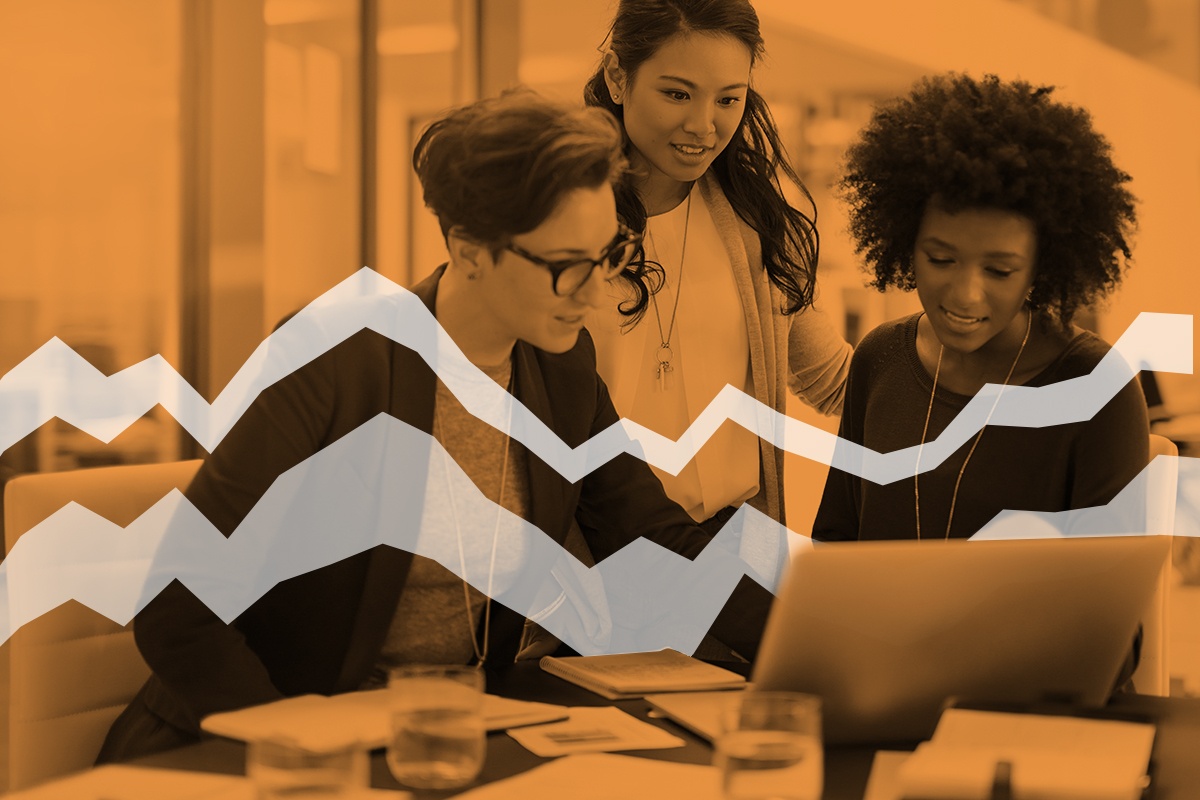 This is the final post in a three-part series about data and analytics governance. In case you missed them, read the first to hear from Tableau's own data governance team, and the second to learn how good governance accelerates your Data Culture.
Does most of your workforce rely on analytics to do their jobs, or is being a data-driven organization still a far-off dream?
Illumina, the world's leading DNA sequencing company, has accelerated its journey to data maturity. "Importantly, 98% of business users that we surveyed say they need analytic resources to perform their job effectively," shared Courtney Smith, Illumina Senior Manager of Data and Analytics Commercial Team. "We had some great dashboards out there that were being highly utilized, we had good business buy-in and excitement around analytics, but we still had a lot of questions around how to scale and improve."
Courtney and her team adopted the Tableau Blueprint methodology, which offered step-by-step guidance to grow the use of governed data and analytics at Illumina and empower more people with fast decision-making. Now her team is helping the organization build skills and community, fostering a strong Data Culture built on a foundation of governance.
Let's break it down, looking at:
What motivates organizations to prioritize becoming data-driven
How to formalize an approach to building a Data Culture
Crafting and executing your plan to amplify data and analytics
1. How does a Data Culture fuel business value?
In recent research, IDC found that as organizations move along the data maturity spectrum with stronger characteristics of a Data Culture, they see greater improvements across customer satisfaction, time to market, employee productivity, and profits.*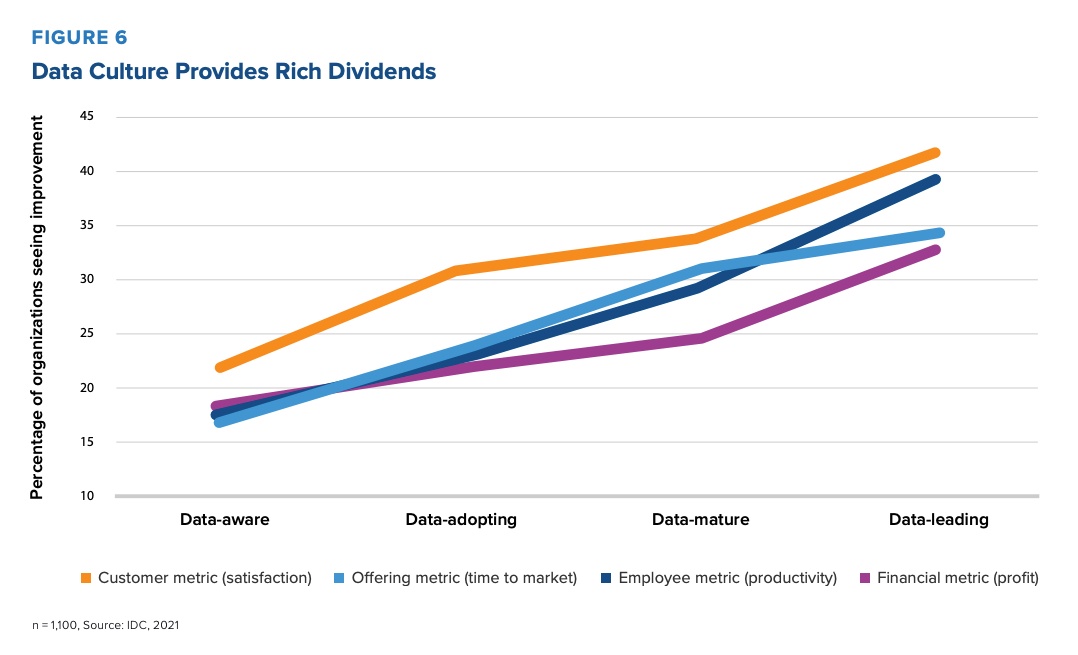 We define a Data Culture as the collective behaviors and beliefs of people who value, practice, and encourage the use of data to improve decision-making. In our all-digital, omni-channel world, a robust Data Culture helps every employee have a more complete picture of what's going on—to be aligned, to make decisions informed by data not opinions, and to increase organizational agility and resilience. Generally, data-leading organizations see self-service analytics and Data Culture as critical needs for business success—not just nice things to have. And these leaders are driving that success with a holistic and programmatic approach to analytics.
2. Where can IT focus on data and analytics enablement?
A lot of organizations struggle to become more data-driven because they don't know the kinds of questions they should be asking to establish an effective data strategy. That's where Tableau Blueprint can help: by offering a structured approach to fostering a mature Data Culture. We combined decades of experience focused on analytics with best practices from thousands of customers. Tableau Blueprint aligns your organization on common goals, establishes a flexible governance framework, and helps teams develop the right capabilities to scale their analytics across the business.
Strategy & Teams: Alignment begins with getting the right people involved—from identifying key stakeholders to ensuring representation from your business partners. A critical element here is executive sponsorship—both in strategy and setting an example for the organization's commitment to data and analytics. In fact, IDC's research found that executives in data-leading companies are eight times more likely to actively use data themselves in their work, compared with data-aware companies.
Governance: Governance is perhaps the most critical element in your data strategy, acting as the safety mechanism that keeps the train from going off the rails—especially as analytics scales across the organization. Governance enables both IT and business decision makers to shift from rigid, restrictive access models to an agile analytics approach that provides trusted data to the right people at the right time, based on their business needs and role. It's important to note that governance is not something that's "one and done"—given the pace of change in business today, a good governance model evolves with an organization's needs to ensure continued adoption and safe data use.
Agility: This workstream is focused on analytics deployment, monitoring, and maintenance. These are typically IT-led efforts that rely heavily on understanding the broader technical requirements and overall business strategy needed to support the organization as analytics use grows. Much like with governance, it's recommended to constantly revisit your needs across topology and licensing.
Proficiency: User education, measuring adoption and engagement, and increasing data literacy within your organization are important elements that require change management. A deliberate and dedicated focus on education will also address different skill needs across various roles and learning styles. "Proficiency, for Illumina, was largely around documentation and standardization," Courtney said. "For example, building out a robust library of onboarding and reference resources helps the community self-serve and answer commonly asked questions." Her team also built out a lot of administrative dashboards, as well as implemented a robust peer review process within the analytics center of excellence (CoE) team to ensure quality content.
Community: Community focuses on enabling user growth and evangelizing analytics through communications, engagement activities, and support. "We have a centralized CoE team that helps to provide guidance and support with clear lines of communication that feed into that team," Courtney shared. Illumina also set up monthly events and support sessions, including deep dive sessions to explore nuances of various data sets and opportunities for analysts to share projects.
3. How can IT lead in developing an action plan to be more data-driven?
The journey to build a Data Culture can seem daunting, but with the right strategy, you can plan for success and avoid common pitfalls. That's why we created Tableau Blueprint—and it's helping organizations worldwide scale governed analytics and be more data-driven. It's also important to remember that you don't have to radically overhaul your data strategy and governance approach. We certainly have customers that start small, get some quick wins, and iterate and improve along their data maturity journey. These "repeat customers" of Tableau Blueprint are getting more business value from their data practice each time they refine their governance strategy and expand analytics to new departments and use cases. Taking incremental steps to build these capabilities can still have a huge impact on your organizational agility and resilience.
But where should you begin? We've developed the Tableau Blueprint Assessment to help you benchmark your analytics maturity, identify critical focus areas, and get guidance to improve. "The results for our assessment, combined with Tableau Blueprint documentation, allowed us to identify where we had gaps, provided suggestions on how to address those gaps, and ultimately helped us to craft our analytics strategy moving forward—that was the biggest value of Blueprint for us at Illumina," Courtney shared. "We've seen a 36% increase in the number of dashboard views per user per month, plus a 39% increase in the weekly number of users accessing Tableau resources."
Got 15 minutes? Get started with the Tableau Blueprint Assessment today.
Editor's note: This article originally appeared on CIO.com.
Subscribe to our blog
在收件匣中收到最新的 Tableau 消息。