Ocado Retail monetises its wealth of data with Tableau embedded analytics
---
Drives innovative data monetisation revenue stream using self-service embedded analytics; suppliers that use the Ocado Retail Data Platform grow 4% faster than those that don't
Provides performance intelligence to support grocery brands revenue growth, new services development, and customer loyalty
Ensures one, single shared view of retail performance between Ocado and more than 400 suppliers
Ocado Retail is alive to the value of data in every customer interaction. This modern organisation – the world's largest dedicated online supermarket – has standardised on a forward-thinking Tableau embedded analytics strategy to package these insights and monetise them externally. The outcome is the Ocado Retail Data Platform that provides more than 400 fast-moving consumer goods (FMCG) suppliers with connected intelligence into product performance and customer shopping behaviour. 
The platform leverages the unique nature of the Ocado.com retail data set, the largest and most comprehensive e-commerce data set in the market. Tableau interactive visualisations embedded into dashboards, analytics, and reporting, gives suppliers the fast, easy insights needed to drive sales growth, improve media campaign performance, and win market share. Suppliers that use Ocado's Retail Data Platform grow 4% faster than those that don't. And Ocado has ambitions to grow the number of suppliers using the platform from the current 400 to 750.
When we mentioned the platform is based on Tableau, people sit up. It's a real differentiator for us, giving prospective suppliers the confidence that the data they will see is agile, actionable, and intuitive.
Transforming data into an organisational profit centre
Ocado Retail is a joint venture between Marks & Spencer Group and Ocado Group, a technology-led UK retail business providing leading online grocery services in the UK. Ocado Retail is responsible for ocado.com and Zoom by Ocado, a fast-growing, same-day grocery service.
As a digital-only retailer, Ocado Retail collects a treasure trove of data on its customers. Everything from the groceries customers add to their basket, when they buy, and how they navigate Ocado.com is captured in entirety and in real-time. Moving this data from a third party to in-house has become a priority for Ocado Retail, in order to both capture the revenue potential and create an even more rewarding customer experience.
Until recently, Ocado Retail relied on a third-party organisation to manage this data commercialisation process but opted to bring the strategy in-house in order to have more control over the data and its development. The result is the Ocado Retail Data Platform: a modern, innovative data platform that is reimagining how Ocado monetises its wealth of retail data and transforming relationships with its growing supplier community – predominantly leading FMCG organisations.
"The Ocado Retail Data Platform helps hundreds of suppliers to explore insights and use that intelligence to drive sales growth, improve media campaign performance, and win market share," says Jack Johnson, Head of Retail Data, Ocado Retail. "It provides our suppliers with embedded dashboard analytics into their product and category performance, including complete department data across all key metrics and customer shopping behaviour – not just for suppliers' own brands, but competing ones too."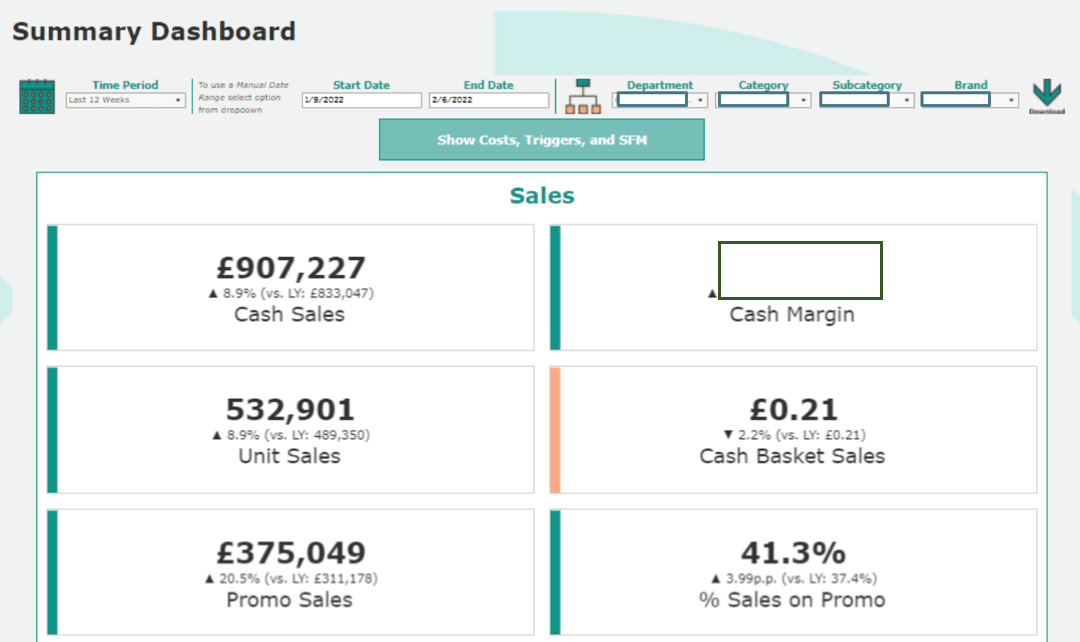 Connected, real-time insight into brands performance
Tableau is the heartbeat of this retail data monetisation strategy. The analytics platform provides Ocado Retail's FMCG suppliers with connected, real-time insight into their brands, from primary sales data and supply chain/product availability, to promotions and whole category web analytics.
Suppliers have access to a suite of dashboards tailored by department, giving them the flexibility to build the package that best suits their business needs. Suppliers can subscribe to one of four tiers, depending on the breadth of analytics they need. 
"Tableau helps our retail supply partners to achieve clarity," says Johnson. "The dashboards we deliver provide the embedded analytics they need to become more agile, putting data at the centre of their decision-making."
The main customers for these embedded analytics are national account managers within the FMCG supplier base, who are responsible for managing the relationship with Ocado Retail. Every day, these people use the insights to measure how their end-user customers shop and make decisions regarding range, pricing promotions, new product development, and other criteria. "Our number one goal is to create a common data view between Ocado Retail and the suppliers, so everyone shares the same trusted view of data and talks the same language," says Johnson. 
Basket analytics is one of the most popular Tableau insights, providing suppliers with unique intelligence into how customers shop for individual products. These insights help suppliers understand how customers navigate Ocado.com and how best to optimise decisions across category management.
For example, Tableau dashboards show whether a customer reaches a supplier's product on Ocado.com via the search function, their stored 'favourites', the product description, or other means. "Suppliers can modify their media strategy based on how customers behave. For example, if customers are adding the product into their basket directly from the home page, or perhaps using search more often than expected, this data can be leveraged for both the Ocado.com media plan and for their broader e-commerce strategy."
Tableau helps our retail supply partners to achieve clarity. The dashboards we deliver provide the embedded analytics they need to become more agile, putting data at the centre of their decision-making
See and understand retail data
Tableau is helping Ocado Retail and its community of suppliers to see and understand a vast array of retail data. And this in turn is fuelling growth on the Ocado Retail Data Platform. "Everyone has access to great quality data, and everyone can get all the insights to do their job to the best of their capabilities. This is a game-changer for a company like Ocado," says Johnson.
He adds, "We initially chose Tableau Cloud as it was designed to connect natively and securely to our existing cloud based database, without the need for any complicated and potentially risky data transfers. This made sharing data with external users simple and secure. It also allowed us to maintain control over who could access that data, and to what degree, with a combination of row level security and advance permission options."
Biztory is a Premier Reseller Partner of Tableau and was instrumental in this implementation. "We were confident Biztory had the expertise to supercharge the development timelines for the Ocado Retail Data Platform. Instead of a development plan spanning years, we were able to go from project inception to delivery in just nine months. Biztory supported the development of the visualisations and have been an invaluable knowledge hub on embedded technologies. Between us we challenged the typical Tableau Cloud model and implemented a solution with all the benefits of using Tableau Server combined with the speed and scalability of Tableau Cloud," says Johnson.
The analytics experience is as powerful as the data the suppliers are seeing. "Even non-technical users can create interactive, real-time visualisations in minutes," says Johnson. "In just a few clicks, they can combine data sources, add filters, and drill down into specific information. Sharing a dashboard requires no programming. That means they can focus on studying the data, not dealing with the technology behind it."
Unsurprisingly, a data culture is blossoming too. "The Ocado Retail data culture is growing almost as fast as the business itself. You can sense that people are energised by data, they are collaborating around the reports, and making trusted decisions on the back of the analytics they are seeing," says Johnson.
Tableau has also become a valuable talking point during negotiations with suppliers evaluating the Ocado Retail Data Platform. Johnson again: "When we mentioned the platform is based on Tableau, people sit up. It's a real differentiator for us, giving prospective suppliers the confidence that the data they will see is agile, actionable, and intuitive."