Enhancing Tableau Cloud with TISAX Security Compliance in the Automotive Manufacturing Industry
Tableau Cloud is compliant with the Trusted Information Security Assessment Exchange (TISAX) certification.
At Tableau, Trust is our number one value, and we continually strive to improve the trust that you have in us by improving the security and data compliance suite for our flagship SaaS product, Tableau Cloud. As such, we are thrilled to announce that as of June 17, 2022, Tableau Cloud is compliant with the Trusted Information Security Assessment Exchange (TISAX) certification. 
What is TISAX?
TISAX is a data security standard created by the European Automotive Manufacturer Association (ENX) to ensure a uniform information and data security standard in the automotive manufacturing industry through a compliance certification framework for SaaS providers operating in this market. Building on the data protection principles outlined by SOC and ISO, ENX leveraged many of the similar controls and data security safeguards and applied them to the automotive manufacturing industry in Europe, namely Germany, in the form of TISAX. At its core, TISAX revolves around four major pillars: data protection, information security, third-party connections, and prototype protection.
How Does It Affect SaaS Providers Like Tableau?
The creation of TISAX implemented a high level of scrutiny for data security and privacy for SaaS providers who wanted to engage with automotive manufacturers in Europe. In order for companies like Tableau to obtain TISAX certification, an audit has to be conducted by an accredited independent assessor, who verifies that the SaaS provider's systems are indeed compliant with the TISAX framework. After approval, the certification is good for three years, after which another audit has to be conducted to ensure continued compliance with TISAX. For the duration of the TISAX certification, Tableau is authorized as a SaaS provider for automotive manufacturers based in Germany and their subsidiaries around Europe. By obtaining the certification, Tableau Cloud customers on our European Tableau Cloud pods are beneficiaries of TISAX compliance and the additional safeguard assurances.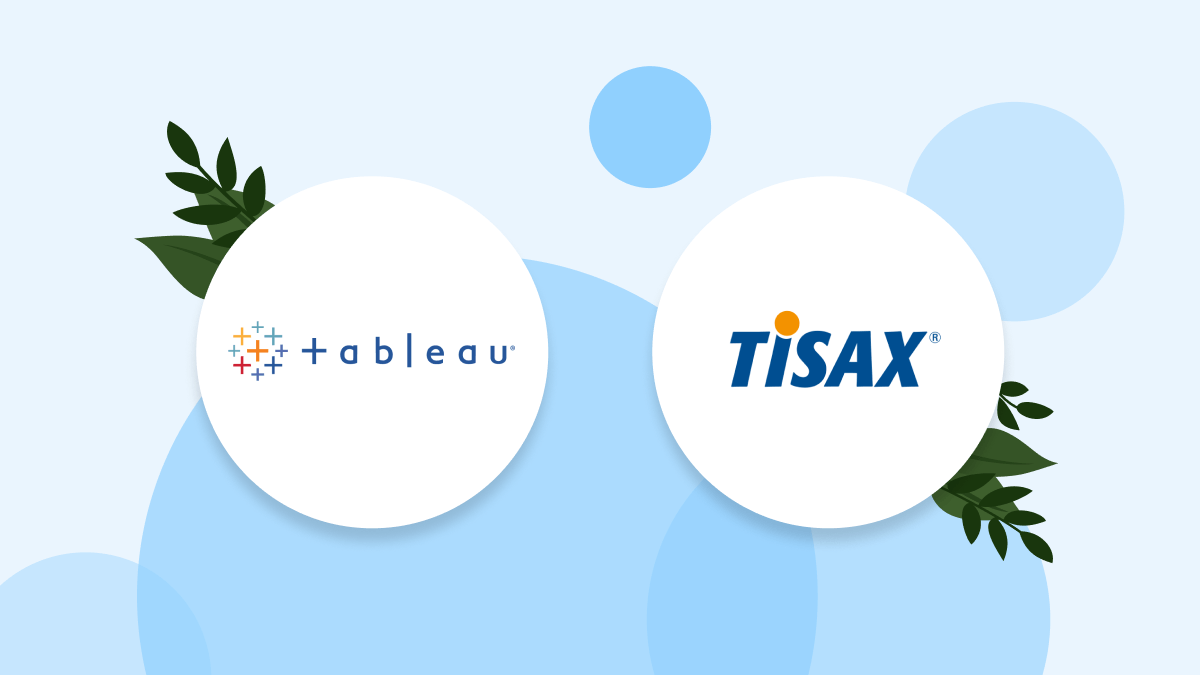 Tableau and TISAX
Since our exciting Tableau Cloud announcements at Tableau Conference, many customers in the automotive space have expressed interest in making the move to Tableau Cloud, however, a recurring ask surfaced in the form of TISAX certification. Working with our engineering team and independent auditors, we were able to certify that the Tableau Cloud platform was TISAX compliant within months of undertaking the certification—turning the TISAX pain point into a win for our customers in the European automotive industry.
One of the main reasons that Tableau Cloud was able to obtain TISAX certification quickly and seamlessly was because of the robust compliance precedent established by Tableau Cloud over the past two years. During that time frame, Tableau Cloud obtained SOC 2/3 and ISO 27001/27017/27018 compliance certifications, which are the gold standards when it comes to data privacy and security for SaaS providers. The governance and infrastructure work that went into obtaining compliance with those standards laid the foundation for a successful TISAX certification. TISAX represents another piece of the puzzle to a complex compliance picture that Tableau is committed to building for our customers to feel secure on the cloud.
Impacts Beyond the European Automotive Manufacturing Industry
Gartner forecasts that through 2025, 90% of the organizations that fail to control cloud use will inappropriately share sensitive data. These potential security failures highlight the importance of a proper compliance program to ensure that data stored in the cloud is private and secure. The frameworks established by TISAX and other compliance certifications help differentiate Tableau Cloud as a leader in the security space, making improved data security and privacy compliance a winning strategy for everyone involved—for both our customers and Tableau as a SaaS provider. As more and more organizations move to Tableau Cloud, you can feel assured that Tableau is consistently identifying compliance challenges and looking to solve them in the form of new certifications catered to all types of customers. TISAX represents more than just data compliance in the European automotive industry: it is representative of the critical role Tableau Cloud serves in our mission to create a secure and trustworthy SaaS platform for our customers.
Want to experience this level of security and compliance? Start a free trial of Tableau Cloud.
Subscribe to our blog
在您的收件箱中获取最新的 Tableau 更新。