Stand Out in Your Job Search with an Interactive Tableau Resume
Recruiters spend just 6 seconds skimming through each resume. Show off your data visualization skills and stand out in the application process by visualizing and making it interactive in Tableau.
We get it, applying for jobs is hard work. With recruiters spending just 6 seconds skimming each resume, it's now more important than ever to make your resume standout.  
No, I'm not going to recommend printing your resume on a cake. It's simpler than that. When data literacy is one of the most in-demand skills in the workplace, your resume could be a visual representation of your data skills. Show the recruiters your analytical skills and creativity by following these tips to create your own Tableau Public Viz resume. 
Make a Plan for your Tableau Viz Resume
The magic of a viz resume is that it is your own data, no data collection or prep needed. . You can decide what you want to include and emphasize to sell your skills the best. Former Tableau visionary, Tristan Guilleven recommends having the following elements in your resume to make it stand-out:
Timeline of your work experience
Skills
Portfolio of work
Conversation starters (example: "The Places I have Traveled To)
Follow Tristan Guilleven's step-by-step demonstration on how to create an interactive Tableau viz resume.
Use Gantt Charts as a Timeline of Your Work Experience
Gantt charts make your timeline quick and easy to understand. Unlike lists, Gantt charts call attention to the most important items on your timeline and make your experience clear. Here you can add your start and end dates, the type of work and any of your awards, in clear chronological order. Smart filtering and visual tooltips can help provide context and draw attention to additional key points relevant to your job description.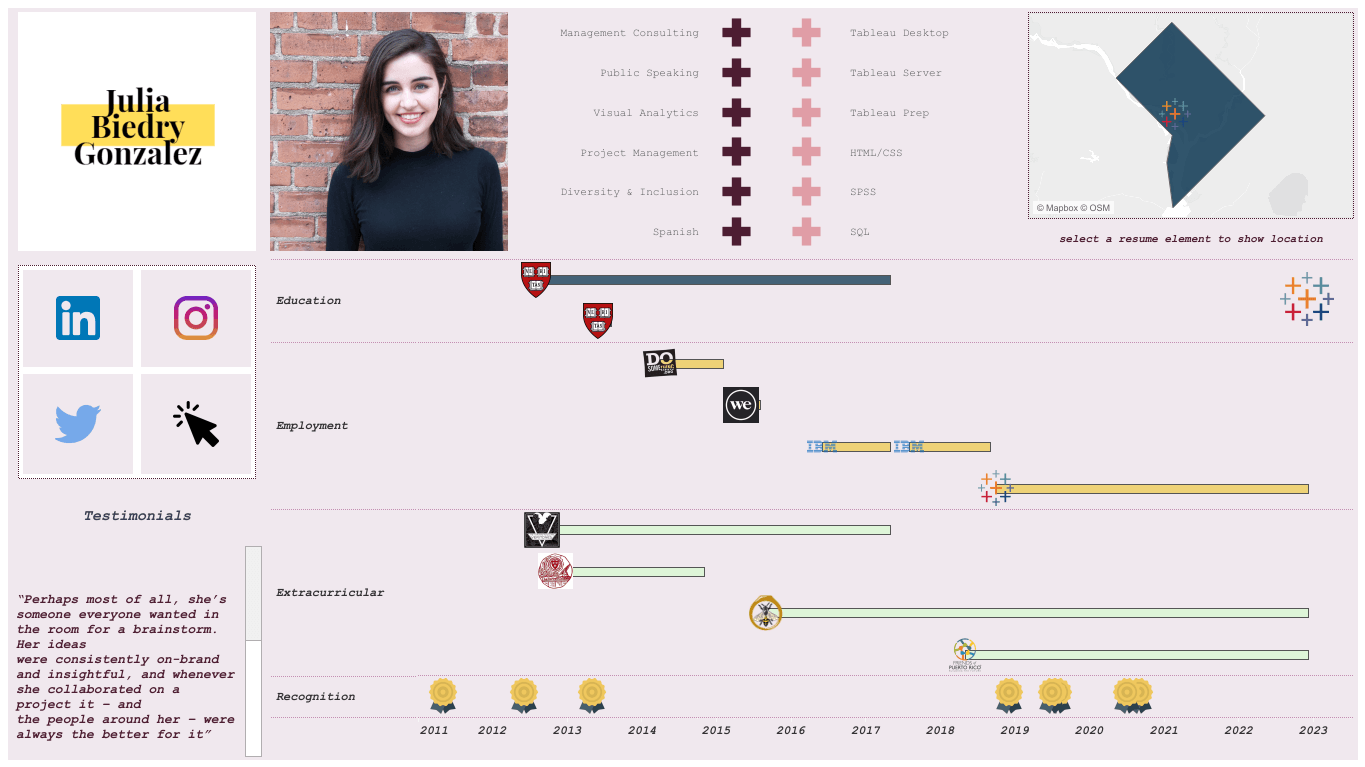 Viz by Julia Biedry Gonzalez
Showcase Your Skills Implicitly and Explicitly  
The "skills" section is one of the most important parts of the resume. By creating a Viz Resume, not only can you show your Tableau skills, you can also give a literal list to show off your other technical and soft skills. Consider how you want your key skills to stand out. You could give your skills a grade, rank them in order of importance and relevance, or highlight your top 3 skills in bright colors for that extra oomph! The possibilities are endless. In his demo, Tristan Guilleven suggested adding a triangle at the end of a bar graph of skills to represent that your skills are always developing and improving.
Viz by Tristan Guillevin
Link to Portfolios and Other Work
You'll almost certainly want to link to your LinkedIn profile, and depending on the type of jobs you're applying for, you may want to link to your other social media profiles too. Showcase your best visualizations by embedding a portfolio of your work. This is a great way to give the viewer a sense of your personality, passions, and talents. Check out Tristan Guillevin's demo for a tutorial on how to embed your Tableau vizzes into your resume.
But don't just stop there! You can embed a variety of different multimedia to feature in your portfolio assets, such as, YouTube videos, animations, and even music.
Viz by Alisha Dhillon
Express Your Personality Through Creativity
Reading through hundreds of CVs gets tiring after a while, so imagine coming across a resume like the one below. Imagine the impact of seeing an interactive resume, in a sea of PDFs. You can use your creativity to bring your personality to recruiters. Your resume is a unique opportunity to show your creative flair, so think carefully about how you can use it to best present your personality, skills, and experience. Consider what your color palette, pictures and even font style could say about you (we're looking at you comic sans).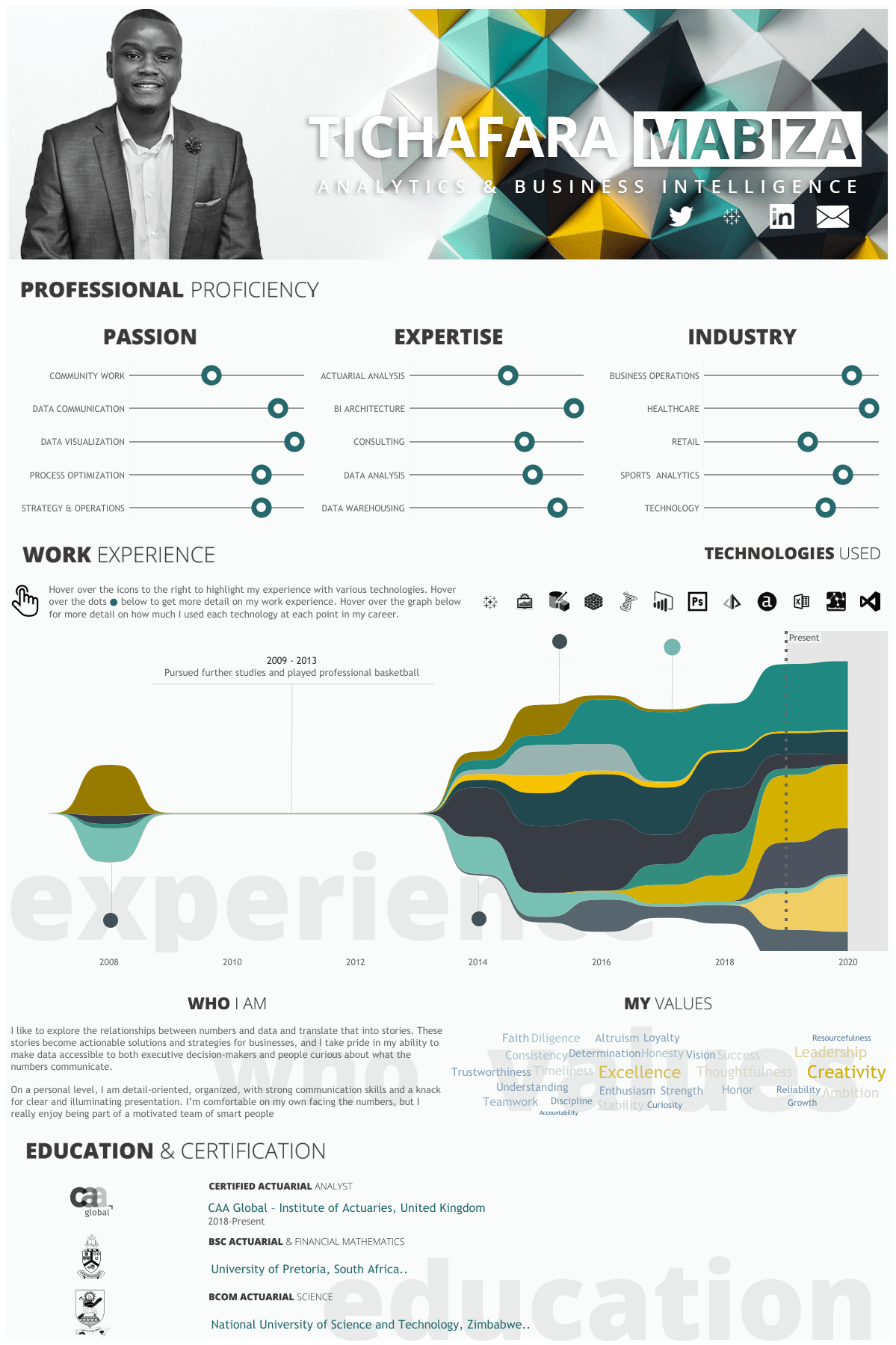 Viz by Tich Mabiza
The Community is here to help
Not sure where to start? Check out the Tableau Visual Resume Templates By Christian Felix, with step-by-step instructions to help you get started. If you have any problems along the way, the Tableau Community is here to help you. The Community Forums are an infinite resource where you can get your questions answered, collaborate with others and get the most out of Tableau. You can't fail, with our community support!
Visit the Interactive Tableau Public Viz Resume Gallery for more examples of Tableau resumes.
Editor's Note: This piece is part of the Generation Data series on the Tableau blog. Data skills are essential for the next generation of professionals and business leaders. The Tableau Academic Program seeks to arm students with the valuable analytical skills needed to think strategically and make an impact, both academically and professionally. If you are a student, download your free Tableau license today to start learning data skills.
Subscribe to our blog
在您的收件箱中获取最新的 Tableau 更新。