How to connect Tableau to Salesforce CDP for deeper customer insights
To create a customer-centric organization, you need a deeper understanding of customers, and data-driven insights become essential. The ability to combine data that is generated by every customer interaction helps you better anticipate needs and deliver more integrated experiences.
Salesforce CDP runs the breadth of Salesforce technology—a single, integrated data platform that brings together your company data and customers on a single, user-friendly platform. It unifies all of your customer data across marketing, service, commerce, sales, web, and mobile—allowing you to create segments and behavioral insight scores called calculated insights. With this holistic view, business teams and analysts can create more connected, personalized experiences for customers and extract critical insights that provide a better sense of the whole business and customer satisfaction.
All of this data is available to explore through our native connector in Tableau Desktop, Server, Online, and Prep.
Prepare customer data with Tableau Prep Connector to Salesforce CDP
A demonstration of how to connect and combine survey data from Google Forms with customer information in CDP to identify the right customer segment and improve their experience that helps build brand loyalty.
In an ideal world, all data has been cleansed, curated, and mapped properly in Salesforce CDP. However, we know that for many marketers, organizational data is far from perfect. To ensure your organization is in this managed state, it often requires more time and effort than marketers have. To realize maximum value from your data without constraining these resources, we introduce the Tableau Prep Native Connector to Salesforce CDP.
With Tableau Prep, you can access ETL and cleanse customer data for any analysis being performed. Marketers can interlace and blend multiple data sources with Salesforce CDP data for deeper insights through visualizations and dashboards.
Enrich customer data exploration with Tableau Desktop, Server, and Online Connectors to Salesforce CDP
Any user can connect Tableau to Salesforce CDP and get quick answers to business questions. Cross-drill down to and from the campaign, channel, content, offer, product, and customer dimensions to understand the "who" and "why" behind all cross-channel engagement performances.
Salesforce CDP is built on Hyperforce. This architecture provides tremendous scale for leveraging data in the Salesforce ecosystem, as well as data outside of Salesforce. Providing organizations with clicks-not-code solutions unlocks the power of Tableau to meet ongoing customer demands with data.
The native connector to Tableau enables marketers, business users, analysts, and their data science and engineering counterparts to greatly increase the reach of customer data. Allowing enterprise-wide stakeholders to come together and share a common understanding of the same information helps break down silos and ensure that everyone is more empowered to meet the demands of their jobs.
A demonstration of how to connect and map data from Salesforce CDP to Tableau.
Alt text: An animated gif that shows how with a few simple clicks a user can connect and map data from Salesforce CDP to Tableau.
Accelerate time-to-value with Tableau Accelerators
To speed up time-to-insight for marketers, customers can leverage Tableau Accelerators (available soon for download) which give users a head start on their analytics with pre-built dashboards for a variety of marketing use cases. Having our turn-key Accelerators available for engagement with email, push and mobile, we've taken the first step to help marketers significantly accelerate time-to-value and deliver actionable insights. You can find all of our accelerators, as well as other offerings to help you get a jumpstart on your data analysis by visiting the Tableau Exchange.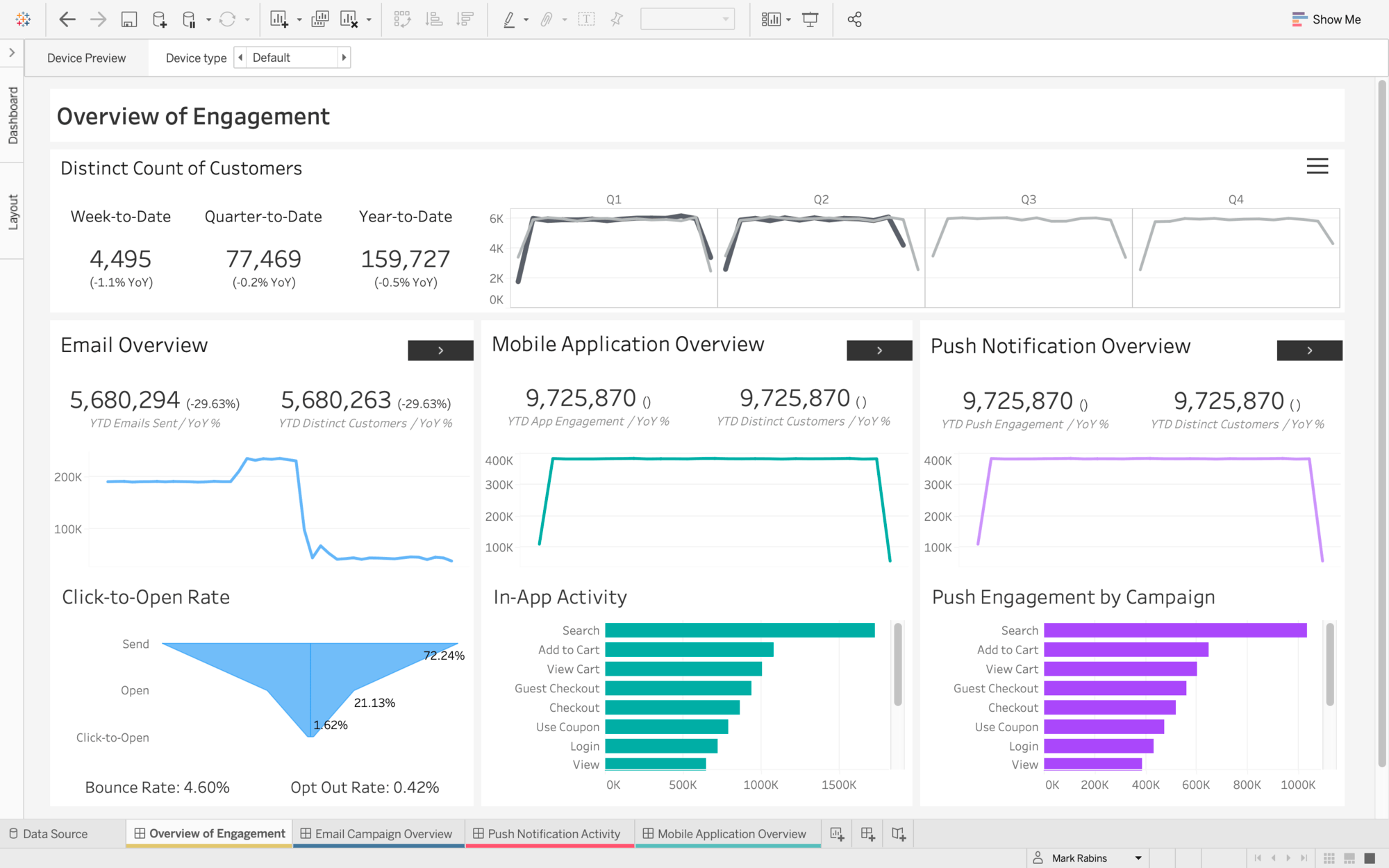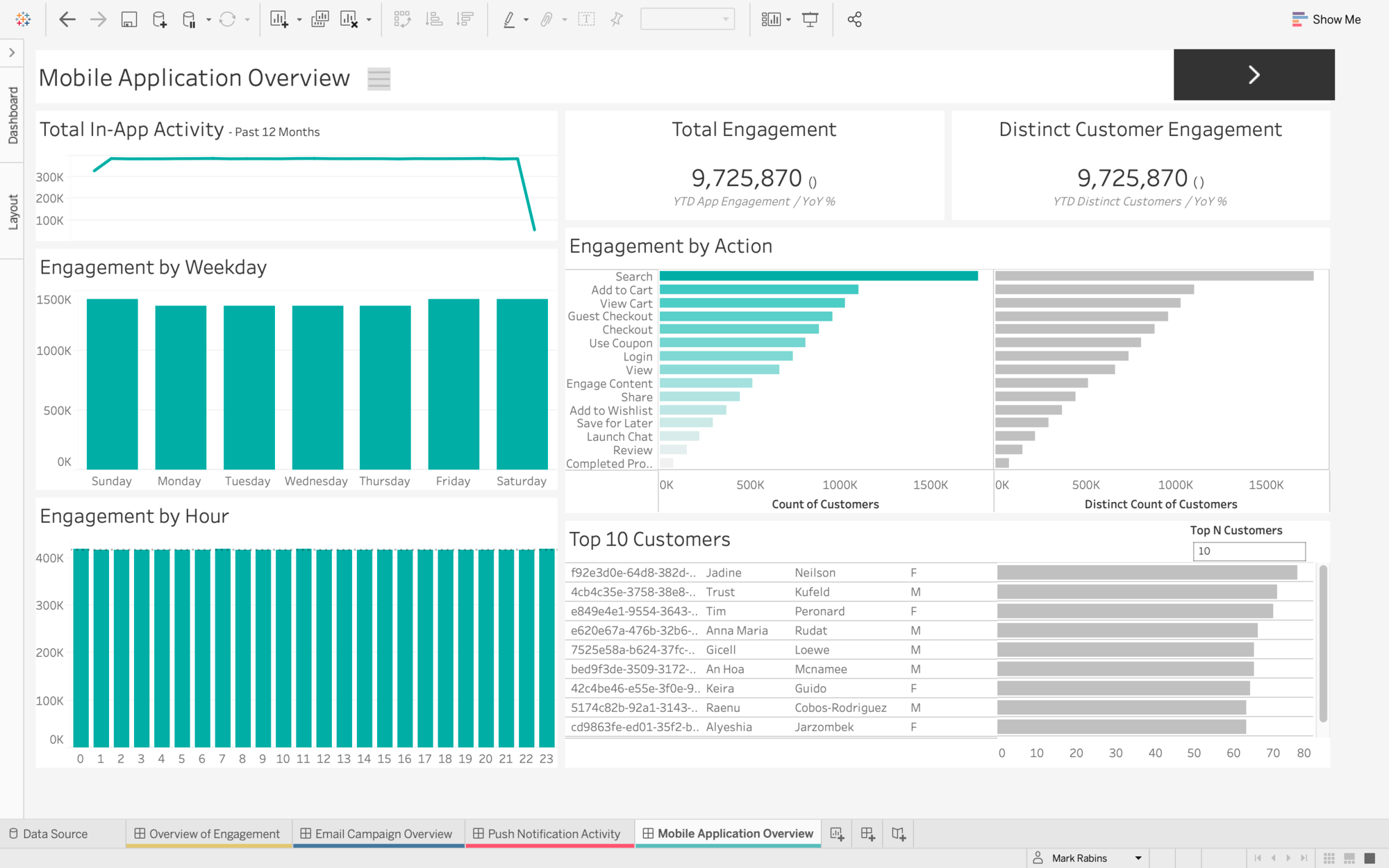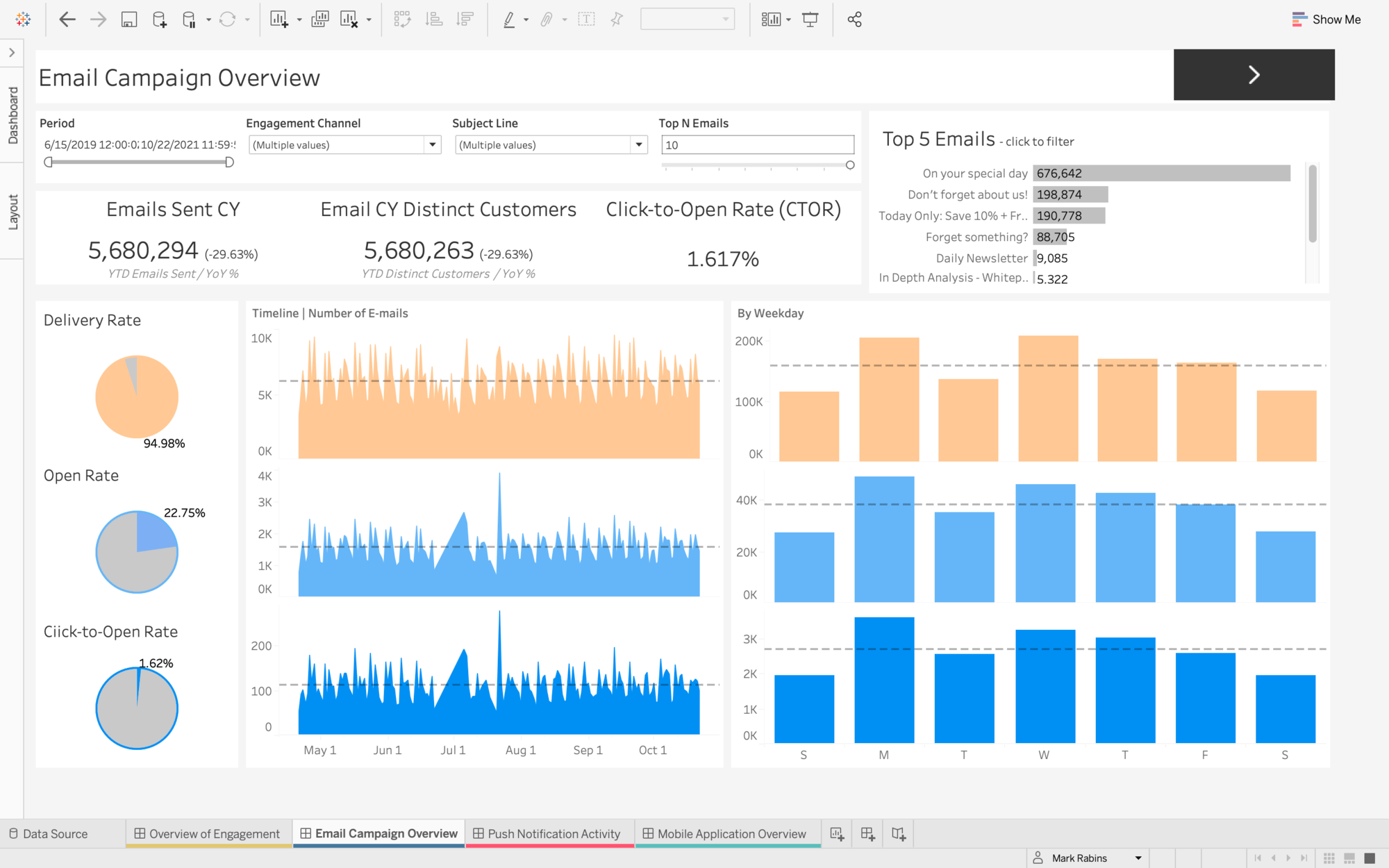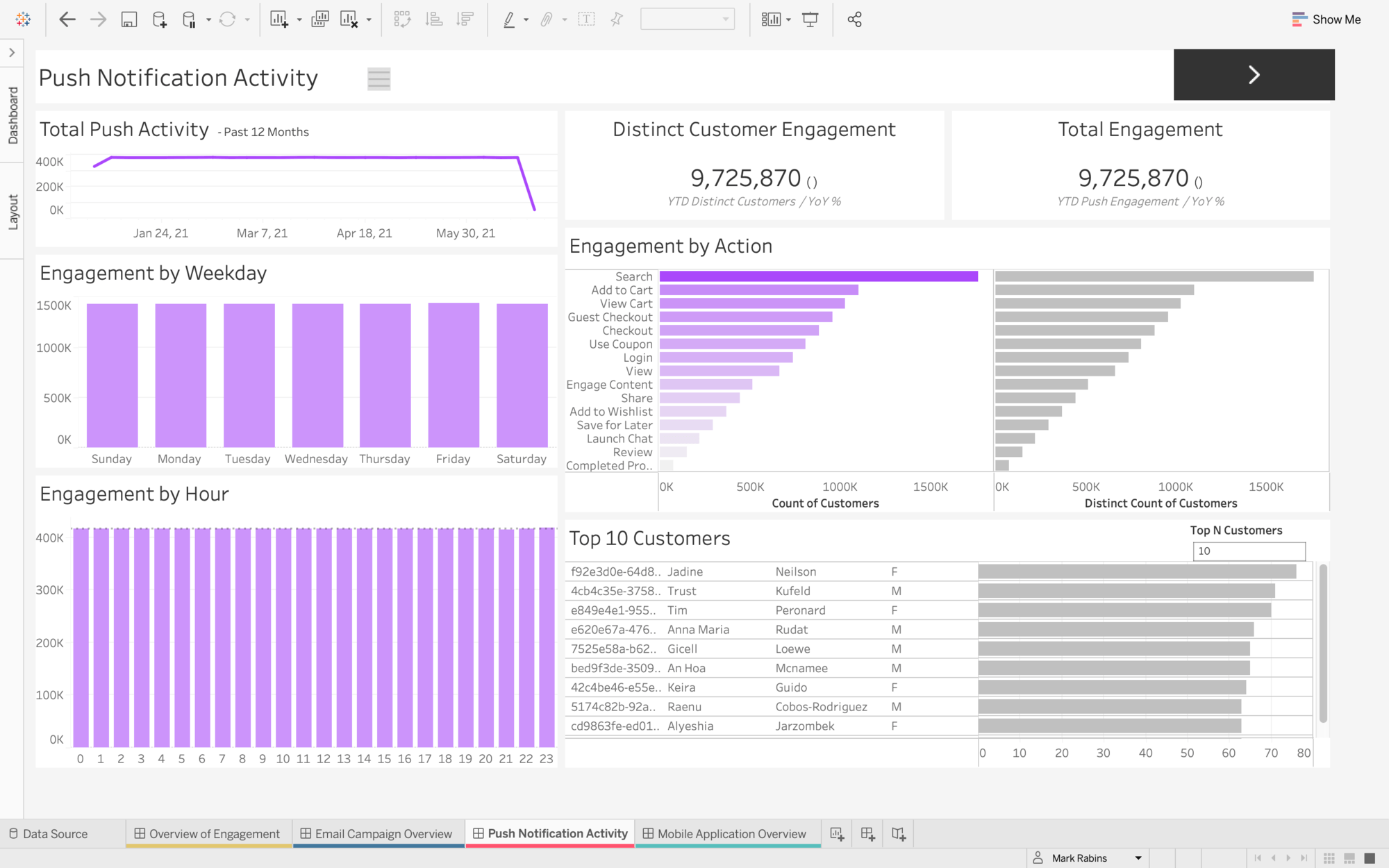 Turn-key Tableau Accelerators that will help marketers, business users, and analysts shorten the time to gain valuable insights with CDP data.
Embed Tableau vizzes back into Salesforce CDP
Once dashboards are ready for primetime, using the lightning web component, you can embed Tableau insights back into your CDP org. All it takes is a few clicks, using the URL of the visualization from Tableau Server or Tableau Public. If desired, customize your dashboard further to improve its look and feel by adjusting the height or showing the Tableau toolbar.
Editing pane for a Tableau visualization, including the URL for the Tableau view and selection options to show tabs or toolbar, and viz height.
Visit Salesforce.com to learn more about Salesforce CDP and the full power of using and visualizing customer data in Tableau. You can also try the new CDP connector, available for download in the extensions gallery and through our native product. Lastly, accelerate your time-to-value by leveraging our Tableau Accelerators (available for download) as you get started. We can't wait to see what you build!