Your data, where your customers need it.
COVID-19 is impacting every part of business, from where we work to the way we measure success. Now more than ever, data is the key to effective decision-making and moving business forwards. Create new revenue streams and deliver value to your customers and partners in this rapidly-changing environment with a powerful, self-service embedded analytics solution that's easy to customise, integrate and deploy directly into your applications, products and web portals. We're here to help.
Offer the best BI experience
Embed and customise Tableau's interactive, analytical capabilities to create a seamless experience with your products. Give your customers a way to ask questions and find meaningful insights.
Make the most of your resources
Focus your people on your core products instead of building a BI solution from scratch. Tableau is an industry leader, 100% focused on modern analytics and constantly innovating so you don't have to.
Increase revenue and stickiness
Create differentiated and premium offerings that drive engagement, stickiness and additional revenue from your existing products. Find new business opportunities through data monetisation.
Scale flexibly and securely
Embed analytics where you and your customers already are. Tableau integrates into your existing technologies with versatile single sign-on, enterprise-grade security and out-of-the-box high availability at scale.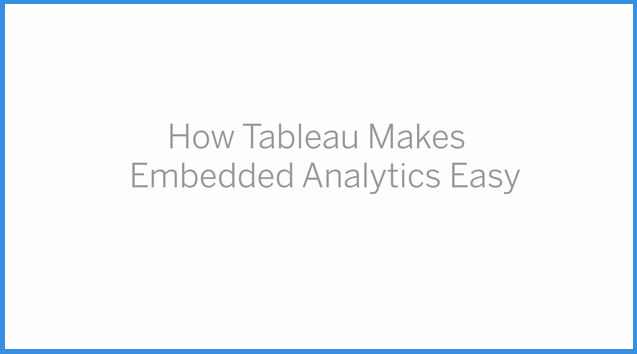 Seamlessly embed the self-service analytics your customers want
The Tableau embedded analytics platform allows you to focus on building your product, saving you time, resources and money. Learn how you can empower your customers and drive product engagement with integrated, interactive visual analytics.
Watch the video
Fast to build, faster to market
Build powerful Tableau dashboards in hours instead of days. Customise your embedded analytics integration with the JavaScript API – even add two-way communication to your white-label analytics. Programmatically manage users and content at scale with the REST API.
The right data for users
With row-level security and user filtering, Tableau allows you to build dashboards once and then load filtered data as appropriate to each user's permissions. This way, you aren't creating custom content over and over – and people only see the data that's meant for them.
Resources and community
From concept to deployment, think of us as your extended team. You'll not only have the support of our open-source resources, but the developers and viz whizzes of the Tableau Community – the most passionate and diverse data community in the world.
Tableau's visual analytics platform, combined with our best-in-suite software, will provide insights and analytics into trading, portfolio and operations data at the speed of thought.
Your products, enhanced
Embed Tableau directly into your applications and products to bring data to life.
Analytics service
Package and monetise your data as a unique, interactive analytics offering.
Simple external sharing
Delight customers and partners with impactful and secure analytics.
Let's get technical
Tableau embedded analytics playbook
This playbook summarises the key APIs and features that are used in embedded deployments, then dives into the key embedding requirements, explains how to accomplish those requirements, and supplies you with resources necessary to get up and running.
Developer resources – Embedded analytics
If delivering analytics to your customers is something you want to learn more about, check out these resources to learn how to quickly connect to any data, learn about support for our APIs and developer tools, and access our vibrant developer community.
Monetise your data with embedded analytics
Data monetisation – Use cases, implementation and added value
Read this survey-based study to learn how companies are embedding analytics into products to create new revenue streams or using portals with embedded analytics to improve internal processes such as marketing, customer experiences or equipment maintenance.
Read the report
Embedding analytics – Build vs buy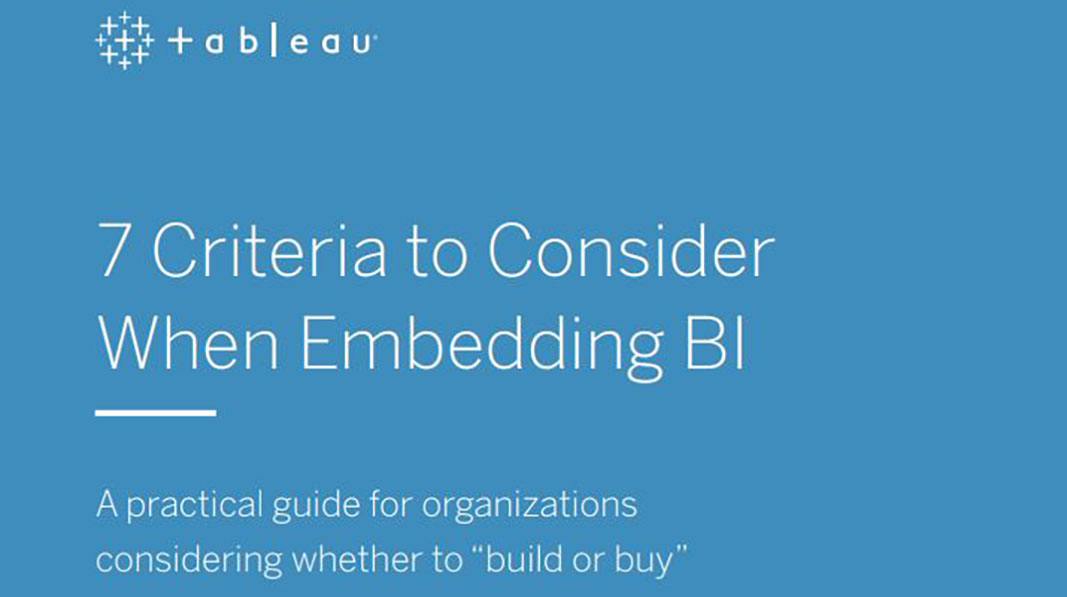 7 criteria to consider when embedding BI
From increased customer engagement to new revenue opportunities, embedding analytics into your application, portal or website has definite business value. This paper will help you understand and evaluate the criteria that can guide you to make a well-informed decision that best suits your product and organisation.
Read the white paper
The reaction from our clients has been overwhelmingly positive. Clients that knew about Tableau, of course, they love it. Clients see how quickly we can drill into data combined with the prettiness. And, you know, smiles immediately pop onto their faces.