Find out the results of the 2021 Data + Joy Iron Viz qualifier contest
Find out the three finalists selected to compete in the 2021 virtual Iron Viz finals at Tableau Conference.
The results for the 2021 Iron Viz qualifier contest are in. This year, we challenged you to visualise data on a topic you love, and it was fantastic to see the diverse range of passions on display throughout the entries. Participants covered everything from sports, films, travel and music to subjects such as tree health and COVID-19. (As a reminder, you can see all the entries for this year's contest here.) Only three will advance to the virtual Iron Viz Championship at Tableau Conference in November. Who are these talented data storytellers? Read on.
The judging
We asked Tableau Ambassadors, Zen Masters, past Iron Viz finalists and other active community members to help us narrow down all 320 mind-blowing vizzes to a top 10. Entries were scored according to the following criteria:
Design: How appropriate is the design for the story that is being told?
Storytelling: Is there a clear story being told or a question being explored, and is there appropriate context?
Analysis: How sophisticated and appropriate is the data that is being used for the story?
Thank you to our community judges: David Pires, Marc Reid, Adam Mico, Heidi Kalbe, Neil Richards, Seffana Mohamed-Ajaz, Karen Hinson, Ravi Mistry, Eric Balash and Courtney Guc (Tableau).
Next, our final-round guest judges independently reviewed the top 10 vizzes, scored each using the same criteria as the first-round judges and selected three finalists. Thank you Simon Beaumont, Tim Ngwena, Timothy Vermeiren, Bridget Cogley and Lindsay Betzendahl.
Check out the top 10 entries
Taking the Iron Viz challenge is no easy feat. Participants spend weeks sourcing and preparing their own data, trying new techniques and pushing their skills to the limits to create the ultimate visualisation and share the story behind it. We are so proud of their dedication and awestruck by their accomplishments. Take a look at the top 10 entries below:
Ten Seconds of Glory by Ryan Soares

The History of Tableau's Iron Viz by Kevin Flerlage

The Great British Bake Off by Dinushki De Livera

New Jack Swing by Chimdi Nwosu

Diversity in the Marvel Cinematic Universe by Brian Moore

Six Reasons to (re)watch Buffy the Vampire Slayer by Anne-Sophie Pereira De Sa

Give a huge round of applause to our three finalists.
RuPaul's Drag Race Lip Syncs by Lisa Trescott


Rivers of Time by Samuel Parsons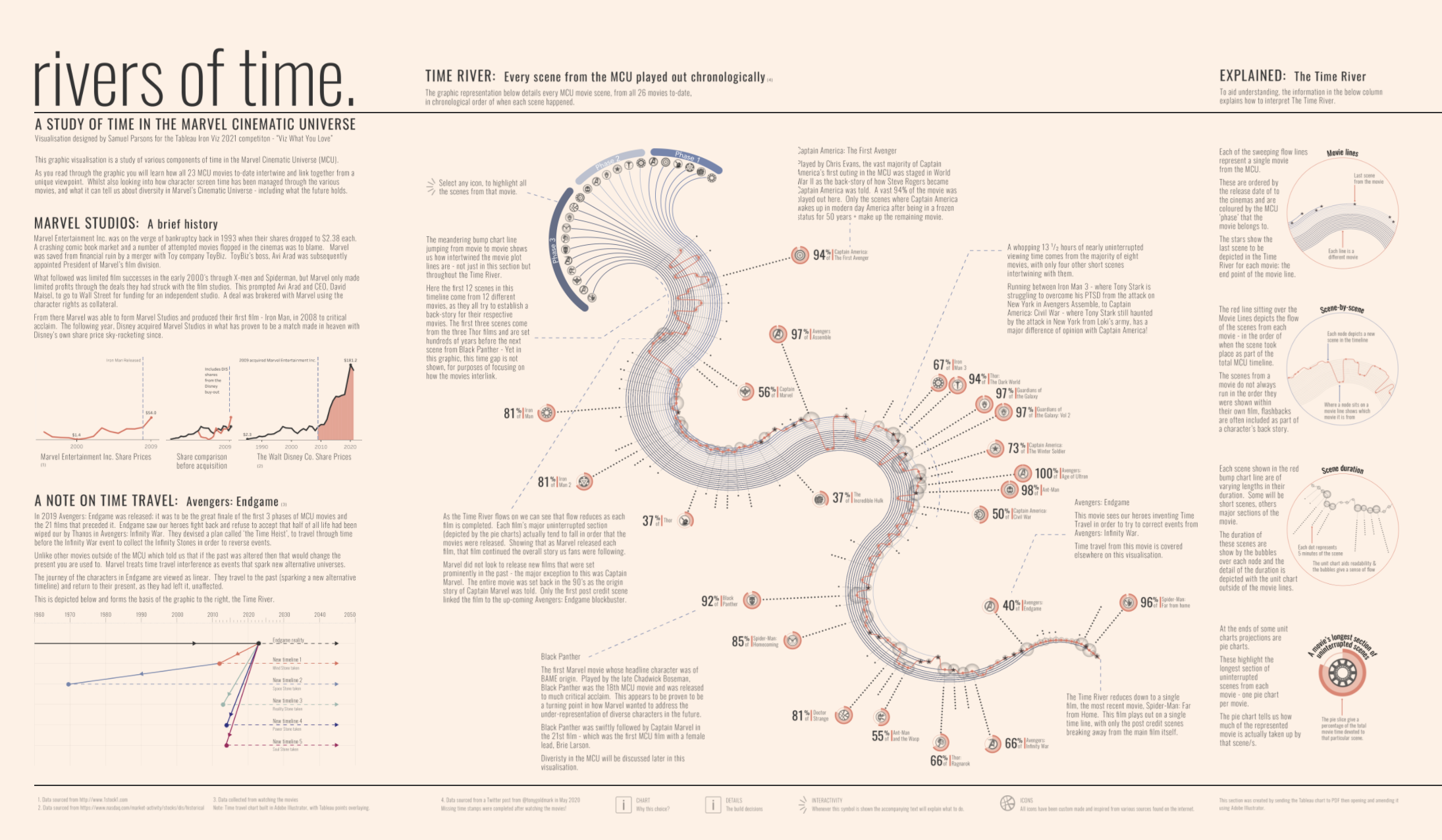 The Show that Brings Me Joy by Pradeep Kumar G

Congratulations to our viz-tastic finalists. You can watch a recap of the Tableau Community Iron Viz Top 10 Finalist Announcement hosted by Andy Cotgreave and Keshia Rose here. They were joined by guest judge & Zen Master, Tim Ngwena who shared some insights about themes, trends, judging criteria, and more. Be sure to save the date and tune in to the Iron Viz Championship at Tableau Conference 2021.
Subscribe to our blog
Get the latest Tableau updates in your inbox.