When it comes to elevating people with the power of data, Tableau combines a laser focus on how people see and understand data with the kind of robust, scalable platform you need to run even the world's largest retail and pharmaceutical organizations. At Tableau we value the relationship that we have with Walgreens and look forward to helping you reach your goals and gain the insights you need to be successful.


Your Account Team:
Todd Simpson, Enterprise Account Manager
Frances Zahirniak, Enterprise Sales Representative
Kass Kettner, Customer Consultant
Steve Galazka, Walgreens Tableau Contact


Check out more info on Tableau Conference here, including $100 off registration for Walgreens' employees!
We looked at everything, and for what we're trying to help our customers accomplish, Tableau is the easiest, most accessible and aesthetically-pleasing solution. And it's also going to be the most cost-effective.
Walmart and Coca-Cola join forces with Tableau as the unifying factor
Retail is a very competitive environment. That's why Coca-Cola and Walmart joined together via Tableau to share more data, build more trust, and strengthen the relationship. Learn how these companies work together to share information to gain insights and solve common problems while maintaining the IP of Tableau dashboards.
Learn more
How to successfully deploy self‑service analytics and drive results
Leading retailers are blazing a path toward better insights with a new, modern approach to data — self-service analytics. This approach allows business people to ask and answer their own day-to-day questions, and find faster avenues to bring new ideas to the market.
Learn more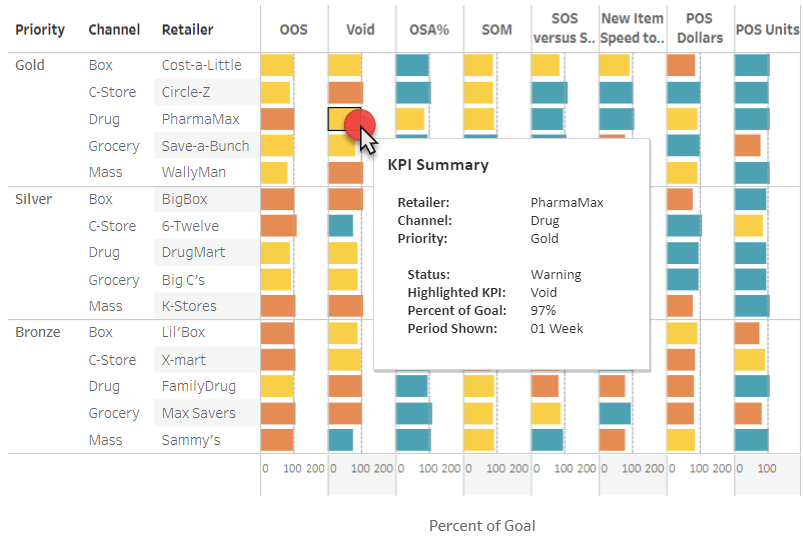 Monitor your CPG KPIs with a single view
Get an overview of your CPG business with a KPI dashboard. This dashboard combines KPIs into a single view.
Learn more