Jeff Plattner's Tableau Journey
Since the platform was founded in 2010, millions of people have used Tableau Public to develop their data visualization skills, find inspiration, and connect with like-minded data enthusiasts from around the world. While we're thrilled to be celebrating this milestone, we also want to acknowledge the accomplishments of those in the Tableau Community, like Jeff Plattner.
Jeff is an Analytics Consultant with DataDrive, a modern analytics consultancy in Minneapolis, MN. He enjoys creating data products that enable his clients to make faster, more informed business decisions. When he's not building cool stuff at work or hanging out (virtually, for now) with his awesome co-workers, he can be found spending time with his wife, their two kids, and their Shih-Tzu. One of their favorite things to do as a family is to go camping at Minnesota's many beautiful state parks.
How long have you been using Tableau?
I was first introduced to Tableau during the summer of 2014 through a demo given by Tableau at my (then) place of work. It was while sitting in this demo that everything changed for me. Walking out of the room that day, I was convinced working with Tableau was something I needed to pursue. A few weeks later, when I learned my company had decided to go with a different product I went home that night and officially began my search for "Tableau jobs" via Google. By October, having never used the product before, I had managed to land my first Tableau role, as a Demand Planning Analyst and have used Tableau off and on (mostly on) ever since.
What role has Tableau Public played in your professional development?
I honestly do not know where I would be today if it were not for Tableau Public. As I mentioned earlier, since October 2014, I have used Tableau off and on. About eighteen months into my role as a Demand Planning Analyst, I made a decision that ultimately led me on the path I am on today, with DataDrive. My wife and I had recently started a family and I received a job offer that would give me nearly a fifty percent raise. And despite knowing I would not have the option of working with Tableau in this new role, I accepted the offer. Because, the extra income would allow our family to live more comfortably, given the additional expenses of our little one.
About nine months into my new role, it became very apparent that I needed to get back to a Tableau-based role. Not only because I loved (and missed) using the tool, but because it allowed me to perform my job to the best of my ability. I had learned about Tableau Public roughly a year earlier but had not used it much and only had four visualizations in my portfolio.
So, I decided to get more involved in the Tableau Community and set a goal of leveraging Tableau Public to land a new job. Over the next nine months, nearly every night after my daughter and wife went to bed became what I referred to as my "Tableau-time." I participated in #MakeoverMonday, #SportsVizSunday, and worked on personal projects as well. I was having fun, improving my skills, and building my portfolio along the way. The culmination was a Tableau Public portfolio with an additional forty visualizations and a job offer from a consulting firm in Minneapolis, MN. Today, I continue to use Tableau Public as a way to hone my skills, as a creative outlet, and as a source for inspiration.
Do you have a favorite topic that you like to viz?
I love sports and enjoy vizzing about them as well. This passion has even evolved into an Etsy shop where I sell sports data visualizations in both canvas and premium poster prints. I was inspired to do this a couple of years ago after coming across SportsChord by James Smith and had a lot of fun collaborating with Eric Balash earlier this year, as we worked on our shops together. You can find links to all three of our shops below;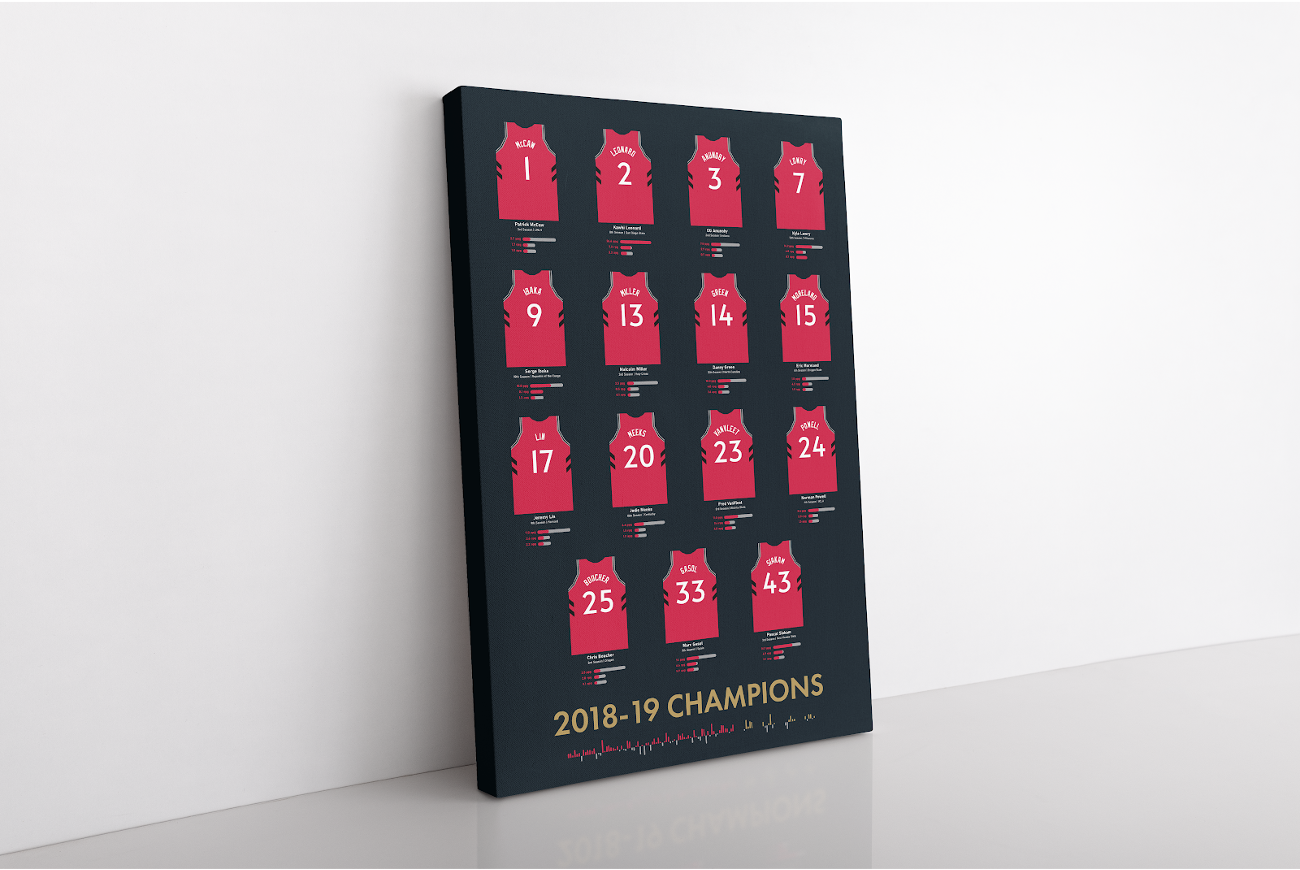 2018-19 Toronto Raptors NBA Champions canvas print
What role has the #DataFam had on your Tableau journey?
The #DataFam has had an enormous impact on my Tableau journey. The community is so supportive and encouraging to newcomers and that helped me feel comfortable when getting started. I have never experienced anything like the #DataFam and I am especially grateful to three-time Tableau Zen Master, Ryan Sleeper for introducing me to Tableau Public and the #DataFam, because not only have they helped me change the trajectory of my career, they have also changed my life. Since becoming involved in the community, I have had the opportunity to get to know some amazing people, many of whom have become good friends of mine.
Do you have a favorite viz or author on Tableau Public?
Wow, how long do we have? The list would be a lengthy one! Honestly, there are too many favorite vizzes and authors and I would not want to leave anybody out. The community is packed with so many talented people who regularly produce and share stunning work. And the best thing about it is that no two authors are the same. So, I cannot name a favorite, but when I think back to the first visualization that opened my eyes to how impactful and cool data visualization could be, it was "The History of the NFL" by Matt Chambers.
We are celebrating 10 Years of Tableau Public. What is your favorite feature of Tableau Public?
Tableau Public offers many great features, such as the ability to favorite vizzes or download the work of others for the sake of your learning. But, my favorite Tableau Public feature is Viz of the Day. What better way to celebrate the community while also providing a great source for inspiration? And having been lucky enough to receive a few of these over the years, I have experienced how great having your viz picked can make you feel. So, I always love seeing when a Tableau Public author gets their first VOTD!
If members of the #DataFam visit Minneapolis, MN what do you recommend they do?
I have my favorite places to go and things to do around the Twin Cities, but I tapped into my super-fun co-workers at DataDrive to get a variety of ways you could spend some of your free time while visiting Minneapolis.
Twins Gameday: grab a late lunch at one of the many restaurants along Washington Avenue. I am a sucker for Black Sheep Coal Fired Pizza, while Kaela recommends Italian fare and sticky toffee pudding at Red Rabbit Mpls. Then do a mini-brewery tour as you work your way to Target Field, starting at Modist Brewing (fun fact, I used to work in this building when it was the distribution center for the Minnesota Vikings retail merchandise). Then hop on over to Fulton Brewing before heading to Target Field to catch the Twins game.
Lake Day/Music night: rent a bike or kayak and spend the day exploring Bde Maka Ska and Lake of the Isles. Grab dinner and then head to a show at First Avenue, the Varsity Theatre, or the Lake Harriet Bandshell.
Date Night: park near the Guthrie Theatre and take a stroll across the Stone Arch Bridge over to Aster Cafe for dinner on their patio. You will find beautiful views of downtown and the Mississippi River. If you are lucky, catch some live music at Day Block Brewing Company on your way back.
Wild Night: if you happen to visit Minneapolis during the winter, be sure to take in a Minnesota Wild hockey game. Head over to St. Paul a few hours before the puck drops and grab dinner and/or drinks at one of the many restaurants along 7th Street. A couple of the popular hangouts before Wild games are McGovern's Pub and Tom Reid's Hockey City Pub. Then walk a couple of blocks to the gorgeous Xcel Energy Center and enjoy the game.
State Fair: if you visit between mid-August and Labor Day, the Minnesota State Fair is an absolute MUST!! Bring your walking shoes and get ready to eat thousands upon thousands of calories of delicious State Fair food. Then dance the night (and calories) away with an evening concert at the State Fair Grandstand.
Roadtrip: if you are lucky enough to have an extra couple of days to burn, take a 2 ½ hour road trip north of Minneapolis on I-35 to Duluth. Spend some time exploring the historic Canal Park area and you may even get to see a ship come into the harbor. And if you are feeling extra adventurous, keep heading north on Scenic Highway 61 and enjoy a beautiful drive along the shores of Lake Superior. This stretch from Duluth to Grand Marais is my favorite little slice of Minnesota!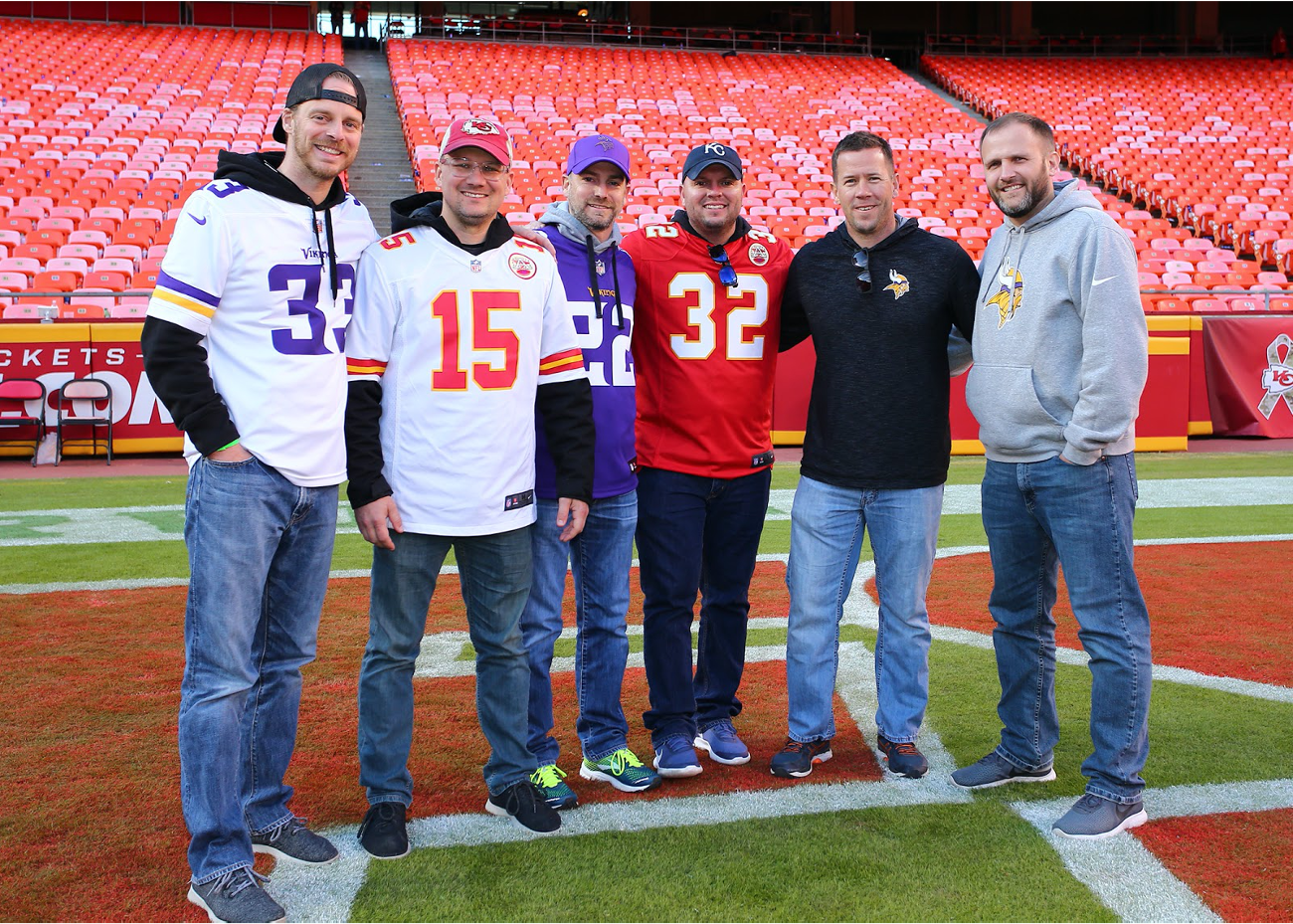 In November of 2019 Kansas City #DataFam royalty Sean Miller (#15) and Ryan Sleeper (#32) were kind enough to not only show Jeff (left) and his Vikings crew how tailgating is done KC-style, but also to get them down onto the field after the Chiefs/Vikings game. However, they were not kind enough to let Jeff and his friends leave town with a Vikings win.
Subscribe to our blog
在收件匣中收到最新的 Tableau 消息。