The 2nd edition of Iron Viz Europe is officially open! This year's theme is: European Cities. Submissions are accepted until 1 April, 23:59 BST. See the contest page and the FAQ page for details on how to participate, and for eligible countries of residence.
The authors of this blog post might be biased, but European cities are great. Their piazzas, boulevards, parks, cafes, and museums place them among the most liveable cities and interesting tourist destinations in the world. But, of course, not all is well: pollution, traffic, drugs, crime, old school buildings and rising rents are just some problems that many of these places have to deal with.
Utopia or places from hell? Create a data viz to tell your stories of European cities. The good, the bad, the ugly; whether you focus on one town or do a regional comparison - as long as it is related to our theme - we want to see it all. We think the topic is exciting enough to get creative with data. But - as a bonus - we will also fly the authors of the three best vizzes to London, arguably Europe's most vibrant and cosmopolitan city. There they will compete on the big stage of Tableau Conference Europe 2018, in the grand final of Iron Viz Europe.
To take part, simply build a data visualization, upload it to Tableau Public, and fill out the submission form before the deadline.
Seasoned participants of our viz competitions might have already noted a few tweaks to this year's Iron Viz programme. But we are especially proud to announce that this year our juries will include guest judges from the data viz community. For the Iron Viz Europe feeder, we are very honored to have Stefanie Posavec and Moritz Stefaner as guest judges!
Stefanie Posavec is a designer and "data is her favorite medium" (Coolest job description ever!). In particular, she loves projects that involve language, literature, or science, and she has a real talent for hand-crafted pieces of (data) art. In the data viz community, Stefanie is perhaps best known for her Dear Data project with Giorgia Lupi that resulted in the eponymous best-selling book. Her work has been featured by MoMA, Southbank Centre, and the V&A, amongst many other galleries and magazines.
Moritz Stefaner is a "truth and beauty operator" (Tied for coolest job description!), i.e. an independent designer and consultant in the fields of visualization, information aesthetics and user interface design. His clients include illustrious names such as the OECD, Skype, FIFA, and the World Economic Forum, and he was nominated for the Design Award of the Federal Republic of Germany and is a multiple winner of the "Kantar Information is Beautiful" awards. Moritz also hosts the Data Stories podcast together with Enrico Bertini.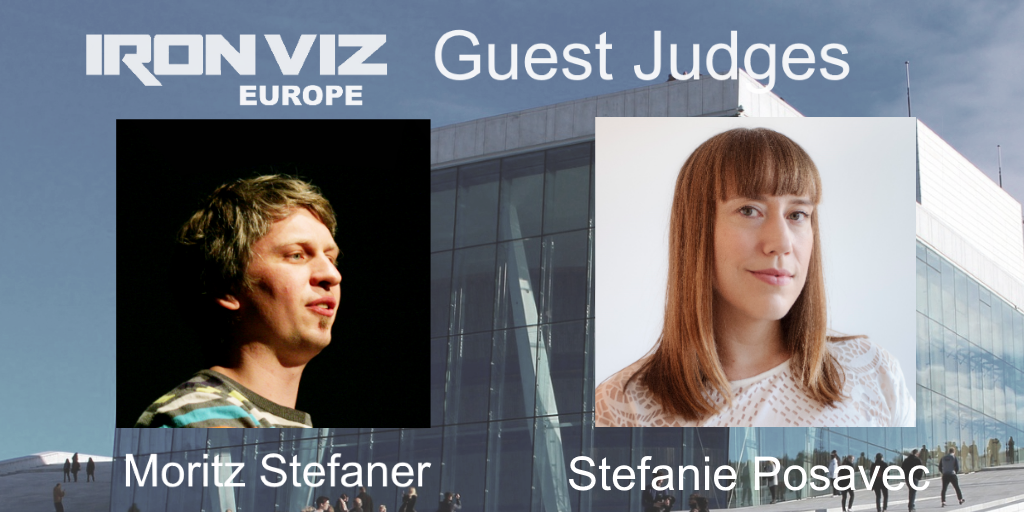 The jury is completed by two Tableau employees: Rafi Zelikowsky, who heads up the European Product Consulting team, and Product Marketing Manager Louis Archer, who - as he likes to point out - is the reigning champion of our own internal data viz competition, here at Tableau (That, though, does not count as a job description!).
The jury will be assessing the 10 best vizzes, shortlisted by the Tableau Public team, based on three criteria: Analysis, Storytelling, and Design.
The task might seem daunting - especially when one looks at the high quality of submissions from previous years - but it will be great fun! We encourage everyone to give it a shot, even if you are still new to Tableau or Iron Viz. To help you get started, here are some data sources and vizzes as inspiration:
Lots of cities nowadays have open data portals, including Paris, Berlin, Madrid, Rome, London, and Stockholm.
The European Data Portal has a section on cities and regions, as does EUROSTAT
Also, remember that Tableau maps support the EU's NUTS regions.
A quick search on Tableau Public yields a number of interesting vizzes around European cities, from the use of Boris Bikes in London to tourism in Berlin, or the demographics of Madrid neighborhoods. We hope these provide some initial inspiration. But there are obviously lots of different angles one could take. So let your creativity run wild.
Alright, with that you should have all that you need to get cracking. We wish you good luck and look forward to seeing your vizzes!
Enter the contest!
For more details, visit our contest page.
Not a resident in one of the European participant countries, but still eager to take part in IronViz? Despair not, the dates of the Global Iron Viz feeder competitions have been announced. Be sure to pencil those in!
Subscribe to our blog
在收件匣中收到最新的 Tableau 消息。