Translating my Tableau passion into the first Japanese episode at TC21
Tableau community member KT dives into the unique Japanese community program—DATA Saber. Learn more about her story, her talk at TC21, and how data is a universal language.
Hi everyone, this is KT, a Tableau User Group Ambassador from Japan. I've written this guest blog in both English and Japanese. To check out my Japanese version you can view it here.
I and every DataFam member had a great time at Tableau Conference 2021. Tableau's latest features and roadmap always inspires me a lot and allows me to imagine what the future of Tableau will take us. Tableau Conference is not only about the updates and great uses of Tableau, but also about the sessions presented by the users. The content ranges from technical sessions to how to foster a data-driven culture in your organization. And to top it all off, this year Yoshito and I were able to present in Japanese for the first time ever in Tableau Conference history.
Watch our session on-demand: DATAsaber - Accelerating Data Culture with Community in Japan.
From the moment I first encountered Tableau, which landed in Japan in 2013, I was captivated by the many fascinating data visualizations that Tableau could produce. I'm often asked why I'm so passionate about it—I think it's the same as when you talk passionately about a movie or hobby that you love. You want others to think it's great too. It's the same thing.
What's great about Tableau is that while its visual analytics capabilities is captivating at first, it also makes you realize what's really important as you continue to use it. In other words, we need to have a platform when analyzing data, we are all creative beings, and the connections between people, or "communities" create culture and make our world a better place. The realization of these important things has been a great source of inspiration in my life.
Tableau and the people I've met through Tableau have taught me too much to keep inside myself. I was and still am so passionate about Tableau and have been trying to share my passion more broadly.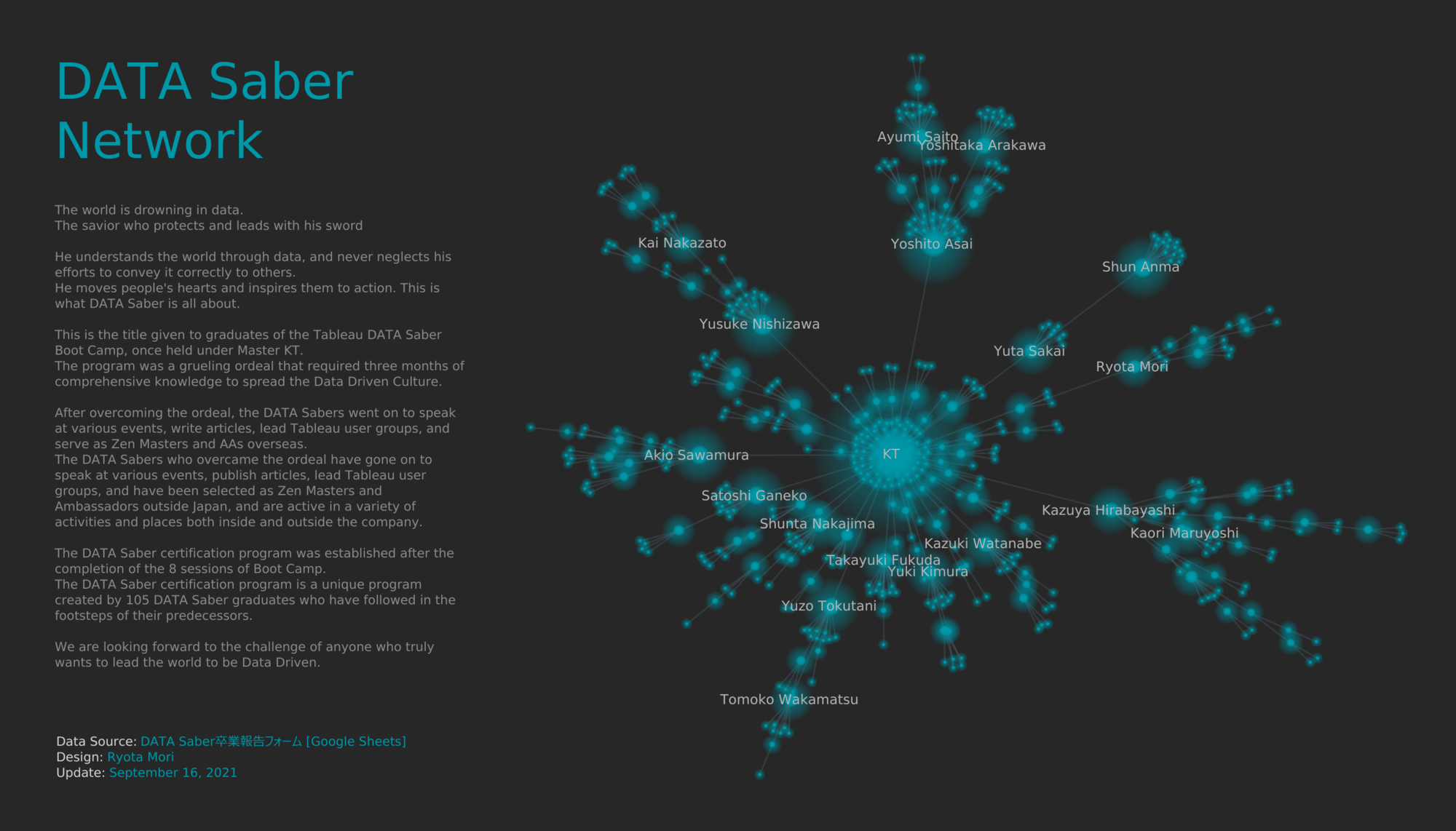 As a result, DATA Saber was born. This program is designed to nurture people who have the basic technical skills necessary to see and understand data
This program is designed so that each participant must find a "Shisho" to challenge and mentor them. The key is that it's not just an educational program, but also built on people-to-people connections.
When I started the program in 2017 there were 105 graduates as of May 2019. Since then the program has grown significantly.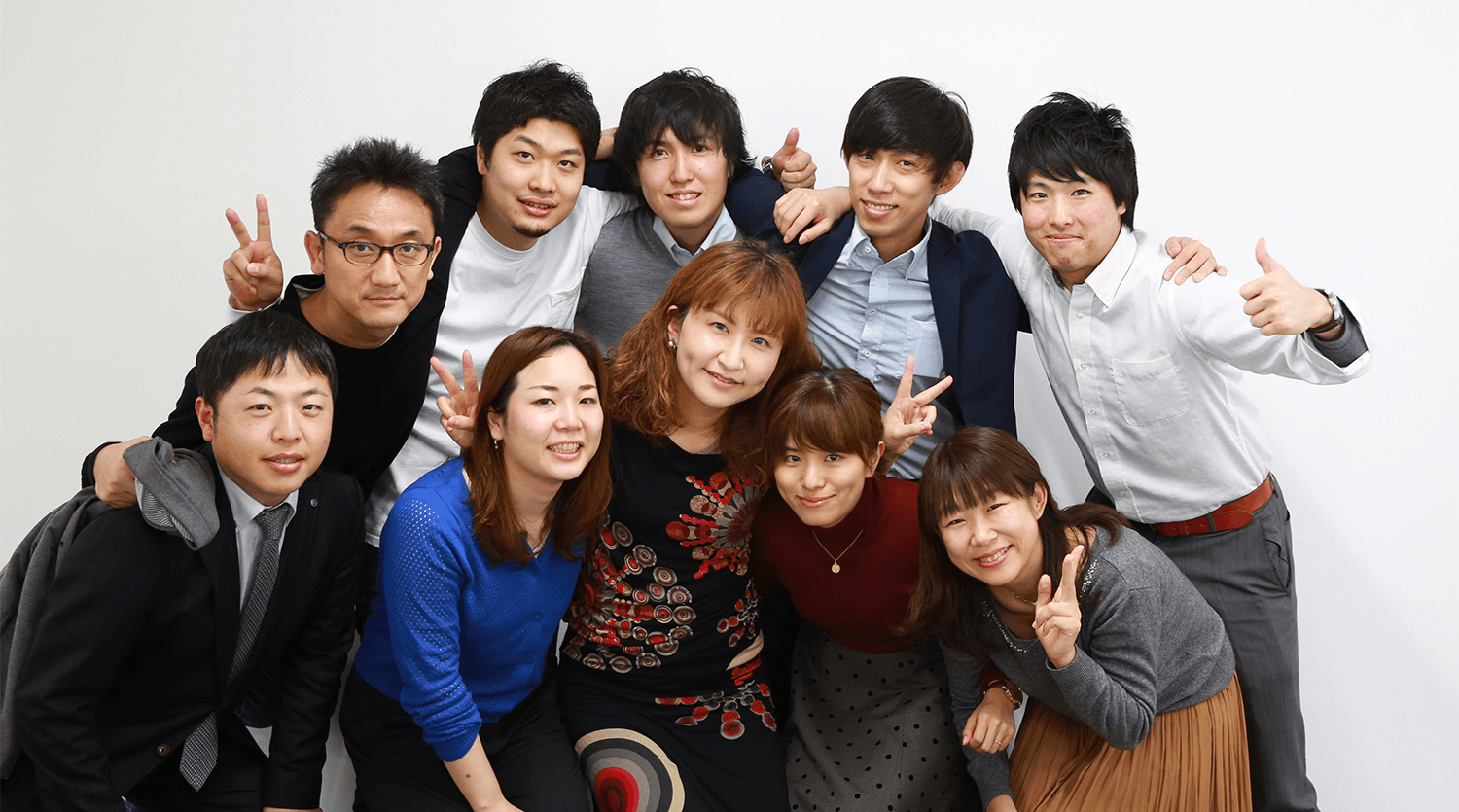 2017 DATA Saber cohort
As of November 2021, the network has grown to more than 580 members. The DATA Saber program fosters people who can drive the community to become more self-driven and data-driven.There is no other program like it in the world.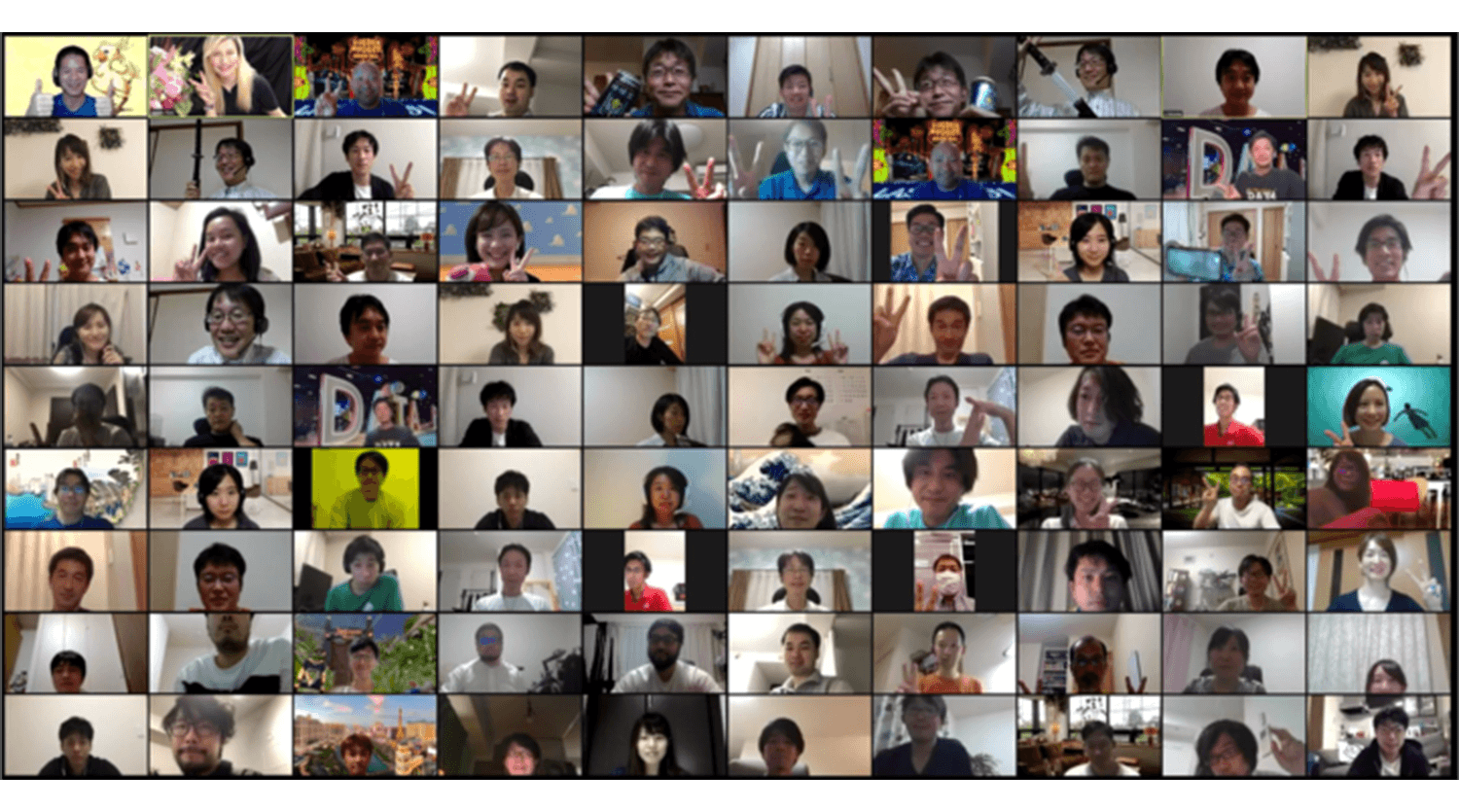 2020, Latest picture DATA Saber cohort
Thus, I was offered to present this groundbreaking initiative at Tableau Conference 2021. Tableau Conference is the place where many Tableau users dream of being. It's an honor just to attend, and I never thought I'd get the opportunity to speak at such a place.
I used to work for Tableau from 2015 to 2020 and never got the chance to speak at Tableau Conference. It's not that there weren't opportunities for employees to speak, but I was in the company of Tableau's top technical experts from around the world, all of whom were sharing their top skills and ideas.
Of course, there are many people in the world who can give great presentations in a foreign language, however, it can sometimes be difficult to give a presentation in a foreign language that is easy to understand, and resonates with people.
So when I was first asked to give a session in Japanese on the subject of "community," I thought I had a great opportunity. I had nothing to be afraid of when it came to presenting in Japanese. On the other hand, I was worried. I wondered if people from other countries would want to tune in to a session in Japanese community focused session. But I also knew that if I could tell anyone anything about what I had achieved through Tableau, it would be about the community that I have always loved and fostered.
So, let's do it! A community session in Japanese!
What does it mean to have a session in a foreign language at the Tableau Conference?
If you look around the world, there's many who can speak foreign languages but it will always be easier to communicate in your native language.
But I also knew that if I could tell anyone anything about what I had achieved through Tableau, it would be about the community that I have always loved and fostered. So, let's do it! A community session in Japanese!
I hope my Japanese session is encouraging to native Japanese speakers—first, that my session was easy to follow, and second, that they also have the potential to speak at a global conference in Japanese someday.
In addition, my session was translated into several languages and subtitled so that those who don't understand Japanese can also watch it. The fact that Tableau Conference has sessions in foreign languages is a reflection of Tableau's commitment to "help people see and understand data" for the people all over the world. I can't wait to hear more DataFam sessions in many different languages at Tableau Conference 2022! (I know it's a lot of translation!)
To all the DataFam around the world, if you have a great experience you want to share, don't hesitate to keep sharing it in your native language. It will surely open the door to a new world for you.
So, what new doors have I opened?
Since my presentation at Tableau Conference, I've received a lot of positive comments about the session. I received a lot of feedback from people in Japan who said that it gave them courage and energy, and that they too wanted to tackle things with a similar conviction and passion. It's brought me such pleasure to hear my words have become a light in others' hearts.
I was also surprised to receive so many warm comments from people in other countries. Since DATA Saber is a program that encourages graduates to grow as communicators within the Tableau community, I'm sure many of you were curious about who these DATA Sabers are and how this program was created. I was especially happy to hear from a non Japanese speaker who said, "I want to be a DATA Saber too! " The passion and energy of the 580+ DATA Saber members has become the heart of the community and has spread around the world.
My #Data21 goal is to become a #DATASaber. It just sounds so cool and LOVE what the @jp_tug represents!

— Adam Mico (@AdamMico1) November 7, 2021
This passionate community will meet again at Tableau Conference and take it to a whole new level. As we look toward 2022, we plan to launch several projects to expand the data literacy programs created with Tableau to more people. We will evolve the program to make everyone in the world data-driven. The journey of spreading our data-driven culture has just begun. I look forward to sharing more good news with you next year!
If you're based in Japan or a Japanese speaker and eager to connect with other Tableau users, you can sign up and learn more about the Japan Tableau User Group.
You can also follow KT on Twitter, YouTube or Tableau Public.
Japanese version of this blog can be viewed here.
Subscribe to our blog
在您的收件箱中获取最新的 Tableau 更新。