How data empowers human connection at Starbucks
At the National Retail Federation's 2021 Big Show, Tableau CTO Andrew Beers talks with Rajesh Naidu, Starbucks VP of Architecture, Data & Analytics Technology, about the company's use of data to connect with people.
Data and analytics have long been known to accelerate business transformation and growth, but in this digital age where people spend significant time both online and offline it's imperative that organizations start looking at data in a new way. Data is an incredibly powerful way to connect with people.
We've never seen more evidence for this than in 2020. While the pandemic shuttered and disrupted businesses around the world, everyone had to shift many of their real-life activities to the digital world. For brick-and-mortar retailers, it meant that they had to create a way to transition a traditionally in-person experience into a digital experience, while maintaining excellent service and finding ways to still connect in a human-centric way.
As one of the world's leading brands, Starbucks faced this challenge by turning to their love of data and innovation. The coffeehouses are known for being that friendly place where people connect in communities worldwide, so quickly implementing new ways to serve their customers was paramount for the brand to keep its identity intact. During the pandemic, Starbucks did an incredible job transforming the way they do business in the digital space, discovering several ways to better serve customers while exploring exciting new uses for their data and uncovering opportunities ahead.
At the National Retail Federation's 2021 Big Show, I spoke with Rajesh Naidu, Starbucks VP of Architecture, Data & Analytics Technology, about the company's incredible transformation and use of data to connect with people. His story of how they leveraged analytics to enhance human connection is one of those amazing cases we love to hear about at Tableau. The future of retail will be meeting customers wherever they are, seamlessly connecting digital and real-life interactions, or as Starbucks calls it, meeting their customers in the 'third place.'
How data revealed 'the bathroom' surprise
When COVID-19 hit, Starbucks had to shutter stores for the first time ever and rely on their mobile app and drive-through windows to serve customers. And they needed to do all this while keeping employees safe.
The company quickly turned to data to guide them through these challenges, and it helped them transform the business practically overnight. "The pandemic certainly tested the resolve of our company and how we not only cope during these tough times but also how we reinvent ourselves to be ready for a post-pandemic world," Naidu told us. "We leveraged data and analytics during these challenging times to take care of our partners, enable our partners to deliver human connection, and deliver upon the safety expectations of our customers, so that we could quickly deliver third place expectations in a changed world."
This included a significant change in the way Starbucks interacted with customers, including a shift in the morning rush to a steadier flow of all-day orders. The brick-and-mortar experience quickly transformed into one in which customers ordered through a mobile app and safely picked up drinks outside the store, keeping transactions as contactless as possible. They also had to arrange for deliveries.
To enable this digital transformation, Starbucks' Analytics & Insights and Technology Data & Analytics teams worked together to quickly develop a top line report. Their goal was to deliver the right data points to the right leaders at the right teams to have a holistic view of what was happening in almost real-time. It democratized the data and gave everyone the information they needed to make decisions and move forward.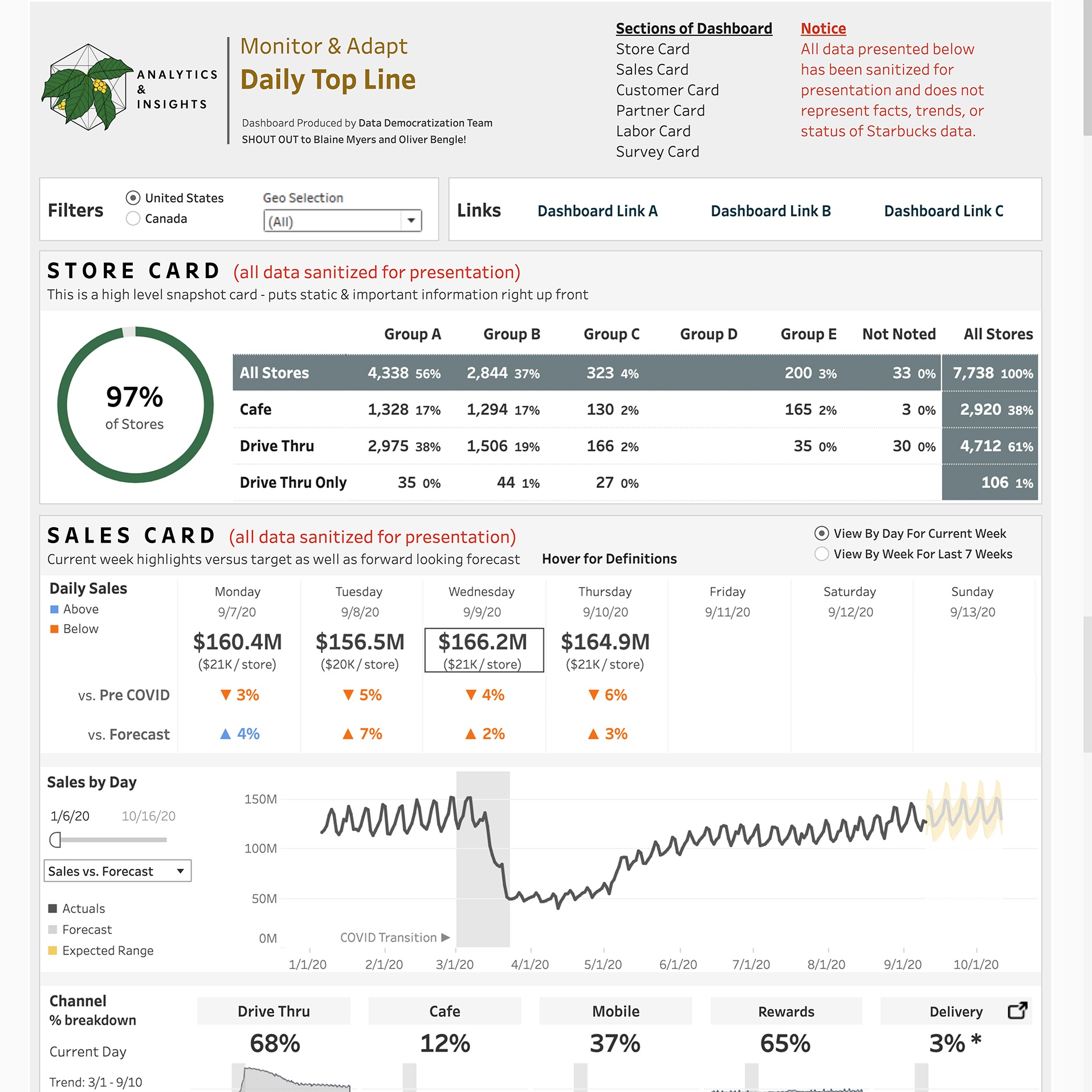 While the Starbucks team created this new dashboard fast, Naidu said that they made sure not to "cut any corners around user experience." Following their Azure-first strategy, they migrated multiple data sources to a single location, capturing essential data on sales, channel, product, and more. They designed the dashboard so they could easily switch metrics without having to redesign it every time they updated it.
To their surprise, the data revealed a key metric related to customer service the team didn't foresee—"bathroom availability." Many people have sought out a Starbucks because they can count on their clean bathrooms and then picked up a drink or snack. "We had to develop a new way for store partners to quickly enter data about their respective stores, what amenities are open or closed, and then surface this information in relevant reports and eventually to our customers," Naidu said.
This important customer service detail emerged while Naidu's team were exploring the data for other operational information. This relevant piece to being open and ready to serve customers in every capacity could have been easily missed if the data hadn't surfaced it. And this is an amazing example of what the power of data can do.
Data-amplified opportunities for connection
With 2020 in hindsight, Starbucks is ready to leverage what they learned to build their third place experience across local communities in more than 80 markets. To do this, they need to use their data to develop experiences that continue to meet and exceed customer expectations wherever they are.
In the U.S., Starbucks will continue to grow its mix of new store formats and experiences, including Drive-Thru, Starbucks® Pickup, and curbside pickup. And with multiple third place points of contact, Starbucks needs to ensure that its technology works flawlessly upon every point of contact, whether it's in-store, curbside pickup, or an order for delivery.
With their data foundation in place, they can quickly surface relevant analytics and visualizations to retail and non-retail partners alike. During the pandemic, this allowed them to create new safety protocols, and expand benefits and compensation to support partners to make sure that no Starbucks partner would have to choose between coming to work and their health. They even launched a COVID Community Information Exchange with other nearby retailers and are now looking for other ways to leverage that.
For their customers, data enabled Starbucks to quickly adapt to short and long-term shifts in behavior. They found that people still needed to feel seen and connected, and the retail experience had to be consistent and fit their lifestyle. The data told them that customers still expected high-quality, sustainable products and experiences that support people and the planet. Naidu says that these insights will help inform Starbucks' decisions to continue to be a "people-positive, plant-positive, and profit-positive company" now and in the future.
AI/ML for 'cool, not creepy' innovations
Of course, all this work with data must be done with trust at the core. Starbucks is passionate about data transparency and providing a strong, secure governance experience. Internally, they provide a full picture of their data that is available to all levels of retail leadership and partners to give them a greater sense of the business and encourage accountability for P&L of that store. Their top line reports have specifics around site selections and other criteria so partners also understand how the data comes together to make the right decisions. Their goal is to have every partner embracing and using data.
The company is also transparent about sharing data with the public, especially their Diversity & Inclusion Scorecard on Tableau Public. Their hope is to become a benchmark for other larger public companies when it comes to being transparent with D&I goals.
Additionally, the data and analytics teams are working on future capabilities around hyper-personalization and radical automation, focusing on how to use data to make better-informed decisions and freeing time for partners to have human-to-human connections. Customers can soon expect a more personalized digital experience, made possible by their AI initiative called Deep Brew. This will be tailored to where customers live and their preferences and habits. They are also being extremely careful about how they proceed with AI, especially about getting the right data into the company, being clear what it is, and who can access it.
"We're leveraging AI to deepen our digital relationships, architecting experiences that provide that experiential retail touchpoint. We want to both surprise and delight our customers in new and different ways," Naidu told us. "And it's certainly looking at use cases that align with our values. We want this to be cool—not creepy—technology for us."
Data is leading the way to meeting customers where they are
Recently, I've had several conversations with retailers working across multiple digital channels, and a common theme has emerged: The sheer pace of change in technology, customer engagement styles, and number of channels is a huge challenge. So much so that a recent PWC report found that 69% of CEOs are worried about the speed of change, and they're struggling to keep up. Only 20% say that they have made significant progress in getting smart about technology and its potential implications for their business.
In times of rapid change, enabling adaptability has never been more critical. Organizations that can absorb the shocks of change can not only overcome volatility, but even benefit from it. At Tableau, we love hearing from customers like Starbucks about how they're using data to solve problems, accelerate growth, and most importantly, bring people together with human-centric experiences.
We know that every company undergoing a digital transformation will need data at the helm to better serve and connect with customers. And now as part of Salesforce, we're increasingly positioned to help anyone use data to meet customers where they're at—in real life and across every digital channel—ensuring that everyone gets the exceptional third place experience they deserve.
Editor's Note: Watch the full conversation below with Tableau CTO Andrew Beers and Rajesh Naidu, Starbucks VP of Architecture, Data & Analytics Technology, at the NRF 2021 Big Ideas session on "The Future of Analytics."
Subscribe to our blog
在您的收件箱中获取最新的 Tableau 更新。