Dashboard Starters for Tableau Online
Go from data to insights to action faster than ever before
Beauty and brains
Dashboard Starters for Tableau Online are designed to help you hit the ground running with actionable data in minutes. In just a few clicks, you'll be able to connect to common enterprise applications and create beautiful, data-rich dashboards seamlessly.
Salesforce Starters
Have the sales team your whole industry chases
Sales has always been about the numbers. From how much ahead of quota you are to the size of your pipeline, your sales team lives by these metrics. Visibility into what's going well – active opportunities are up 12% this quarter – and what could use some improvement – loss rate increased by 5 points – is critical to having a world-class sales department.
With Salesforce Starters, you'll be able to fine-tune your sales funnel, better support your sales team and unlock the power of your own sales data faster than ever before.
Account tracking
Quarterly results
Top accounts
Opportunity overview
Opportunity tracking
Marketing leads
Start a free trial
Oracle Eloqua Starters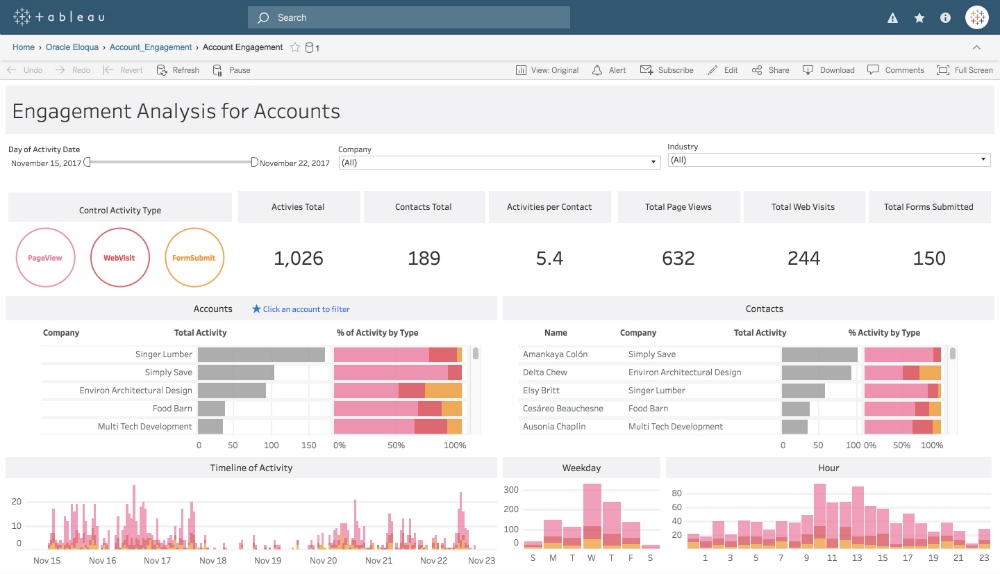 Your email marketing data just evolved
You've got a lot of data in your marketing automation platform. Every time someone opens one of your emails, clicks through to your site or fills out a form tied to a campaign, data is flowing into your system. It can be overwhelming if you don't have the right tools to analyse it.
Go from 10,000 feet to deep into the details of any campaign. Understand how a single customer or how a whole industry is consuming your content. No need to fear the data you have. Oracle Eloqua Starters will take you from data to insight to action in moments.
Campaign performance overview
Campaign details dashboard
Account engagement dashboard
Get your trial started
Already a Tableau Desktop customer? Download a Dashboard Starter workbook
to use on your own data.

Marketo Starters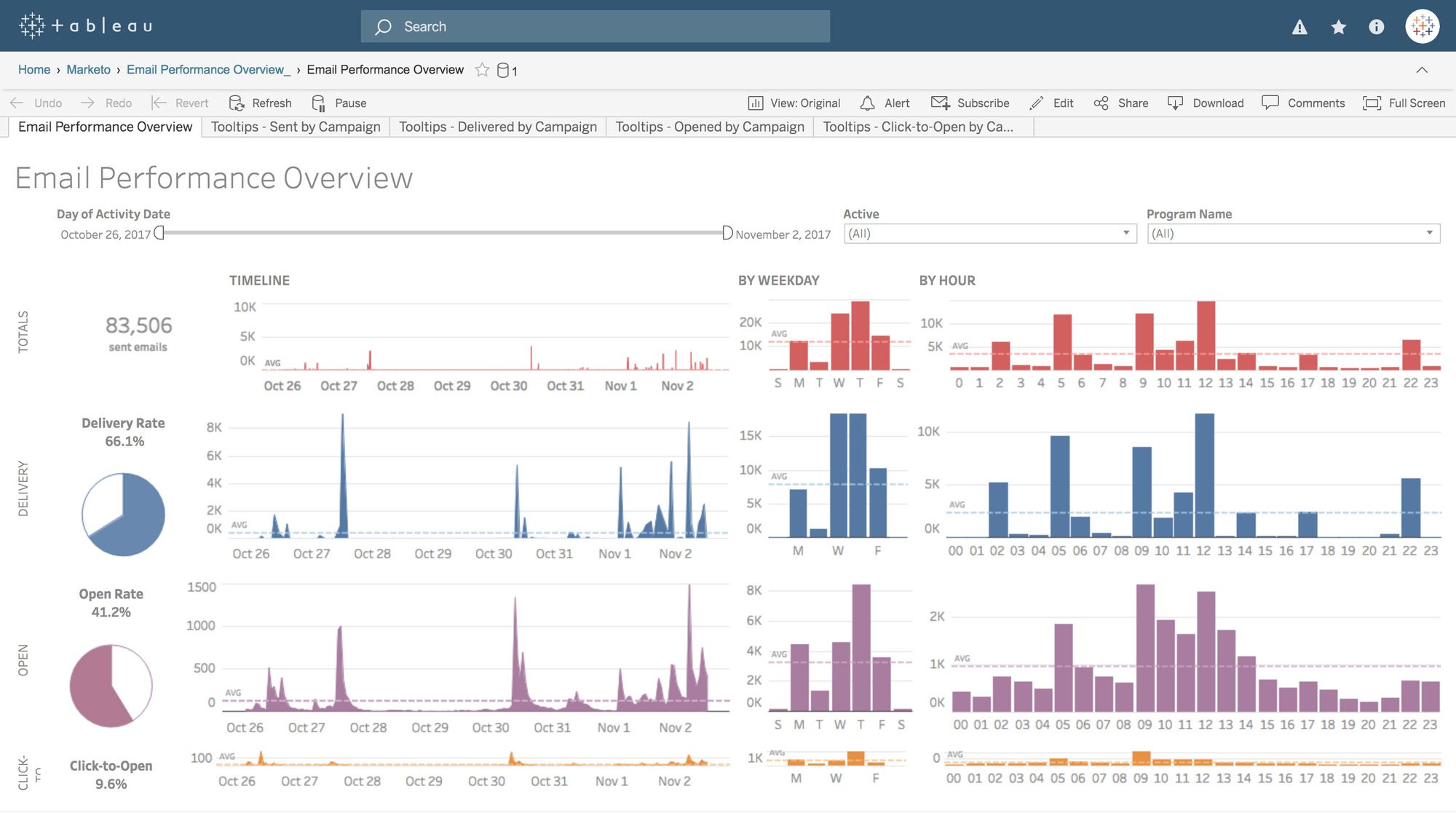 Your Marketo data has never looked so good
Create beautiful and insightful marketing dashboards with just a few clicks. See and understand your data around campaign performance, customer activity and website engagement. Pull together your marketing automation data into visualisations that help you see what tactics are winning over converts and what messages are getting lost in the mix.
But don't stop there. Dashboard Starters are just the beginning of your data exploration. Edit and customise to ask additional questions of the vast trove of data collected by Marketo.
Marketo email performance overview
Email performance by campaign
Web engagement by account
Try now in your trial site
ServiceNow Starters
See all facets of your IT organisation
No matter the industry, technology and IT are at the heart of most companies. IT is not only vital to the smooth operations of your business today, but also the future success of the company.
With ServiceNow Starters, you'll be able to seamlessly pull all of your ServiceNow IT service management data into Tableau, complete with pre-built dashboards ready for action. If you need a high-level vantage point of the health of the entire department or a granular view of specific incidents, a dashboard is ready and available with your data.
Executive dashboard
Request report
Problem tracker
Problem report
Incident tracker
Incident report
Without Tableau, we would be stuck analysing enormous amounts of data in spreadsheets. Instead, we create dashboards that provide clear, actionable insights and that drive the business forward.
Learn more about Tableau
See how departments like yours use Tableau
Try Tableau Online for free
Dashboard Starters are part of Tableau Online. Try them out for yourself by starting a trial of Tableau Online and connecting to data.
Get your free trial