Behind the Viz: Learn how Autumn Battani used data visualization to support the Black community
Get to know your fellow Tableau Public authors with Behind the Viz, a blog series where we explore the people and processes behind our featured vizzes.
INTRODUCING AUTUMN BATTANI! Autumn is originally from a small town in southeast Michigan. In 2012, she moved to Los Angeles to attend the University of Southern California, where she double majored in Communication and Social Sciences with an emphasis in Psychology. After graduating, Autumn worked at The Walt Disney Company as a research analyst in the Media Networks sector. During her role as a research analyst, Autumn was exposed to Tableau and she instantly became hooked. You can learn more about Autumn's academic and professional journey in this dashboard. When Autumn's not building vizzes, she loves to travel and watch movies, theater, or TV.
We sat down with Autumn to discuss her recent Viz of the Day on Black-owned eateries in the United States. Read on to learn why she thought it was important to create a viz on this topic.
Click to view the full interactive viz.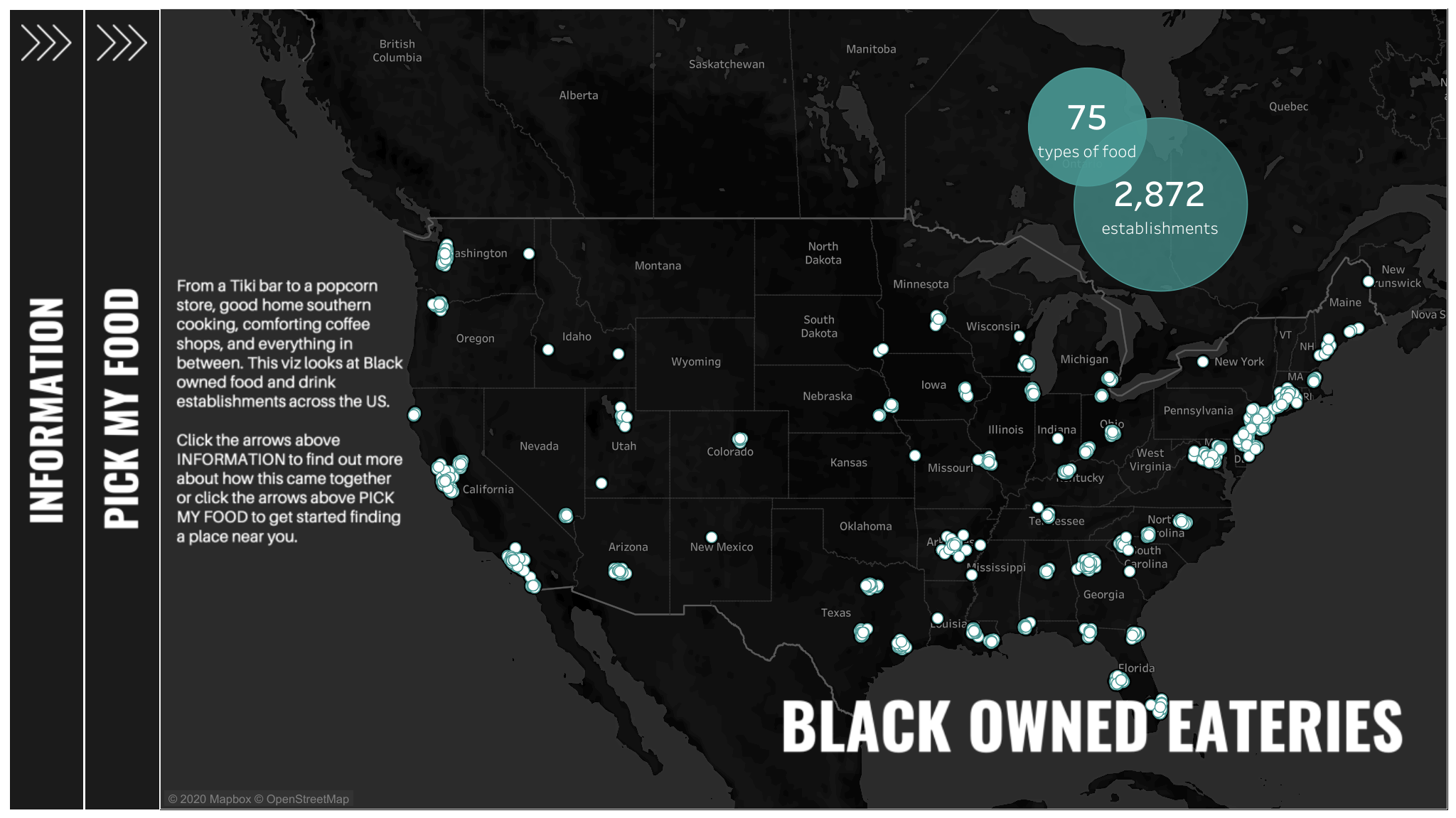 How long have you been using Tableau Public?
I've been using Tableau since November 2018 but I didn't even know that Tableau Public existed until I attended Tableau Conference in 2019. The very first session I went to was Makeover Monday LIVE led by Andy Kriebel and Eva Murray, and I quickly realized what I was missing out on! Tableau Public has introduced me to so many wonderful people in the community and offered me endless inspiration.
Why did you choose this topic?
The Black Lives Matter movement has been advocating for the civil and just treatment of Black lives in the United States since the murder of Trayvon Martin in 2013. Although systemic racism towards black people has existed in this country for hundreds of years, the murder of George Floyd on May 25, 2020, sparked outrage around the world and ignited a public discourse about racism and police brutality in the US and beyond.
The protests following George Floyd's murder caused many people to reflect on their own racist actions and biases. I saw an abundance of resources circulating on social media encouraging individuals to donate to organizations, educate themselves on the history of race in America, and support Black-owned businesses. Although buying from Black businesses is a small act, it's something that each of us can do on a daily basis. I came across so many lists of Black-owned restaurants but they were all location-specific. I wanted to create a resource that anyone could use and share so I decided to start collecting data on Black-owned eateries across the US.
Click to read the full thread.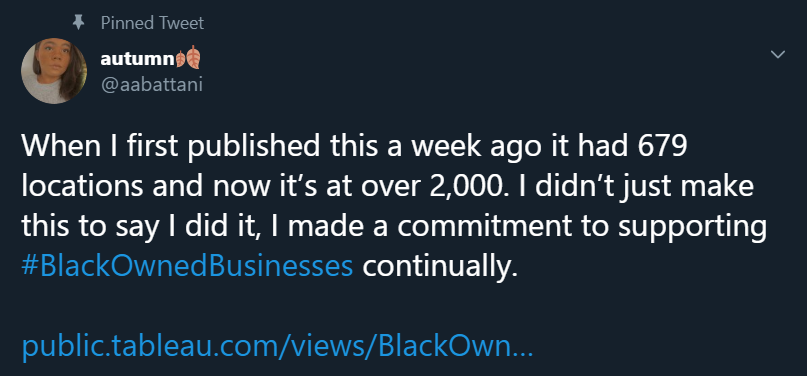 What was the hardest decision you made when creating this viz?

I recently started creating phone layouts after coming across Lindsay Betzendahl's Mobile Modern Dashboard. Since a lot of resources are being shared on social media, I knew it was important that this data could be easily consumed from a mobile device. I figured most people would be viewing this dashboard from their phone, and I wanted to keep the same level of detail and interactivity but on a much smaller screen. It was a good challenge, and I learned a lot about mobile layouts.
What is your favorite new Tableau trick? How can others use it?
I'm still early in my Tableau career and I try to incorporate something new into every viz I make! For this visualization, I learned how to make collapsible menus. It's a great skill to have in your toolbelt and allowed me to keep a clean look without sacrificing any information. I learned this technique from a blog post by Kevin Flerlage. Real estate on your dashboard is important and it always helps if you can get a little bit of that back.
What is the best music to listen to while vizzing?
I can't believe I'm sharing this on the internet but I've been listening to a lot of Christmas music lately. It keeps my spirits up with everything going on, and I've been quarantining for what feels like forever now, so it could be December and I wouldn't even know it. When I'm not listening to Christmas music, I'm normally bopping between early 2000's pop-punk and musical soundtracks.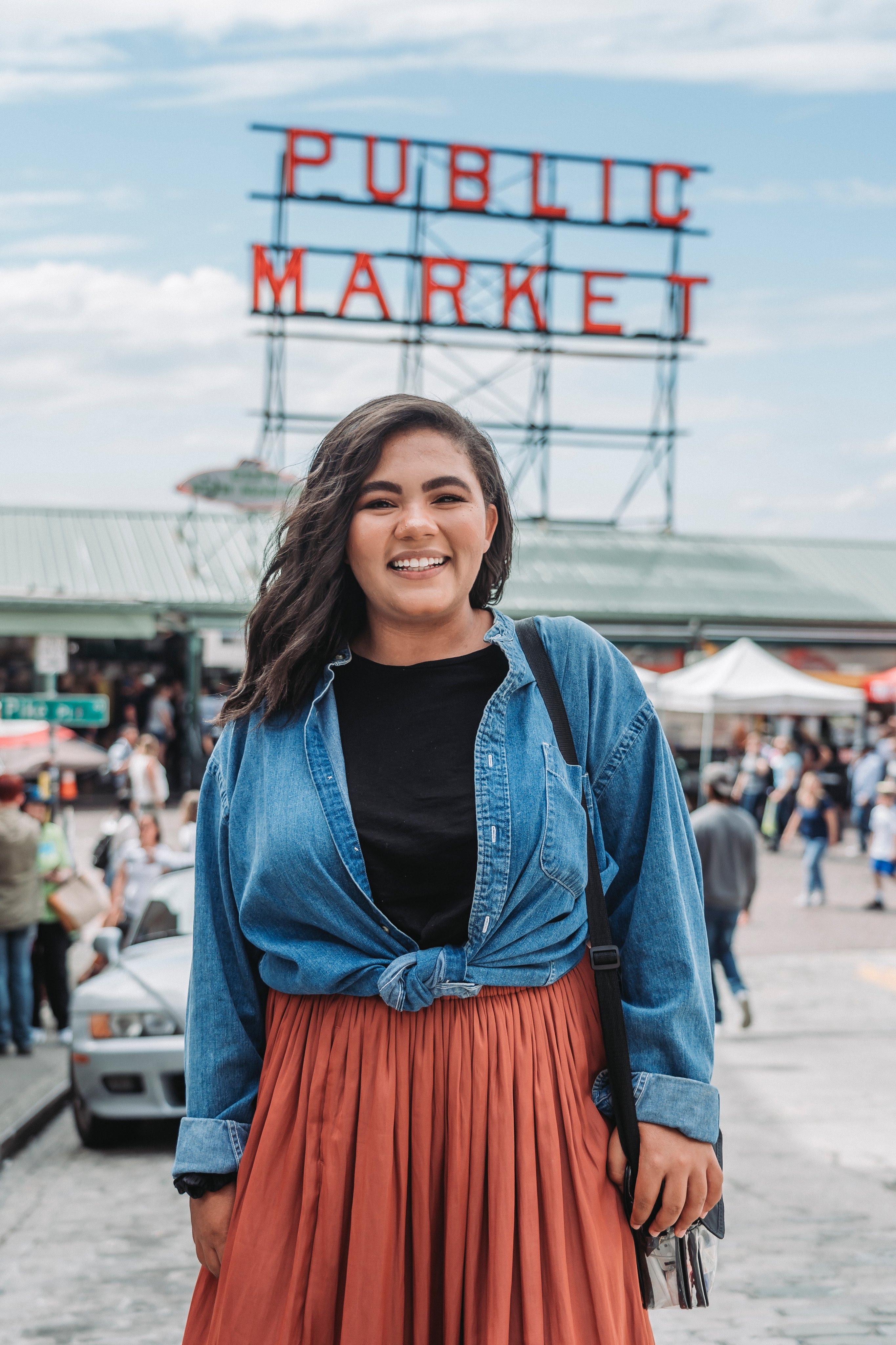 Autumn pictured at Pike Place Market in Seattle.
Autumn hopes that her dashboard will inspire others to use their data skills to contribute to important social issues. Don't forget to follow Autumn on Tableau Public to keep up with her latest work!
Subscribe to our blog
在收件匣中收到最新的 Tableau 消息。